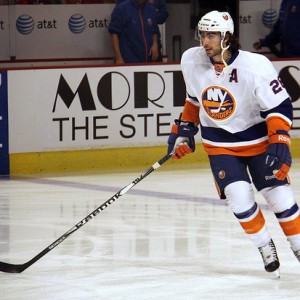 Tonight is one of the biggest sporting events of the year as the Green Bay Packers are set to take on the Pittsburgh Steelers in the Super Bowl tonight, but that didn't stray the Islanders focus away from winning an important game last night against a struggling Ottawa Senators team. Rob Schremp had a two-goal night while Grabner continued his hot streak, notching his 16th goal of the season. Frans Nielsen capped the evening with an empty-netter and Matt Moulson had the first goal of the game to give him a tie for the team-lead in goals with John Tavares at 18.
Moulson recently signed a three-year contract extension with the team. He was last year's leading goal scorer and has continued the same pace through this season, playing well with long-time buddy John Tavares and winger P.A. Parenteau. The organization views Moulson as a crucial member to the core of the team and wasted little time in getting him locked up since he would have been able to test the free agent market this summer.
I found him sitting next to Parenteau and chatting with Trevor Gillies after the mainstream media scrum asked all of their questions for the post-game interview. All three were in high spirits after the game; a brutal one that had several fights and scrums and a six-goal first period. Moulson was kind enough to spare a few more minutes to answer some of my questions.
You're fresh off a three-year contract extension with the New York Islanders. How does it feel?
"You know it's great. This is where I wanted to be from the start. The negotiations, I told both sides, my agent and Garth, that this is where I wanted to be and that I wanted to be here for a while. I love being a part of this team. I love being a part of this organization. So I was just excited to finally get it done. It's a weight off your shoulders."
Where do you see this team going over those next three years?
"Hopefully to the Stanley Cup, (laughs) that's the plan. We have a lot of great young talent here. Some great players and some great guys. Hopefully we can develop that into something special."
What's one thing that needs to change in order for you guys to take the next step?
"First it would help if we were a little bit more healthier for the year. But I think just being consistent game in and game out with our intensity and our play and our execution. If we can do that we are going to win a lot more games than we lose."
You and John Tavares have been close friends for several years. Did he have anything to do with wanting to re-sign with the Islanders?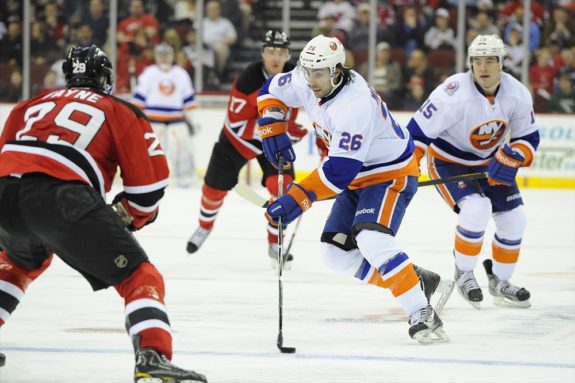 "Yeah, he came over my house, he was crying when he thought I was going to leave. So it was good for him. Obviously I've built a close friendship with him. A bunch of these guys I've built close friendships with. I'm not going to lie I do enjoy playing with him. He's a great player and he's going to be a great player for many years to come. Him along with a lot of the other guys, well, everyone in this room is a big reason why I wanted to be part of this team."
Do you and Tavares have any friendly competitions on or off the ice? After tonight now you two are both tied for the team lead in goals.
"No we don't really talk about it actually (laughs), we just try to score as many goals as we can and win as many games as we can. We tell P.A. (Parenteau) he's the assist man. He likes to mix in a couple goals here and there. But I think we just have a good thing going with the three of us right now. Everyone always asks us that but I don't think we ever talked about it. We just both want to score every time and win every game. That's pretty much it."
Who are you rooting for in the Super Bowl?
"I think the Packers right now. I don't know why, I don't really love either of the teams. The Steelers beat the Jets so, they were my team and I had them in our pool so I want the Packers to beat the Steelers."
In a season filled with injuries and losing streaks, getting Matt Moulson locked up is one of the best things to happen to the team this season. The Islanders are very fortunate to have a player of his calibre here for the rest of the year and going forward.
-Rob McGowan
Follow me on Twitter!
http://twitter.com/IslesRM