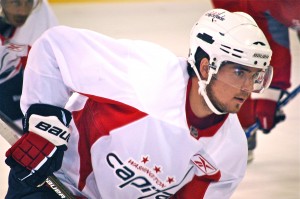 Washington Capitals rookie Marcus Johansson came into training camp with the expectation of making the team.  The media, front office staff, and coaching staff all felt he was ready to make the transition from his home country of Sweden to North American hockey.  He was part of a heated battle for the lone opening night roster spot at center with Mathieu Perreault, and he eventually won that contest over the older, more experienced Perreault.
However, at the beginning of the season, Johansson's play had many wondering if the Capitals had made the right choice.  Johansson had trouble with faceoffs, was somewhat passive on the forecheck, and didn't produce offensively to the hype of Nicklas Backstrom-like expectations.  This left many calling for the recall of Mathieu Perreault while sending Johansson to the minors to learn the ticks of the North American trade.
The team decided to wait it out.  Instead of making any sudden moves, they allowed Johansson to find his game.  He worked after practices on his faceoffs, adjusted to the smaller rink, and learned his position on the Caps' forecheck.  The result: Johansson has developed into possibly the Caps' most consistent center.
For the last 20 or so games, Johansson has been beaming with confidence.  He now has seven goals and 13 points on the year, and when he isn't scoring, he is still making an impact.  His pressure on the forecheck has lead to several Capitals goals.  He has a faceoff winning percentage of 63.18% over the last five games, and that includes a 37.5% stinker against the Penguins yesterday.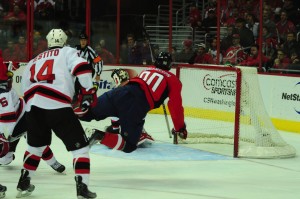 Johansson has also been a consistent presence on the penalty kill, a unit most coaches don't like to put rookies because of their inexperience.  However, Johansson's defensively sound game (which was a factor in him being picked over Perreault in the first place) earned Bruce Boudreau's trust early on, and Johansson was rewarded with his first shorthanded goal (a beautiful back-hander over Fleury's blocker) yesterday to put the Capitals ahead of the Penguins 2-0.
"We see flashes of this every few games and when he's on, he's really on," Boudreau said after yesterday's win, "He was on tonight and he provided the spark for that whole line."
After a rough start, Johansson is beginning to fully adjust to the NHL style.  His confidence is noticeably growing with every passing game, and that confidence is giving him the freedom to be more creative and produce more.  He is averaging 13:33 minutes of ice time this year, and as that number grows, his play should follow.
Johansson isn't the only young Capitals center impressing, as Evgeny Kuznetsov continues his post-World Junior Championship tear in the KHL.  The Caps are soon going to have a very good problem on their hands deciding what to do with these centers, but in the meantime, Johansson's inspired play of late has some speculating if he will one day surpass Backstrom on the depth chart.  Only time will tell, but for now, the kid is alright.