Guest post by Eldon MacDonald (edited by @ChrisRalphTHW)
This is the first of four posts highlighting the top 120 prospects for this year's entry draft in June in Newark, New Jersey – the 2013 NHL Draft Rankings: War Room May Edition.
Gangs of New Jersey
There have been some major changes in the round 4 crowd as compared with THW's April War Room Rankings. As there are very few teams left playing, there is not likely to be much more movement before draft day.
1. The Graduates: These are the players ranked in round 4 last month now ranked in round 3. They will be discussed in the round 3 post.
Roberts Lipsbergs, Left Wing, Seattle
Tyler Motte, Left Wing, USA NDP U18
Matt Buckles, Centre, St. Micheal's OJHL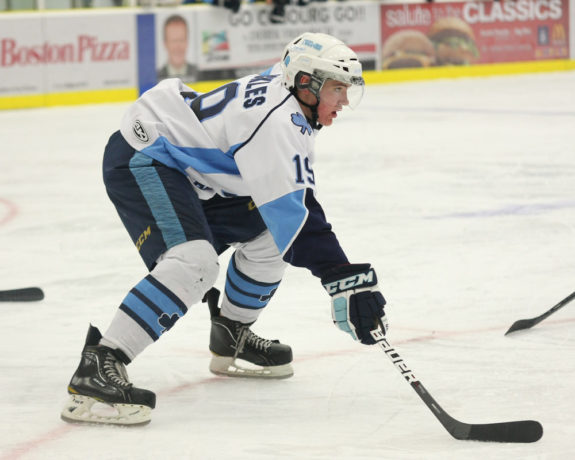 2. The Newbies: These are players ranked in the fourth round for the first time.
Brendan Harms, Right Wing, Fargo – A guy with compete, results, all-around skills not getting much respect. NHL Central Scouting spent a long time discussing this guy.
Peter Cehlárik, Left Wing, Luleå, SWE J20 & Elitserien – Slovak kid in Sweden, brought up to the Elitserien at season end, looked good and put up 6 points in 8 games with a +8. He then followed that up by leading the Slovak U18 team at the world championships in Sochi, Russia with 7 points in 6 games.
Anthony Florentino, Defense, South Kent HS – The 6'3, 217 lb. kid put up 53 points in 62 games; he's still very raw with the best is yet to come.
Gage Ausmus, Defense, USA NDP U18 – Under ranked by many because he doesn't put up exciting numbers but when the big games are on the line you can expect to see this guy logging major minutes. I could see him going even higher as there is always a market for steady blueliners.
Victor Arvidsson, Left Wing, Skelleftea, Elitserien – Small guy with good all-around skills, by-passed twice in the draft. Looked very good in Elitserien playoffs in spite of not getting major minutes. Vancouver scout, Thomas Gradin, said this guy could go as high as second round.
Dylan Labbé, Defense, Shawinigan, QMJHL – Probably would have a gold medal in his pocket now if an injury didn't prevent him from going to Sochi. Played for a very poor team this year so you didn't hear a lot about him. Came under the tutelage of Morgan Ellis last year when Shawinigan won the Memorial Cup. Expect to hear a lot more from this kid next year.
Jérémy Grégoire, Centre, Baie-Comeau Drakkar.  Jérémy Grégoire was supposed to be an impact player when the season started with Chicoutimi – didn't happen; Jérémy Grégoire was supposed to be an impact player this season when he got traded in mid-season to Baie-Comeau – didn't happen. So when the playoffs started, a lot of people started to take notice as Jérémy notched nine goals in just fifteen games, good for second on his team. Jérémy finally had that impact he was supposed to have during the regular season.
Avery Peterson, Centre, Grand Rapids HS-MN – 6'2, 62 points in just 26 games – can't leave him out – could go in the 3rd round.
Markus Søberg, Right Wing, Lulea J20, Sweden – Not that big, not that small; there is potential in this speedy winger from Norway.
3. The Relegation From Above Crowd: These are the players previously ranked in round 3.
Peter Trainor, Left Wing, Rimouski – Trainor and the whole Rimouski team did not have a stellar playoff.
Greg Chase, Centre, Calgary – Some really like this guy but I haven't been able to define him well enough to know what I am getting.
Eamon McAdam, Goal, Waterloo – Turned up big in international tournaments and USHL Top Prospects game but did not lay down very appealing results in league play.
4. The Relegation To Below Crowd: These are the players previously ranked in round 4 now ranked lower. For most of them, it was simply a case of other players passing them with more potential upside.
Rinat Valiev, Defense, Indiana
Jaimen Yakubowski, Left Wing, Lethbridge
Scott Oke, Right Wing, Rimouski
Zach Glienke, Left Wing, Eagan HS-MN
Luke Johnson, Centre, Lincoln
Joose Antonen, Wing, JYP 2, inland
Jeff Corbett, Defense, Sudbury
5. The Welcome Back Guy:
Miro Aaltonen, Blues, SM-liiga, Finland – Out since the WJC U20 first game when he was Finland's best player, Miro roared back to form in the SM-liiga playoffs (top Finnish professional league) with 13 points and a +6 in just 8 games.
*Some of these guys will pan out as planned but historically only about 19% or 6 players from below will make it as full time NHLers. 
Other Posts in this Series:
Round 4 – Players Ranked 91 to 120 (Success rate = 19%)
91. Dahlström, Carl
# 41, Linköping J20, SWE J20, D, L, 6'4, 212 lb.
Stockholm, Sweden – 28-Jan-95
Other rankings – NHL 93
Playoffs: 5g 2pts -1
YTD: 37g 13pts +18
Twitter A/C: None found
92. Kivihalme, Teemu
#26, Burnsville HS, MN HS, D, L, 6'1, 170 lb.
Savage, MN, 14-Jun-95
Commit: Colorado College
Other rankings – NHL 88
YTD: 25g  30pts
Playoffs: 3g 1pt
Twitter A/C: @tkivi_26
Quote: Teemu Kivihalme @ The StarTribune.com – Who's been your greatest inspiration in your hockey career? Why? "My dad [Janne Kivihalme, who is Burnsville's coach], he has taught me everything about hockey and life. He has always believed in me and my ability to play hockey".
https://twitter.com/ScottSvare/status/314019030249897985
93. Saros, Juuse
#1, HPK U20, FIN U20, G, L, 5'10, 181 lb.
Hämeenlinna, Finland, 19-Apr-95
Other rankings – NHL 109
WJC U18: 7g 1.86 .946
Playoffs: 11g 2.09 .923
YTD: 37g 1.86 .933
5 Nations: 3g 2.35.929
Quote: from @ TheScouting Report,  "He's so good, he's projected to be HPK's senior team's backup goaltender next season – as an 18 year old! The only drawback is his size, 5'10", 181 pounds. All in all, he is the best draft eligible goalie in Europe".
U18; Juuse Saros, FIN, best goalie, Steven Santini, USA best d-man, Connor McDavid best forward and MVP in the tournament.

— Goran Stubb (@goranstubb) April 28, 2013
94. Houck, Jackson
#27, Vancouver, WHL, RW, R, 6'0, 184 lb.
North Vancouver, BC, 2-Feb-95
Other rankings – NHL 90, Chris Ralph 94
YTD: 69g 57pts -16
Twitter A/C: @JacksonHouck27
Quote: Steve Ewen @ TheProvince.com, "Houck, 18, a second-year Giant, does the heavy lifting on a nightly basis for the Giants besides providing offence. The right winger gets in the corners. He battles in front of the net. He fights. He even wins his share of faceoffs. If you get any regular proximity to the team, you find out that he's a guy not afraid to keep others accountable".
Thanks to @WHLGiants for a great season and thanks to the fellas for making it that much better #bandofbrothers #GMen

— Jackson Houck (@JacksonHouck27) March 19, 2013
95. Hansson, Niklas
#33, Rögle J20, SWE J20, D, R, 6'0, 172 lb
Jonstorp, Sweden, 8-Jan-95
Other rankings – NHL 144
Playoffs: 2g 0pts -3
YTD: 39g 23pts +26
Twitter A/C: None found
Quote: Kyle Woodlief @ USAToday.com, "Skilled rearguard (Hansson) will never be mistaken for a shutdown defender, but his offensive instincts and skills are dynamic. Still has more upside left".
96. Trainor, Peter
#17, Rimouski, QMJHL, LW, L, 5'11, 185 lb.
Fredericton, NB, 1-Jun-93 – 3rd time draft eligible
Other rankings: NHL 211
Playoffs: 6g 7pts +2
YTD: 68g 100pts +30
Twitter A/C: @ptrainor17
Quote: Rimouski Oceanic Head Coach, Serge Beausoleil @ Sportsnet.ca, "He's a great shooter, he's got good hockey sense and he's really dangerous all around the net with his wrist shots."
https://twitter.com/ptrainor17/status/319817493659148289
97. Harms, Brendan
#21, Fargo, USHL, RW, R, 5'11, 185 lb.
Steinbach, MB, 2-Dec-94
Commit: Bemidji State
Other rankings: NHL 128
Playoffs: 8g 7pts +5
YTD: 65g 70pts +33
Twitter A/C: @bharms18
Quote: Mike G. Morreale article @ NHL.com, "One player that most of the scouts took some time to discuss was right wing Brendan Harms of the Fargo Force in the United States Hockey League. Harms was rated No. 113 on Central Scouting's midterm list and finished the 2012-13 season with 23 goals and 63 points in 60 games."
Said one scout: "Heck, this kid has good size (5-foot-11, 185 pounds) and has averaged better than a point-per-game. He's done some good things, good competiveness."
Brendan Harms has caught the attention of his @USHL competition. Now he's catching the attention from scouts. http://t.co/w8GfIjOb

— FCHockey (@FCHockey) November 6, 2012
98. Hill, Tyler
#15, Chicago, USHL, LW, L, 6'6, 225 lb.
Hagersville, ON, 13-Apr-95
Commit: Not committed as of 24-Apr-13
Other rankings – NHL 256, Chris Ralph 92
YTD: 30g 12pts +10
Twitter A/C: @TylerHill95
Quote: Redline Report – August 12 – "Absolutely enormous and able to dominate at his low level of competition through sheer physical gifts – needs to challenge himself more. Has soft hands and deft puck skills for such a huge kid, and his offensive upside is unlimited. Must work on his initial acceleration and using his size to greater advantage. Has all the tools to be the quintessential power forward at the NHL level. Should work on bettering his understanding of responsibilities at the defensive end".
http://twitter.com/TylerHill95/status/323353150071402496/photo/1
99. Butcher, Will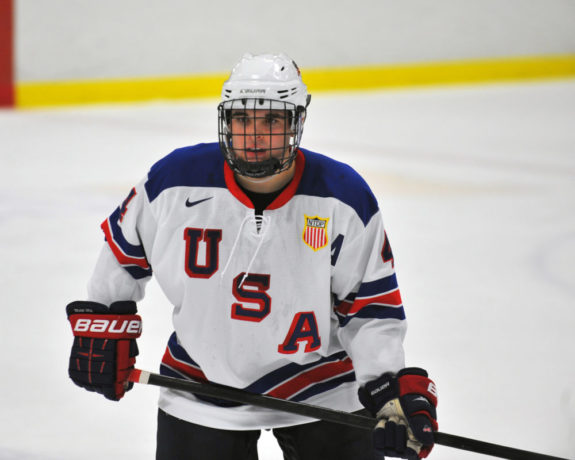 #4, USA NDP U18, USHL, D, L, 5'10, 200 lb.
Sun Prairie, WI, 6-Jan-95
Commit: U of Denver
Other rankings – NHL 118
WJC U18: 7g 4pts +2
YTD: 59g 32pts +26
Twitter A/C: None found
Quote: Shawn Reznik @ THW, "A very skilled offensive defenseman, Butcher has a great first pass out of the zone, hockey sense, and the ability to quarterback a powerplay with keen precision.  He has great stickwork that gets him out of trouble and can turn on a dime and explode down the ice".
100. Geertsen, Mason
#44, Vancouver, WHL, D, L, 6'4, 203 lb.
Rocky Rapids, AB, 19-Apr-95
Other rankings – NHL 82, Chris Ralph 84
YTD: 73g 14pts -28
Twitter A/C: @mdoggy44
Quote: Steve Ewen @ TheProvince.com, "The Vancouver Giants' rugged blueliner (Geertsen) is one of the precious few bright spots in what's been a dismal season so far for the WHL club. He's big, strong and mean. He plays a mature, solid game. He'll never be a power-play quarterback, but he's no egg-and-spooner (stealing a lacrosse term) when he's got the puck either. He makes a smart, swift first pass. He's said to be a leader, said to be a potential captain one day".
101. Cehlárik  , Peter
#26, Luleå J20, SWE J20, LW, L, 6'2, 192 lb.
Zilina, Slovakia, 2-Aug-95
Other rankings – NHL 159
WJC U18: 6g 7pts -2
Playoffs: 6g 1pt +1 (Luleå, Elitserien)
YTD: 38g 37pts -1
Quote: Jonathan Briggins @ DobberSports.com," The Slovak winger is 6-2 and 192 pounds. He spent this past season moving up through Lulea's two junior leagues and eventually onto Lulea in the Swedish Elite League (SEL), the highest level of hockey in the country. There he posted three goals and three assists in eight games. He played well for Slovakia's U18 team in Sochi this past April, scoring twice and adding five assists in six games. Keep an eye to see which NHL team drafts him and how high he goes. A team that has done its homework could end up with a nice project on its hands."
102. Djuse, Emil
#4, Södertälje, Allsvenskan, D, L, 6'0, 185 lb.
Östersund, Sweden, 27-Oct-93 – 2nd time draft eligible
Other rankings – NHL 119
YTD: 35g 13pts -6
WJC-U20: 6g 2pts +0
Twitter A/C: @emildjuse
103. Florentino, Anthony
#2, South Kent HS, HS CT, D, R, 6'3, 217 lb.
West Roxbury, MA, 30-Jan-95
Commit: Providence College
Other rankings – NHL 103
YTD: 62g 53pts
Twitter A/C: @AFlorentino_2
Quote: South Kent High Scholl Head Coach, Eric Soltys @ U.S. Hockey Report, "He has the size and physical presence to be a force. Anthony – whose family advisor is Phil Lecavalier — could play in the NHL someday. He's not an end-to-end guy. He's more a first-pass and join-the-rush guy. He just came in here with a lot of raw talent. He's a sponge; just wants to get better and better. Special things happen to special kids, and he's a special kid."
104. Ausmus, Gage
#27, USA NDP U18, USHL, D, R, 6'1, 211 lb.
East Grand Forks, MN, 22-Apr-95
Commit: Not committed as of 24-Apr-13
Other rankings – NHL 203
WJC U18: 7g 2pts +5
YTD: 65g 14pts +22
Twitter A/C: @Gausmus47
Quote: Gage Ausmus @ USA NDTP.com, "Last year, our first international tournament was in Russia and everyone was booing us. Now we got to play here and everyone was rooting for us. It was a great feeling knowing the fans are on your side and every time you score, the fans are cheering. The best thing I remember is standing on the blue line and hearing your national anthem in front of your fans. It's a great feeling."
Best two years of my life with these guys, I will never forget throwing on a USA sweater next to my brothers #cherisheverymoment #timeflies

— Gage Ausmus (@Gausmus47) April 28, 2013
105. Arvidsson, Victor
#9, Skelleftea, Elitserien, LW, R, 5'9, 176 lb.
Kusmark, Sweden, 8-Apr-93 – 3rd time draft eligible
Other rankings – NHL 95
Playoffs: 13g 8pts +6
YTD: 49g 12pts +0
WJC U20: 6g 5pts +1
Twitter A/C: None found
Quote: From Vancouver Canuck Scout, Thomas Gradin @ Aftonbladet.se, "There are 30 teams who did not believe that he can play in the NHL, but now I think there are 30 teams that think he can do it. He will definitely be drafted". said Gradin. How high do you think he goes? " I think he goes in the second round". (Translation by Google)
106. Chase, Greg
#25, Calgary, WHL, C, L, 6'0, 195 lb.
Sherwood Park, AB, 1-Jan-95
Other rankings – NHL 210, Chris Ralph 60
Playoffs: 15g 9pts +0
YTD: 69g 49pts +11
Twitter A/C: @GregChase9
Quote: Jason Hills @ TheEdmontonSun.com, "Chase is more than just a pest, he's proven he can put the puck in the net after scoring 17 goals and 49 points in 69 games. The 18-year-old from Sherwood Park is a projected third- or fourth-round pick in the upcoming National Hockey League draft in June. NHL scouts would like to see Chase define his role more".
Tough pill to swallow. Sad to say goodbye to such a great group of guys. Thank u to the @WHLHitmen fans for the support all year #worldclass

— Greg Chase (@GregChase9) May 1, 2013
107. Labbé, Dylan
#24, Shawinigan, QMJHL, D, L, 6'2, 189 lb.
Lévis, QC, 9-Jan-95
Other rankings: NHL 102
YTD: 61g 28pts -40
Twitter A/C: @kidLabbe
108. Grégoire , Jérémy
#10, Baie-Comeau, QMJHL, C, L, 6'0, 188 lb.
Sherbrooke, QC, 5-Aug-95
Other rankings – NHL 108
Playoffs: 14g 15pts +6
YTD: 62g 32pts -9
Twitter A/C: @JayGreg32
Quote: From Sean Lafortune @ TheProspects.Blog.com, "He (Grégoire) was strong positionally in his own zone, and looks to be a player who thinks the game. He displayed an ability to make the right decision (either positionally or with the puck) almost all of the time. He was energetic on the penalty kill, using his stick to get in passing lanes and was willing to work hard to get into passing lanes. He needs to continue to work on his mobility and first few steps. He also can struggle with his one on one elusiveness and puck skills, but the intangibles make up for it".
109. Lees, Jesse
#2, Kelowna, WHL, D, L, 6'0, 180 lb.
Calgary, AB, 14-Sep-95
Other rankings – NHL Unranked
Playoffs: 6g 0pts -6
YTD: 66g 30pts +37
Twitter A/C: @LeeserBeam2
Quote: Red Line Report @ USAToday.com, "Lees is one of the youngest players in the draft (Sept. 14 birthdate), and was buried on Kelowna's deep blue-line depth chart early on. But his terrific puck skills and offensive instincts have forced him up that chart, and now he's even crashing the power play unit and producing points regularly".
https://twitter.com/LeeserBeam2/status/322393904345395200
110. Westlund, Wilhelm
#16, Färjestad, Elitserien, D, L, 6'0, 179 lb.
Stockholm, Sweden, 15-Mar-95
Other rankings – NHL 81
Playoffs: 6g 0pts +0
YTD: 26g 1pt -1
Twitter A/C: @westlundwilhelm
111. Malone, Sean
#13, US NDP U18, USHL, C, L, 5'11, 185 lb.
West Seneca NY, 30-Apr-95
Other rankings – NHL 85
WJC U18: 7g 1pt -2
YTD: 46g 30pts +22
Twitter A/C: @SeanMalone_13
Quote: Owen Sound Attack GM, Dale DeGray @ Bayshore Broadcasting.ca, "Malone is an excellent skater who gets to top speed in three steps and can hit like a truck".
Best year of my life with the greatest group of guys anyone could ask for. I'll never forget the feeling of putting on that logo everyday 🇺🇸

— Sean Malone (@SeanMalone_13) April 28, 2013
112. Cassels, Cole
#19, Oshawa, OHL, C, R, 6'0, 178 lb.
Dublin, OH, 4-May-95
Other rankings – NHL 165, Chris Ralph 65
Playoffs: 9g 1pt -2
YTD: 64g 43pts +7
Twitter A/C: @ColeCassels19
Quote: Neate Sager interview with Cole Cassels @ CA.Sports.Yahoo.com, Question: Aside from the obvious — building strength, gaining speed — what area of your game needs the most improvement as you work toward being drafted by a NHL team?
"My quickness, first few steps, is No. 1. I'm kind of a tall and lanky guy so I have to get a lot stronger, but quickness, acceleration, the first three steps, is my weakness right now. When I grow into my body hopefully that will come with it."
Tough to say goodbye to a great group of guys. Thanks to the boys, the fans and @Oshawa_Generals organization for the year.

— Cole Cassels (@ColeCassels19) April 10, 2013
113. McAdam, Eamon
#35, Waterloo, USHL, G, L, 6'2, 185 lb.
Perkasie, PA, 24-Sep-94
Commit: Penn State
Other rankings – NHL 70; Bob MacKenzie HM (61 to 70)
Playoffs: 2 3.22 .922
YTD: 31g  3.45 .896
Twitter A/C: @EamonMac35
Quote: From Kyle Rossy @ ThankYouTerryBlogspot.ca, "McAdam has repeatedly been selected to high-profile scouting showcases and performed well on big stages. On January 23rd, he was named MVP of the second annual USHL/NHL Top Prospects game and received national attention for a save he made during the game on Minnesota commit Mike Brodzinski. In November of last year, he helped Team USA to a gold medal at the World Junior A Challenge, while on September 29th, he played in the inaugural CCM/USA Hockey All-American Prospects Game, allowing three goals on 14 shots. McAdam opened the season by being named the top goaltender at the Junior Club World Cup in Russia in August and helping the Black Hawks to a silver medal in the tournament".
114. Aaltonen, Miro
#15, Blues, SM-liiga, C/LW, L, 5'10, 169 lb.
Joensuu, Finland, 7-Jun-93 – 3rd time draft eligible
Other rankings – NHL 230
Playoffs: 8g 13pts +6
YTD: 32g 16pts -2
WJC U20: 1g 3pts +2
Twitter A/C: @MiroAaltonen
Quote: From Goran Stubb, European Director of NHL Scouting @ NHL.com, "Aaltonen is playing regularly with the Blues and is one of the most improved young players in Finland. He's a good skater, active, mobile and has a nose for the net. He compensates for his lack of size [5-foot-10, 163 pounds] and strength with a great attitude".
115. Bartosak, Patrik
#35, Red Deer, WHL, G, L, 6'1, 188 lb.
Koprivnice, Czech Republic, 29-Mar-93 – 3rd time draft eligible
Other rankings – NHL 98
Playoffs: 9 1 1.97 .941
YTD: 55 5 2.26 .935
Twitter A/C: @PBartosak35
Quote: By Steven Ellis @ TheHockeyHouse.net, "Bartosak is a big, athletic netminder that covers a big portion of the net at 6'1. He tends to read plays very well and his anticipation is very good and has a knack for making tough saves look routine, similar to how Carey Price attacks every play. Bartosak stole many wins for both the Rebels and the Czech junior team, with his most notable win being a 3-1 victory over the favoured Finns during the round robin at 2013 version of the World Juniors.  Thanks to a 2.26 goals against average, a .935 save percentage and five shutouts, the Red Deer netminder has attracted the eye of many scouts and will likely be a solid 4th-6th round selection this year".
116. Cammarata, Taylor
#91, Waterloo, USHL, C/LW, L, 5'7, 156 lb.
Plymouth, MN, 13-May-95
Commit: U of Minnesota
Other rankings – NHL 264, Chris Ralph 55
Playoffs: 5g 5pts -1
YTD: 59g  93pts +39
Twitter A/C: @Cammy12Scores
Quote: NHL Central Scouting's Chris Edwards @ NHL.com. "Every time he was on the ice, he made something happen. … He was around the puck, creating, scoring. He was very noticeable every game, every shift."
117. Lipon, JC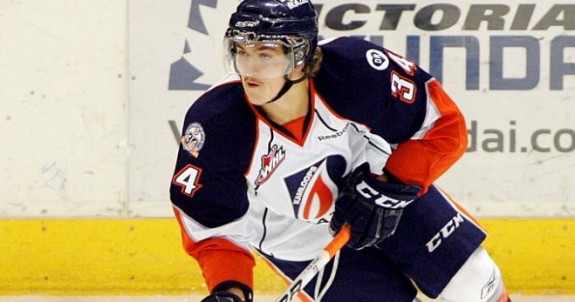 #34, Kamloops, WHL, RW, R, 6'0, 181 lb.
Regina, SK, 10-Jul-93 – 3rd time draft eligible
Other rankings – NHL 114, Chris Ralph 78
Playoffs:15g 23pts +12
YTD: 61g  89pts +34
Twitter A/C: None found
Quote:  NHL Central Scouting's Peter Sullivan @ NHL.com, "This kid (Lipon) has just exploded out of the gate. Here's a kid that in his [initial] draft year wasn't drafted, and guys that were drafted in the first two rounds [last year], he's better now at this point than the kids that were drafted".
118. Peterson, Avery
#8, Grand Rapids HS, HS MN, C, L, 6'2, 194 lb.
Grand Rapids, MN, 20-Jun-95
Commit: Not committed as of 24-Apr-13
Other rankings: NHL 106
YTD: 26g 62pts
Twitter A/C: @APeterson_8
Quote: Zack Friedli @ ElksHockey.ord, "Much of Peterson's success is derived from his ability to get to the net. He's a big forward with hands and hockey sense – a deadly combination – and he knows how to use his skills in each situation".
119. Søberg, Markus
#10, Lulea J20, SWE J20, RW, R, 5'11, 187 lb.
Oslo, Norway, 22-Apr-95
Other rankings: NHL>290
WJC U18 – Div 1A – 5g 13pts +11
Playoffs: 6g 6pts +3
YTD: 36g 26pts +29
WJC U20 – Div 1A – 6g 6pts +4
Twitter A/C: @MarkusSberg
Quote: Ryan Kennedy @ TheHockeyNews.com, "As for his future, Soberg prides himself on his agility, wrist shot and physical play, while knowing he needs to work on defense. He will play one more year in Sweden and then might come over to North America, where his skills translate into any language".
120. Burke, Brendan
#1, Red Deer, WHL, G, L, 6'3, 176 lb.
Scottsdale, AZ, 11-Mar-95
Other rankings – NHL 164
Playoffs: 1 0 12.52 .600
YTD: 33 4 2.65 .908
Twitter A/C: @bburke_1
Quote: Portland Interim Coach, Travis Green @ ThePortlandTribune.com, "I like his progression. Every month he's taking another step and looking a lot more solid. For a young goalie, we really like the way he's progressing".
Other Rankings:
Bob MacKenzie – Bob's TSN mid-season poll of NHL scouts – Out January 30th, 2013
NHL – Combination of the NHL's four final rankings @ TheHockeyWriters.com
Chris Ralph – The Next Ones Top 100 Mid-term Rankings @ TheHockeyWriters.com (Final rankings to be released early June)
Other Posts in this Series: