Anytime a team moves up in the standings, that season can be considered an improvement. Granted, for the Edmonton Oilers it wasn't a big jump, but not being in contention for the first overall pick is a step forward for Edmonton. The team is tired of losing, and the fans are tired of watching the losing. The fact that they battled down the stretch for a playoff spot is huge despite not really ever being close to making it. Well, they were in eighth place for a day or so. The Oilers season may not be considered successful by some because they missed the playoffs, but there are a few positives to be gleaned from this lock-out shortened campaign.
Experience for the Young Players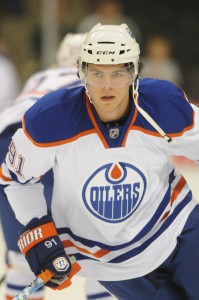 You can have the talent. You can have the size. You can learn how to be more responsible defensively. You can get better at face-offs. You can teach players a lot of things, but you can't teach them experience. It may be an over-rated aspect at times, but it's still valuable to know what to expect in every situation. Playing meaningful hockey at the end of the season will do wonders for this team moving forward. Playing every game like it's a game seven of a playoff series is needed. Giving everything you've got because your season is on the line is vital. A hockey player needs to know how that feels, so when the situation comes up again they'll be better equipped to handle it. After a lot of success in the AHL, the young players on the Edmonton Oilers learned that what worked in the American league may not work at the National Hockey League level. They needed to learn those lessons.
The Emergence of Magnus Paajarvi
He spent a lot of time riding the bus in the AHL. He spent a lot of time eating nachos in the press box at Rexall Place. He seemed to be falling out of favor in the Edmonton Oilers organization. But holding on to Magnus Paajarvi was a wise decision. After a bit of a slow start, Paajarvi had a very strong finish to the season, ending up with nine goals and 16 points. Maybe not impressive numbers, but Paajarvi has shown a lot of maturity and growth, and has become a reliable player on the Oilers third line. He's one of the bigger guys on the team, 6 foot 3 and 208 pounds, and Edmonton needs some size in the forward group. The Oilers are starting to see the skill that made him a 10th overall pick in 2009. He's just 22 years and finally starting to find his place in the NHL. He could end up being a beast for this team in the future.
Growth on Defense
One of the Achilles heels of the Oilers in recent years has been their struggles on the defensive side. They finished 23rd, 28th, 30th the past three seasons in goals against, and were at 19th this year. It's been a very slow climb, but an improvement none-the-less. Often times this season the Oilers looked more interested in getting a break-out pass than protecting their end of ice, and a lot of those times the puck ended up in the back of their net. But, when the Oilers decided to commit themselves to defense, the results were remarkably better. But the most refreshing part about the Oilers blue-line this season was the puck control and offensive upside. Rookie Justin Schultz had a solid season with nine goals and  27 points. He finished 13th in scoring among NHL defensemen. Jeff Petry and Corey Potter also were bright lights on the back-end for Edmonton. The potential is huge, but the Oilers know all too well that the games are played on ice, not on paper.
The key for this team is consistency. They had some brilliant games, and some dreadful games. Everybody goes through their highs and lows over the course of a season, but the Oilers must focus on the little details of their game and raise their level of consistency with each shift. Better puck management, more discipline and commitment to back-checking will make all the difference with this group. There's a long way to go, and a good chance changes will be made, but there were positives for this team. You just have to look hard for them.
Marcy, a former hockey player, is a hockey correspondent on CTV News and TSN radio. She began her career as a Sports Journalist in 2009 and has been part of The Hockey Writers since 2010, where she is currently a senior writer and editor.