First things first, I want to make it absolutely clear that I am not here to maliciously heap scorn on Marc-Andre Fleury. Despite my opinion of his ability, I truly want Fleury to do well, and I always have. For a Penguin fan like myself, Fleury doing well is a good thing because it that means the Penguins will benefit (see how that works?) Writing that he is a less capable option than Tomas Vokoun was never intended to be a personal attack.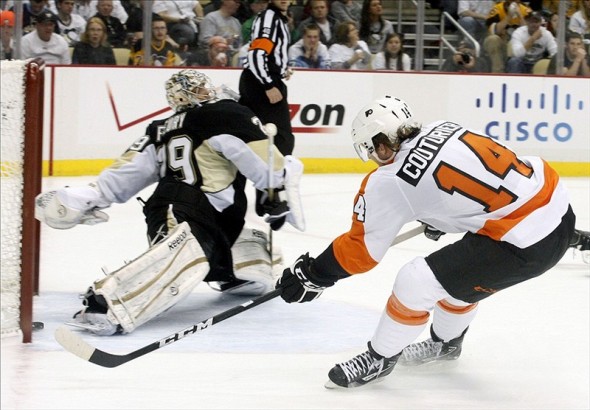 For some reason, a good portion of the Pittsburgh faithful seem intent on rabidly (and blindly) defending him despite his faults. Yes he won a Stanley Cup four years ago, and he does genuinely seem like a nice guy. I get it, and I harbor no ill will toward him. Saying that he should be benched was never meant to be any sort of indictment of his character. I took no joy whatsoever in watching him struggle and get pulled against the Islanders. Penguins goaltending was a murky situation at best before the changeover.
That being said, I'm a Penguin fan more than I am a fan of any individual player on the team – whether it's Fleury, Sid, Geno, whomever. I simply want the team to have the best possible chance of winning every time they take the ice. From what I've seen, even with the Penguins' porous defense hanging him out to dry, they don't have that chance with Fleury in net.
Now it would appear that Dan Bylsma agrees.
To bench Fleury in the Islanders series is one thing. He was clearly struggling and just couldn't get his mind back in the game. He definitely needed some time to sit out and clear his head. But to leave him on the bench going into the next series against Ottawa is a whole different story.
Unless he somehow gets back in and plays like Dominik Hasek in the 90s and puts a stranglehold on the position on the way to a Stanley Cup championship, it's hard to see how the Penguins goaltending can be counted on as a weapon on the positive side of the ledger instead of an "oh my god, I hope nothing bad happens".
Bylsma hasn't come out and said that it's officially Vokoun's job to lose, but with every win he only strengthens his case. I hate the idea of a timeshare situation, personally, as I think it's always better for a goalie to not have to look over his shoulder petrified of being benched. And at this point Vokoun is clearly the better of the two.
But even if the two goaltenders do start splitting time going forward, can the Penguins truly justify paying Fleury $5 million against the cap per year for the rest of his contract if they can't count on him in the playoffs? What about if Vokoun struggles and Fleury gets his job back but still plays as poorly as he played against the Islanders or even just marginally better?
I don't think so.
Next year is a long way off, and the Penguins should be focusing on getting the job done against Ottawa – not the future. They have a lot of issues to take care of outside goaltending anyway, like figuring out how to hustle every night and closing the gaping holes in their defense. But by benching Fleury for Game 1 against Ottawa, Bylsma has opened the door for a lot of questions. Remember that this isn't the first time Fleury has collapsed in the playoffs. He did the exact same thing in the first round last year against Philadelphia. This year was already his second chance.
The good news for the team is that if they decide to close the book on the Fleury era they have the option to get his contract off the books with a compliance buyout after this season is over. Or they could do it the good old fashioned way and trade him. Both may be a tempting options, since they'll need all the cash they can get to give Geno and Letang the raises they deserve, but it's not a decision to be made rashly. Even if Fleury isn't earning his contract, the Pens need to be sure that he's truly expendable before they cut him.
What complicates things is that I don't think Tomas Vokoun is the final answer for the Penguins, either. He's giving the team the best chance right now, but he proved this season that he is not anywhere close to his prime and he can play just as poorly as Fleury on any given day. And at his age, it definitely wouldn't be the best idea to think of him as a long-term option.
[youtube http://www.youtube.com/watch?v=JQT-tSv5Oys&w=560&h=315]
To part ways with Fleury, the Pens would need to be absolutely certain that the money they saved cutting and replacing him would be enough to justify any potential drop in overall talent in net. They would also need to make sure they had a viable long term replacement in place.
THW's own Mike Colligan touched on this earlier this year with his story on Eric Hartzell, and the Pens potential plans for life after Fleury.
If Fleury dominates this spring, the Penguins win a Stanley Cup, and then they decide to stick with Fleury for the foreseeable future, Hartzell moves on as an unrestricted free agent to the destination of his choice.

 

But, as we said in June, "if Shero and Botterill decide that the Penguins' Cup chances over the next two years are better off hitched to the back of Tomas Vokoun and [Hartzell or Zatkoff], they now have the option of trading Fleury."
The possibility of Fleury dominating in the playoffs has pretty much gone out the window, so the only question remaining is how confident Shero might be in his potential replacements. Or maybe Fleury will completely redeem himself. It's all up in the air right now. All I know is I want whatever gives the team the best chance of winning, no matter what it means for any individual player. Penguins goaltending ultimately would have to be stable for any move to occur. It is something to really think about.
Billy Nauman is a Pittsburgh Penguins contributor for The Hockey Writers. He also runs his own hockey blog at backtothefoundry.com. Follow him on Twitter @punchbroadbent