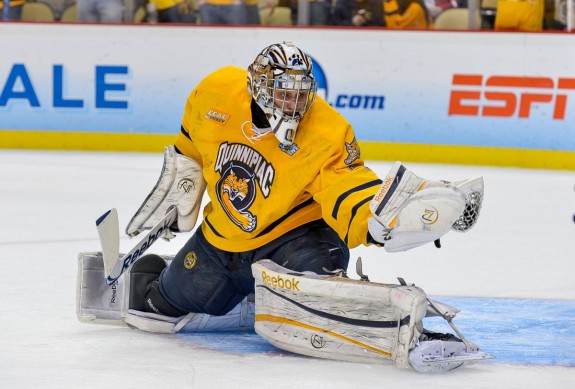 Hobey Baker candidate Eric Hartzell came to Pittsburgh last Wednesday to compete in the Frozen Four as a member of the Quinnipiac Bobcats.
He must have liked what the Consol Energy Center had to offer.
On Monday, Hartzell officially signed a one-year entry-level contract with the Pittsburgh Penguins that will pay him a pro-rated salary of $925,000, the maximum allowed under the Collective Bargaining Agreement.
The signing is curious from both the team and player perspective:
Why would Hartzell sign with the Pittsburgh Penguins, a team that already has Marc-Andre Fleury and Tomas Vokoun at the NHL level, and two talented goaltenders in the American Hockey League (Jeff Zatkoff and Brad Thiessen)?
Why would the Penguins sign Hartzell to a one-year deal that expires just a few weeks from now at the end of the 2012-13 season?
If there's anything we've learned during Ray Shero's tenure as General Manager of the Pittsburgh Penguins, there's always an explanation or a plan in place.  It just isn't always obvious at the time.
At the Frozen Four over the weekend, a reporter from another city asked me why the Penguins can get guys like Jarome Iginla and Brenden Morrow to come to Pittsburgh but they're never able to lure the premier college free agents.  There's a few reasons.
We took an in-depth look at Stephane da Costa two years ago in our 'Penguins Blueprint' series, but Ottawa eventually won the sweepstakes because they could offer da Costa a bonus structure that drove his cap hit to $1.325 million.  That type of hit didn't fit into the Penguins tight payroll situation at the time.
Pittsburgh also couldn't offer da Costa a spot on the NHL roster.  This dilemma likely cost them JT Brown last season and Andrej Sustr this season as well, both of whom went to Tampa Bay and cracked the lineup immediately.
So how did the Penguins lure the highly-touted Hartzell?
After losing the national championship on Saturday, Quinnipiac coach Rand Pecknold even said:
"Eric [Hartzell] was the best player in college hockey, I really do still believe that.  I think he's the most dominant player in college hockey on the national team.  He should have won the Hobey Baker.  He was awesome against St. Cloud on Thursday.  He was awesome all year for us."
From a contractual perspective, the Penguins and General Manager Ray Shero rarely offer incentive bonuses.  If they did in Hartzell's case (we don't know at this point), he isn't going to play at the NHL level this season to earn them and, unlike prior seasons, the Penguins have the salary cap space to accommodate.  Bonuses are a non-issue in this case.
The one-year contract is intriguing.
Assuming all rules regarding free agency are the same in the new CBA (which hasn't been released in its entirety yet), Hartzell was eligible to sign a one-year entry-level deal because of his age and he'll become a restricted free agent this summer.
If the Penguins wish to retain Hartzell, they'll have to give him a qualifying offer this summer at $971,250 (105% of his current salary).  If they don't give him this offer, Hartzell becomes an unrestricted free agent, eligible to earn any salary a team is willing to pay him.  If Pittsburgh does give him the qualifying offer, Hartzell can either sign it or hold out for more money from the Penguins.
It's very unlikely that another team would come in with an offer sheet to poach Hartzell from the Penguins, meaning Shero has full leverage and Hartzell will be taking their qualifying offer if it comes.
This doesn't answer the question why Hartzell would sign with a team that's already loaded at goaltender at the NHL level though.
One explanation is the Penguins agreed to 'bridge' him to unrestricted free agency as some sort of favor to the player or his agent.  Not likely.
Another explanation is Hartzell really liked the way he was treated at the Penguins' facilities this weekend, admires the way they do business, and will gladly be their minor-league goaltender for the near-term future.  Again, probably not likely.
Wouldn't Hartzell (like da Costa, Brown, and Sustr) prefer a destination where he could actually get an opportunity to crack the NHL lineup sooner rather than later?
That leads us to one question: what if there's more opportunity in Pittsburgh than anyone realizes?
When Shero acquired Vokoun in early June, the writing was on the wall that Fleury would no longer have a permanent stranglehold on the Number 1 job.  In our analysis at the time, we even took it a step further and wondered whether Fleury's future with the Penguins could be in doubt with another bad playoff run:
The Vokoun signing was simply a message to Fleury and the rest of the Penguins that no player in the long-standing 'core' is untouchable anymore.

It's almost a guarantee that the Penguins won't look the same 18 months from now. Developing prospects like defensemen Simon Despres and Joe Morrow will be battling to secure full-time roster spots and tough salary cap decisions will have to made with regards to the futures of Crosby, Staal, and Evgeni Malkin. Fleury put together an excellent regular season performance this year, but what management and fans care about most is his bumbling six-game letdown against Philadelphia.

If Shero and Botterill decide that the Penguins' Cup chances over the next two years are better off hitched to the back of Tomas Vokoun and another cheaper/younger goalie, they now have the option of trading Fleury.

If Vokoun recovers from his late season groin injury and just serves as an outstanding backup to Fleury, his $2 million cap hit could be extremely enticing to teams at the trade deadline or next summer.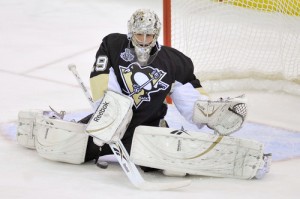 Shero's all-in mentality at the trade deadline — adding Jarome Iginla, Brenden Morrow, Douglas Murray, and Jussi Jokinen — only cranks up the heat on Fleury.
Maybe it's unfair to heap such high expectations on a goalie that's already won a Stanley Cup and shown the ability to be elite, but Fleury isn't alone.  If the Penguins are bounced early from the playoffs again, huge changes could be in store.
Owners Mario Lemieux and Ron Burkle aren't interested in the Penguins being Stanley Cup contenders.  They're interested in winning Stanley Cups.
If that means finding a goalie that doesn't crumble in the playoffs, so be it.  If that means questioning whether Dan Bylsma just had fortunate timing when he was hired as coach late in 2009 before the Penguins won the Cup, so be it.  Evgeni Malkin and Kris Letang, two players owed massive contract extensions in just over a year, won't be safe either.
I think the reason the talented Jeff Zatkoff left his role as #3 goaltender in the Los Angeles Kings system to become Pittsburgh's #3 goaltender this year was because he sensed opportunity.
I think the reason Eric Hartzell signed with Pittsburgh instead of going elsewhere is because he senses that same opportunity.
If Fleury dominates this spring, the Penguins win a Stanley Cup, and then they decide to stick with Fleury for the foreseeable future, Hartzell moves on as an unrestricted free agent to the destination of his choice.
But, as we said in June, "if Shero and Botterill decide that the Penguins' Cup chances over the next two years are better off hitched to the back of Tomas Vokoun and [Hartzell or Zatkoff], they now have the option of trading Fleury."
That's something fans of Fleury won't want to hear.  But you could replace 'Fleury' with 'Letang' or 'Malkin' in this article and come away with a similar conclusion.
The pressure is on, now more than ever, for everyone involved with the Pittsburgh Penguins.
But who says pressure is a bad thing?
___________________________________________