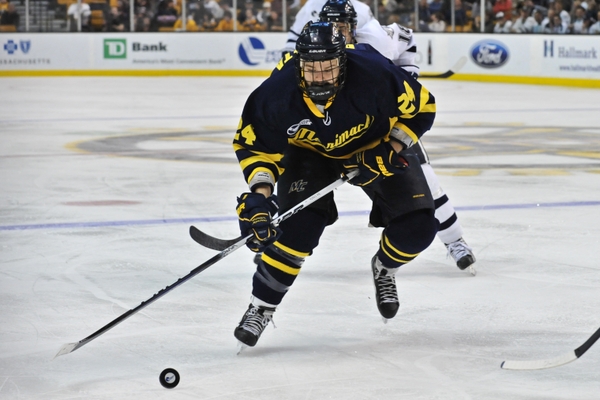 The onset of March means trade deadline drama is in the rear-view mirror and playoff excitement is still a page-turn of the calendar away. Over the next few weeks, we'll be taking an in-depth look at the makeup of the Pittsburgh Penguins organization in a multi-part series called 'Penguins Blueprint'.
By Mike Colligan and Chris Jiuliante
The Pittsburgh Penguins had a vested interest in last Saturday's Hockey East Championship game between Boston College and Merrimack.  Philip Samuelsson, a sophomore defenseman at BC, was the Penguins' second-round pick in the 2009 draft.  The team hopes his big-game experience will pay dividends a few seasons from now when he works his way onto the NHL roster.
Samuelsson's Eagles prevailed with a 5-3 win and begin their national championship title defense tonight against Colorado College.  But the Penguins will also be keeping their eyes on Merrimack College and their own sophomore sensation, Stephane Da Costa.
College hockey enthusiasts will tell you Merrimack is not a name they're used to seeing on the NCAA tournament bracket.  The Warriors, under the leadership of Da Costa, have experienced a revival this season and as an at-large bid are making their first appearance in the championships since 1988.
Da Costa found his way to Merrimack in 2009-10 after a stint in the USHL (Juniors) and made an immediate impact for the Warriors, scoring five goals in just his second collegiate game. With 16 goals and 29 assists in 34 games he was named NCAA Freshman of the Year.  Teams have gone out of their way to shut down Da Costa this season, but most have had limited success.  He has 44 points in 32 games despite missing some late season action with a minor knee injury.
Stephane Da Costa is the latest potential diamond in the NCAA rough – a late-blooming talent who is a free agent because he was never drafted by an NHL team. The native of Paris, France received a few NHL offers following his freshman season but chose to return to school to work on his game.  It seems to have paid off.
In mid-January, a month when Da Costa took home Hockey East Player of the Month honors, Elliotte Friedman of CBC revealed the NHL pursuit of the 5-foot-11 forward had reached a fever pitch.
Amongst the teams reportedly interested in luring him to their organization, the Pittsburgh Penguins:
Da Costa's leadership and on-ice performance has Merrimack poised to end a run of 21-straight losing seasons. So who's interested?

"Everyone," says one scout.

"There are probably about 10 teams that don't heavily scout college hockey," said another. "But even those teams would have him on their radars."

The belief is that Da Costa will leave college after this season, and can be counted on to play next year – at the latest. It all comes down to what's available on the team he signs with. For example, Philadelphia is believed to be an aggressive pursuer, but look at that lineup. Scouts believe Da Costa needs to play on your top lines with power play time to be successful, and there's not a lot of room there.

That is an advantage for teams who've shown no fear of plugging newly signed free-agents right into the roster like Ottawa, Toronto or Minnesota. But Da Costa's decision to return to the NCAA for this season convinced other GMs that he's not afraid to wait and do what's best for his development.

The list is long – others who've been seen a lot at Merrimack games include San Jose, Nashville, Vancouver, Washington, Anaheim and Pittsburgh. That's in no particular order and I'm sure I'm missing a few.
NHL teams can't sign Da Costa until his season at Merrimack is complete (which could happen as soon as Saturday night), but the Penguins figure to be a strong contender for his services.
On January 19, two days after Friedman's column was written, the Penguins signed center Mark Letestu to a two-year contract extension at the NHL level.  Letestu took advantage of Jordan Staal's early-season absence to emerge as an intelligent third-line center capable of scoring timely goals.
For Penguins GM Ray Shero, it was another in a list of smart, understated deals, as Letestu's cap hit over the next two seasons will be just $625,000 per year.
For Letestu, it was a nice reward for a player who has worked his way up the organizational depth chart – not an easy feat at one of the team's deepest positions.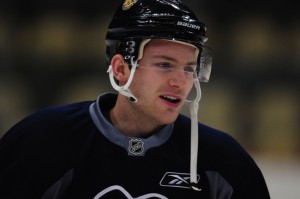 "I definitely didn't start my career here as the player I am now," Letestu said.  "Every year I've gotten better and earned a new two-year deal.  This is my third contract now with the team and the slow progression of getting better each year is probably what helped their decision [to sign me]."
Letestu said the confidence shown in him by the Penguins organization and coach Dan Bylsma has helped him blossom into the NHL player he is today.  "I think Dan's used me in some pretty key spots, whether it's first powerplay [unit] or helping out on the scoring lines.  Hopefully they're confident in me and I think the financial backing shows that.  It's just good to know that someone wants you for another two years and finally on a one-way deal."
Letestu has accomplished all of this despite coming into the organization as an undrafted college free agent.  He's not alone.
Ben Lovejoy is another college free agent the Penguins lured into their organization in 2007 that has gone on to become a nightly contributor at the NHL level.
"After my junior year in college, I was offered a deal with Montreal and turned it down," Lovejoy said.  "I wanted to go back to school.  After my senior season, Pittsburgh offered me a contract before their rookie camp and they were the first team that was interested at the time."
After spending most of three seasons with Wilkes-Barre in the American Hockey League, Lovejoy signed a three-year contract extension last summer at a cap hit of $525,000 per season.  He said the opportunity and stability that came with a multi-year NHL contract offered by the Penguins was the reason he stayed with the organization.
"I had success in the AHL and when I signed a new contract I wanted to be sure, and I wanted the organization to be sure, that I had a future in the NHL," Lovejoy said.  "Wilkes-Barre was great, but my dream was to be here [in Pittsburgh].  By signing that contract, I still needed to play well but the opportunity to be here was a huge factor."
Tim Wallace, a college free agent signed by the Penguins out of Notre Dame, could be the third player to work his way into the NHL lineup full-time next season.
Assistant GM Jason Botterill said the team's high-priced superstars make it necessary to find cheap complementary pieces any way possible.  "We have a lot of talent on our team here in Pittsburgh," Botterill said, "but there's also a lot of openings because of all the money we've allocated to our star players.  We can't go out and get NHL free agents year in and year out. We have to develop players from within."
Botterill also said the Penguins' aggressive approach at the trade deadline naturally thins out their prospect depth.
"We've gone after the Stanley Cup the last few years and we're going to continue to go after the Stanley Cup.  Sometimes you have to trade prospects or draft picks [to acquire NHL talent], so we don't have a ton of prospects and a ton of picks coming through [the system]. It's a situation where we need to complement that with college free agents."
The Penguins will be without a third and fourth-round pick in this year's draft.  They also traded away Angelo Esposito and Luca Caputi in recent deals for Marian Hossa and Alexei Ponikarovsky respectively.  As Shero and Botterill begin their search for college free agents to restock the prospect cupboard, Stephane Da Costa figures to be a top priority.
Corey Pronman, a prospects writer for Hockey Prospectus and ESPN Insider, says Da Costa's skillset projects well at the professional level:
Da Costa has several impressive tools, with his puck skills, shot and hockey sense all being above NHL average. He sees the ice very well and his anticipation is very good– he moves at a calculating pace and is around the puck a lot. He's creative with the puck and has solid deking and passing ability.

For years he has been used on the point for the powerplay because of his playmaking ability and because he has a hard one-timer. The deterrents to his game are his physical game, which is fringe at best, and the fact his speed is about average. Although the other elements of his skating such as his edge control and agility are solid.

The puck skills and hockey sense are good enough even with those weaknesses in mind in my opinion to project him as a potential second-line forward if he can handle the physical game of the pro level. The fact he's a right-handed center who can play point on the powerplay is an additional bonus to his value.
The Penguins have 12 forwards on their NHL roster with contracts expiring this summer, but Da Costa would face the same challenge as Letestu – earning playing time at the center position that already features Sidney Crosby, Evgeni Malkin, and Staal.
Botterill didn't speak to Da Costa specifically, but said depth at a certain position shouldn't be an indication of lack of opportunity for any player.
"Just look at the way Dan [Bylsma] coaches. He has his four lines to start the game, but then other than Sidney Crosby, everyone plays a different position. Jordan Staal plays wing, Malkin's played wing, you have to have that versatility to be part of our organization. That's what we've told players when they come here. We can't tell them specifically what their role is going to be, like third line center or fourth line left wing, but I can tell them that if they play well they're going to have the opportunity to play with skilled players and have a lot of fun with them."
He knows it isn't easy convincing every college free agent that Pittsburgh is the best fit for their career, but Botterill said the track record of the organization should give them a leg up on the competition.
"I think the fact that we can sell them with the success we've had here in Pittsburgh and Wilkes-Barre and the amenities we have in Wilkes-Barre to get them up to the National Hockey League, I think we have a chance with a lot of college free agents.  We understand there's 29 other teams going after these guys too because they're all commodities, but hopefully we can get a guy or two each year and bring them into our system."
Mark Letestu. Ben Lovejoy. Tim Wallace.
Three players, all undrafted. Three players who expect to figure into the starting lineup of an NHL Cup contender over the next couple of seasons.  Three players who have worked their way through the Penguins organization traveling the same route Da Costa has.
It's that kind of open-minded approach that may cause Da Costa to take notice of the Penguins, just as much as they've already taken notice of him.
*Merrimack faces Notre Dame in a first-round matchup Saturday night at 7:30pm EST.
_________________
Other parts in the 'Penguins Blueprint' series:
The Botterill Factor – A behind-the-scenes look at Penguins Assistant General Manager Jason Botterill leading up to the trade deadline.
Commitment to the Core – A look at how the Penguins have dedicated the future of the franchise to a core of talented, young players.
Hossa to Hamhuis: The Evolution of Ray Shero – The important lessons learned by Shero and his staff from the Marian Hossa contract negotiations.
Stocking the Shelves for Free – The Penguins have given promising opportunities to three undrafted college players in recent years.  Merrimack College star Stephane Da Costa could be next in line.
Wilkes-Barre Building a Winning Tradition – Detailing the role of the American Hockey League franchise in a successful NHL organization.
_________________

Mike Colligan is the Pittsburgh Penguins correspondent at TheHockeyWriters.com.  You can email him at MJColligan@gmail.com or follow his updates on Twitter: @MikeColligan

Chris Jiuliante is a weekly contributor at The PensBlog.  You can follow him on Twitter @stoosh10.