This post was originally published in 2011 by Mike Colligan, our Penguins beat writer at the time. With Jason Botterill being named the new GM of the Buffalo Sabres, we feel this insight into his operating methods might be of interest to our Sabres fans and fans interested in a behind the scenes look at an assistant GM.
The onset of March means trade deadline drama is in the rear-view mirror and playoff excitement is still a page-turn of the calendar away. Over the next few weeks, we'll be taking an in-depth look at the makeup of the Pittsburgh Penguins organization in a multi-part series called 'Penguins Blueprint'.
On an unseasonably warm afternoon in late February, Pittsburgh Penguins Assistant General Manager Jason Botterill doesn't seem anxious or nervous – but some would say he should be.
Hockey trades don't come together in a matter of minutes, despite what video games might have you think. Months of scouting and weeks of internal meetings take place before opposing GM's even exchange pleasantries.
Botterill and Penguins GM Ray Shero face a near-impossible task. In just ten days they'll attempt to overhaul an offensive group they spent most of the season simply preparing to tweak. Almost a dozen players are missing from the Penguins lineup due to injuries and suspensions, most notably irreplaceable stars Evgeni Malkin and Sidney Crosby.
To the casual observer, Botterill's composure could indicate he's aware of the challenge the Penguins face and is already looking ahead to next season. His close acquaintances know better.
Jason Botterill – Shero's Right-hand Man
Botterill, 34, has been in the organization four years and spent the last two as Shero's right-hand man. In the same way President Obama relies on input from his Cabinet members before making decisions, Shero leans heavily on the work of Botterill long before any transaction becomes official.
"A big part of my job is giving Ray an understanding about what's going on in the league," Botterill says. "If he's talking to Team X, he needs to know where they are with the [salary] cap. He needs to know if they have a player coming back from long-term injury so they'll be looking to move a defenseman. Just making sure when he goes into these conversations with other GM's he has a clear understanding of what their thought processes are and what their salary cap situation is."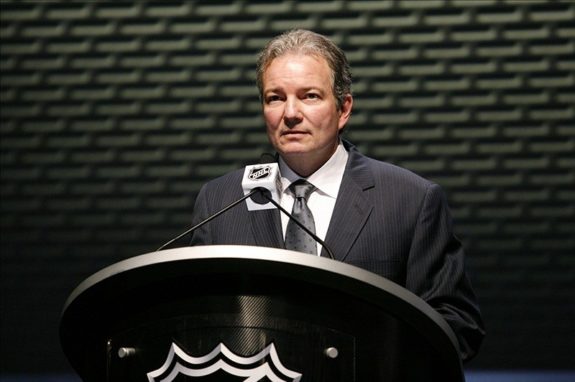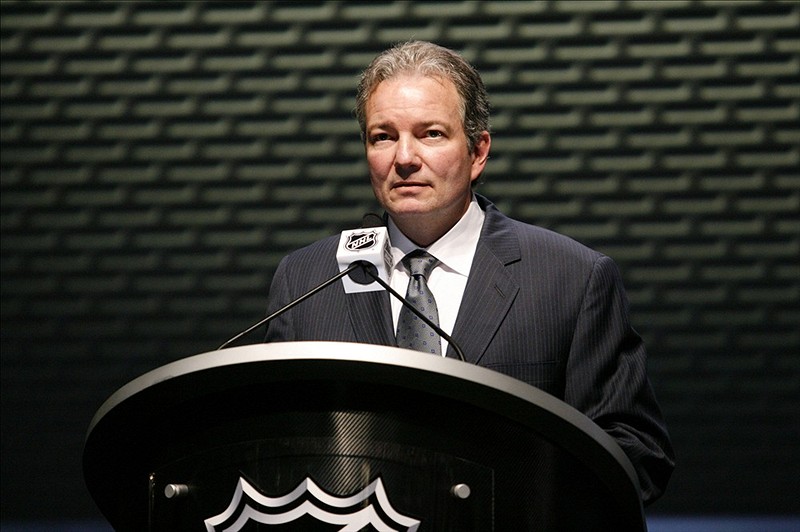 Botterill speaks modestly about his role under Shero and deflects most praise to the scouts and coaching staffs, but those who know the game best recognize his abilities. He was named to The Hockey News 'Top 40 Under the Age of 40′ listing of hockey's most powerful people back in January and it's been suggested (half-jokingly) that he knows the cap situation of other teams better than they do.
Identifying leverage points for Shero to target doesn't happen overnight. Through a series of elaborate spreadsheets and charts, Botterill tracks the transactions and cap situations of all 29 other NHL teams down to the last dollar. It's this year-round preparation and research that gives him the poise of a student heading into a final exam with an 'A' in Math already locked up.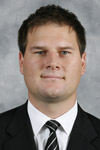 You can gain a lot of insight into a person by just seeing their office on an average day. At the upper-left corner of Botterill's desk sit two documents that embody his value to the Penguins organization.
First, a tattered copy of the 472-page Collective Bargaining Agreement signed into action on July 22, 2005 after a season-long NHL lockout. The articles and illustrations laid out in the document make even the savviest minds spin.
Botterill has been tasked with not only understanding the CBA and how it applies to the entire league, but also building and managing the best organization possible within the boundaries of the rules.
Owners Mario Lemieux and Ron Burkle have done all they can to support the team financially in recent seasons, but Botterill's day-to-day job feels like grocery shopping with a nearly maxed-out credit card.
"What we deal with is we're just so tied to the cap, whereas a lot more teams are tied to budgets," he says. "When you get to the cap, it's hard cap numbers. You can't call up certain players because of it. My first year [as a budget team], I didn't even look at our own salary cap [status]. You're just calling up the best player from the American Hockey League and let's go on. Now it's a 'what's the cap hit, how is it going to affect us?' type of thing."
"I think it's just a lot more work for those teams who are right up against the cap from Day 1. We understand that's our decision to be close to the cap from the start of the year, but it is just more work from the standpoint that every transaction that we make has to be cap-related."
Botterill didn't even wait until Day 1 of this season to start manoeuvring. Twenty-four hours before opening night the Penguins demoted promising prospect Eric Tangradi to Wheeling of the ECHL – bypassing their Wilkes-Barre affiliate in the American Hockey League altogether.
Tangradi was recalled back to the Penguins the next day, but the casual fan assumed Tangradi must have done something wrong to earn the temporary double-demotion. In reality, the quick move created millions of dollars in cap space for the team. Extra wiggle room allowed the Penguins to avoid playing without a full roster for a brief stretch in October like the New Jersey Devils were forced to do.
Rearranging puzzle pieces throughout the season is only half the battle. The Penguins front office also develops five-year plans based on where they see the rest of NHL headed.
"You have to have that projection standpoint on five years down the road," Botterill explains, "especially when we're getting into contracts in the summer for defensemen who will be with us four or five years."
"You have to project who's coming up [for free agency] and what else is going to be out there. It's difficult to project the whole league because so many teams are now trying to lock up their young players. We try to look at who on our team is coming up and what the projection is from a salary standpoint, but in the back of our mind in all our five-year projections we understand that we have to be flexible in this and all the situations."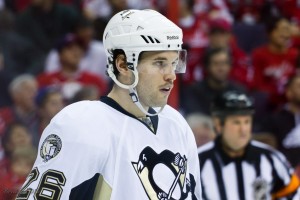 On top of his copy of the CBA sits the 2010-11 Official NHL Rulebook that governs what happens on the ice in today's game – a game much different from the one Jason Botterill competed in as a first-round pick of the Dallas Stars in 1994.
"The style of play since the lockout has completely changed from the standpoint of just the hooking and the holding and the obstruction rules," he says. "The biggest thing I see is just you have to be able to skate. I think it's an era now where if you have the ability to get in [quickly] on the forecheck and compete hard, you don't even need to make that monster hit."
"You look at what [Penguins coach] Dan Bylsma demands, all you have to do is find a way to knock that guy off the puck just a little bit to get that separation so you get the puck. From a fan's perspective, I love our [style]."
Identifying players that fit the Bylsma mold in the new NHL is something that's a constant work in progress. Botterill also serves as General Manager of Wilkes-Barre and is always in contact with the organization's professional scouts looking for new additions. He says the communication and mutual respect between the front office, scouting staff and coaches is the key to the recent success of the Pittsburgh Penguins franchise.
"It's not just one academic person sitting in the corner of a room spewing out numbers," Botterill explains, "and then scouts on the other side saying 'those numbers mean nothing to me at all'."
"What Ray has developed here is he wants his scouts involved with stats, but we also want input from the scouts on 'what are your eyes seeing, what is your projection on this player?' and that's how we go about trying to evaluate a player. I'm going to look deeply into the stats [for a certain player] and try to figure out any trends that he has or how his stats compare to other players out on the market, but I'm also going to rely heavily on my coaching staff and how they see his development as a player, and also the scouts on what they see from his development standpoint and who else is out there."
Once the legwork is complete and the necessary conversations take place, the Penguins are ready to sit back and see what the market gives them.  If a highly-touted winger like James Neal suddenly becomes available, they'll already know: 1) Neal projects to be a good fit on the ice, 2) his salary structure makes sense long-term, and 3) what the Dallas Stars need in return or any leverage points Shero can use to lean on Stars GM Joe Nieuwendyk.
If there's anything the Penguins and their front office has learned from the tumultuous 2010-11 season, it's to expect the unexpected.
"Ray always wants to be prepared for anything," Botterill says. "We think our need today is say a third line center, but let's also make sure we have second line left wing prepared because you just never know.  Things can change so quickly."
_________________
Other parts in the 'Penguins Blueprint' series:
The Botterill Factor – A behind-the-scenes look at Penguins Assistant General Manager Jason Botterill leading up to the trade deadline.
Commitment to the Core – A look at how the Penguins have dedicated the future of the franchise to a core of talented, young players.
Hossa to Hamhuis: The Evolution of Ray Shero – The important lessons learned by Shero and his staff from the Marian Hossa contract negotiations.
Stocking the Shelves for Free – The Penguins have given promising opportunities to three undrafted college players in recent years.  Merrimack College star Stephane Da Costa could be next in line.
Wilkes-Barre Building a Winning Tradition – Detailing the role of the American Hockey League franchise in a successful NHL organization.
_________________