The onset of March means trade deadline drama is in the rear-view mirror and playoff excitement is still a page-turn of the calendar away. Over the next few weeks, we'll be taking an in-depth look at the makeup of the Pittsburgh Penguins organization in a multi-part series called 'Penguins Blueprint'.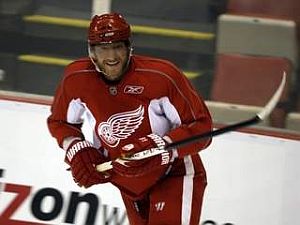 You can't win the Stanley Cup every year.
The Pittsburgh Penguins outshot the 8th-seeded Montreal Canadiens 228-178 in the second round of last year's playoffs, but couldn't find a way to consistently beat goalie Jaroslav Halak.
A few General Managers might chalk up a result like that to bad luck. Some would conveniently blame it on the hot goalie.
Those weren't excuses for Penguins General Manager Ray Shero.
"Ray sat down at the end of last year and said being knocked out at the end of the second round is not acceptable," assistant GM Jason Botterill said. "Instead of just being disappointed about it, he said 'well let's talk about it and let's see what went wrong'."
Internal meetings began almost immediately as Shero sought feedback from his coaches and pro scouting staff to help diagnose the problem. After taking an inventory of the roster, the Penguins realized the departures of shutdown defensemen Rob Scuderi and Hal Gill the summer before had made it tough for them to win the low-scoring games sprinkled along every Stanley Cup path.
"Coming out of those meetings we said we have the offensive skill to score goals," Botterill continues. "If you look at the stats, we were a Top 5 team in goal-scoring the last two or three years, but our goals against average was closer to Top 20. It was a situation where it was evident that we had to get better defending."
With the Penguins attention turned to defense, the first (and biggest) chip that had to be addressed was soon-to-be free agent Sergei Gonchar. Reports indicate that Gonchar was looking for a three or four-year deal in the range of $5.5m per season.  The Penguins weren't willing to commit to that, but it wasn't the dollar amount that concerned the team, it was the length of the contract.
Gonchar had just turned 36 years old and played only 77 games the previous two seasons due to injuries.  Shero admitted at the time that he wasn't interested in budging from his two-year offer (believed to be totaling $11m) and Gonchar chose to examine the free agent market before conceding to Shero's demands.
This wasn't the first time Shero and the Penguins had a star player ask to test the waters before making a final decision. Marian Hossa expressed an interest in staying with Pittsburgh long-term after he was acquired at the 2008 trade deadline and the Penguins offered him his choice of a contract extension at $7m per season for five, six or seven years.
Shero left the decision up to Hossa as he waited patiently by the phone on July 1.  When the Slovak sniper finally made his choice the following evening, it came in the form of a one-year contract for $7.45m with the Detroit Red Wings (Pittsburgh's biggest rival at the time).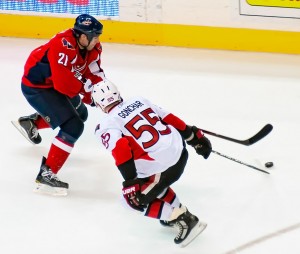 The Penguins knew there was a possibility Hossa would sign elsewhere when they acquired him via trade, but they couldn't have anticipated the sucker punch Hossa unloaded that left Shero picking over free agent scraps 48 hours after the July 1 frenzy had began.  It's safe to assume the team wasn't going to let Sergei Gonchar steer their offseason plans this time around.
The stars of the 2010 free agent defense class included Gonchar, Dan Hamhuis, Anton Volchenkov, Paul Martin, and Zbynek Michalek.  At least half the teams in the NHL were interested in luring some combination of that group to their city.  With Gonchar and his agent J.P. Barry set to field offers from the open market, Shero got proactive.
Other teams are prohibited from negotiating with free agents prior to noon on July 1, so at the NHL draft on June 26 Shero dealt a third-round pick to the Philadelphia Flyers for the exclusive rights to work out an extension with Hamhuis.  (The Flyers sacrificed a talented prospect and a pick to pry Hamhuis from the Nashville Predators just a week earlier with the same idea in mind)
At the time, the move by the Penguins confused most outsiders – including this writer.  For Shero to bail out a division rival's mistake he must have felt confident in his ability to change the mind of a player who was "looking forward to free agency", right?  Did he have an ace up his sleeve?  Was he panicking?
In hindsight, by possessing the rights to Gonchar and Hamhuis, Shero had a huge advantage over every team in the NHL when it came to courting free agent stud defensemen.  He knew exactly where these top two options stood entering July 1 and quickly realized their asking prices were probably going to be beyond what he was willing to pay.  This time he didn't wait for a return call.
Armed with that knowledge, at 12:01 he immediately made a call to the agent of Zbynek Michalek offering five years and $20m to the shutdown defenseman that flew under the radar in the Phoenix market.  It was an offer the 6-foot-1 Michalek couldn't refuse.
"[Zbynek] was a guy we really tried hard to bring back," Phoenix Coyotes assistant GM Brad Treliving said.  "He was an assistant captain and played valuable, heavy minutes for us.  We tried very hard, but at the end of the day it's a business and 'Z' got a deal that really set himself and his family up for a long time."
The Penguins already possessed a pair of offensive defensemen in Kris Letang and Alex Goligoski capable of potentially filling Gonchar's shoes.  Botterill said that made their focus finding a stay-at-home defenseman like Michalek who could improve their penalty killing.
"Our pro scouts did an unbelievable job tracking [Michalek] over the last couple years. People are going to focus on his offensive numbers, but that wasn't why he was brought in.  The fact that our penalty kill has had a lot of success this year is a big credit to Michalek."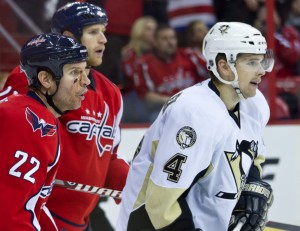 Michalek admitted he never received serious offers from teams other than Pittsburgh and Phoenix before he quickly signed with the Penguins.  Of course he didn't.  As other GM's were being greeted with busy signals from the Gonchar and Hamhuis camps, Shero was already working down his list of options.
Just hours later, the Penguins also had Paul Martin's autograph on a 5-year deal worth $25m.
"Paul Martin had a significant injury last year and that hurt our scouting," Botterill said of the former Devils defenseman.
"Thankfully we had good coverage on him in the years prior.  We just viewed him as a player that was still a fairly young free agent, a player who was an excellent skater, plays with composure, is willing to move the puck up the ice, and we just figured he'd be a very good fit within our organization."
Michalek and Martin have proved to be valuable additions to a Penguins team that will play only one full game this season (the Jan 1 Winter Classic) with Sidney Crosby, Evgeni Malkin, and Jordan Staal in the lineup at the same time.  Pittsburgh sits fifth in the NHL in goals against and was as high as second before a rash of injuries in February devastated the roster.
"We felt if we can get our goals against average from the Top 20 into the Top 10 and if that makes us slip a little on offense, we think we're going to be a better team down the road," Botterill said.  "I think Ray's just done an excellent job in understanding what his team needs and going after it."
Shero has never been afraid to seize opportunities since his tenure with the Penguins began in May 2006.  He's consistently made his mark at the trade deadline and has used the lure of the Pittsburgh organization to bring veteran free agents into town at discount prices.
While Shero has limited his comments on Marian Hossa's last-minute departure, his actions last summer speak volumes about his evolution as a General Manager.
Ask anyone what trade was instrumental in the Penguins 2007-08 Stanley Cup Finals appearance and they'll immediately point to Hossa.
If Ray Shero's team returns to the Finals over the next few seasons, the key trade might be one involving a player who never appeared in a Penguins jersey: Dan Hamhuis.
_________________
Other parts in the 'Penguins Blueprint' series:
The Botterill Factor – A behind-the-scenes look at Penguins Assistant General Manager Jason Botterill leading up to the trade deadline.
Commitment to the Core – A look at how the Penguins have dedicated the future of the franchise to a core of talented, young players.
Hossa to Hamhuis: The Evolution of Ray Shero – The important lessons learned by Shero and his staff from the Marian Hossa contract negotiations.
Stocking the Shelves for Free – The Penguins have given promising opportunities to three undrafted college players in recent years.  Merrimack College star Stephane Da Costa could be next in line.
Wilkes-Barre Building a Winning Tradition – Detailing the role of the American Hockey League franchise in a successful NHL organization.
_________________

Mike Colligan is the Pittsburgh Penguins correspondent at TheHockeyWriters.com.  You can email him at MJColligan@gmail.com or follow his updates on Twitter: @MikeColligan