Several suspensions have been levied in the National Hockey League following the recent General Managers meeting held in Boca Raton, Fla.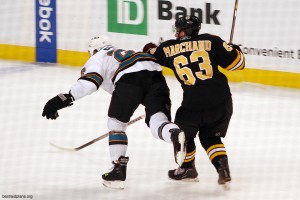 Dany Heatley of the San Jose Sharks was suspended two games for taking an elbow to Dallas Stars forward Steve Ott (Video: Heatley Elbow on Steve Ott), while Boston Bruins rookie Brad Marchand was given the same two-game suspension for a similar elbow to the head of RJ Umberger of the Columbus Blue Jackets (Video: Marchand Elbow on Umberger).
Although the two main concerns raised at the General Managers meeting were tightening up calls on boarding and charging, these two incidents involving elbows made it especially easy for referees and the league to come to consistant conclusions.
As we have seen the various different scenario's involving head-checks and dirty hits in the NHL as of late, the Ontario Hockey League is trying to find a way to solve the same problems as the league has seen several incidents lately as well.
We'll start with the less controversial hit involving Doug Gilmour's Kingston Frontenacs centre, Ethan Werek. Werek was given a five-game suspension for a checking-to-the-head penalty he received last Friday, Mar. 11 on Oshawa Generals top prospect, Boone Jenner.
However, Werek did play that Sunday in a home game against the Niagara IceDogs because, unlike the NHL, the OHL review board is open on weekdays only, and had yet to deal with the issue.
Much like the big league GM's, OHL managers are seeking some consistency as well.
In an interview with the Kingston Whig-Standard following the incident, Frontenacs general manager Larry Mavety suggested a similar rule to what the NHL is trying to implement – an automatic two game suspension for any and all checks to the head.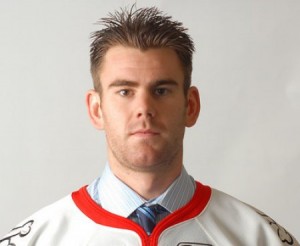 The two-game suspension rule might not have helped Niagara IceDogs over-aged defenseman Tim Billingsley with his recent hit on Ottawa 67's top prospect, Shane Prince.
Billingsley, who believes his hit was a "normal hockey play" and admits to having no intent to injure or strike Prince's head first, was given a whopping 10-game suspension, which will cause him to miss at least the first round of the playoffs. If the IceDogs happen to get defeated in the first round, the suspension could be career-ending.
The play saw Prince carrying the puck into the IceDogs zone, and the slightly taller Billingsley was gliding on his skates (not opening his stride) attempting to separate Prince from the puck. Upon contact, Prince's helmet was loosened and flew off his head before hitting the ice.
At first glance, it appears that Prince may have blacked-out do to hitting his head on the ice, but when the video is slowed down, it was determined Prince's head whipped back and he lost consciousness before hitting the ice, which is why Billingsley was given the suspension. (Video: Billingsley Hit, Slow Motion)
This particular event has been very controversial throughout the junior hockey world, but the only thing that is clear is the OHL needs to reach some sort of consistency when it comes to  this type of play.
When Ethan Werek is penalized with five games for a head-check (and teammate Erik Gudbranson suspended eight games for a flying elbow to the head of JP Labardo earlier in the season), and Billingsley, who is by no means a repeat offender or dirty player, gets double the punishment for a similar check, you can see why coaches and managers beginning to question the board's credibility.
Just as the NHL is trying to clean up the game and eliminate concussion-like injuries, these problems are occurring throughout the hockey system in all different leagues, so the question remains: how do they fix it?
It seems, as Don Cherry recently stated, the only way you are going to eliminate these types of injuries is to banish hitting from the game of hockey. Which, as we all now, is something that cannot happen.
But wouldn't it be beneficial for the CHL and NHL to meet and discuss these issues? As OHL commissioner, David Branch, is clearly having some ups and downs when it comes to deciding how to deal with head hits, maybe together, they can put their heads together (no pun intended), and find a way to even the keel for this ongoing issue.
What would you suggest? Please feel free to leave your feedback in the comments section below.
NHL photo courtesy http://www.flickr.com/photos/slidingsideways/
Journalism grad from St. Catharines, ON, Canada. Newfoundland heritage. Passionate about hockey whether it's junior or pro. News junkie and literature fanatic. Sun Media Reporter, The Hockey News intern, former Media Relations with the Ontario Hockey League's (OHL) Niagara IceDogs, contribute to an OHL radio show called In the O Radio (www.intheoradio.com), and write prospect features for Andy Strickland's TrueHockey.com. Follow @JeffBlay on Twitter.