The onset of March means trade deadline drama is in the rear-view mirror and playoff excitement is still a page-turn of the calendar away. Over the next few weeks, we'll be taking an in-depth look at the makeup of the Pittsburgh Penguins organization in a multi-part series called 'Penguins Blueprint'.
When the New Jersey Devils signed Ilya Kovalchuk to a 17 year 15 year contract this summer, fans of the Pittsburgh Penguins quietly wondered if their team might do something similar in the future.
It's no secret that long-term, front-loaded contracts like Kovalchuk's serve as an opportunity for teams to wiggle around the salary cap.  Kovalchuk will earn between $11.0 and $11.8 million per season over the next few years while his cap hit remains an affordable $6.7m.
If the Penguins continue to have success in coming seasons GM Ray Shero will also be forced to get creative and find ways to keep his talented group of stars together.  However, the idea of signing Sidney Crosby or Evgeni Malkin for the rest of their careers isn't an option he's considering right now.
Shero told Sean Conboy at Pittsburgh Magazine last month that he doesn't think the mega-deals are financially responsible:
If you sign a guy for 12 or 15 years and you think you have him forever, well let's be honest, if he doesn't like the way the team's run or he doesn't like the ownership and he's not happy, in today's game players will come to you and say, 'Look, this isn't working out like I thought,' and then you're stuck."

"But if you sign a guy to a five-year contract like Crosby, or anybody else, and you make every attempt to win and you make a commitment with a brand new building like we have, then you'll have a much better chance to retain that player.
Shero would never admit it publicly, but the risks associated with on-ice factors can be even greater.  He's found that out first hand this season.  One concussion or a pair of torn knee ligaments can turn a 'guaranteed sure thing' into a giant question mark.
"In a salary-capped world if you make a mistake on one player it could have a huge impact on your ability to win a Stanley Cup," assistant GM and cap guru Jason Botterill says. "How many times do you hear a team say 'if we just had that one extra guy we could've gotten by the second round of the playoffs and who knows where we could've gone'?"
NHL teams would ideally prefer to sign their stars to contracts at two or three-year intervals and maintain maximum flexibility.  The reality of the free agent market makes that impossible.
The opportunity to acquire young elite talent like Crosby, Malkin or Jordan Staal via free agency rarely presents itself.   The Penguins were fortunate enough to draft first or second overall in four consecutive seasons and also see all four players develop into elite NHL contributors under their own roof:
2003: #1 overall – Marc-Andre Fleury (signed thru 2015, $5.0m cap hit)
2004: #2 overall – Evgeni Malkin (signed thru 2014, $8.7m cap hit)
2005: #1 overall – Sidney Crosby (signed thru 2013, $8.7m cap hit)
2006: #2 overall – Jordan Staal (signed thru 2013, $4.0m cap hit)
"To be honest, it's not a difficult decision on Evgeni Malkin or Sidney Crosby or Jordan Staal," Botterill says of signing the talented forwards.  "They're such elite players that you know for sure that you want them to be a part of your organization."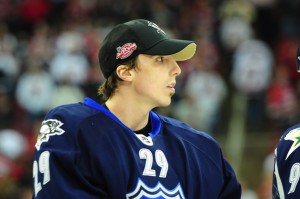 The trio of centers alone occupy 36% of the Penguins salary cap, but it's the goaltender Fleury that received a seven-year contract extension – the longest Shero has ever handed out during his tenure.  Fleury has been the MVP on a Penguins team ravaged by injuries this year, but Botterill says Fleury proved his worth to the front office when he carried the team on his back to an Eastern Conference championship in 2007-08.
"The fact that Marc-Andre Fleury stepped up and led our team to the Stanley Cup Finals as a young goalie [was the key]," he says.  "If that had never happened, it probably would've been a little more difficult getting into a long-term contract with him.  His on-ice performance showed us he's got to be a core player for us moving forward."
In addition to the 'Fab Four', Shero and company have also committed big money to their top two pairs of defensemen.  Brooks Orpik, Kris Letang, Paul Martin, and Zbynek Michalek make a combined $16.25m annually, leaving the Penguins with very little cap room to fill out their roster.
Botterill admits he's never met a person that can guarantee how much the salary cap will increase (or decrease) year to year and says the Penguins never want to be in a position where they're forced to make a trade to achieve cap compliance.
"We understand that we may have to tweak some things, but we don't want to [go into the offseason] and realize we're handcuffed," he says.  "We've always tried to have lower-year contracts for our depth players to make sure we always have a few free agents each year.  That way we can make sure there's at least a little bit of turnover and a little bit of flexibility from the cap perspective."
This summer the Penguins will have more than 'a little bit of turnover'.  Twelve forwards currently on the NHL roster are eligible for unrestricted or restricted free agency.  It's not ideal.  Retaining character depth players is sometimes just as important to a team as a high-scoring forward, but Shero has shown the ability to make tough free agent decisions in recent seasons.
Defensemen Rob Scuderi and Hal Gill were integral parts of the 2009 Penguins championship team, but their playoff performances earned them huge free agent paydays that Shero simply couldn't afford.  Instead, he turned his attention to the development of young players like Kris Letang who recently emerged as a game-changing #1 defenseman.
It's tough to anticipate who will occupy the low-priced depth spots on Pittsburgh's roster next season, but Shero says there's a certain set of characteristics that he looks for in potential Penguins.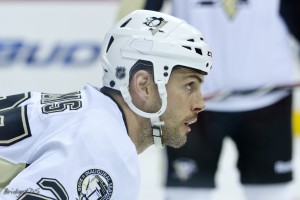 "[A] perfect example is Craig Adams, who was on waivers when we picked him up…" Shero says.  "What he brings every night is hard work and character and physical play. Every successful team needs a guy like that. Our identity to people outside of Pittsburgh might be the high-scoring Penguins, but to me we're a blue-collar team. I want that to be our M.O."
Botterill agrees with that sentiment and says hard work and physical play are only part of the equation.  He oversees the organization's amateur scouting and says it starts with stocking the prospect cupboard with youngsters that fit the mold.
"There's certain traits that we've talked a lot about and tried to emphasize with our scouts," says Botterill.  "We look for good hockey sense.  The ability to skate well. We play a system that's fairly up-tempo, so the players need the ability to keep up with that pace of play.
"Then we're also looking for intangibles.  We want to see a certain compete level, on and off the ice.  Are they going to get bigger and stronger?  Also, our mandate here is we have to win Stanley Cups so we ask 'Do these players have a track record at all? Have they played and been successful in big games?"
Sometimes that package comes in the form of 6-foot-5 Mike Rupp.  Other times it looks like 5-foot-8 Chris Conner.
The number one requirement is that the depth player is willing to potentially forgo a bigger payday elsewhere to be a part of a team with a chance to annually compete for the Stanley Cup.
The formula seems easy.  Commit to a proven home-grown core, maintain roster flexibility, and supplement with low-priced character players that fit the blue-collar mold.
Having the luxury of watching players like Crosby, Malkin, Staal, and Fleury perform on a nightly basis in a Penguins uniform made the decision to commit hefty long-term contracts to these players an easy one.
But that gameplan leaves us with one question.  Why did Ray Shero spend a combined $45m on half-decade contracts for Paul Martin and Zbynek Michalek in the offseason – two players who had never played a game in Pittsburgh?
We answer that question in Part III of Penguins Blueprint
_________________
Other parts in the 'Penguins Blueprint' series:
The Botterill Factor – A behind-the-scenes look at Penguins Assistant General Manager Jason Botterill leading up to the trade deadline.
Commitment to the Core – A look at how the Penguins have dedicated the future of the franchise to a core of talented, young players.
Hossa to Hamhuis: The Evolution of Ray Shero – The important lessons learned by Shero and his staff from the Marian Hossa contract negotiations.
Stocking the Shelves for Free – The Penguins have given promising opportunities to three undrafted college players in recent years.  Merrimack College star Stephane Da Costa could be next in line.
Wilkes-Barre Building a Winning Tradition – Detailing the role of the American Hockey League franchise in a successful NHL organization.
_________________

Mike Colligan is the Pittsburgh Penguins correspondent at TheHockeyWriters.com.  You can email him at MJColligan@gmail.com or follow his updates on Twitter: @MikeColligan