What a weekend. It is now half way though the week and I am just now able to digest everything that went on.
This past weekend was H2H2 in Detroit (more information on H2H and H2H2). Red Wings Bloggers and fans from not only around the Detroit area, Michigan, the United States, but Canada and even as far away as Oslo, Norway came together to watch games, hang out, and raise money for charity.
For months now Red Wings fans have been putting money on the board. Setting their own pledge amounts to anything from $5 for every Pavel Datsyuk goal to $1 if between the benches announcer Hockey Hall of Famer Larry Murphy would eat a hotdog on air. Over $700 was raised one night on Twitter if former Red Wing Darren McCarty would ReTweet the information – he did.
Between all the donations and pledges over $14,000 was raised for the Children's Hospital of Michigan.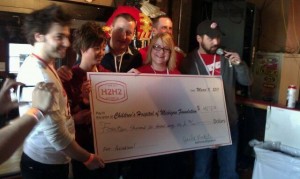 George Malik from The Malik Report on Kukla's Korner had this to say about the event:
Other recaps of the event from Clark Rasmussen of DetroitHockey.net and the almost minute by minute play by play of the weekend from Sara – better known as The Tinnish Flash.
An avid hockey lover that grew up in Michigan and lived in the Washington D.C. area while going school for Sports Management. Volunteer with the American Special Hockey Association (ASHA); and follows as much SM-liiga and Elitserien as possible along with the vast array of North American leagues.