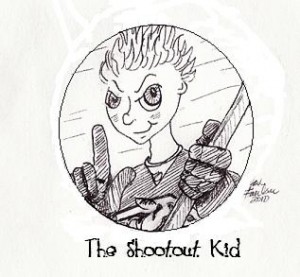 For teams like the Columbus Blue Jackets, struggling to stay alive in the playoff race,  focus tends to turn to that one thing — that single, identifiable statistic — that seemingly explains their troubles and, had the stat been otherwise, the season would have been different.  Of course, this is mere mental gymnastics, as losses in October mean just as much as losses in March, and virtually every statistic has taken a hit at some time during the season.  However, it is in March, as teams increasingly become irrelevant, that the body of work is reviewed and that one glaring statistic identified.
For Columbus, that statistic is likely to be the dreaded Shootout.  Last night, despite playing some very good hockey, the Blue Jackets made just a couple of mistakes at the wrong time, and ended up dropping a shootout decision to the Boston Bruins, 3 – 2.  None of the Blue Jackets could solve Tuuka Rask during the skills contest, while Boston managed to sneak its first shot just across the goal line under the pads of the Jackets' Steve Mason, and such was the margin of victory.  While Columbus gained at least a point for the 14th time in the last 20 games, it is little consolation for a club that needs 2 points almost every night.  With 74 points in hand and 13 games remaining, the Blue Jackets trail 8th place Calgary by seven points, but do hold three games in hand over the Flames.  The problem is that Minnesota (77), Anaheim (79) and Nashville all sit between Columbus and Calgary.   In all likelihood, the Blue Jackets will need to finish something like 10-2-1 to be in the hunt, and while they have had streaks like that this season, they can't afford acts of generosity such as they displayed last night.
To be sure, Boston is a terrific hockey club that combines size and skill, and frustrates opponents with a collapsing defense.  Nonetheless, the Blue Jackets came out with energy and skill of their own on Tuesday night, and gave Boston all it could handle, and more.  Three minutes into the game, the Blue Jackets had an 8 – 1 shot advantage over the Bruins, and many of these were point blank efforts on the power play.  A familiar combination of missed opportunities, bad luck and terrific play between the pipes by Rask conspired to keep the contest scoreless through that initial flurry, and it was a theme that was repeated throughout the contest.   Mason was similarly terrific in goal for Columbus, making this a taut, tense affair throughout the first period.  Finally, just after the "1 minute left" announcement, Columbus got on the board first, via a nasty, rising point shot from defenseman Grant Clitsome.  Nash was cruising in front, and many thought they heard the puck carom off his stick.  However,  it was a clean point shot from Clitsome, with Nash undoubtedly distracting Rask as he came across the crease.
Despite the fact that the Blue Jackets maintained their 1 – 0 lead throughout the bulk of the second frame, the tension in the arena was palpable, as the Blue Jackets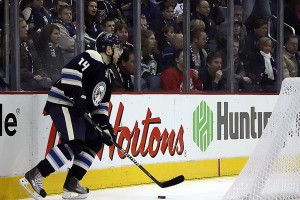 failed to capitalize on chance after chance.  Over the course of the night, Umberger, Voracek, Brassard, Nash, Moreau, Russell, Tyutin and Dorsett would all fail to convert on prime scoring opportunities.   Perhaps the most glaring was Dorsett's chance, when he pounced on a loose puck a few feet in front of a sprawling Rask with nothing but net facing him.  He could not elevate the puck quickly enough, and Rask's glove somehowe found the puck.  There was a growing sense that these missed chances would come back to bite Columbus — and they did.  At the 12:20 mark of the second, Zdeno Chara let loose with one of his 100+ mph lasers from the left point, which ended up in the upper right corner of the net, after passing through at least two screens.  Mason never stood a chance, and the goal, originally credited to Chara, was ultimately awarded to Krejci, who tipped it en route.  Goalies have difficulty enough seeing a Chara point shot, let alone dealing with a tipped laser.
Chara was routinely booed by the assembled crowd each time he came near the puck — an aftermath of the thuggery he inflicted on Max Pacioretty of Montreal (and the league's failure to impose discipline for the hit).  Additional cannon fodder was provided in this one, as the Bruins' Brad Marchand delivered a blind-side elbow/forearm shot to R.J. Umberger's head — an open ice hit that drew no attention or action from the on-ice crew.   At full speed or in slow motion, this is precisely the type of hit that the league supposedly wants to prevent. However, if the on-ice officials can't get it right, and the league office seems reluctant to step up (at least when the transgressor is from Boston), the retribution cycle will start and the problem will escalate.  Stay tuned to see what, if anything, happens to Marchand.
The third period was a similarly tense affair, with the suspense seemingly broken at the 12:19 mark, when Scottie Upshall, a terrific acquisition from Phoenix,  buried a wrister after a scramble in front of Rask, and the  Blue Jackets had a 2 -1 lead.  With less than eight minutes remaining, prospects appeared to brighten.  They dimmed suddenly two minutes later in one of those "Perfect Storm" kind of plays that leaves everyone shaking their heads.  At the end of the shift, Brassard found an opening down the left wing and entered the zone with some speed. Encountering resistance, he left a drop pass for Upshall.  Unfortunately, Upshall had cut to the middle and was starting a drive to the slot, and had vacated the area .The Bruins' Rich Peverley, undoubtedly ecstatic to be freed from Atlanta, gratefully accepted the gift and sped into the zone.  Even with the turnover, things appeared to be well under control, as both Fedor Tyutin and Kris Russell were back to defend Peverley and Kelly, who criss-crossed as they entered the zone.  Russell stayed with Kelly, but Tyutin, guarding Peverley, went for a nifty little fake at the top of the zone, and Peverley swerved around Tyutin on the outside, came into the crease at a sharp angle and found the five hole against Mason to tie the game.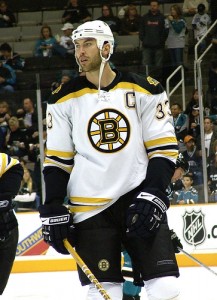 Despite some late chances for the Blue Jackets, and opportunities for both clubs in overtime, the dreaded shootout loomed, and the feared result emerged.  The Blue Jackets have lost their last five shootouts, including this one.  Rick Nash led off for Columbus, and made too many moves, got too close to Rask, and had his backhand chance snuffed. Tyler Seguin, leading off for Boston, snuck one just under Mason's pads and across the goal line.  Arniel called upon blue liner Fedor Tyutin in Round 2, and he did not get close, putting a weak effort into Rask's pads.  Mason stopped Bergeron's effort, and Scottie Upshall got in too tight, and his attempt to roof a backhand sailed over the bar.  Game over.
While it is true that the Blue Jackets are enduring a spell where misfortune has played a significant role (all but three of their defeats have been by a single goal), they have also failed to grasp opportunity when presented.  Before hitting a soft spell last week, Steve Mason was playing the best he had played in two years, and better than virtually every other goalie in the league during that spell.  With Mike Commodore banished to the AHL, Rostislav Klesla dispatched to Arizona and Anton Stralman on the shelf, the defense has looked better, if not spectacular.  Sami Lepisto had his best game in a Columbus uniform against Boston, and seems to be acclimatizing himself to Arniel's more offensively-oriented strategy for the blue line team.  Fedor Tyutin, despite getting beaten for the tying goal last night, has been playing some terrific hockey, and amassed over 25 minutes on the ice against the Bruins.  Kris Russell is skating the best he has all season, and Grant Clitsome continues to impress.   Once could certainly envision a scenario in which GM Scott Howson brings in one four-star blue liner in the off season, and combines him with Tyutin, Russell and Clitsome, with some combination of Methot, Lepisto, Moore, Savard and Holden filling out the ranks.  There are some free agency issues to work out, and with defensemen at a premium, even some of the RFA's could attract offer sheets from elsewhere, so Howson's move in building young depth on the blue line seems sound.
On the front line, the good news is that the lines are creating numerous opportunities. The bad news is that they have been horrendous at cashing in on those opportunities.  R.J. Umberger has not been good with the puck for the last three weeks, and Rick Nash is mired in a 10 game slump without a goal.  That could not come at a worse time for the Blue Jackets.  Nash, who logged over 23 minutes against Boston, appears to be trying to do too much by himself, bullying his way through defenders without keeping his vision of the ice.  Voracek has continued a frustrating tendency to display speed and strength, but with no ability to finish the play.  The return of Derick Brassard from injury has been a big plus, as the first line opportunities have increased with Brassard's pinpoint passing.  Last night, however, he seemed to be trying too hard and mishandled a few prime scoring chances.  Derek Dorsett simply lacks the offensive skill to be a difference maker, and really looked lost in all three zones against Boston.  Jared Boll has outplayed Dorsett all year, but has faded a bit of late.  Finally, Antoine Vermette has simply had a frustrating season.  He has not been a bad player, and his all-around game has been really sound.  He has just had difficulty getting the puck to the back of the net, and that has continued of late.  A late season surge on his part would be a big boost for the club.
The recent offensive stars have been Derek MacKenzie, Matt Calvert and Scottie Upshall.  They share the ability to keep their skates moving, keep the puck in play and put the puck on net.  Not surprisingly, success has followed.  Upshall has quickly become a fan favorite, and I would not be surprised to see Howson make a big pitch to sign him in the off-season.  However, overall, there is too much hesitation in the offensive end — too many pucks bouncing off sticks, too many incomplete passes.  If you hold an NHL opponent to two goals in regulation, you should win the game, and the Blue Jackets need to lighten the grip on their sticks and let it rip.
Ironically, the Blue Jackets have been playing some of the best team hockey they have ever played.  Keep in mind that much of the 2008-2009 playoff run was fueled by tremendous individual efforts by Mason and Nash, but less impressive team contributions.   The quality of the hockey we are seeing on the ice is a significantly superior product to what we have seen before, and that is an important sign of progress.  While fans predictably are weary of progress, Howson announced a vision when he arrived of building through the growth of young talent, and he has remained true to that vision.  There have been some disappointments in terms of individual contributions this year (which I will examine in an upcoming article), but there have also been some signs of maturation and coming of age.  In Howson's three years (prior to this season) at the helm, he has produced teams that have earned the three highest point totals for the Columbus franchise, and this season will most certainly exceed at least two of those.  He has earned at least one more season to show that the vision works.
Getting back to those statistical anomalies, if the Blue Jackets had won just 5 of the 10 OT/SO losses they have on the record right now, they would be in the heart of the battle, and above the line when games in hand were considered.  Again, it can also be said that if the defense had been better, or if Mason had stopped more shots, or if Huselius or Voracek had scored more , etc. etc.    However, it is the Shootout stat that screams out right now, particularly with the ongoing string of five shootouts lost.   Scott Howson is known to hate the shootout, and successfully lobbied his peers to make SO wins less of a factor in tiebreakers.  With the SO numbers this season, his lobbying efforts may well be renewed.
Fan of hockey at all levels, with focus on the Blue Jackets, Miami RedHawks and the business side of the game. I try to bring a rational, even-handed analysis to my writing, wtih just a touch of snark. I use my legal background to bring some more insight on the business side. Love family, travel, hockey, golf and curling.