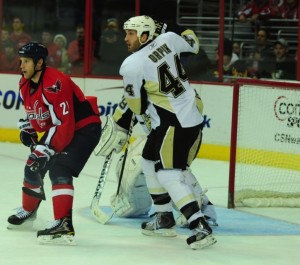 Alex Kovalev will wear number 72 for the Pittsburgh Penguins tonight against the Carolina Hurricanes.
He'll quickly find his preferred spot along the righthand boards on the powerplay.  His linemates will be James Neal and Jordan Staal.
Kovalev will be given every opportunity to succeed for the foreseeable future.
He's moved from a franchise eying a lottery pick in June's draft to one that's determined to fight adversity and instead spend the summer with Lord Stanley.
I'm on record saying I wasn't sure if acquiring Kovalev for free made sense (which is essentially what happened).  He'll be paid over $1.2m by the Penguins for 20 games plus playoffs, a steep price for an enigmatic 38-year-old whose style of play could give Dan Bylsma headaches.
But when the trade went through yesterday, something felt different.
It wasn't the excitement or the nostalgic factor of seeing Kovalev back in a Penguins uniform.  There was more to it.  Something more deeply rooted, but nonetheless difficult to pinpoint.
Finally, Jimmy Rixner over at SBNation Pittsburgh nailed it:
It was among the darkest of hours of the franchise when the Pens traded Kovalev (and a few side pieces of guys they didn't want to pay anymore) back to the New York Rangers for Rico Fata, Mikael Samuelsson, some more filler and $5 million. At least other rebuilding teams like Washington were adding promising young players and first-round picks. The Penguins, meanwhile, were in survival mode, favoring money to keep them afloat rather than being able to make deals that made sense in the hockey perspective.

That was a wake-up call, especially for fans like myself who grew up loving watching players like Kovalev play, and then learned the harsh economic lessons that really drive professional sports. Gone were idyllic, carefree days of enjoyment, replaced by the grown-up world of bills, responsibility and worries.

In a sense, everything was set right a long time ago. There is a new collective bargaining agreement that helps small market teams to retain their top stars by restricting team spending. Lemieux finally wrestled a deal with Pennsylvania politicians and got the Pens a beautiful state-of-the-art arena. The team was rewarded with a stellar base of draftees like Marc-Andre Fleury, Evgeni Malkin and Sidney Crosby for the lean years they suffered on the ice. They even won a Stanley Cup.

Now though, in the light of Kovalev's re-acquisition, something just feels right. The team with no hope that couldn't afford to keep a guy like Kovalev just brought him back.
Rixner touches on a key point that's gone generally unreported over the past few seasons.
Over and over again the Penguins ownership group, led by Mario Lemieux and Ron Burkle, has shown a willingness to open their wallets and repay a fanbase that stuck by their side in the dark years a decade ago.
In 2006-07 the Penguins were a talented young team on the verge of becoming a perennial playoff contender.  The core pieces were already in place, but a first-round playoff drubbing at the hands of the Ottawa Senators that spring was a harsh reminder the team still had a ways to go.
That offseason, General Manager Ray Shero came across a Dallas Stars scout by the name of Jason Botterill and decided to make him Director of Hockey Administration.  In the newly-created role, Botterill would be responsible for salary negotiation and research, following the Penguins' salary cap situation, monitoring the cap situation of other NHL teams, and preparing for potential salary arbitration situations.
The 31-year-old Botterill possessed an undergrad degree in economics and an MBA from the University of Michigan, but admits he still came into the Penguins organization with questions.
"When I first got [to Pittsburgh], I didn't know how far teams looked out or anything like that, and I worked a ton on planning," he said.  "We always had a one-year plan and a five-year plan."
Botterill says the idea for multiple gameplans and obsessive organization came down from Shero, a former Ottawa and Nashville Predators Assistant GM.
"Ray comes from the background of a [Nashville GM] David Poile who is obviously one of the most organized people in the National Hockey League and that's why [Poile has] had so much success.  He's just so organized. That is his strength. He knows everything that's going on in the league and has everything prepared. So that's what we were trying to develop here a little bit."
The Penguins were considered a 'budget team' in 2007-08 meaning they would spend only a certain amount of money as dictated by ownership.  Botterill's job was to manage the team's salary situation to put the best product possible on the ice without straying too far from the plan.
"When I first came on in 2007, our prediction was two years away we'd become a 'cap team'," Botterill said referring to teams willing to spend all the way to the salary cap ceiling.
The Penguins put together another impressive regular season and seemed to be hitting their stride heading into the 2008 trade deadline.  Shero and Botterill were fully-prepared and ready to make any move they could to improve the team.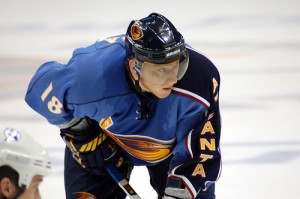 "We worked on these one-year and five-year plans so much.  Then my first trade deadline here, we got Marian Hossa!" Botterill said laughing.  "And it was like well, there goes all the plans!"
Hossa was earning $7m (with a $6m cap hit) in the final season of a three-year deal and propelled Pittsburgh to the Stanley Cup Finals where they lost to the Detroit Red Wings in six games.
"From a pure business standpoint, it just didn't make sense, the Hossa trade," said Botterill.  "We weren't into the new building and now we were all of a sudden going up to the cap."
Team officials say it was in Detroit during the Finals that Lemieux made the decision to open his wallet and make the Penguins a 'cap team' the following season, a year ahead of schedule.
"The benefit that we have is our ownership group," Botterill continued.  "Obviously Ray was in contact with Mario and Ron Burkle throughout the process, but they gave us the ability [to pursue Hossa].  After the Hossa deal we knew the following year we were going to become a cap team and ownership was willing to say 'hey, do the deal because we're willing to step up and do this' well before we were moving into this new arena and getting new revenues and all. We're pretty lucky from that standpoint."
The new building he refers to is the brand new $321m Consol Energy Center that opened it's doors this fall.  Forbes estimates the new arena could bring in an additional $12m per season in operating revenue generated from suites and sponsorship opportunities that didn't exist in the old Mellon Arena facility.
These days the extra revenue allows the team to spend comfortably up to the salary cap limit, but in recent years they've taken even further steps than that.
Lemieux's commitment to open his wallet in the 2008-09 season backfired when the Penguins found themselves on the outside looking in at the mid-season playoff picture.  The team stopped responding to the demanding style of head coach Michel Therrien who was just awarded a three-year contract extension after taking Pittsburgh to the Cup Finals the year before.
Ownership faced the dilemma of firing Therrien a half season into the new deal and salvaging what was left of any playoff hopes, or allowing the team to wither away into the offseason.  On February 19, 2009 Mario and the Penguins pulled the trigger and replaced Therrien with interim head coach Dan Bylsma.  The rest, as they say, is history.
Pittsburgh went on a 18-3-4 run to end the season under Bylsma and four months later won the third Stanley Cup in franchise history.  Meanwhile, Therrien is still receiving his paycheck from the Penguins as he scouts games for the Minnesota Wild this season at Consol.
But the struggles this year have been different.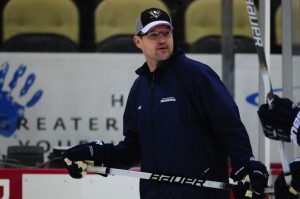 Bylsma still has the attention and respect of his team.  The hard work and commitment from players still exists.  But the ghosts of the old St. Francis Hospital that once sat on the grounds of the Consol Energy Center have decided to make their presence felt.
The injuries to Sidney Crosby and Evgeni Malkin are well-documented.  Yesterday, Brooks Orpik became the latest injury victim after breaking his finger blocking a shot Wednesday night against San Jose.  He'll miss at least a month of action and his absence leaves a gaping hole in a defensive unit that until now had remained relatively intact.
Orpik is the 10th player to join an injury reserve list that currently totals over $28m in salary.  Not on that list but also missing from the lineup is Paul Martin, the Penguins' highest paid defenseman at $5m per year.
Those 11 players have been replaced by cheap minor-league salaries from Wilkes-Barre of the AHL, but that doesn't mean the team is saving money.
Malkin will receive his entire $9m actual salary this year as he rehabs from torn knee ligaments.  Crosby will be paid the same regardless of whether he returns to the ice this season or not.  As Ray Shero said yesterday, 'this is real money'.
HBO's 24/7 series leading up to the Winter Classic showed fans a Penguins team without Jordan Staal that couldn't be stopped, but the team's luck has dramatically changed over the past two months.
If there was ever a year for Lemieux and Burkle to put up the white flag and live to see another day, it would be this year.  No one would blame them.  Fans surely wouldn't revolt.
But that's not what they did, and yesterday Shero seemed energized by the commitment from ownership that allowed him to take a risk on Kovalev:
I think Alexei is making a good deal of money, and from our ownership standpoint, I'm in a great situation with our ownership with Mario and Ron willing to spend the money. This is real money. They're willing to do that, which is great for us and a commitment to our fans. We have a team here that's been decimated by injury but I'm really proud of the way these guys have really battled and they're getting their points here and there. They're scoring late goals and it's the chance that Kovalev is – to a group which we anticipate almost all of our guys coming back at some point to be healthy – I think we're going to be a pretty decent team still. So a guy like Kovalev, I think with his skill level that with the lineup that we have, can certainly give us a push. And the goal here is to get a good playoff position and certainly be a team, come the first round, will be prepared to play anybody.
Long-term injuries to Malkin, Crosby, Orpik, Arron Asham, and Mike Comrie give Shero the temporary flexibility to bring in even more help over the next 72 hours.
The market will dictate whether that becomes a reality or not, but at least Shero knows ownership is financially committed to winning a Stanley Cup every single year – even in a season like this where nothing seems to be going right.
Adding players like Alex Kovalev to that mix who are starved for Stanley Cups at least gives them a chance.
"Let's look at it this way," Kovalev said today sitting in his new locker room stall.  "I'm sure most of you guys here probably heard before that when I won the Stanley Cup, I never had a chance to take it home because of the lockout year. So I never really saw the Cup except holding it on the ice. That's one of the reasons I want to get another Stanley Cup, so I can finally share it with my friends and take it home maybe. I want to get another Cup before the end of my career. To start with a Cup and end with a Cup, that would be great."
Kovalev's career would come full circle with a Stanley Cup this spring.
His arrival in Pittsburgh symbolizes the Penguins franchise has already done the same.  In a little over ten years under Lemieux the team has finally come full circle.
Whatever it takes, whatever it costs, Lemieux and Burkle are willing to give the Pittsburgh Penguins a chance to win.  It's tough to ask for anything more.