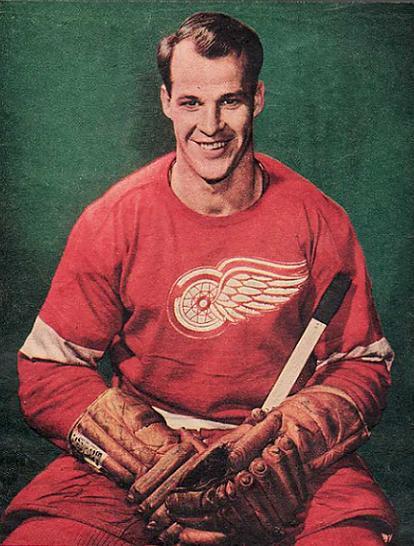 One of the nice things about hockey history is it gives everybody several years to ponder some of the most difficult and often-asked questions of all-time. The general consensus today is Gordie Howe was the greatest right-winger ever to play the game. You'll get way fewer arguments now than you would have 50 years ago.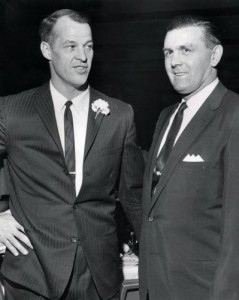 Maurice "Rocket" Richard was also a right-winger. With few exceptions, Howe and Richard had a lock on the NHL's first and second year-end All-Star teams throughout the 1950's. There was never any question that these two super heroes were the best two right-wingers in hockey. The only debate year after year was who would be named to the first All-Star team and who would be the runner-up.
The Rocket became the NHL's all-time goal-scoring leader in November of 1952 and remained king until his retirement in 1960, finishing his career on top with 544 goals, not to mention, five consecutive Stanley Cups.
Meanwhile, "Mr. Hockey" kept going and going like the Energizer Bunny. He eventually took over the all-time goal lead from Richard in 1963 and continued to tally the goals and assists for several more years afterwards. He finished his long, illustrious career with 801 NHL goals. The number is still good enough today for second place, all-time, behind Wayne Gretzky.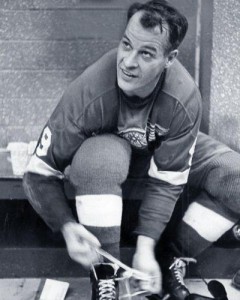 I believe Howe should have had at least 1,000. For many years now I have asked myself: As great as Howe was, what if? Gordie Howe should have tucked away a goal-scoring number on a shelf so high, that not even Gretzky could have touched it.
It wasn't injuries. Howe's longevity records in the NHL can be directly attributed to the fact that the man stayed relatively healthy. You have to be mostly healthy in order to win six Art Ross trophies. Incredibly, Gordie finished in the top 10 in scoring for 20 consecutive seasons. To this day, he is the all-time NHL leader in games played with 1,767.
No, two major things stand out in Mr. Hockey's career that temporarily lassoed him in his rise to the top. A glance at Gordie Howe's career stats reveals he only scored a total of 35 goals in his first three NHL seasons. He wasn't a goal-scorer when he broke into the NHL in 1946. He was a scrapper. It took Gordie Howe until his 283rd game in his 5th season to score his 100th career goal. In comparison, it only took Gretzky 145 games to reach the first double-zero milestone. Fortunately, legendary Wings General Manager Jack Adams had a word with Gordie in his fourth season telling him to stick to hockey and help the team win. The 20+ goal seasons were a given from then on, and Gordie Howe helped the Red Wings capture four Cups between 1950 and 1955 while leading the league individually several times.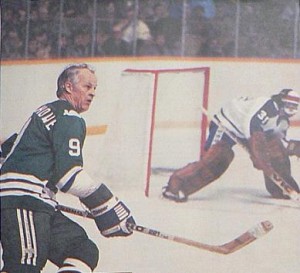 Gordie Howe retired in 1971 after 25 seasons in the NHL with Detroit. A chronic, nagging wrist injury helped him make the decision. At this point, his total career NHL goal number was 786. Lured by the fat contacts being doled out by the upstart rival league WHA, and the chance to play with his sons, Mark and Marty, Howe got his wrist fixed by operation and came out of retirement. (It was uncertain at the time if all three Howes were good enough to play in the NHL). Gordie ended up playing another six seasons in the WHA. He returned to the NHL with the Harford Whalers for one final season when the WHA folded , playing the complete 1979-80 schedule of 80 games and scoring 15 more goals at the age of 51-52.
The NHL has never recognized the individual statistics accumulated by anyone who played in the WHA. This decision was challenged by many at first, but it turned out to be the right one. When Joe Thornton retires, we'll quickly deduct the 10 goals he scored during the 2004-05 NHL lockout when he played with HC Davos in Switzerland. Likewise, the seven goals Teemu Selanne scored with Jokerit during the 1994 NHL lockout will be omitted. And we really don't care how many more goals Jaromir Jagr scores in the KHL. Only NHL goals count.
Some references add up Gordie Howe's totals and Bobby Hull's totals in both the NHL and WHA to present a consolidated "professional career" number. Not me. Gordie Howe scored 801 goals in the NHL. He sits second to Wayne Gretzky who became Number 1 by scoring #802 on March 23, 1994 and finished with 894. I think Gordie Howe could easily have scored 1,000 goals in the NHL, but for a couple of career distractions. We'll never know for sure though.
The Milestones to Number 1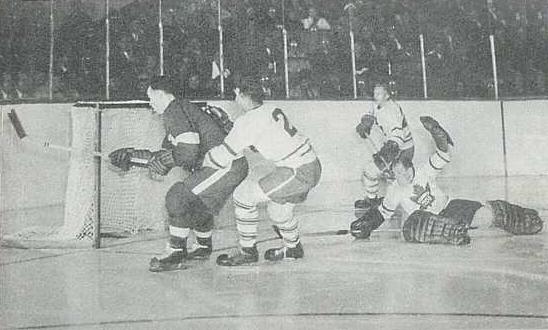 1: Goal # 1 – in his first game, October 16, 1946 in a 3-3 tie with Toronto against Hall-of-Fame goalie Turk Broda.
2: Goal # 100 – in his 283rd game, February 17, 1951 in a 2-1 victory at the Forum in Montreal against goalie Gerry McNeil. The City of Montreal and the fans showered Maurice Richard with expensive gifts, but Gordie Howe stole the show when the game resumed.
3: Goal # 200 – in his 422nd game, February 15, 1953 in a 4-1 win over the Black Hawks in Chicago against goalie Al Rollins.
4: Goal # 300 – in his 624th game, February 7, 1956, at Detroit in a 3-2 victory over Chicago against goalie Al Rollins.
5: Goal # 400 – in his 805th game, December 13, 1958 at Montreal, in a 2-2 tie against Hall-of-Famer Jacques Plante.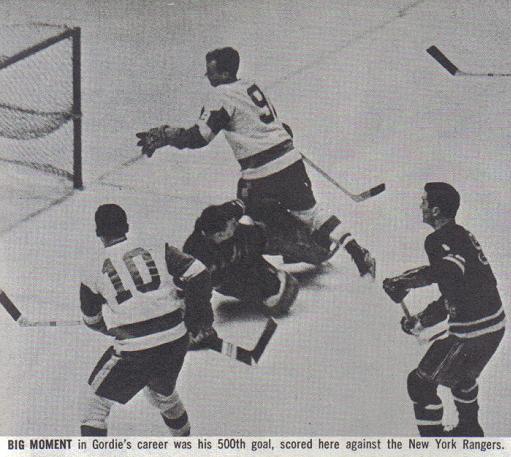 6: Goal # 500 – in his 1,045th game, March 14, 1962, shorthanded in a 3-2 victory over the Rangers in New York against Hall-of-Fame goalie Gump Worsley.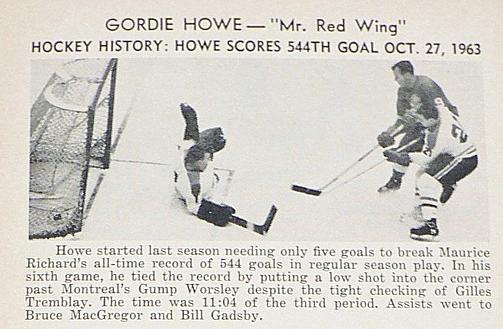 7: Goal # 544 – to tie him with Maurice Richard, in his 1,126th game, in Detroit against Montreal, on October 27, 1963 in a 6-4 loss to the Canadiens against Gump Worsley.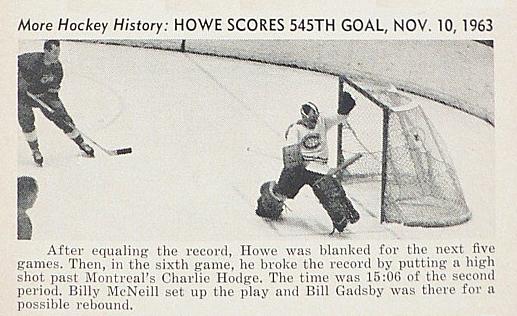 8: Goal # 545 – to become the number one leading all-time goal scorer in the NHL on November 10, 1963, at Detroit in a 3-0 victory over Montreal, shorthanded and in his 1,132nd game against goalie Charlie Hodge. In the same game, goaltender Terry Sawchuk earned his 94th career shutout to tie George Hainsworth for the all-time lead.