The Toronto Maple Leafs are a team built on sheer speed and raw skill.
And now, youth.
As one of the NHL's biggest surprises in 2016-17, the Leafs dominated the vast majority of the league with a high-paced style of play based largely on the incredible skill of their younger players. In particular, Auston Matthews, Mitch Marner and William Nylander stole the show, as their contributions were absolutely essential to Toronto's shocking postseason run and success.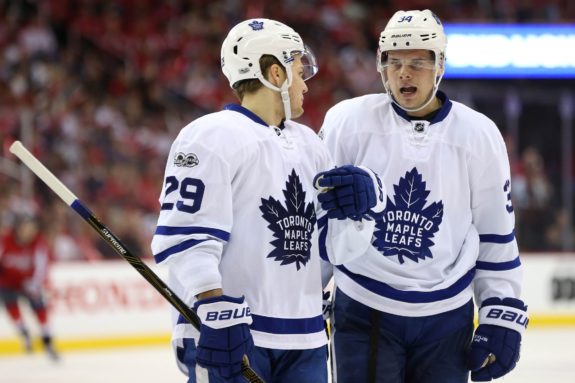 With many praising the early returns of the Leafs' rebuild, it is certainly worth mentioning that a number of Toronto's developing young prospects may be capable of making significant contributions in the near future as well.
Having already perused Toronto's surging AHL prospects, it is time to examine those within the Canadian Hockey League in particular. In the CHL, the Leafs have a number of promising prospects plying their trade throughout Canada and the United States. With a strong prospect in each of the three leagues which comprise the CHL, Toronto holds a handful of skaters who project to become solid players at the professional level – given additional time to develop, that is.
Jeremy Bracco
Position: Right-Wing
Age: 20
2016-17 statistics: 57 GP: 25G, 58A, 83Pts (Kitchener/Windsor – OHL)
Jeremy Bracco's development hasn't been as clear-cut as the typical player, as his young career has taken him to multiple teams and countries in search of opportunity. However, despite his frequent movement throughout numerous organizations, Bracco has continually and consistently displayed elite offensive ability.
Originally committed to the NCAA and Harvard University, Bracco quickly changed his mind in 2014 and instead decided to take his talents to Boston College. Yet, after just five games played and three assists with the team, Bracco once again altered his route.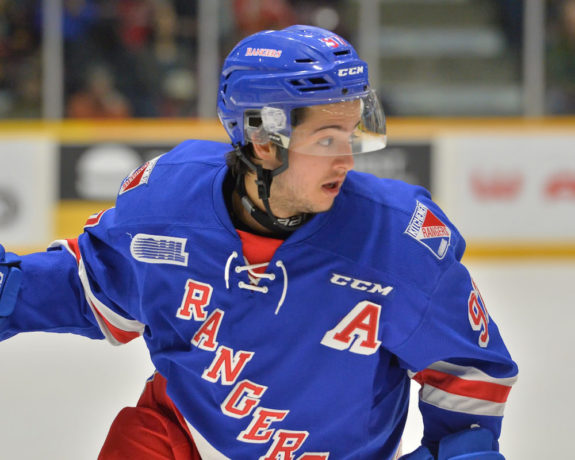 In October of 2015, Bracco decided to leave the NCAA to play for the Kitchener Rangers of the Ontario Hockey League. A fifth-round selection by the Rangers in the 2013 OHL Priority Selection, Kitchener was ecstatic to receive the lethal playmaker, as it had long appeared as though he would never grace ice north of the border.
Following his arrival in the OHL, Bracco dominated the league over the course of two seasons. In his first campaign, Bracco netted 21 goals and 64 points in just 49 games played. Extremely comfortable in Kitchener alongside its players, coaching staff and systems, Bracco flourished. So, when the 2016-17 season began, Bracco exploded out of the gate scoring 17 goals and 51 points in just 27 contests. However, given his age and value, Bracco was traded to the Windsor Spitfires midway through the year.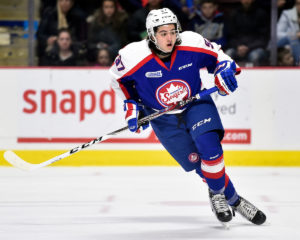 During his short time in Windsor, Bracco was once again sensational, yet not to the same degree as he was with Kitchener. Accumulating 32 points over 30 games with the Spitfires, Bracco was again an offensive catalyst yet not as dangerous as previously.
Regardless, Bracco enjoyed a highly successful OHL campaign in 2016-17 and one that further established him as a premier prospect within the Leafs' organization. As a player of smaller stature yet as skilled as any with the puck, Bracco's incredible vision, playmaking abilities and surprisingly strong shot combine to make him a legitimate all-around threat.
Having signed an entry-level contract with the Toronto on Mar. 22, 2017, Bracco will surely suit up for either the Marlies or Leafs in the immediate future.
Future Projection: Top-Six Forward
NHL Arrival: 2018-19
Adam Brooks
Position: Center
Age: 21
2016-17 statistics: 66GP: 43G, 87A, 130Pts (Regina – WHL)
Adam Brooks is the classic case of a late-bloomer. Initially eligible for the 2014 NHL Draft, Brooks was passed over not once but twice before hearing his name called by the Leafs in the fourth round of the 2016 Draft.
Yet, it wasn't as if Brooks was a poor player, as even during the 2014-15 season, his second year of eligibility, the Winnipeg, Manitoba native scored 30 goals and 62 points. So, when the Leafs nabbed him 92nd overall, it still came as quite the surprise considering he was fresh off of a 120 point season with the Regina Pats.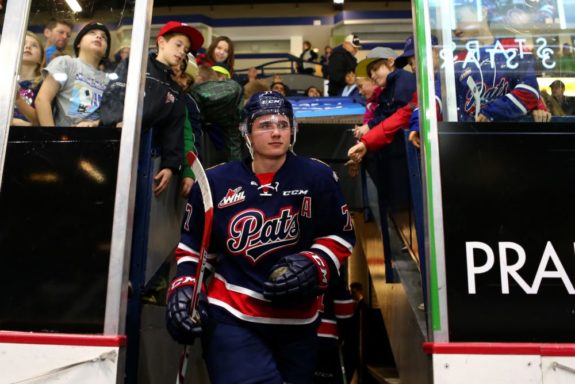 As yet another player of smaller stature and high-end skill, Brooks is somewhat of a forgotten prospect within Toronto's organization, yet one who is beginning to gain traction as a legitimate NHL prospect. In his latest campaign with the Pats, the fifth and final of his WHL career, Brooks posted new career-highs across the board. In terms of goals, Brooks' 43 tallies bested his previous total of 38 from last season. As a playmaker, his 87 assists were an improvement from the impressive 82 he recorded in 2015-16. And, lastly, his incredible 130 points, good for second most in the WHL, amounted to ten more than his previous high of 120.
So, to say that Brooks is as lethal as he is consistent would be a massive understatement. An impeccable shooter as well as a playmaker, the Pats' captain has the ability to fire the puck or pass it and is a force in the face-off circle as well. A solid two-way player who plays with a hint of grit and unquestionable drive, Brooks could, in fact, be one of the Leafs' top prospects despite flying heavily under the radar.
Adam Brooks forces a turnover then takes it down the ice for his 2nd goal of the night, 39th of the year pic.twitter.com/V0JqcaKSj8

— Future Of The Six (@FutureOfThe6) March 12, 2017
Given the fact that Brooks is in the over-age year of his WHL career, it goes without saying that he will begin the 2017-18 season playing some form of professional hockey. A case eerily similar to that of current Leafs forward Connor Brown, Brooks could find himself in the NHL very soon, however, he will need to prove himself as a capable professional with the Marlies before he is provided an opportunity at hockey's highest level.
Future Projection: Top-Nine Forward
NHL Arrival: 2018-19
Stephen Desrocher
Position: Defense
Age: 21
2016-17 statistics: 65GP: 12G, 39A, 51Pts (Kingston – OHL)
Like Brooks, Stephen Desrocher is a late-round choice whose game has steadily improved throughout his CHL career. A big, strong and well-rounded defender who thinks the game at an incredibly high-level, Desrocher too was passed over in his initial year of NHL Draft eligibility before being selected by the Leafs 155th overall in 2015.
A long-time force on the Oshawa Generals' blueline, Desrocher was traded to the Kingston Frontenacs late in the 2015-16 campaign, where he remained for his fourth and final CHL season. Quickly named captain of the Frontenacs, Desrocher put his head down and went to work in his first full season with the team. Further establishing himself as one of the best two-way defenders in the OHL, Desrocher posted new career-highs in goals with 12, assists with 39 and points with 51.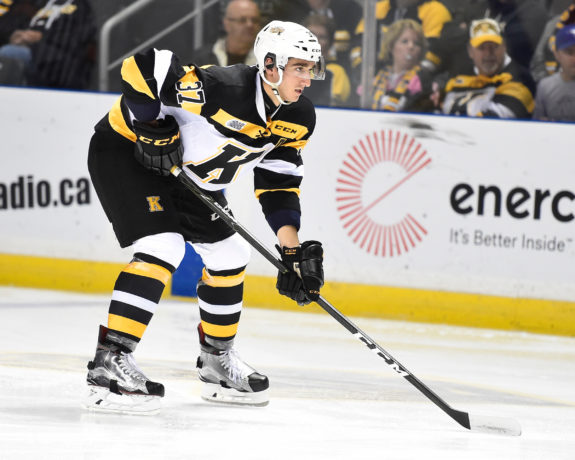 However, Desrocher has proven himself as equally capable on the other side of the puck. Not only can he construct efficient breakouts and quarterback his team's power play, but the Toronto, Ontario, native is an intimidating shutdown defender who uses his size and stick to foil plays designed by the opposition. Never fun to enter a corner against, Desrocher has learned how to effectively use his size in order to protect the puck – a trait which facilitates the development of crisp breakouts or accurate stretch passes.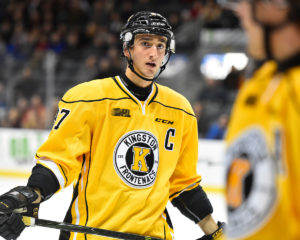 Although Desrocher isn't the flashiest player on the ice, his incredible agility and skating abilities despite his size make him much different from the typical heavy-footed defensemen. Capable of traversing the ice with ease and a force at both ends of the ice, Desrocher is an incredibly promising prospect who, like Brooks, has flown largely under the radar.
Having concluded his CHL career, Desrocher will certainly begin the 2017-18 season playing professional hockey within Toronto's organization. While his debut quite obviously won't come with the Leafs, a strong season with the Marlies or skating with the Orlando Solar Bears will only further Desrocher's game, as he could develop into a sound NHL defender in the future.
Future Projection: Top-Six Defenseman
NHL Arrival: 2019-20
Martins Dzierkals
Position: Left/Right-Wing
Age: 20
2016-17 statistics: 47 GP: 21G, 28A, 49Pts (Rouyn-Noranda – QMJHL)
A native of Ogre, Latvia, Martins Dzierkals arrived in North America in 2015 following his first-round selection by the Rouyn-Noranda Huskies in the 2015 CHL Import Draft. Yet another under-sized forward with oodles of talent, Dzierkals had long been a standout in various Latvian developmental leagues before a strong MHL season put him on the international map.
Upon his debut in the QMJHL, Dzierkals immediately showcased the skill-set which made him a highly sought after player by CHL clubs. As a rookie in 2015-16, Dzierkals made a decisive impact with the Huskies by scoring 24 goals and 67 points in just 59 contests. Further, he added 17 points over 20 playoff games and was instrumental in Rouyn-Noranda's QMJHL championship and Memorial Cup berth.
In 2016-17, Dzierkals was once again impressive, yet simply not to the extent of his rookie season. While he scored 21 goals and 49 points in 47 games played, Dzierkals saw a slight dip in his offensive totals – an outcome largely due to the lesser firepower of his team as a whole.
Regardless, Dzierkals remains a prospect of notable interest for the Leafs, as his raw talent could have the potential to translate well to the professional game. With one year of CHL eligibility remaining, Dzierkals' final season of 2017-18 will be critical to his perception as a prospect. If he can enjoy a career-best season, Dzierkals will surely remain on Toronto's radar and possibly generate a professional contract. If Dzierkals' totals once again fall, well, he could be returning to Europe faster than originally expected.
Future Projection: Bottom-Six Forward
NHL Arrival: 2020-21
Nikita Korostelev
Position: Right/Left-Wing
Age: 20
2016-17 statistics: 55GP: 29G, 35A, 64Pts (Sarnia/Peterborough – OHL)
Yet another late-round choice by the Leafs, Nikita Korostelev was nabbed by the team in the seventh-round of the 2015 NHL Draft. In the 185th overall selection, Toronto acquired a strong Russian-born forward whose game had long been groomed significantly throughout Canadian developmental leagues.
Having played in the GTMMHL and GTHL with the Toronto Junior Canadiens, making the jump to the OHL in 2013 came quite easily for Korostelev, who totaled 38 points in his rookie campaign. As the 9th overall choice in the 2013 OHL Priority Selection, Korostelev was a highly valued prospect in Sarnia from which great contributions were expected.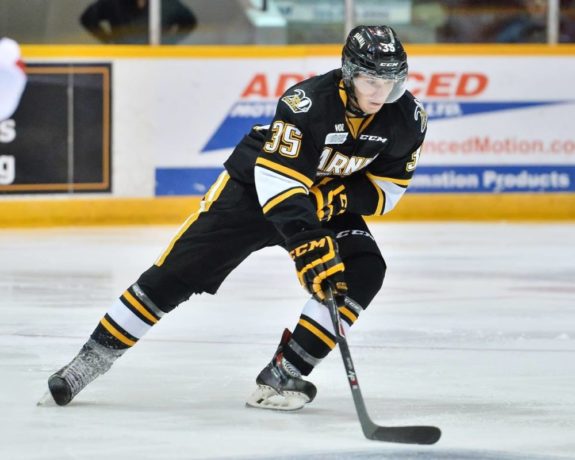 Fortunately for the Sting, Korostelev did not disappoint, as he would go on to net 81 goals and 168 points for the club in 199 games played. However, when the 2016 OHL Trade Deadline had come and passed, Korostelev found himself on the move to Peterborough to join a powerhouse Petes squad. Although he would only skate in 24 regular season games and 12 playoff contests for the team in 2016-17, Korostelev was as potent as ever, scoring 29 points as the season came to a close as well as another 11 in the postseason.
Widely known for his incredible puck-handling and on-ice vision, Korostelev enjoyed such immense success in 2016-17 due to his ability to play a sound all-around game. Although his defensive game remains a work in progress, the strong winger's shot and accurate passes combine to make him a lethal threat in the offensive zone. Factor in ample skating abilities and the capability to protect the puck in traffic and Korostelev equates to a valuable all-around package.
Check out this backhand shootout goal scored by Nikita Korostelev #Silky pic.twitter.com/i27MvrYezC

— Future Of The Six (@FutureOfThe6) February 18, 2017
With one additional season of CHL eligibility, it remains unclear exactly where Korostelev will play next season. At the age of 20 and with four years of major junior experience, Korostelev is, in fact, capable of playing in the AHL in 2017-18, however, whether or not the Leafs will grant him such an opportunity remains to be seen. However, it goes without saying that Korostelev's strong 2016-17 campaign only further legitimized the Moscow, Russia native as a serious NHL prospect.
Future Projection: Bottom-Six Forward
NHL Arrival: 2020-21
J.J. Piccinich
Position: Right-Wing
Age: 20
2016-17 statistics: 66GP: 26G, 46A, 72Pts (London – OHL)
While it originally appeared as though both Bracco and J.J. Piccinich would follow similar developmental paths, such did not ultimately occur, as, like Bracco, Piccinich left the NCAA for the OHL after just one season of play.
Not receiving ample playing time and, as a result, failing to contribute to his team's success, Piccinich departed Boston University in 2015 in order to join the London Knights, one of the OHL's perennial powerhouses. A sixth-round choice by the Knights in the 2012 OHL Priority Selection, Piccinich was not expected to play for London but, like the Rangers and Bracco, the team was ecstatic to receive him regardless.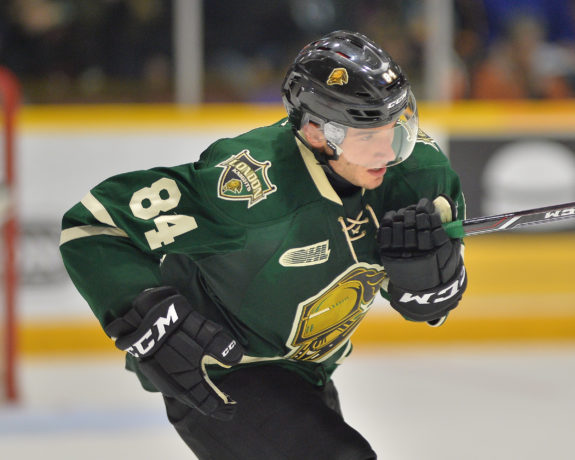 During his time in London, Piccinich was a highly dependable two-way forward who could do it all at both ends of the ice. Defensively, Piccinich used his strong frame to win puck battles along the boards as well as facilitate effective breakouts from his zone. On the other end of the puck, Piccinich used his intelligence to both set up teammates as well put the puck on net through traffic via a hard and well-placed shot. A 30 goal-scorer in his rookie season, Piccinich would add another 26 for the Knights in 2016-17, a campaign in which he as named as the team's captain.
Given his reliability, composure and leadership, the Marlies inked Piccinich to a two-year deal on Apr. 28, 2017. Although he could have played an additional season in the OHL, joining the professional ranks in 2017-18 will undoubtedly be much more beneficial to Piccinich's game, as the Paramus, New Jersey native's maturity will translate well at the next level.
Future Projection: Top-Nine Forward
NHL Arrival: 2020-21