Erik Haula has been a fixture of Minnesota hockey since he first set foot on the Shattuck-Saint Mary's campus in 2008. The native of Pori, Finland took his game to the State of Hockey in hopes of joining the North American prospect pool with an eye on making it to the NHL. Along the road, he found an adopted home and a place in the state's collective hockey history.
Still, with all the great moments he's produced for the Minnesota faithful, he faces an uncertain future this offseason as he becomes a restricted free-agent. The Wild had a record-breaking regular season, but the letdown of the playoff loss to the Blues has many calling for changes. Add to that a tight salary cap situation and other free agents to sign who seem to be a higher priority, you can see where Haula's time in the Land of 10,000 could be in jeopardy.
The question if the Haula will be with the Wild next season is a tough one that isn't answered easily. Perhaps the best way to attempt to answer it is to look at his performance with the Wild.
Haula Sets the Bar High Early
The Finnesotan, as he would come to be known, would parlay his outstanding season at Shattuck where he scored 79 points in 49 games into a commitment to play for the University of Minnesota in March of 2009 and a seventh-round selection by the Wild in the NHL draft that June.  His star in the Minnesota hockey world rose high with the Gophers where he played three excellent seasons tallying 124 points in 114 games.
Expectations were high as it became time for Haula to finally join the Wild. As anticipated, he tore up the AHL posting 27 points in 31 games for Iowa and earned a midseason call-up in 2013-14. He had a fair to midland regular season but in the playoffs, he broke out with seven points (4 goals and 3 assists) in 13 playoff games.
A Break Out…Kind Of
Going into 2014-15 it looked like Haula would ride his playoff momentum to a great season, but he fell short. That season he would play an almost full slate of 72 games and could only muster 14 points (7 goals and 7 assists), and would only play in two playoff games, tallying a goal.
Haula then started 2015-16 in much of the same funk that stymied him the previous season. In February Mike Yeo was fired as head coach and replaced with John Torchetti. Many of the Wild players responded to Torchetti's different approach, but perhaps no one more than Haula. Haula's second-half production under Torchetti eclipsed his first-half as he scored 23 of his 34 points from February 9th on.
So, most would say with second-half numbers like that Haula had reached expectations with more to come this season. Well, we all know it didn't quite end up like that as he had a good season but fell short of his last season point totals and struggled to keep his place on the third line. I'm not saying he had a bad season, he just didn't take his scoring game to the next level in a season where some of his fellow teammates did.
Most importantly, last season seems to have answered the question if Haula has anything more to offer. Now, at the age of 26, it seems like last year's performance might be the pinnacle of his development. No doubt the numbers he put up were solid, but the Wild will need to keep in mind he was the 12th highest scorer on the team and might never rise above that mark as they look to make a decision on his future with the club.
Haula's Place on Wild's Priority List is Unclear
The Wild received career seasons from Mikael Granlund and Nino Niederreiter, but not from Haula. All three Wild forwards are RFAs and all three are in line for pay increases. Thus, logic and numbers would suggest that Granlund and Niederreiter are the clear priorities leaving Haula third. Michael Russo of the Star Tribune weighed in on this with some great words from GM Chuck Fletcher saying that he still has a lot of respect for the talents of both Granlund and Niederreiter but didn't weigh in on Haula.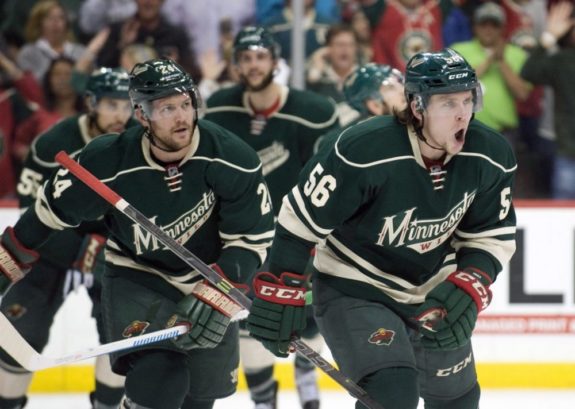 The Wild will likely easily free up $2.55 million in cap space by letting Martin Hanzal and Ryan White go in free agency. That will be more than enough to pay for salary increases for Granlund and Niederreiter, but will not leave enough to give Haula the bump in pay he will be seeking.
Also, his lineup spot could be in danger. Joel Eriksson-Ek will likely center the third line next season, as the Wild look to put him in a position for more minutes. Add to that the fact that Tyler Graovac will be in play for the fourth line center position at a cheaper price point, then Haula's place on the list of priorities becomes more unclear.
Possible Offseason Outcomes for Haula
What does all this mean for the Finnesotan and his future with the club? Like most situations it's easy to think that he might be expendable. My thought is to say not so fast as there looks to be big reasons and possible scenarios to keep him in the State of Hockey.
The Wild are still short on NHL-proven forwards. It might seem like Haula has peaked at middle of the road numbers, but they are still good numbers. Graovac has struggled with consistency in the NHL, and Alex Tuch has not yet shown that he's ready to step into the lineup, leaving the Wild with few internal options to replace Haula.
When it comes so to salary and limited cap space, there still is a way to fit in Haula. After re-signing Granlund and Niederreiter the Wild will have little cap space to go around. But the x-factor in all of this will be the expansion draft and who Las Vegas takes off the Wild's payroll.
If the Golden Knights take a higher priced player then there will be plenty of cap space to re-sign Haula with a little raise. But if the Knights take a lower price player there might not be as much, and the decision to re-sign him will be harder. Add to that some speculation by The Hockey News' Jared Clinton who suggested the Knights could take Haula himself in the expansion draft.
All in all, Haula will likely be seeking a one-year contract to get him to unrestricted free-agency next season, so the team will not need to give him a huge bump in pay. Moreover, as an RFA, the Wild can always trade him if an agreement can't be made and that threat might be enough to have him negotiate a more team friendly salary number.
It looks like, despite the thrash, the Finnesotan's future in Minnesota is secure for at least one more season. The Wild have a need to keep him and even enough resources (even as tight as they might seem) to make a deal happen for next season. Regardless of the road that might be traveled to get there, Haula will be with the Wild next season.
Then again, it's the offseason and anything can happen. So stay tuned, but don't worry too much.
Danny Lambert has been covering the Minnesota Wild for some time now, and is back again as contributor to THW staff. A native Minnesotan he's always had his eye on the State of Hockey and is proud to write and represent such a great market and fans. Follow him on Twitter at @dannylambert17