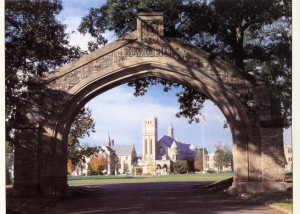 "Sure, a little bit of heaven fell from out the sky one day" – from an old Irish ballad
"Entering Paradise" is the feeling you get as you drive through the Arch at Shattuck-St. Mary's School in Faribault, Minnesota.   Framed in its arc are the limestone school buildings; the Chapel of the Good Shepherd with its rare, all-stone spire; and the lush green playing field inviting you to come kick a soccer ball around.  This fairy-tale campus, sitting on the bluffs above the Straight River, sparkles in the sunlight like a precious jewel beckoning to all who come its way.
Founded in 1858, the same year Minnesota became a state, the school's reputation for hockey excellence far exceeds its modest size.  A writer in Sports Illustrated summed up its importance in the world of hockey: "Shattuck-St. Mary's School is to high school hockey what Harvard is to law schools."
The school fields eight hockey teams with each playing a seven-month season of 50-70 games: two Girls' teams (U-16, U-19) two Bantam teams (Tier I, A) and four Midget teams (Bots Prep, AAA, AA, U-16).  One hundred sixty student-athletes participate in the program with a high percentage going on to play at Division I, Division III colleges or for junior hockey organizations.  The success of the program can be seen by the accomplishments of its alumni.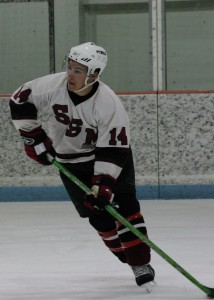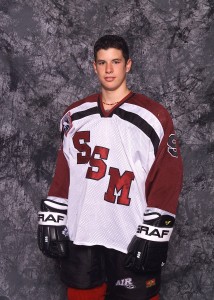 The last two Stanley Cup winning captains, Blackhawk Jonathan Toews and Penguin Sidney Crosby, honed their skills here.  Seven 2010 Olympians, five men and two women, are among the alumni.  Zach Parise, Jack Johnson, Ryan Malone, the Lamoureux twins (Jocelyne and Monique), and the Cup captains all plied their trade in recent years in the SSM uniform.  Fifteen NHL jerseys currently hang proudly in the Arena lobby.  Three Shattuck players were chosen in the 2009 NHL draft.  Surely these results are not by divine intervention; they must be the product of human design.
Let's look at the evolution of this unique community.
The school moved to its current location in 1864 with the completion of Seabury Hall and became a boarding school for young men and boys.  It owes its impressive campus buildings to the generosity of its early patrons.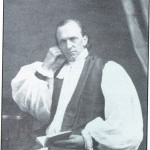 Dr. George Cheyne Shattuck of Boston funded the building of Shattuck Hall.  Soon after, the grammar school became known as Shattuck School.  Henry Benjamin Whipple, the first Episcopal Bishop of Minnesota opened a girls' school, St. Mary's School, in his home in Faribault.  In 1872, through the grace of Augusta Shumway of Chicago, the chapel was erected.  Dr. James Dobbin, rector of the school from 1866 to 1914, commissioned many of the limestone buildings still in evidence throughout the campus.  In 1972 the two entities were merged into what is now known as Shattuck-St. Mary's School.
Although its first hockey team was formed in 1925, a serious approach to the game was not taken until 1990.  Over time, the program had deteriorated to the point of barely existing.  To strengthen its teams a recruitment program was launched to attract new player talent to the school.  In 1993, seeing the possibility of growing the school population through an accelerated hockey program, Director of Hockey Craig Norwich convinced the powers-that-be to leave the Minnesota High School Hockey League and strike out on its own.  All high school hockey in Minnesota is community based; if you live in Edina, you play in Edina.  The uniqueness of SSM's program (the boarding school aspect, players from across the world, 50-70 game schedule) allows Shattuck to register with USA Hockey as the only non-community-based Minnesota team and consequently to represent the state in the USA Nationals playoffs every year.

Before moving on in 1996, Norwich suggested hiring ex-NHL star, Jean-Paul Parise, to run the hockey program and the road to excellence was paved.  A strong believer in nose-to-the-grindstone hard work and integrity of character, Parise ran the program for ten years and established the philosophy that exists till this day.
In 1999 the Boys Prep Team won its first Tier One U-18 National Championship.  Since then it has won four more titles (2001/3/5/7). The Girls Prep Team has won four National U-19 titles (2005/6/7/9).  This year the U-16 team won its National title as well.
Tom Wardwas named Director of Hockey four years ago.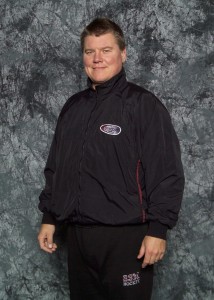 Asked what he looks for in a young prospect, Ward had some very straight advice:
"A candidate for our program must first be a person of good character; have a passion for the game; and understand that the environment here is unique.  He has to be willing to put in the effort it takes to be the best he can be.  It is a full day here.  His chemistry teacher will expect him to be fully present when he is in class and we will expect the same when he hits the ice.  Our expectations are very high.  We have high standards for a kid entering the school and once he has arrived in the program, we like to create an atmosphere here for him to grow that talent, to reach his potential as an athlete and as a member of the community."
Asked what common mistakes hockey parents make, Ward had this to say:
"Sometimes parental love blinds them to the reality of their child's talent level.  That's why we invite them to come skate with our teams, so they can see how they match up, what they have to work on, and what level they have to reach.  At some point you have to let your kid go.  Let him or her swim.  Parents have to trust that there are hockey people out there who can teach their kids to improve.  At the same time, young players need to know the parents are there for them – to comfort them and to listen to their needs.  It's a fine line to walk.  We do a lot of nurturing here.  You have to know whether a kid needs a pat on the back or a kick in the ass, words of encouragement or some tough love.  We do a lot of that here, especially in the first year.
Parents who can't let go, who never let go, have a tug-of-war going on.  They have every intention of helping their child but it is actually hurting them, holding them back.  What happens when the parents finally get comfortable and let go is that the kid evolves.  He takes ownership of his own career.  Then the fear disappears. They are no longer afraid.  They are not scared of tryouts, of putting it all on the line when they have to.  They walk into new situations with their heads high, full of confidence.  They understand that there is no free lunch, that hard work is what it is all about.  They go from boy to man.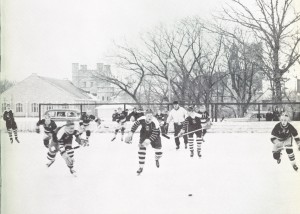 What makes me most proud is that whatever they go on to do in life they have developed into solid people.   When pros like Pierre Maguire talk about NHLers who have gone through our program they always talk about their character, that they are outstanding citizens, well mannered, well behaved.  Their teammates appreciate that; their coaches appreciate that.  That is what we want to achieve with our program.  Wherever they go, whatever they do, they will be good fathers and good contributing members of the community cause they are willing to roll up their sleeves and work things out.  At the end of the day, that is what is unique about our program, about our school."
There is no doubt that the core mission of the school has been in place for a long time.  Leadership, integrity, focus are the basic tenets of the school.  During the Korean War and World War II, a graduate of SSM could join the Army as a Second Lieutenant.   What worked for the U.S. Army then, works for Jonathan Toews today.  A new chapter in the Shattuck-St. Mary's story is being written by its current administration.
Nick Stoneman, hired as Head of School nine years ago, was given a mandate to grow the school's population and to increase its revenue and endowments.  He began by ordering a case study of the hockey program to determine why it had evolved so successfully.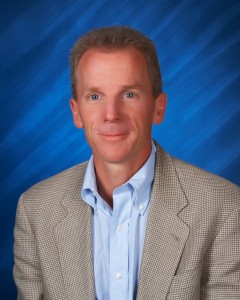 The vast majority of the best American prep schools are in the Northeast.  The first question to be answered was:  how do you offset that?  How do you attract students from Connecticut, Massachusetts and New York to a prep school on the great plains of Minnesota?  What had created the influx of hockey players from across the globe? The answer was simple: to attract elite players, pursuit of their passion had to be a top priority.  An immersive environment that fosters daily practice and high-level training must be created without losing sight of the academic goals needed to enter the University level.  This was a simple solution but difficult to execute.  Could this hockey paradigm be used to attract elite talent to other disciplines?
In his tenure at SSM, Stoneman has tackled this execution with the creation of Centers of Excellence in the Arts, Athletics, Bioscience and Academics. The Arts add cultural, economic and global diversity.  Nurturing the passionate pursuit of excellence attracts students from all parts of the globe..
Expansion was vital.   Twelve million dollars were poured into new facilities to house these Centers.  A new arena, a new soccer Dome, two Arts and two academic Centers sprung up on the campus.  Soccer and figure skating coaches were hired.  The vocal, dance and orchestra faculties were revamped.  Each Center focused on the individual path to excellence.  Nine years ago, out of 260 students 160 were hockey players.  In the fall of 2010, there will be a student body of 480 with kids from 25 countries and 35 states.
Elite soccer players and figure skaters are drawn to their own Centers of Excellence.
The Center for Academic Achievement provides support, resources and instruction for students with mild learning disabilities.  An English as a Second Language program helps foreign students to become fluent in the language of their adopted country.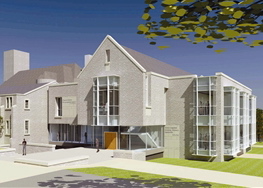 The Bioscience Center for Medicine and Research and Science will open Fayfield Hall, its new building, in January of 2011.  Students in the Bioscience program will have state-of-the-art laboratory classrooms, lab space dedicated to independent student research, and an engineering lab providing opportunities to develop programming, design, and problem solving skills critical to medical engineering.  This new venture takes advantage of the unique location of the school in the "medical alley" mid-way between The Mayo Clinic in Rochester, MN and the great hospitals in Minneapolis.  By partnering with the great medical minds of these world-renown institutions, the school will introduce its students at an early stage in their chosen careers to cutting-edge ideas and research.
The Vocal Performance Program has partnered with the Minnesota Opera where students can attend Master classes; participate in the Saturday program for aspiring vocalists, etc. – all within the context of a college preparatory academic program.
Similarly, the Pre-Conservatory Music Program for violinists and pianists is partnered with the Minnesota Orchestra, the Minnesota Opera and the St. Paul Chamber Orchestra – again within the framework of the academic curriculum.
Stoneman sums it up like this:  "When the entire school attends a performance of the Minnesota Symphony because one of our students is a solo pianist that night, it is not only an amazing thing for our kids to see but for that kid to be seen as a rock star in their school because of it is a life's lesson in itself.  This is all made possible because the school fosters the pursuit of excellence.  All our students appreciate that fact and take great pride in each other's achievements.  What our environment creates and thrives on is focus."
The mission statement reads:  "As a school community, Shattuck-St. Mary's guides young people to be strong in character, mind, body and spirit for a life of learning and service. "
Whether they aspire to play in the NHL, to sing on the great opera stage of La Scala, to win figure skating gold in the Olympics, to discover a cure for a life-threatening disease or to eventually become CEO of a Fortune 500 company, each individual student will find the focus and the life's lessons they will need at this jewel of a school in the heart of Minnesota.
Photos:  Paul Swenson, Michelle Phillips,  and Public Domain/Author Unknown.
Special Thanks:  Amy Grant, Mary Hart and Michelle Phillips.
— UPDATE —
Recent University of Wisconsin grad, Derek Stepan, in his debut  as a New York Ranger, became only the fourth NHL rookie to score a hat trick in his first game.  Four years after graduating from Shattuck-St. Mary's High school, Stepan led the Wisconsin Hockey Team last spring into the Final game of the Frozen Four, the NCAA National Championship.  WATCH him go!