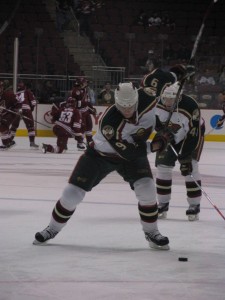 Mikko Koivu – When I think about the Minnesota Wild and look at their roster, I'm not sure how I can get excited about this team for the next few seasons.  They haven't made any terrible signings, but I think it could be argued that they've overpaid for close to half the team. With no money, a lackluster offense, and coach Todd Richards' up-tempo system replacing the defense-first Lemaire approach, what remedies do they have? Would be interested to hear a few ideas in the comments.
Hockey Wilderness points out that the reactions from fans outside of Minnesota to the Mikko Koivu extension were venomous, while the Wild faithful seemed to overwhelmingly approve.  The first half of their analysis is outstanding, but their justification for why he was worth $6.75m per season falls a bit flat:
Now, as for why he is worth it, even without the points. Why that is is difficult to explain to people outside of Minnesota. It takes watching the guy play for 82 games a season to see why. It's those pesky intangibles. The leadership, the steady presence, the battles in the corner. It's the little things that few people in the league do as well as he does, but that don't show up in the stat sheet.

Sure, lots of guys have the leadership…Plenty of centers have face off win % above 50%. More than a fair share of players have 70+ points a year. But how many have all of it? There's your answer.
Blue Jackets Summer Update – If you're a fan of the Columbus Blue Jackets and want a summer State of the Union update on the team, Matt Wagner's piece at The Cannon is a must-read.  Some of the quotes from CBJ staff were pretty predictable and empty (GM Scott Howson: "We have committed to building our team through the draft, and finding players through trades or free agency when the right opportunities come up"), but others were encouraging:
[Head Coach Scott Arniel:] "Pretty much everyone is excited – it's funny, I was really excited to come here to work with them, but it turns out that most of them are even more excited to get to work with me! I think the biggest thing, though, is that pretty much all of them have talked about how they want to get better. I think a lot of our guys feel like they let the team down – they let the fans down, and they let themselves down. Everyone's been working really hard this off season to keep it from happening again."
Braden Holtby – With Washington Capitals prospect camp underway, there was a lot of talk about #3 goalie Braden Holtby this week.  Rock the Red had a great interview with the rising star and his feelings on being stuck behind Semyon Varlamov and Michal Neuvirth on the depth chart:
"In order to be a successful goalie, you need to believe in yourself that you can outplay any goalie, no matter where they are. Neuvi and Varly are outstanding goalies, and everyone knows that. And they've proven themselves in the levels that they played at. But there is still a lot of time left and I believe in my abilities, and that I can be an NHL goalie one day, whether it's next year or four years down the road."
Scouting Reports – In the spirit of prospect and development camps, check out PremiumScouting.com, a new scouting website that promises "regular reads about prospects from around the world and a place where you can read up on leagues outside of the NHL."  A recent entry in their '30 in 30′ series broke down the Buffalo Sabres' prospect pool:
The organization, well known for scouting through video is headed by Kevin Devine who just wrapped up his 4th year as Director of Amateur Scouting and 12th overall with Buffalo in a scouting capacity. He hasn't been around long enough to truly evaluate his performance, albeit the 2008 class seems to be accelerating at a pace that Buffalo has to like…

…With Tyler Ennis having a fantastic pro debut and moving on, the top of the Sabres depth chart loses upside and rather has more projectability. Their first rounder this year in Mark Pysyk is a fine skating defender who shows the smarts and physical attributes to one day be skating and eating minutes for Buffalo. Kassian has upside due to his physical tools but there are question marks around his game and even more so around his character.
Islanders Arena Discussions – Chris Botta at NYI Point Blank takes a look at a new possibility for the New York Islanders as they continue search for a solution in the Lighthouse Project mess:
Nassau County Executive Edward Mangano wants to partner with Charles Wang on a development that would consist of a new Coliseum and training facility plus an entertainment and gambling center the quality of Foxwoods and Mohegan Sun in Connecticut.