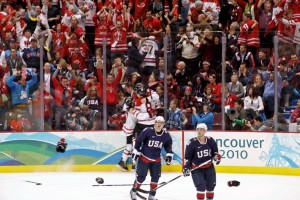 It's like the Academy awards show of the sports world. Some of the biggest stars in sport are present at the ESPY awards. Entertainment icons are represented, as the past year gone by in sports is recounted. Athletes are honored for their accomplishments, teams are lauded for their championships. And hockey is almost completely ignored. During the very long opening speech by Seth Meyer, the New Orleans Saints were congratulated for their Super Bowl win, as were the Los Angeles Lakers for their NBA Championship and Spain for their world-cup victory. The Chicago Blackhawks first Stanley Cup victory in 49 years? Not mentioned. Lebron James, Tiger Woods and Brett Farve were mocked, yet the ongoing Ilya Kovalchuk saga was not even on the radar. Canada's exciting gold medal win wasn't recounted either, although the awards having taken place in the United States may have been a reason for that. The opening speech was filled with talk of football, tennis, snowboarding, basketball and golf. But not one word about hockey. The actual awards themselves? Besides the "best NHL player" award, which was won by Sidney Crosby, and Canada's gold medal winning team getting their due, winning the "best game" award, only two other categories had NHL representation. The Chicago Blackhawks were nominated for best team, and Crosby for the best performance under pressure, but neither won. Does hockey get the cold shoulder by the rest of the sports world because they have their own awards show?
Hockey has never been an extremely popular sport in the United States, where the ESPY awards are held and where the voting takes place. Yes, there are numerous cities in the U.S that are passionate about hockey and love the sport, but no one can ever suggest that the U.S is a hockey nation. Is it because most of the southern states dominated by football and basketball didn't grow up with hockey, thus have no sentimental connection to it? Is it because there isn't as much access to hockey programs as there are in Canada? Or is it because stations like ESPN focus on other sports and other athletes. If the biggest markets in the U.S care more about baseball, football or basketball, it makes sense that the coverage from ESPN focuses on what gets the ratings. Hockey games aren't broadcast on ESPN anyway, making it even less likely it would a top news story. But the fact that sports like golf, tennis, auto racing and even soccer are mentioned more than hockey is a disappointing reality of the lack of respect the game actually has. Blaming a lack of fans is a cop-out, because there are plenty of hockey loving Americans out there. So why does hockey always seem to take a back seat to everything else? What do you think?
Marcy, a former hockey player, is a hockey correspondent on CTV News and TSN radio. She began her career as a Sports Journalist in 2009 and has been part of The Hockey Writers since 2010, where she is currently a senior writer and editor.