In a salary cap league, contract negotiations become critical to building perennial contenders. A team cannot afford too many value-negative contracts: contracts where the money owed to the player is likely significantly higher than the value he will bring to the team over the length of the contract. General managers who avoid handing out these contracts, or become experts at unloading them, are often the most successful team builders in the league.
However, every team in the league has a contract on the books that is questionable. This article will take a look at each team's worst contract, with two things in mind. First, contracts evolve. In most of these cases, the team would likely not sign the same deal knowing what they know now. So we will attempt to establish why these contracts were signed when they were signed.
Second, and in the same line, these deals tend to become albatrosses because of injury, reduced performance, or aging. So all of these opinions are written with due respect to the players who, for the most part, were once-great NHL players who earned these contracts at the time.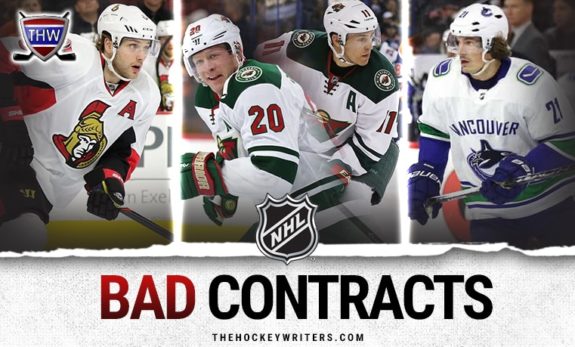 (The bolded text below each player name displays the term remaining on the contract, as well as the AAV.)
Anaheim Ducks: Ryan Kesler
(Four years, $6.875 million, with NMC)
When Ryan Kesler signed his current deal in 2015, the Anaheim Ducks doubtlessly thought they were locking down one of the three pillars of their offense. Kesler was big, physical, and an elite faceoff winner. He had two 70-point seasons in his past, and had scored 40-plus points each of his last three healthy campaigns. Additionally, he won the Selke Trophy in 2010-11.
Kesler initially justified the Ducks' decision, scoring 53 and 58 points in 2015-16 and 2016-17, respectively. But a hip injury struck Kesler, and his recovery cost him much of the 2017-18 season. Playing in only 44 games, he never seemed to get totally up to speed, and only scored 14 points. Kesler was clearly not fully healthy, and reports have surfaced that he may miss the entirety of the upcoming season going through aggressive rehab. With the total lack of certainty about Kesler's future, his hefty price tag of almost $7 million per season could become a thorn in the side of the Ducks organization.
Arizona Coyotes: Alex Goligoski
(Three years, $5.475 million, with NMC)
The Coyotes are an interesting case, as they have traded for several contracts specifically because they are troublesome ones. The Coyotes need to hit the salary cap floor every season, so they have added contracts for players like Dave Bolland and Marian Hossa, who will never play a game in Glendale, just to reach that threshold. With that in mind, we won't consider those contracts for this article.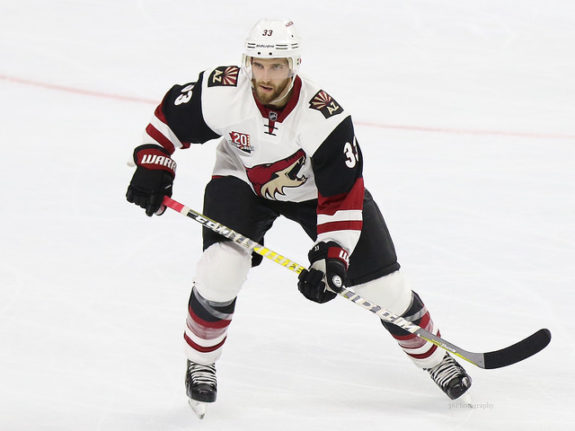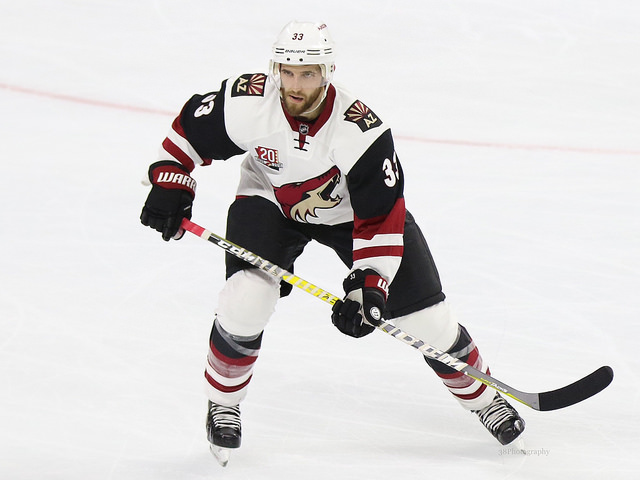 Beyond those, however, there isn't a clear choice for the worst deal. It's too early to tell whether the big deals handed out to Oliver Ekman-Larsson and Christian Dvorak are too much, though there's cause for concern with both. That leaves Alex Goligoski, who has been a strong defender in the league for a long time, but with his cap hit of $5.475 million for three more seasons, and his age (33), there's reason to believe that the Coyotes are paying for what he's already done, not what he's yet to do.
Boston Bruins: David Backes
(Three years, $6 million, with NMC this year, then M-NTC)
David Backes was the cornerstone of the St. Louis Blues franchise for many years. As their captain from 2011-2016, Backes was at the helm of a team that went to the playoffs five straight years. In addition to leadership, he brought physicality, aggression, and 40-50 points per season. He was a great agitator, too, proved by the fact that he recently was an honorable mention on our list of the dirtiest NHL players.
When Backes hit unrestricted free agency in 2016, he was a hot commodity. The Blues were prepared to agree to the same dollar amount as the Boston  Bruins, but would not offer the same term, as they feared that his style of play would not age well. Backes' performance since signing his five-year, $30-million deal has justified the Blues' fears. He scored 38 points in his first year and 33 this past season, dropping from 19 minutes per game in his final Blues season to 17 in 1016, then to 15. While it's impossible to quantify what impact Backes' leadership may have in the Bruins' locker room, $6 million is too much to pay for a third-line player, no matter his intangibles.
Buffalo Sabres: Kyle Okposo
(Five years, $6 million, with M-NTC)  
When Kyle Okposo hit unrestricted free agency in the summer of 2015, he was a hotly pursued player. Coming off of 184 points in three seasons, Okposo was thought of as a top-end forward who would help bolster a staggering Buffalo forward group. But one question lingered: how would Okposo perform apart from elite teammate John Tavares?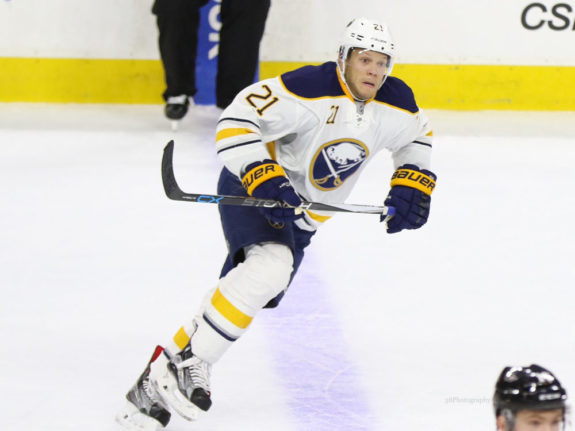 After two seasons, the results aren't good. Okposo has scored 45 and 44 points the last two seasons. He isn't bad, per se, but he has regressed to being a very average forward, to whom the Sabres owe $30 million over the next five years. There may be hope for Okposo: he finished 2017-18 strong after recovering from a concussion scare that came at the end of the previous season. If he can find chemistry with one of the Sabres' exciting young centers, particularly newcomer Casey Mittelstadt, perhaps he can recapture his former success. If not, Okposo's will be a tough contract to swallow for a long time.
Calgary Flames: Michael Stone
(Two years, $3.5 million, with M-NTC)
With the buyout of Troy Brouwer earlier in August, the Flames removed the most glaring contract from their books. While they still owe Brouwer his money and will have $1.5 million less cap space over the next four years as a result of the buyout, they bit the bullet and made the tough call to relieve them of a player whose career unexpectedly collapsed in Alberta.
With Brouwer gone, the Flames don't have a glaringly bad contract, but Michael Stone's is questionable. Stone is a fine enough defender. He is capable of being an adequate third-pairing defender, so his inclusion on this list should not be seen as a slight on him. With that said, $3.5 million is too much to pay for a third-pairing defenseman in today's NHL, so Stone's contract is still something of a burden for the Flames.
Carolina Hurricanes: Scott Darling
(Three years, $4.150 million, with M-NTC)
The Hurricanes hoped they were buying their long-term goalie when they traded for and signed Scott Darling last summer. Darling had lived up to his name in Chicago, as the beloved backup goaltender to Corey Crawford. He was 39-17-9 for his career with a .923 save percentage (SV%) and four shutouts. In the year before the Hurricanes acquired him, he went 18-5-5 with a 2.38 goals-against average (GAA) and a .924 SV%.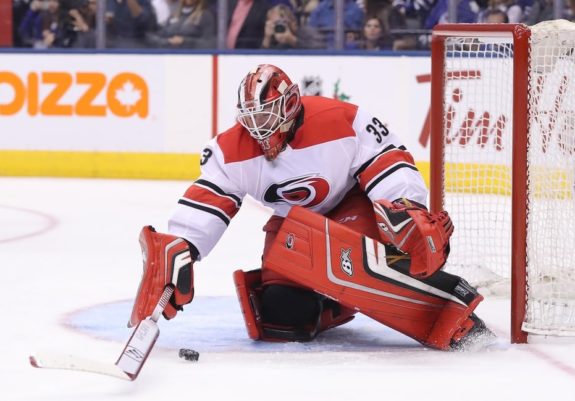 But Darling struggled mightily as a starter for the Hurricanes. His stat line was abysmal: 13-21-7, with a GAA of 3.18 and a SV% of .888. Darling's performance was bad enough that the Hurricanes had to bring in Petr Mrazek in free agency as a one-B to Darling's one-A. If Darling recovers any of the form he had in Chicago, he could possibly redeem this contract. But as it stands, his deal looks rough.
Chicago Blackhawks: Brent Seabrook
(Six years, $6.875 million, with NMC)
The Chicago Blackhawks could be forgiven for giving monster contracts to Patrick Kane, Jonathan Toews, Brent Seabrook, and Duncan Keith. After all, these four were considered the cornerstones to the three Stanley Cup-winning teams they've had this decade. But as the team has aged and now seems far from contention, the contracts seem to be more of an anchor than a buoy.
Of those contracts, Brent Seabrook's may be the worst. Seabrook is already 33, and yet he is owed almost $7 million for six more years. That's a hefty price to pay for someone who will age out of a first pairing role sooner rather than later. He has one more year left on his deal than the other three players mentioned above. But unless these players have a massive turnaround next year, it's likely that all four contracts will prevent the Blackhawks from building another contender very soon.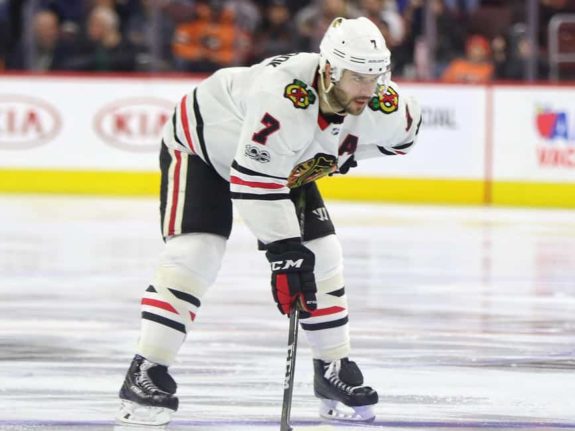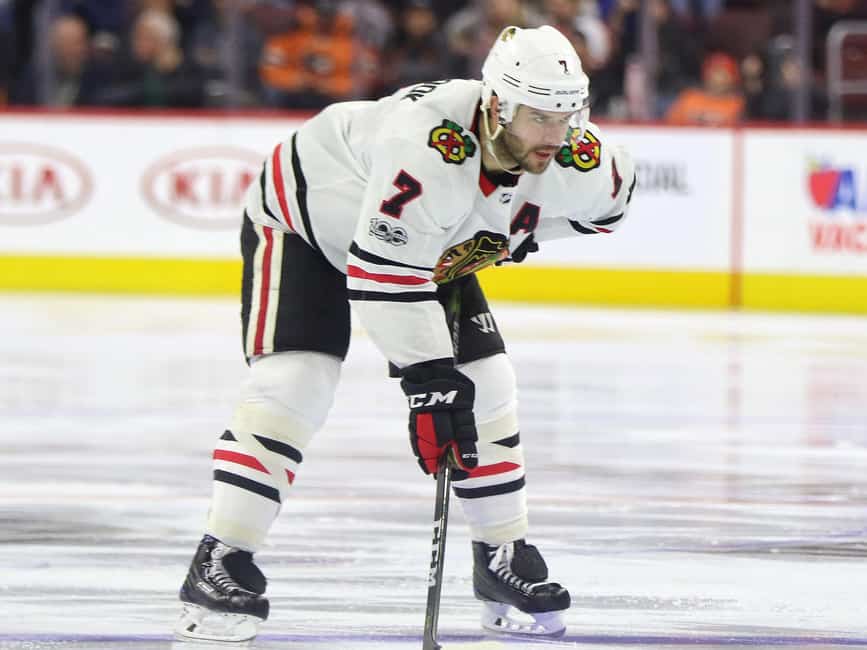 Colorado Avalanche: Carl Söderberg
(Two years, $4.75 million, with M-NTC)  
The Avalanche haven't handed out a lot of bad contracts, to their credit. There are some questions to be asked about paying Ian Cole $4.25 million per season, but Carl Söderberg's $4.75 million edges him out slightly.
Söderberg was once a 40 or 50-point season type of player, but now he's an aging third-line center. This isn't the kind of contract that hamstrings a team, particularly with just two years left. But it is likely the worst on the Avalanche's books right now, so kudos to them.
Columbus Blue Jackets: Brandon Dubinsky
(Three years $5.85 million, with M-NTC/NMC)
Dubinsky's story isn't much different than Söderberg's. The Jackets are paying almost $6 million for a bottom-six forward.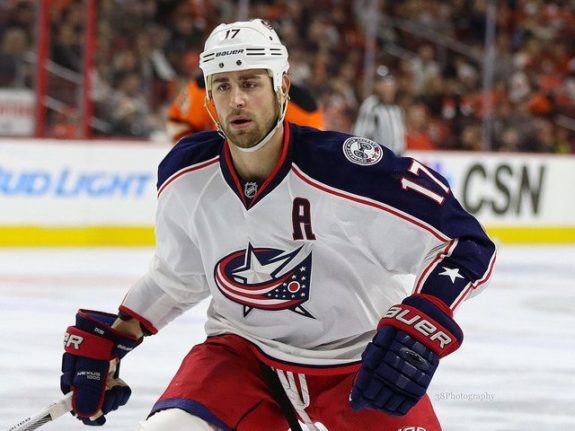 Dubinsky was one of the big pieces the Blue Jackets got from the New York Rangers in return for Rick Nash, and the Blue Jackets committed to him with this contract (at the time, six years for a total $35.1 million). But he never truly blossomed into a star with the Blue Jackets. He's been a fine contributor, but $5.85 million is just too much to pay for a contributor.
Dallas Stars: Jason Spezza
(One year, $7.5 million, with M-NTC/NMC)
For the most part, we haven't included one-year deals on this list, but Spezza's contract is a special case. Spezza was a great player in Ottawa who was intensely pursued on the trade market when the Stars acquired him. And they didn't waste a lot of time signing him to a four-year extension valued at $7.5 million per season.
Spezza rewarded their faith in the first year of his deal, collecting 63 points in 75 games. But injuries and age have weighed Spezza down, and he fell off the face of the earth last season with 26 points in 78 games. He may have a chance to improve from that low in the upcoming season, and he will still have the best laugh in hockey regardless, but the Stars will be glad to get the $7.5 million in cap space back, particularly as they try to lock down Tyler Seguin long-term. 
Detroit Red Wings: Frans Nielsen
(Four years, $5.25 million, with M-NTC/NMC)
Frans Nielsen's contract with the Red Wings is one that didn't make a lot of sense when he signed it, and it makes even less sense now. Nielsen was a very good player in his day. When he signed the contract before this, he was actually undervalued. Captain Doug Weight said of him at the time "he's our best all-around player even though his stats don't necessarily show it."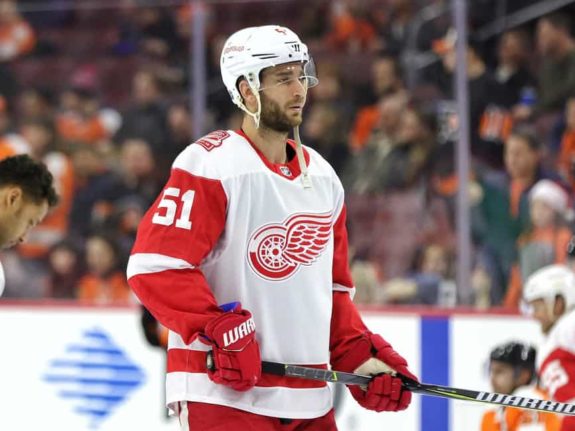 But Nielsen would not hit free agency again until he was 32. Though he had scored 52 points the year before, there was no reason that any team should give him a six-year deal, particularly the Red Wings, who already had an aging core at the time. Nielsen's point totals have dropped from 52 to 41 to 33 in his two years with the Red Wings, and his best days seem behind him. Yet the Red Wings are saddled with four more years of a $5.25-million deal. Nielsen's is one of many questionable contracts in the Motor City, but it's probably the worst.
Edmonton Oilers: Milan Lucic
(Five years, $6 million, with NMC)
When Milan Lucic signed his seven-year, $42-million contract, it was already considered too risky by some. But the bloom wore off the rose very quickly with Lucic in Edmonton. He was anemic at even strength even in his first season, and his overall point total dropped all the way to 34 in his second year in Edmonton.
The concern with Lucic is that his style of play, which has always been big, physical, and aggressive, will age especially poorly in the NHL. Other players on this list, like Ryan Kesler and David Backes, are victims of the same fate. If Lucic can't turn it around quickly, the $6-million hit for the next five years will be a very big hurdle for the Oilers to jump as they try to build a championship team around Connor McDavid.
Florida Panthers: Keith Yandle
(Five years, $6.35 million, with NMC)
The Florida Panthers have three defensemen locked up on incredibly long-term deals, including Yandle, former first overall pick Aaron Ekblad, and Michael Matheson. Of these, Yandle's seems like the most immediate concern (although Ekblad's contract could be an issue if he doesn't reach his projected ceiling).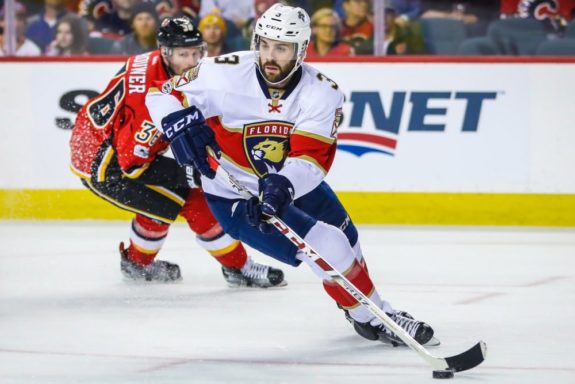 Yandle has been a fine offensive defender for a number of years, but to say his defense was lacking would be too polite. He had the worst turnover differential of any player in the league by 17. He had 87 more giveaways than takeaways last season. Given that Yandle is already 31, and the value of an offensive defender is hard to measure, the five-year, $6.35-million commitment the Panthers have made to him is very concerning.
Los Angeles Kings: Dion Phaneuf
(Three years, $5.25 million, with M-NTC/NMC)  
Dion Phaneuf has had one of the better careers of any player on this list. He's been a long-term captain for the Maple Leafs, one of the toughest markets in the league, and exhibited his leadership skills there. He's received votes for the Norris Trophy in eight different seasons. In 981 career games, he's averaged 24 minutes of ice time.
But Phaneuf is 33 now and past his prime. The Kings acquired him in a swap of troublesome contracts when they sent Marian Gaborik back to the Senators. Phaneuf will bring veteran leadership and presence to the Kings' defensive core. But, owed $5.25 million each of the next three years, he won't bring a great contract.
Minnesota Wild: Zach Parise and Ryan Suter
(Seven years, $7.538 million, with NMC)
When the Wild signed Zach Parise and Ryan Suter to identical 13-year, $98-million contracts, they thought they were signing the two players that would lead their franchise into a new generation. And while they may have achieved some of that since the signings, the team has not reached the third round of the playoffs since 2003, so these acqusitions may not have had quite the impact they wanted.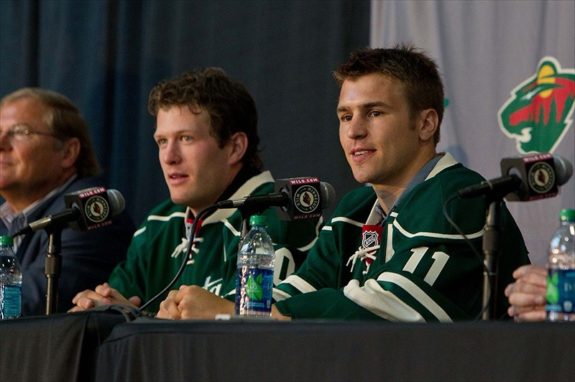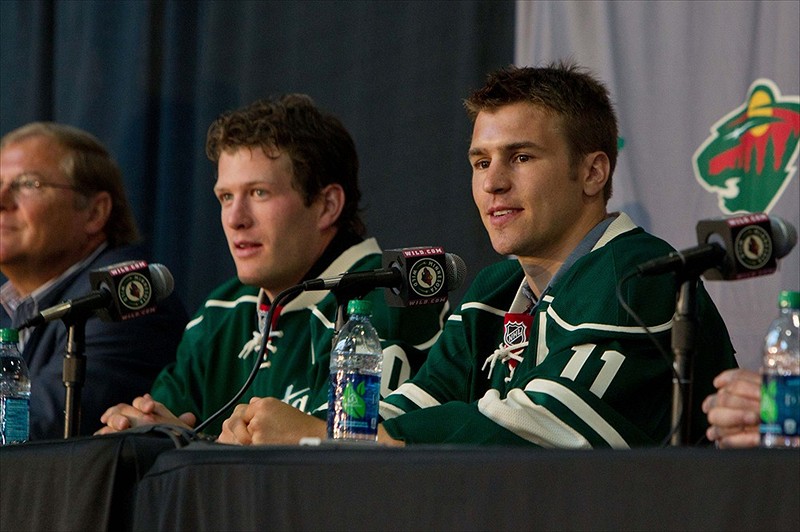 Now, with Parise 34 and Suter 33, the chances that these two will lead the team to a Stanley Cup are dwindling. The years remaining on the contracts, on the other hand, are not. Parise and Suter will likely reach retirement before they reach the end of their deals, and while that will provide some relief to the Wild, until that day comes, these contracts will continue to be the worst on their team.
Montreal Canadiens: Karl Alzner
(Four years, $4.625 million, with M-NTC)  
The five-year, $23.2-million contract the Montreal Canadiens gave Karl Alzner never really made sense. Once a good two-way defender for the Capitals, Alzner's offensive game had already deteriorated before he signed with the Canadiens.
Admittedly, Montreal has a number of questionable contracts. And some of these are longer and more expensive than Alzner's. But in the cases of Carey Price and Shea Weber, they are still elite players when healthy and on their game. Because the contract for Alzner was hard to understand from the very beginning, it earns the top spot in our eyes.
Nashville Predators: Nick Bonino
(Three years, $4.1 million)
Nick Bonino was considered a hugely valuable contributor to the back-to-back Cup championships in Pittsburgh. And no one can question his toughness: who could forget how Bonino returned to the ice with a fractured tibia in the 2017 Stanley Cup Final?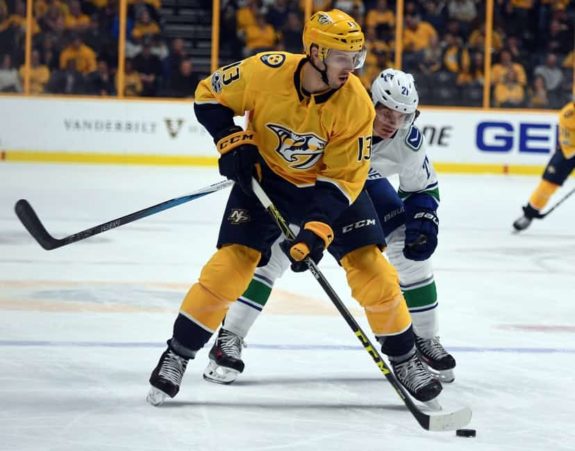 With that said, giving Bonino four years at an AAV of $4.1 million was always a stretch. While it's not a terrible contract, it's a steep price for a third-line role player. And when the Predators brought in Kyle Turris in the three-team Matt Duchene trade last fall, it made Bonino even more of an extravagance. The Predators don't really have a terrible contract, but Bonino's is just a bit excessive.
New Jersey Devils: Travis Zajac
(Three years, $5.75 million, with NTC)
Travis Zajac has been a fine player for a number of years and is one of the league's more reliable defensive forwards (Zajac has received votes for the Selke Trophy in six seasons). But most of his stats dipped significantly last season. His Corsi-for percentage (CF%) fell to 46.5 percent from his 52.2-percent career mark, and he only recorded 26 points (though he played in only 63 games).
Three years isn't too long to continue paying Zajac, and he's been a fixture in New Jersey for a long time. But they're paying almost $6 million per year for an aging defensive forward. If Zajac rebounds next year this deal is no problem, but if last season was the first step in his decline, the contract will look worse year by year.
New York Islanders: Andrew Ladd
(Five years, $5.5 million, with NTC)
Like a few other players on this list, Andrew Ladd's contract was bad right from the start. The Islanders gave Ladd a seven-year deal at 30 years old. Though Ladd had won two Stanley Cups in his career, his physical game was highly likely to age poorly.
And age poorly it has. He's scored just 60 points across the two seasons he's played for the Islanders, and now there are five years left on a $5.5 million AAV contract. With Tavares off to Toronto, it's likely there's a long rebuild ahead for the Islanders anyway, but Ladd's contract won't help them kick-start that project.
New York Rangers: Kevin Shattenkirk
(Three years, $6.65 million, with M-NTC/NMC)
Kevin Shattenkirk signing with the New York Rangers seemed destined to happen years in advance. A New Rochelle, New York native, Shattenkirk was not quiet about his childhood love for the Rangers. So when he hit free agency, there was no surprise that he found a home in Madison Square Garden.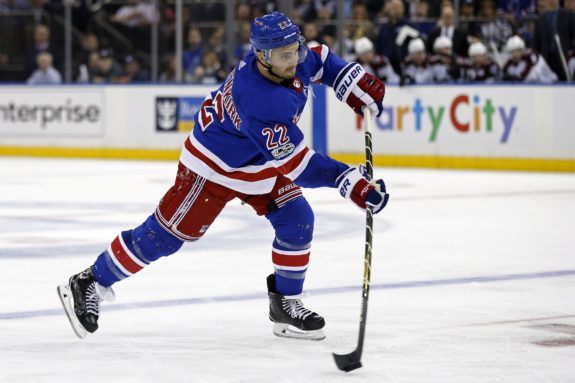 Unfortunately, Shattenkirk missed almost half the season with an injured knee, and the Rangers' franchise simultaneously fell off a cliff and announced a rebuild. A great offensive player but a lackluster defender, Shattenkirk was never the kind of player you could build a defensive core around to begin with. Now he's a bit of a strange fit on a transforming Rangers roster, but they're paying a premium for him.
Ottawa Senators: Bobby Ryan
(Four years, $7.25 million, with M-NTC/NMC)
Bobby Ryan's contract may be the worst in the league, and it's no secret the Senators are desperate to get rid of it.  He's scored 58 points in just 124 games in the past two seasons, and his $7.25 million contract is a huge obligation for a franchise that already doesn't spend to the cap.
The Senators have been very publicly trying to move Ryan's contract in any Erik Karlsson deal, but there are few teams if any that could or would take a combined $13.75 million in a trade, particularly without extending Karlsson first. The Sens are likely stuck with Ryan's contract unless they buy it out, and either way it will take a significant chunk of their cap for many years.
Philadelphia Flyers: Andrew MacDonald
(Two years, $5 million)
Though Philadelphia's fans are hardly known for their patience, Andrew MacDonald is a particularly unpopular player there, and in this case, it's probably fair. The team struggles mightily when he's on the ice, and MacDonald is a third-pairing defenseman at best.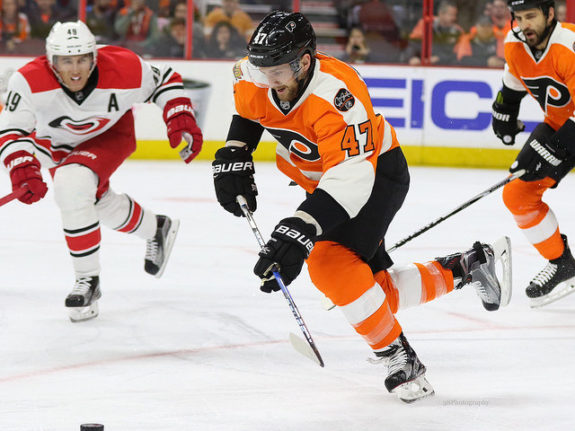 As such, it should come as no surprise that the two years remaining on MacDonald's contract at a $5 million AAV are bad for the Flyers. MacDonald was once a solid defenseman in this league and remains a leader in the locker room, but Philly fans will be glad to see the back of him when he leaves.
Pittsburgh Penguins: Jack Johnson
(Five years, $3.25 million)
Jack Johnson has been an adequate NHL defenseman for a decade. In stints with the Kings and Blue Jackets, he has consistently been a top-four defenseman. But he's aging now, and he's never quite lived up to the expectations that were set upon him when he was selected third overall in the 2005 draft.
The five-year, $3.25-million contract Johnson signed this summer isn't horrible, it's just a bit too long for a player who will likely be a third pairing defenseman for much of his five years in Pittsburgh. Doubtlessly, Johnson's longtime friendship with Sidney Crosby, dating back to their playing in high school together at Shattuck St. Mary's, played a role in Johnson jumping to Pittsburgh. And if the deal keeps the captain happy, then it's probably worth it.
San Jose Sharks: Evander Kane
(Seven years, $7 million, with M-NTC)
Here's another bad contract signed in free agency this summer. Evander Kane has been thought of as a potential superstar forward for a long time, but his play has been inconsistent and his off-ice issues are well documented.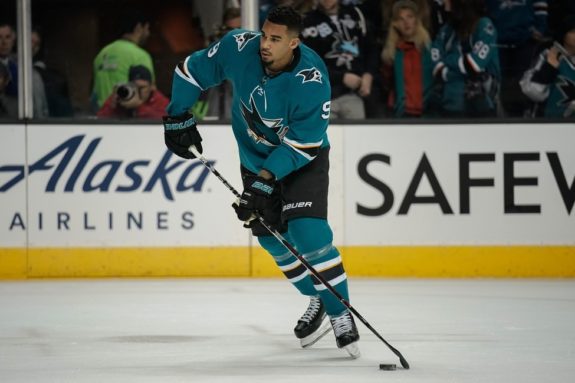 In giving Kane a seven-year, $7-million contract, they were paying him for potential, but Kane has never really shown that he can consistently be an elite scorer. He's never had a 60-point season, and only three of his nine years have seen 25 goals or more. If Kane truly reaches his ceiling, this contract will look delightful in a few years. But if he continues to produce at his current level, or has any more personal issues crop up, it could be a real burden for San Jose.
St. Louis Blues: Jake Allen
(Three years, $4.35 million)
Jake Allen has been sold as the Blues' goalie of the future for a long time now. And at his best, Allen is very, very good. He's an incredible athlete whose peaks are brilliant. He even stole a playoff series all but single-handedly from the Minnesota Wild. 
The issue with Allen is inconsistency. He's gone through multiple long stretches in his career where his play has absolutely cratered, such that Carter Hutton or another of his goalie partners has had to take the lion's share of the work. At 28 years old, the argument that he's still developing is dubious, but the Blues don't have a lot of flexibility with three years at $4.35 million per left on his deal.
Tampa Bay Lightning: Ryan McDonagh
(Seven years, $6.75 million, with NTC, beginning 2019)
The Lightning shocked the hockey world when they traded a package of picks and players to get Ryan McDonagh and J.T. Miller from the New York Rangers. McDonagh had been the long-established captain of the Rangers, and though he was rumored to be a trade piece, it was still a surprise to see him on the move.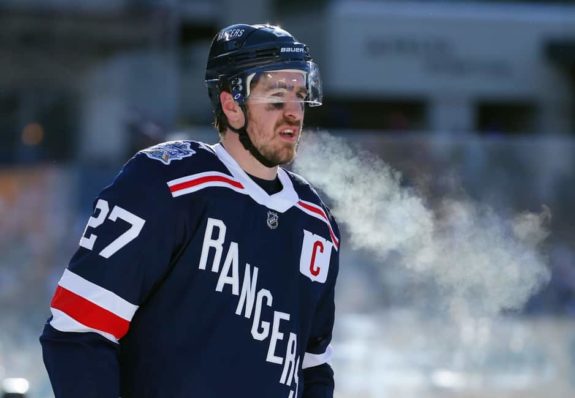 What was more surprising was the mega-extension the Lightning then gave McDonagh to stay in town. McDonagh is a good defender, but he's a distant second on the team behind Victor Hedman, and both are left-handed. McDonagh is already 29; one has to wonder if his play will hold up over the course of a seven-year deal that doesn't begin until the 2019-20 season.
Toronto Maple Leafs: Nikita Zaitsev
(Six years, $4.5 million)
The Maple Leafs don't have a lot of bad contracts. And Zaitsev's isn't terrible itself. Many would think of Nathan Horton's deal as the worst on the Maple Leafs, but with the relief the long-term injured reserve offers them, we'll consider it an honorable mention.
Zaitsev is a young defender with good potential. The issue is more the timing and length of the contract than the dollar value. He was extended for seven seasons after just one year in the NHL. After the extension, his point total dropped from 36 to 13, and he played in only 60 games. Zaitsev could still blossom into a strong NHL defender worthy of his contract. But the term is worrisome for a player who took a step back last season.
Vancouver Canucks: Loui Eriksson
(Four years, $6 million, with NTC)
Loui Eriksson was once a very good hockey player. He routinely scored 60-plus points and 25-plus goals in his years with Dallas and Boston. In his final year in Boston, he scored 30 goals and added 33 assists. He was primed to cash in during free agency, but the Canucks were an odd team to sign him.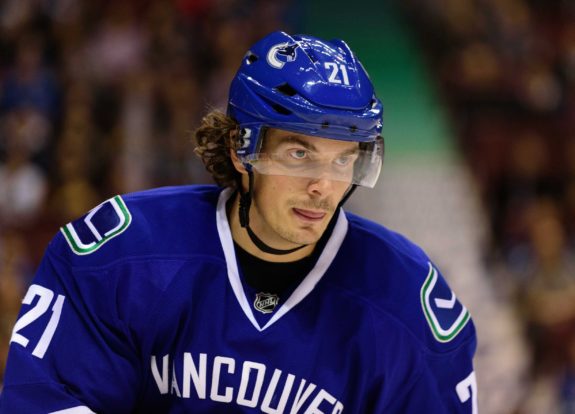 The Canucks' core was aging, as the Sedins were approaching retirement, and offering Eriksson a six-year, $36-million deal was a strange move. Though the Canucks could not have predicted Eriksson's severe and immediate decline (he's scored just 47 points and played just 115 games in his two seasons), they should never have offered this deal in the first place. It was an awful contract from start to finish.
Vegas Golden Knights: Ryan Reaves
(Two years, $2.775 million)
The Golden Knights are a fascinating case because they built their roster largely on contracts that other teams didn't want. But because of their miraculous season, a lot of those contracts (Reilly Smith's, for example) now look good or great. (Of course, they still have the David Clarkson contract on the books, but as with the Nathan Horton deal with the Maple Leafs, the LTIR gives them flexibility there).
Still, the contracts the Knights themselves have signed haven't been perfect. Ryan Reaves is the league's best enforcer, but that role is dying out as the league evolves. Paying almost $3 million per season for a fourth-line player is a stretch, even for as well rounded a fourth-line player as Reaves is.
Washington Capitals: T.J. Oshie
(Seven years, $5.75 million, with M-NTC) 
T.J. Oshie is a skilled top-six player at this point in his career. He was a major factor in last year's Stanley Cup run for the Capitals, scoring 21 points in 24 games. He's also a fan favorite and a U.S. Hockey legend, with his incredible shootout performance in the Sochi Olympics. There's no questioning why the Capitals wanted to keep Oshie around for the long haul.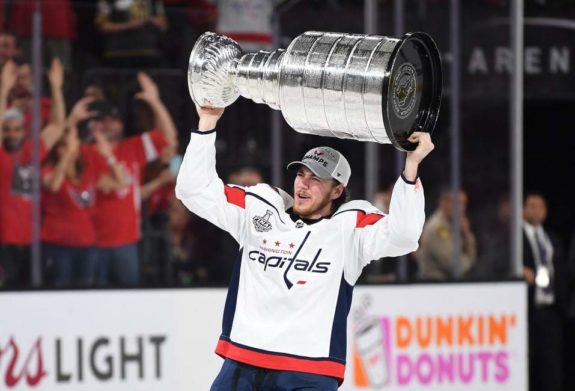 But in this case, the haul was a few years too long. He will be 38 by the end of his current deal, and there's no reason to believe his level of play will hold up that long. At almost $6 million per year, that's a big gamble for Washington. But that picture of Oshie holding the Stanley Cup will probably keep them happy for a long time.
Winnipeg Jets: Bryan Little
(Six years, $5.291 million, with NMC)
The Winnipeg Jets have a lot of good contracts. Bryan Little's deal is not one of those. Little has been a strong NHL center for many years, and he's trained himself to be a good faceoff man, too. The issue with Little has been health. He's averaged just 66 games in the past three seasons, and last year, in his first full season since 2013-14, his point-per-game pace dropped significantly.
Winnipeg fans fear that the Jets will live to regret signing Little to an extension this long. He'll be 36 at the end of the deal, and his durability is already an issue. If Little plays consistently this deal may pay off, but as the Jets' core ages and needs new contracts, Little's deal may be a little bit of a roadblock.
Stephen Ground is an author with The Hockey Writers and is co-host of the Two Guys No Cup Podcast. He enjoys studying the numbers and providing fresh looks at various stories.