Philipp Grubauer (born 25 November 1991) is a German professional ice hockey goaltender for the Seattle Kraken in the National Hockey League (NHL).
He was drafted by the Washington Capitals in the fourth round, 112th overall, of the 2010 NHL Entry Draft. Grubauer has played with the German national team in several international tournaments, including the 2008 U18 World Championships and the 2009 World Junior Championships. Grubauer won the Memorial Cup with the Ontario Hockey League (OHL)'s Windsor Spitfires in 2010. Grubauer won the Stanley Cup as a member of the Capitals in 2018.
In April 2015, while playing for the Capitals, Grubauer became the first German-born goaltender to start and win a Stanley Cup playoff game.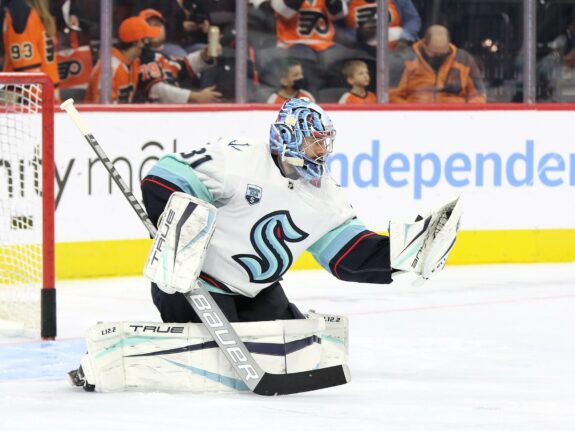 Philipp Grubauer Statistics
Trade Tracker
Date
Traded From
Traded With
Traded To
Traded For
June 22, 2019
Brooks Orpik
Second-Round Pick
(Kody Clark)
Deeper Dive
Achievements
Stanley Cup champion with the Capitals in 2018
ECHL Alumnus of the Month (March 2018)
Played in the AHL All-Star Game (2015)
Memorial Cup champion (2010)
Sources