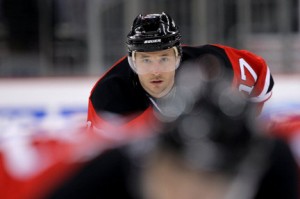 What we do know. Ilya Kovalchuk has re-signed with the New Jersey Devils.
Reports on the length and total dollar amounts range anywhere from 7-years and $60m, all the way to 17-years and $100m or more. Now that the 18-day poker game is finished, what happens now?
The NHL Will Investigate for Salary Cap Circumvention
As we saw with the Marian Hossa, Roberto Luongo, and Chris Pronger contracts, the league does not look kindly on the lengthy front-loaded contract. If the Kovalchuk deal is in fact 17 years, it's safe to assume the final five to seven years will be paid out in the one to two million dollar range.  The NHL will once again investigate this contract, but until the loophole is closed, there isn't much they can do.
In order to prove there was an intentional circumvention of the salary cap, the NHL would have to produce evidence that Kovalchuk and the Devils discussed and agreed on early retirement as a way to avoid a higher cap hit.
In the Hossa situation, NHL Deputy Commissioner Bill Daly said:
"We're trying to understand how it was negotiated and whether the intent and effect is to circumvent the cap. This was the first of the long-term contracts that took a player out past the age 40 and the value of the contract in its 'out years' was dramatically lower than its early years. We want to know if the possibility of player retirement was ever discussed or even contemplated."
As you might expect, the NHL will never find this evidence.  Each year on July 1, it seems as if players are putting the ink to paper within minutes of achieving free agent freedom.  It's fairly obvious that indirect discussions are taking place – but nothing is ever proven.
Kovalchuk will be 44 in the final year of a 17-year rumored contract.  According to QuantHockey.com, only 1.06% of NHL forwards hang on and retire after the age of 38.  Until the front-loaded contract loophole is slammed shut in the next CBA, the NHL has little ammo to work with.
Ilya Kovalchuk's Contract Will Mean Another's Departure
Regardless of where the final cap hit comes out, the Devils will need to make moves prior to the start of the season.  With only $4.2m in cap space, it may mean more than one player is sacrificed.  Young Center Travis Zajac seems to be the most tradeable asset, especially after the Devils acquired pivot Jason Arnott from Nashville a month ago.
However, the bigger issue becomes how do the Devils handle the bottleneck that's been created next season just in time for Zach Parise's new contract.  New Jersey has big money already committed to Patrik Elias, Brian Rolston, Travis Zajac, Dainius Zubrus and others.  Will they be willing to hand Parise a long-term, front-loaded deal as well to get him the money he deserves?
It also begs the question, if Lou Lomoriello knew he was a serious contender for Kovalchuk, why did he trade for Arnott and sign Johan Hedberg to a $1.5m deal to play 8 games at Martin Brodeur's backup?
The Floodgates Are Now Open
Kovalchuk's signing also means that a number of teams and free agents can now get back to working the phones.  Los Angeles, as losers of the Kovalchuk Sweepstakes, has plenty of money and multiple holes to fill.  They should be able to take advantage of teams like Philadelphia, Vancouver, and Chicago who will be forced to unload assets and contracts in the coming weeks.
King GM Dean Lombardi would probably be best served to acquire an expiring contract like Simon Gagne and still maintain the flexibility to re-sign young stars Drew Doughty, Wayne Simmonds, and Jack Johnson, as well as a big star in next summer's free-agent class.  The Kovalchuk deal may work out well for New Jersey in the short term, but Lombardi knows that jeopardizing the long-term future of his team for one player isn't worth it.  He knows what he wants and his patient approach will make the Kings a serious contender in the near future.
One team that's fallen off the radar of most NHL fans though is Tampa Bay.  New GM Steve Yzerman was active early in the free agency period, but he's been quiet as of late despite having an unusual six forward spots available on his opening day roster.  With almost $20m in cap space, don't be surprised to see the Lightning opening the doors to cheap trades from the above-mentioned teams or free agent acquisitions in the near future.