NHL free agency generates a large amount of excitement throughout the hockey world every year.
---
---
In some cases, an NHL team will make a great signing, acquiring a player through a low term, low paying contract who brings unexpected results and production to his new team. Maybe they lead the club to a Stanley Cup or two.
Related: The Best Free Agent Signings in NHL History
On the other hand, NHL teams may sign a player to a long term contract which pays an extremely high yearly salary. For whatever reason, these contracts tend to be the least successful, as teams tend to get less than desired production and results from these players who have expectations of greatness placed upon them.
The following five players are among the most infamous free agent signings in NHL history.
Jeff Finger, Toronto Maple Leafs
As has long been the case, the Toronto Maple Leafs were looking to upgrade their blue line through free agency in the summer of 2008. In order to address their need, the Maple Leafs signed Jeff Finger to a four-year contract worth $14 million.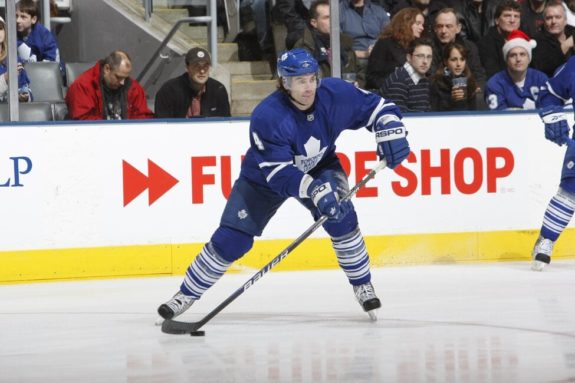 Having only played one full season in the NHL before signing with the Maple Leafs, it is a wonder as to why Toronto offered $3.5 million per season to a player who had yet to prove his place in the NHL. Finger had spent two seasons with the Avalanche, playing 22 games in 2006-07 and 71 games in 2007-08. In those 93 career NHL games, Finger had only scored 24 points but was becoming known league-wide for his strong defensive play.
When the 2008-09 season finally began, the Maple Leafs were hoping Finger would be a strong defensive defenseman. In 66 games, Finger set his NHL career high with 23 points, yet failed to live up to the hype in terms of his strong play in the defensive end. That found Finger watching the games from the press box on more than a few occasions. In his second season, Finger effectively played himself out of the lineup. His poor play limited him to 39 games with Leafs, in which he contributed 10 points.
Eventually, the Leafs chose to waive Finger, sending him to the minors where he played parts of two seasons with the Toronto Marlies. In those two seasons, Finger played 23 and 31 games, the last of his professional hockey career.
David Clarkson, Toronto Maple Leafs
After spending the first seven seasons of his NHL career with the New Jersey Devils, David Clarkson was hitting the free agent market for the first time. The Maple Leafs "won" the sweepstakes, signing the winger to a seven-year, $36.75 million deal.
With the Devils, Clarkson was an average player, if that. In 426 games with the club, he had 97 goals, 170 points and 770 penalty minutes. He did look good in the Devils' playoff run in 2011-12, where they reached the Stanley Cup Final before falling to the Los Angeles Kings. Clarkson had three goals and 12 points in the 24 games played and was a plus-eight.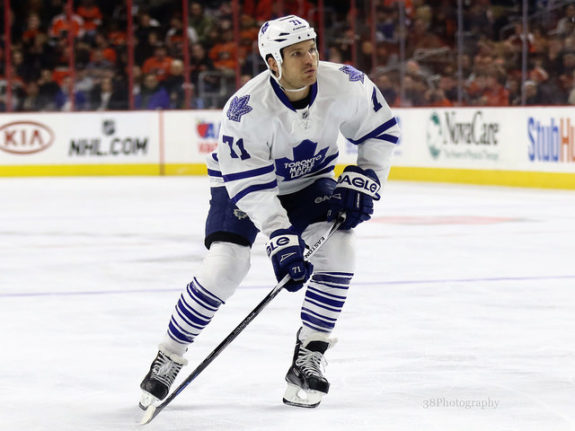 There was a lot of pressure on the newcomer, especially coming into the hockey hotbed of Toronto. He was being labelled as the next Wendel Clark, and as even a fan of him and the Leafs as a kid. Clarkson didn't fill that role. In 118 games as a Maple Leaf, he had 26 points and a minus-25 rating to go along with his 185 penalty minutes.
Right off the bat, Clarkson got off to a terrible start in Toronto. In his first preseason with the team, he jumped over the boards to get involved in a fight, resulting in an automatic 10-game suspension. It was all downhill from there.
Related: Doomed from the Start: David Clarkson's Time in Toronto
After just a season and a half with the Maple Leafs, he was brilliantly flipped by the new general manager at the time, Lou Lamoriello, to the Columbus Blue Jackets in exchange for the injured Nathan Horton, who just sits on the team's long-term injured reserve list.
The Clarkson era in Toronto brought a lot of hope to the city's fans and the organization itself, but it all came crashing down rather quickly.
Sheldon Souray, Edmonton Oilers
In the 2007 offseason, the Edmonton Oilers went shopping for a star defenseman. They found their man in Sheldon Souray, signing him to a five-year contract worth $27 million.
Souray had spent the first nine seasons of his career between the New Jersey Devils and Montreal Canadiens and was coming off of a huge year with the Canadiens. He had scored 26 goals and 64 points in 81 games during the 2006-07 season, which he parlayed into a huge contract with the Oilers. Yet prior to his breakout season, Souray had played average hockey and was highly injury prone, missing significant portions of time, including the entire 2002-03 season.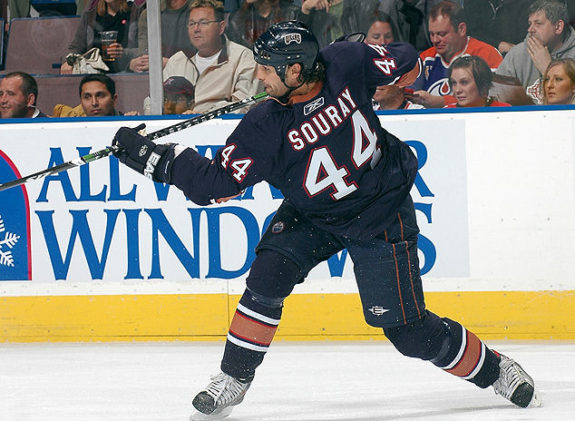 In his first season with the Oilers, Souray was slated to make $6.25 million. However, similar to the majority of his career to that point, the Edmonton native was once again hampered by injuries. Sheldon ended up playing in only 26 games with the Oilers in the 2007-08 season, in which he only scored three goals and 10 points. Souray's second season was his only successful campaign with the Oilers, in which he managed to play 81 games, scoring 23 goals, 53 points and was named an All-Star. It was the only season in which the Oilers got what they had paid for.
The following 2009-10 season witnessed much of the same from Souray, who once again battled a multitude of injuries. Due to an early concussion followed by a hand injury which later became infected, Souray was only able to play in 37 games. In his third season with the Oilers, Souray scored a mere 13 points and had a disastrous minus-19 rating, emphasizing the chronic frustration which characterized Souray's time in Edmonton.
Prior to the 2010-11 season, Souray demanded a trade from the Oilers, but due to his high cap hit and inability to stay healthy, no teams were interested in his services. Unable to trade Souray, the Oilers eventually put Sheldon on waivers before he was loaned to the Hershey Bears of the AHL. Souray finished the year with the Bears before the Oilers finally bought out his contract in the summer of 2011, forced to pay Souray $3 million over two years to not play on their team.
Wade Redden, New York Rangers
When the 2008 free agency period began, the New York Rangers wasted no time in signing Wade Redden to a six-year contract, worth $39 million.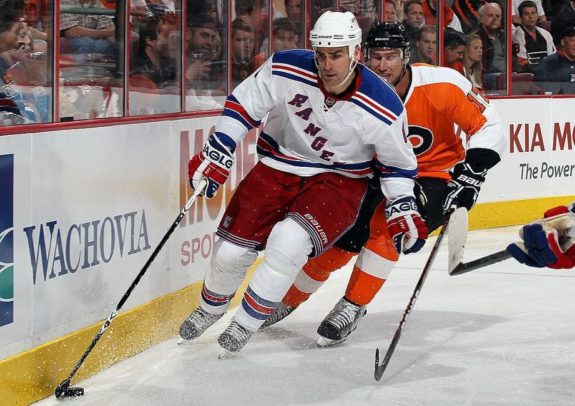 Redden had become known as one of the better defensemen in the NHL, and as a result was a highly sought after player by many teams. Wade had played all previous 11 years of his NHL career with the Ottawa Senators, with which he was a force both offensively and defensively. On top of a strong game in his own end, Redden was a consistent contributor, scoring 101 goals and 410 points in his 838 games with the Senators.
In Redden's first season with the Rangers, he had an average year to his standard, scoring 26 points in 81 games, his lowest point total in the past ten years of his career. In 2009-10, his second season, Redden saw a continued regression in his game, producing two goals and 14 points over 75 games. By this point, Rangers fans had become vastly irritated with Redden, as his play was nowhere near worth the $8 million he was paid in each of his first two seasons.
The following season, Redden was waived and played each of the next two seasons with the Connecticut Whale of the AHL. The decision allowed the Rangers to remove the burden of Redden's salary off of their salary cap.
In 2012-13, Redden had his contract bought out by the Rangers. New York elected to pay Wade upwards of $3 million over a three year period for him to not play within their organization. In 2012-13 he played 23 games with the St. Louis Blues and was traded to the Boston Bruins to play another six, collecting seven points total is what turned out to be his last season.
Brad Richards, New York Rangers
In 2011, the Rangers made what turned out to be yet another terrible free-agent signing, securing the services of Brad Richards for nine years, at a cost of $60 million.
Richards, who entered free agency following a five year, $39 million contract with the Dallas Stars, was the most sought after player available in 2011 free agency. A proven number one center, Richards attracted league-wide interest before deciding to sign the Rangers.
In years prior, Richards had been a consistent player offensively. With the Tampa Bay Lightning, Richards scored 489 points in 552 games, alongside winning the Lady Byng Trophy, Conn Smythe Trophy and the Stanley Cup, all in 2003-04. With Dallas, Richards' game continued to improve, scoring over a point per game with 227 points in 220 contests. Yet everything changed for Richards in his first season in the big apple.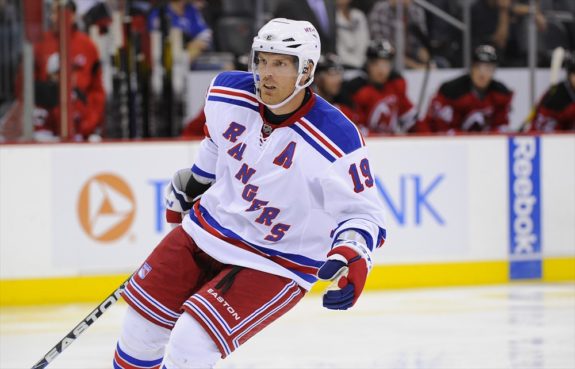 Earning a whopping $12 million salary, which included a $10 million signing bonus, Richards had an average season, one which was poor compared to his standards. Scoring 25 goals in 2011-12, Richards totalled 66 points, his lowest total in a full season since his sophomore year the Lightning. Richards' second season with the Rangers was even less impressive, as Brad was limited to 34 points over 46 games in a lockout-shortened campaign. Although his points per game were up slightly, his 11 goals were less than impressive.
In 2013-14, Richards' third season with the Rangers, the situation got even worse. Brad was only able to score 20 goals, his lowest goal total in a full season in the past 10 years. The 51 points he scored were the lowest full-season total of his career, which certainly did not warrant a $9 million salary.
After being demoted to the team's fourth line in the playoffs and rumours swirling that he would be made a healthy scratch, Richards was bought out by the Rangers at the end of the 2013-14 season.
The decision to buy out Richards meant that he would remain on the Rangers' books for the next 12 seasons, until the year 2025-26. During this immense stretch of time, Richards is owed an unimaginable $20.6 million to not play for the Rangers.
Brad Richards' contract will certainly go down in history as one of the worst free-agent signings of all time.
---
Latest News & Highlights
---