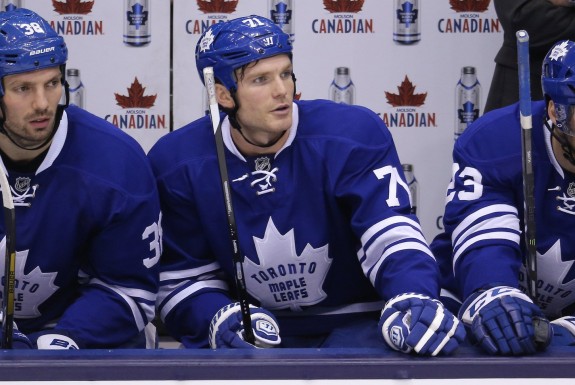 When David Clarkson was first signed by the Toronto Maple Leafs on July 5, 2013, there was a strong reaction from the hockey community. On the one hand, the Maple Leafs were getting a gritty, hard-hitting, hard-working, goal scoring forward who was coming off a couple of impressive seasons.
On the other hand, they signed him to a ludicrous 7-year $37.65 million contract which carried a $5.25 million cap hit.
David Clarkson, at the time, was 29 years old who was a couple of seasons removed from a 30 goal campaign, the first of his career. After several seasons of growth and acceptable productivity in the NHL, Clarkson lit the lamp 30 times in 2012 and racked up 138 penalty minutes. That season was great for the New Jersey Devils, and Clarkson was one of their key players in their surprise trip to the Stanley Cup Final.
So how did that burst happen? Did Clarkson suddenly blossom into a 30-goal scorer and a legitimate offensive weapon? Did his coach from Junior Hockey, Pete DeBoer press the right buttons at the right time in his development? Did he shoot 13.2% in 2012, far above his career shooting percentage?
I'll let you decide.
Whatever the case, Clarkson followed his "breakout" season with a lockout-shortened 15 goal campaign before hitting the free agent market. And guess who signed the Toronto native who A) grew up idolizing Maple Leafs legend Wendel Clark and B) plays a very similar game as Maple Leafs legend Wendel Clark?
Well, whaddya know, it was the Toronto Maple Leafs.
Clarkson's Pre-Arrival Hype
Insane contract aside, I recall some sort of hope and excitement about Clarkson's arrival. He was getting paid a lot of money but if he were to actually become the player he showed, the signing wouldn't be a total failure. Some people even embraced his homecoming.
But if there's anything you need to know about the Toronto market it's that there's a certain pressure that comes with playing for the team. Especially if they signed you to a massive contract last summer. Especially if you're a Toronto native. Especially if you play like Wendel Clark.
The expectations started to become implausible and, dare I say it, unfair.
I mean, come on.
Toronto Sun cover: WENDEL CLARKSON! pic.twitter.com/1ixKoY14Bf

— Mike Zeisberger (@Zeisberger) July 6, 2013
As Scott Hartnell put it, "It seems like everybody who goes through that market in Toronto with a big ticket like that, they expect 40 goals and 40 fights from them. It's not realistic for anybody."
So all eyes were on David Clarkson to start the season. Would he live up to the incredible expectations or would this end up being just another albatross contract that the Leafs would have to deal with down the road?
We know the answer to that by now.
Clarkson's Stay in Toronto
With all the pressure to be a big impact player in Toronto, it was no surprise that Clarkson would try to set the tempo early. And, boy, did he ever.
Phil Kessel got jumped in a preseason game by human-giant John Scott. Clarkson, who was all nice and cozy on the bench at the time, saw his star player and teammate getting jumped and decided to take action by leaping onto the ice and, ummm, kneeling next to/on top of Scott for like 10 seconds before yelling some things at him. He didn't really do much.
Was it a good message to his teammates that he "has their backs"?
Maybe.
Did the fans applaud and appreciate the brawl that ensued?
Yup.
Was it stupid?
You bet.
Was it necessary?
Not at all.
And what this stunt accomplished was that Clarkson wouldn't be able to suit up for the next 10 games due to his suspensions for jumping off the bench and into a fight.
Not the best start.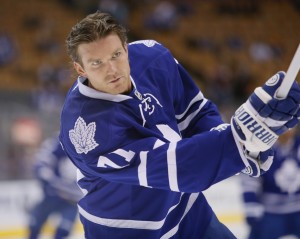 But that set the stage for what became one of the most disappointing individual seasons in Maple Leafs history. He missed an additional 10 games to a slew of injuries and then another 2 games for a suspension when he tried to take Vladimir Sobotka's head off with his shoulder. It took Clarkson 10 games to get his first goal and finished the year with an abysmal 5 goals and 6 assists in 60 games. Fans were screaming "we told you so" to management and the team just wasn't sure what they should do with him.
He followed that season up with 10 goals and 5 assists in 58 games this year (shooting 10.8% this season after shooting just 4.9% last year) before being traded to the Columbus Blue Jackets for a player who may never end up playing another hockey game. To say this deal was a miracle may even be an understatement. Leafs fans still aren't sure how Leafs management was able to get Clarkson's contract off their hands without retaining any salary. They lucked out that the Blue Jackets had their own player and contract they wanted to get rid of. It was, literally, a match made in heaven.
Toronto Sun sports cover for Friday. Big Clarkson trade. #Leafs pic.twitter.com/oCozHmBasm

— Mike Koreen (@Mkor1980) February 27, 2015
In just 602 days, the Toronto Sun published 2 very suggestive newspaper covers about Clarkson. They went from parading him around as the next great Maple Leafs player to declaring him as one of the biggest screwups in team history. To me, it's insane that the premiere paper in Toronto was at the forefront of portraying him as a hero and as a goat in such dramatic ways. But that's the Toronto media. And that's just the way it is.
Conclusion
Without a doubt, Clarkson's demise in Toronto was brought on by the crushing pressure before he even laced up his skates for the team. During his free agency back in 2013, he was reportedly offered more money to play for Edmonton and Ottawa but he really wanted to play for his childhood team and that decision threw him right into the spotlight on hockey's biggest stage. He was always trying to do too much, trying to make plays that he didn't need to make and it often led to poor play for over a season and a half.
As a Devils fan, I can tell you that the David Clarkson we saw in Newark, New Jersey was not the same David Clarkson that Toronto fans saw for the past 2 years. The newer version was an imperfect version of the original. The pressure from the fans and media for him to be the player he wasn't turned him into the player he wasn't. He completely abandoned his game of hard-nosed hockey and it was a shame to see.
Will he get back to being his old self in Columbus? Who knows. But it'll definitely be a better situation than what he had in Toronto.