One of the more exciting and hectic times on the NHL schedule has passed as of Monday afternoon. The NHL trade deadline was at 3PM Eastern standard time Monday as a number of moves were made. Last night we took a look at the biggest losers of the mad deadline bonanza of trades. What about the winners? Well, here are five of them.
Carolina Hurricanes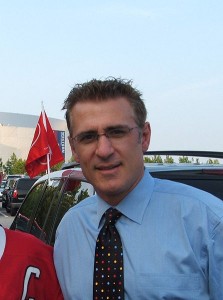 GM Ron Francis was able to do quite a bit of help for the future of his franchise. He started out by getting a terrific haul for pending unrestricted free agent defenseman Andrej Sekera. Francis was able to get a first round pick and a prospect for Sekera when defensemen like Jeff Petry and Zybnek Michalek went for significantly less. Francis also fetched multiple picks for disappointing forward Jiri Tlusty, who was in need of a change of scenery. He was also able to ship out his seventh best defenseman in Tim Gleason for a depth defenseman and a fourth round pick in this incredibly deep 2015 draft. All in all, for three guys that were clearly not apart of the future in Carolina, Francis did incredibly well to get the type of draft picks he got. In each deal he clearly got fair or better value than what he gave up. For a team not making the playoffs this year, and clearly sellers, Francis did a heck of a job.
Toronto Maple Leafs
Hey the Leafs actually won something! The Leafs sure did knock some home runs out of the park by trading away Daniel Winnik for forward Zach Sill, a second in 2016 and a fourth in 2015 and then finding someone to take David Clarkson's contract off their hands. Not to mention they were able to get a 2015 first round pick back in the earlier deal for pending unrestricted free agent defenseman Cody Franson. Overall the Leafs come out looking very good, stockpiling draft picks and getting rid of their worst contract without having to buy Clarkson out. The Leafs, like the Canes' are not going to the playoffs this year and did a solid job as sellers to get a good return for the future.
Los Angeles Kings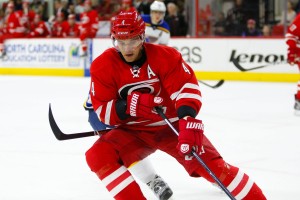 The Kings only move at the deadline was the above trade to acquire Sekera. It may seem counter intuitive for both the Kings and Canes to be winners but that is the case. Both teams win in this deal because Los Angeles got exactly what they needed. With Slava Voynov pretty much an after thought now, the Kings needed a top-4 defenseman and they got exactly that in Sekera. While it was good return for Carolina, it wasn't a vast overpay when you consider some of the other deals for top-four defenseman both at this deadline and in the past. Flyers acquired three pieces including a first round pick for defenseman Braydon Coburn and a few years back the Sharks gave up at the time a top-9 forward in Steve Bernier and a first round pick for Brian Campbell. The Kings have lost three in a row after winning eight straight but this move certainly made them better. Winners of two of the last three Stanley Cups with largely the same team intact, can you blame GM Dean Lombardi for going all in again? I can't.
Chicago Blackhawks
The Blackhawks did give up both their first and second round picks in this deep 2015 draft but they got two top players in return. On defense they added a wizard of a puck mover in Kimmo Timmonen to help supplant the earlier loss of Nick Leddy to their salary cap bind. They also added top-six caliber center Antoine Vermette from the Arizona Coyotes. These two guys will help offset the injury to Patrick Kane and while Chicago has struggled lately, they have all the pieces necessary. Not to mention they also picked up a reliable veteran fourth line center in Andrew Desjardins. The now former Shark is well above average in the face-off circle, reliable defensively, and has decent hands and vision for a fourth liner. With Vermette and Desjardins added, Chicago has much more depth down the middle and overall flexibility than they used to have. Andrew Shaw has had a disappointing year at the third line center position but Vermette can play the wing and Desjardins can play an effective third line center in a pinch if given talented wingers. Case in point, a third line of Vermette, Desjardins, and Kris Versteeg could be something Chicago tries. Perhaps drop Shaw down to the fourth line to let him find his game with different matchups.
Anaheim Ducks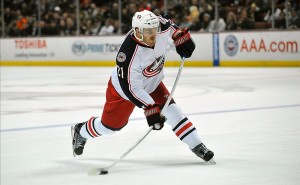 As colleague Felix Sicard points out in his latest, the Ducks were big time winners at the deadline. Not only did the Ducks upgrade from defenseman Ben Lovejoy to the young, up and coming Simon Despres from Pittsburgh but they also acquired top pair puck mover James Wisniewski for scraps. In fact, the Ducks barely gave up more for Wisniewski than the Montreal Canadiens gave up for Jeff Petry. The now former Oiler is a serviceable second pair puck mover but Wisniewski is a top pair guy. Wisniewski has twice as many points in less than a minute of more average ice time. He is an All-Star quality puck mover whom the Ducks gave up small pieces to acquire. Anaheim didn't give up a single top prospect, a first round pick, nor nobody off the current roster that was making a significant impact. The blue-line has always been a weakness in Anaheim in the years after Scott Niedermayer and Chris Pronger but now they have bolstered the back end. Not to mention their other weakness of depth forwards has been improved by acquiring Jiri Sekac and Tomas Fleischmann. The Ducks had one of the best deadlines in the league, no doubt.
Andrew has been credentialed to cover the Sharks since 2010 and the 49ers since 2012. He graduated with his BA in Broadcast Electronic Communication Arts in 2013 from San Francisco State University.