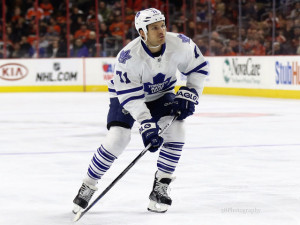 Yesterday the Leafs made an intelligent and
all-round excellent trade when they turned a recently signed UFA into two draft picks.  
 Today, they have shocked the hockey world by trading the ridiculous contract of David Clarkson.
And retaining none of his salary.
It is a move that brings to mind Blue Jays GM Alex Anthopoulos moving a similarly overpaid Vernon Wells to the Angels a couple of summers back.  It is, frankly, astounding.
In return for Clarkson, the Leafs take on the contract of Nathan Horton, which runs the same length of time as Clarkson's (expiring at the end of the 2019-20 season) and is actually 500K more expensive each year.
The reason this is still a good trade for the Leafs is that Horton is injured and it's not known if he will ever be able to  play in the NHL again because of a debilitating back injury. No play, no cap hit.   Should he make a comeback, he is easily twice the player Clarkson is, so it's a no-lose proposition.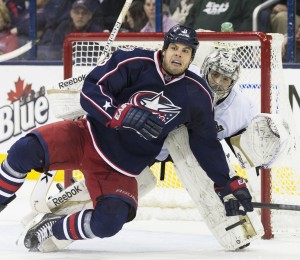 The reason a trade like this can happen is because the Leafs are the NHL's richest team. Columbus, even accounting for insurance paying a portion of an injured player's salary, doesn't have the deep pockets the Leafs do and surely would prefer to have someone who can play hockey in exchange for their money. The Leafs, who, partly because of the Clarkson deal, were facing salary cap problems for the next several years, can afford the money, and if Horton doesn't play, his salary doesn't count against the cap.
While fans are and should be rejoicing at this news, it is still sad that  home-town player like Clarkson didn't find more success during his time in Toronto. Ultimately, it's not his fault the Leafs over-paid for a player whose age and career numbers were far more indicative of his true value than the career season he had in New Jersey the year before he became a free agent.
Hopefully, this will give pause to those who value heart and soul over skill, but I doubt that very much. All in all, it's a third straight win for Nonis and the Leafs.  While myself and most everyone else have be unrelenting in our criticism for Nonis, credit must be given where it's due.  His vision for the franchise was flawed and he made mistake after mistake, but the last two weeks have seen him make three excellent moves and for that he deserves credit.
No doubt people will be arguing over whether or not Nonis or Shanahan is the one to praise for these deals, but until I learn differently, Nonis has the title of General Manager and so – at least for now – deserves full credit.
An excellent, if unlikely trade for the Leafs.  When was the last time the team made three straight roster moves that were widely praised?
Covering the Leafs for the Hockey Writers.