If you are explaining, you are losing— J.C. Watts
If true, the Los Angeles Kings have done one hell of a lot of 'splainin' over their 45-year history.
However, thanks to the heroics of Jonathan Quick, Anze Kopitar, Dustin Brown and company, they have two Stanley Cups. Therefore, the correct and proper rejoinder when confronted with the "loser" tag is a highly popular (especially in New York) two-word directive, unprintable on these pages. Furthermore, regardless of the amount of hardware on the mantle, even the most cynical hockey fan cannot deny that a host of great players have donned the crown over the years. In fact, the greatest nearly won a Cup during his eight-year run with the team.

Some of the names on this list are still playing while others fold up their wheelchairs at night, but all had stellar careers as Kings. Thus, the following is a list of the all-time top 10 greatest Kings players, with a quick profile of each:
#10: Dustin Brown
Occasionally, life just turns on a dime. In the weeks before the 2011-12 trade deadline, rumors were rampant about Dustin Brown's availability on the trade market, stirred up by a couple of Bob McKenzie tweets. Why? Brown had certainly posted consistent overall numbers over the past five seasons, averaging 26 goals and 56 points while perennially finishing amongst the league's top hitters. He also wore the C and was a quiet, respected leader with a remarkably cap-friendly contract ($3.175 million) that still had two full years left to go.
Alas, Brown's production within each individual season was wildly inconsistent, as he would fall into deep scoring slumps prompted by a tendency to eschew his effective north-south straight-line play in favor of something he was not: a sniper's style. He was also widely maligned for his alleged flopping and seemed surprisingly invisible at times for a hard-skating, 204-pound power forward.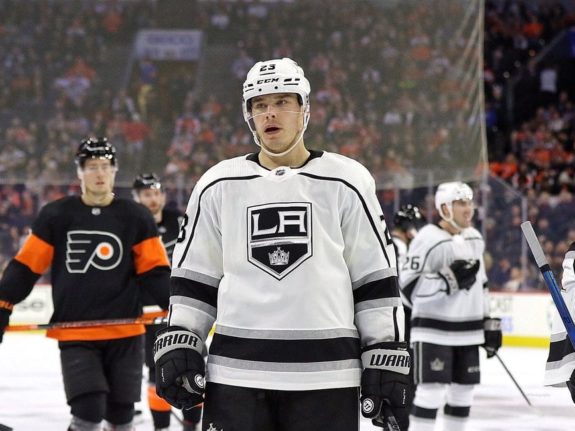 Immediately after the whirlwind rumors and the expiration of the trade deadline, Brown caught fire. On Feb. 25, he scored a hat trick and had four points in a 4-0 shellacking of the Chicago Blackhawks. That kicked off a ten-game point streak in which he registered 23 points in his final 21 regular season games, followed up by a ferociously physical playoff run. During the postseason, Brown recorded eight goals and 20 points in 20 games. It can be argued that he was the most important King over that 41-game period.
Who can forget this massive, egg-scrambling hit on Henrik Sedin during the opening round of the playoffs:
A difference-maker and hard hitter with the distinction of being the first Kings player to lift a Stanley Cup elevates Brown to 10th on the list of greatest Kings players.
#9: Butch Goring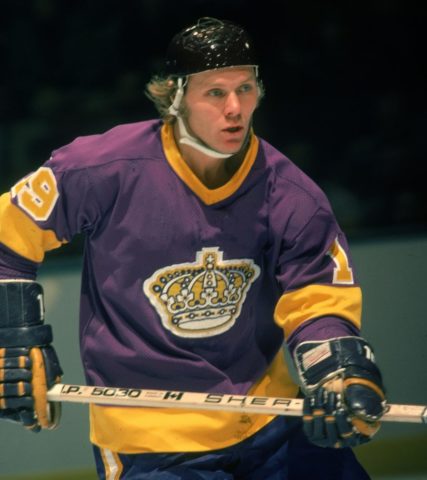 Butch Goring's career with the Kings is largely forgotten because it was with a generally-unsuccessful franchise and ended over thirty years ago, and was later overshadowed by four Cups with the New York Islanders. However, the unassuming forward had 275 goals and 659 points in 736 games for Los Angeles, earning the little-known nickname "seed" when he played with the team. Why? "It was short for seedy," said Rogie Vachon, the team's general manager in 1985.
Goring was almost obsessively utilitarian, one time spilling spaghetti sauce on his sweater and then showing up the next night wearing the same sweater — turned backwards, so that the stain was in the back — for dinner. During his Kings career, he won the Bill Masterton and Lady Byng trophies, and with the Islanders, the Conn Smythe Trophy in 1980-81.
Fifth in goals, sixth in total points, games played and assists, Goring definitely earned his place on the Kings' all-time greatest players list.
#8: Bernie Nicholls
Bernie Nicholls amassed 328 goals and 758 points in 602 games with Los Angeles, including an incredible 1988-89 campaign where he tallied 70 goals and 150 points, finishing second and fourth in the league in those categories, respectively. He earned two All Star trips while with the Kings and, like Goring, played at his best in big games and during the postseason.
With his prolific statistics and flamboyant "Pumper-Nicholl" windmill celebration after a goal, Nicholls was truly one of the greatest Kings players to ever don the sweater.
#7: Anze Kopitar
At 31 years of age, Anze Kopitar was the highest-drafted player ever from Slovenia, likely slipping to 11th in the 2005 NHL Draft solely due to the unknowns of being from that country. Kopitar has 312 goals and 888 points in 1003 games, all with Los Angeles. He has played in four NHL All-Star games (2008, 2011, 2015, 2018) and is destined to participate in more. Like Brown, Kopitar was one of the first lift that big, shiny trophy high overhead, twice.
Who can forget this fantastic OT goal to beat the New Jersey Devils in Game 1 of the 2012 Stanley Cup Final?
Size, strength and reach are just three of the qualities Kopitar possesses that make him one of the brightest stars in the NHL today.
#6: Rogie Vachon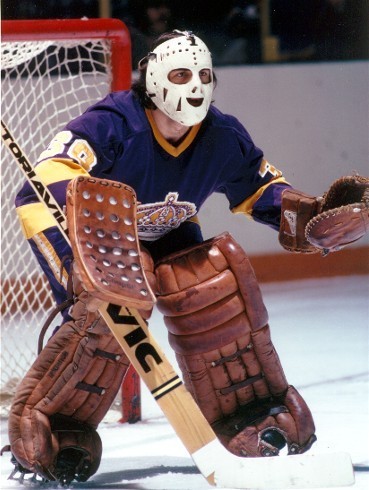 Jonathan Quick is fast moving up the ladder, but the king of Kings goaltenders is Rogie Vachon, who played in a vastly different era of the NHL and still managed a 2.24 goals-against average in 1974-75. He had 171 wins while in Los Angeles. He later became the team's general manager
Rogie was the first star goaltender to play in Los Angeles and has a legacy that has yet to be fully eclipsed.
#5: Rob Blake
Booooooo! For years, Kings fans lustily booed Rob Blake, pinning the villain tag on him for his tearing the 'C' off his sweater and forcing a trade to the Colorado Avalanche in 2001 following a contract dispute. However, everyone over the age of 10 knows the impact Blake had on the game, and Kings fans are well aware of his prolific statistics in L.A.: 161 goals, 494 points in 805 games, ranked seventh in total points while playing for the Kings. He was also fourth in PIMs. Love him or hate him, his talent and record while with Los Angeles cannot be denied.
Drew Doughty may yet get there but the best defenseman ever to play in Los Angeles was Rob Blake, who earned a solid ranking on this top-ten list.
#4: Dave Taylor
It's always refreshing to see a player start and finish their career with one team. Such is the case with Dave Taylor, one-third of the prolific "Triple Crown Line" that skated together from 1979-1984. Taylor played the second most games in team history (1,111, behind Brown) and was third in goals (431), third in points (1,069) and second in PIMs (1,589). Like Vachon, he also became general manager and laid the groundwork for their eventual Cup run.
You can debate the position, but certainly not the inclusion of Taylor on this list.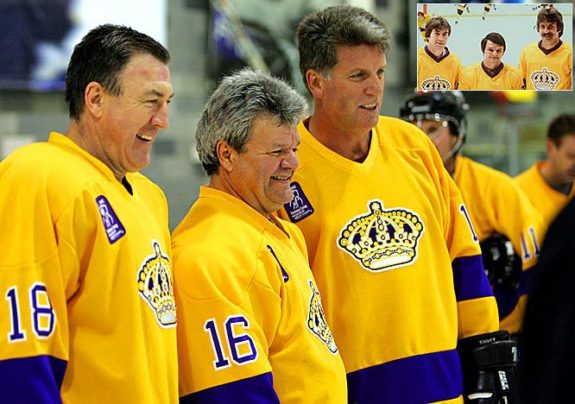 #3: Wayne Gretzky
Frankly, I wrestled with whether or not Taylor belonged ahead of Wayne Gretzky, but the sheer magnitude of the shock wave it sent through the NHL — and subsequent Final run five years later — earns The Great One the slight nod. Statistically, of course, nobody really compared to Gretzky, who registered 918 points in 539 games in Los Angeles. Unfortunately, the Kings never repeated the relative success of the 1992-93 campaign, finishing out of the playoffs the following four years even with Gretzky still in tow for three of them.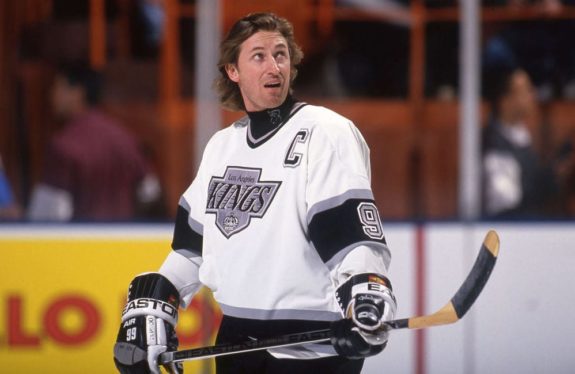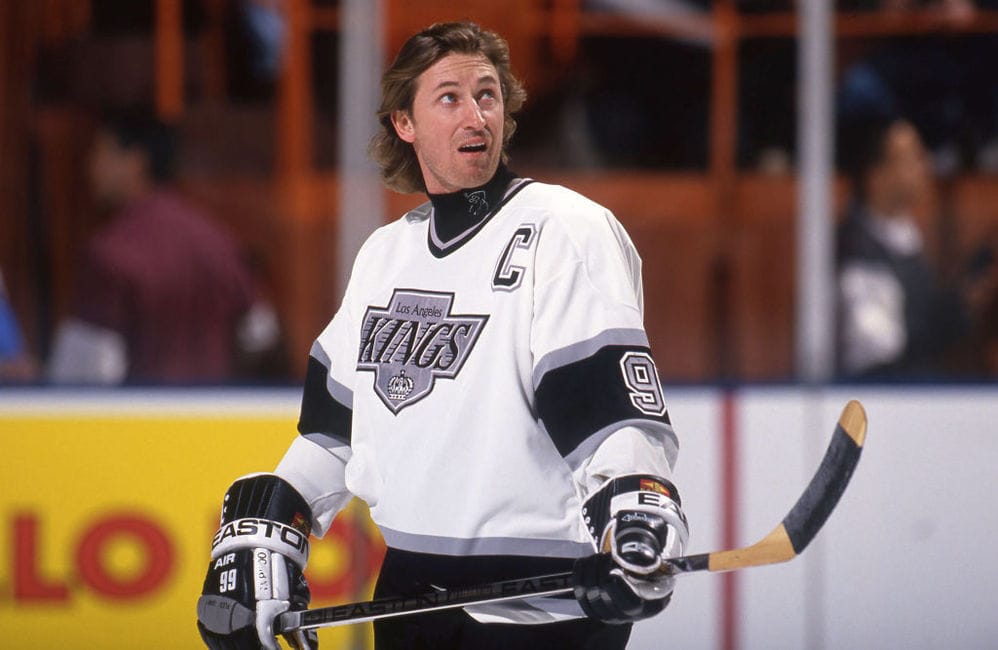 Gretzky put the Kings on the map, and his record was certainly good enough for a top-three ranking on this list.
#2: Luc Robitaille
First in team goals with 557 and second in points (1,154), Luc Robitaille is among the most popular all-time Kings players, and remains with the organization today. A garbage goal opportunist extraordinaire, Robitaille retired as the top-scoring left winger in NHL history. He topped 30 goals a remarkable twelve times, reaching 63 in 1992-93. As a long-time Kings fan, nothing thrilled me more than seeing Robitaille's name etched on the Cup  as a member of the Kings.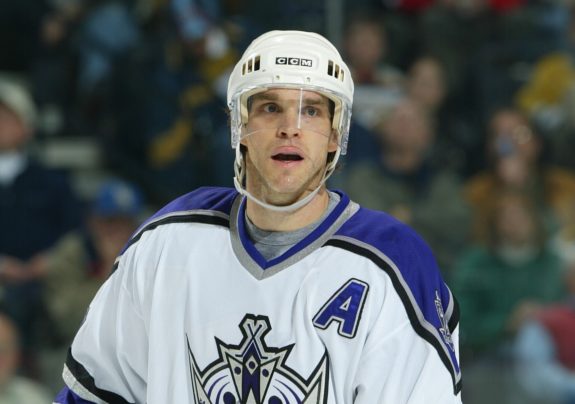 There isn't a person alive who knows hockey that wouldn't put Robitaille near the very top of any all-time Kings list.
#1: Marcel Dionne
Sure, the Kings have had more than their share of bad trades, but man, this one practically balances the scales all by itself. The Kings traded Terry Harper, Dan Maloney and a second-round pick for Marcel Dionne, who went on to play nearly 12 full seasons in L.A., amassing 550 goals and 1,307 points in 921 games. Just 5-foot-8 and 185 lbs during his playing days, he nevertheless triggered the Triple Crown Line and routinely finished with 40+ goals and 100+ points, leading the league with 137 points in 1979-80. Dionne got to play in preciously few playoff games, but managed 21 goals and 45 points in 49 of them, all but six with the Kings.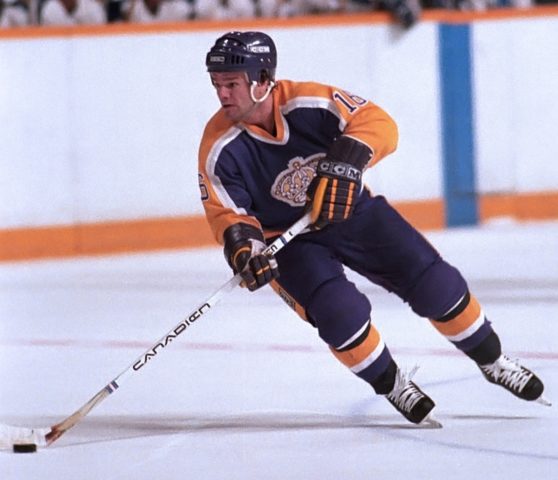 Dionne richly deserves a #1 ranking on any all-time Kings list.
Honorable mention (in no particular order): Jim Fox, Jonathan Quick, Charlie Simmer, Bob Berry, Lubomir Visnovsky, Alexander Frolov, Ziggy Palffy, Marty McSorley, Mike Murphy.
* written by Walter McLaughlin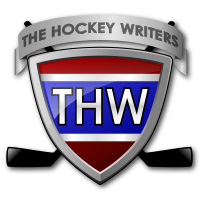 The archives of THW contain over 40,000 posts on all things hockey. We aim to share with you some of the gems we've published over the years.