Born:
August 24, 1987
Draft:
2005 Kings, 11th Overall
Hometown:
Jesenice, Slovenia
Position:
C
Known For:
Strong Defensive
Forward
Shoots:
Left
National Team:
Slovenia
Current Team:
Los Angeles Kings
Anže Kopitar (born 24 August 1987) is a Slovene professional ice hockey center and captain for the Los Angeles Kings of the National Hockey League (NHL). The 11th overall pick in the 2005 NHL Entry Draft, Kopitar became the first Slovene to play in the NHL upon making his debut in 2006. Kopitar has spent his entire NHL career with the Kings, and has led the team in scoring in all but two seasons and is fourth in franchise history in points, goals, and assists. Following the 2015-16 season, he was named the Kings' captain. Noted for both his offensive and defensive play, Kopitar was awarded the Frank J. Selke Trophy as the best defensive forward in the NHL in 2016, as well as the Lady Byng Memorial Trophy for gentlemanly play the same year. He won his second Selke trophy in 2018.
Kopitar played junior hockey for his hometown team HK Acroni Jesenice before moving to Sweden at age 16 to play in a more competitive league. He spent one season with the junior teams of the Södertälje SK organization, and then with the senior team of the top-level Elitserien. He moved to North America to join the Kings in 2006, one year after he was drafted, and finished fourth in the Calder Memorial Trophy voting for the league's top rookie. Kopitar's offensive talent was immediately apparent when he joined the Kings, though his defensive developed in later seasons and he has become recognized for his two-way play, being a finalist for the Selke Trophy 3 times, and a Selke Trophy winner, twice. In 2018 he was a finalist for the Hart Memorial Trophy. Praised as one of the best players in the League, Kopitar won the Stanley Cup championship with the Kings in 2012 and 2014, leading the playoffs in points on both occasions (tied with teammate Dustin Brown in 2012).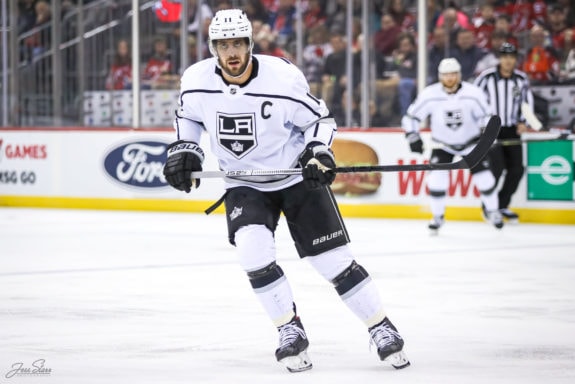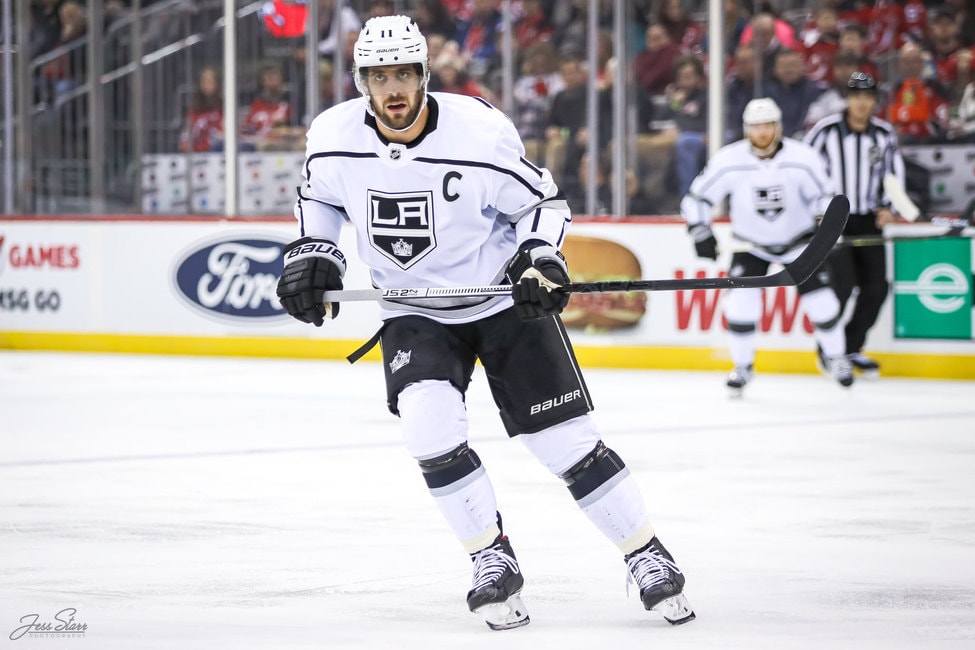 Anze Kopitar Statistics
Deeper Dive
Achievements
U18 WJC (D1|A) Bronze Medal — 2002-03
Slovenia Most Points (25) — 2003-04
U18 WJC (D1|A) Silver Medal — 2003-04
J20 SuperElit (Overall) Most Points — 2004-05
J20 SuperElit (Overall) Most Points by U18 Junior (45) — 2004-05
U18 WJC (D1|A) Most Assists (5) — 2004-05
U18 WJC (D1|A) Most Goals (6) — 2004-05
U18 WJC (D1|A) Most Points (11) — 2004-05
U18 WJC (D1|A) Silver Medal — 2004-05
U18 WJC (D1|B) Most Goals (10) — 2004-05
U18 WJC (D1|B) Most Points (13) — 2004-05
U18 WJC (D1|B) Silver Medal — 2004-05
U20 WJC (D1|A) Bronze Medal — 2005-06
NHL YoungStars Roster — 2006-07
World Championship (D1|B) Best Plus/Minus (+9) — 2006-07
World Championship (D1|B) Gold Medal — 2006-07
World Championship (D1|B) Most Assists (13) — 2006-07
World Championship (D1|B) Most Points (14) — 2006-07
NHL All-Star Game — 2007-08
World Championship Top 3 Player on Team — 2007-08
NHL All-Star Game — 2010-11
NHL Playoffs Most Assists (12) — 2011-12
NHL Playoffs Most Goals (8) — 2011-12
NHL Playoffs Most Points (20) — 2011-12
NHL Stanley Cup Champion — 2011-12
NHL Playoffs Most Assists (21) — 2013-14
NHL Playoffs Most Points (26) — 2013-14
NHL Stanley Cup Champion — 2013-14
NHL All-Star Game — 2014-15
World Championship Top 3 Player on Team — 2014-15
NHL Gentleman Conduct (Lady Byng Trophy) — 2015-16
NHL Top Defensive Forward (Frank J. Selke Trophy) — 2015-16
World Cup Runner-up — 2016-17
NHL All-Star Game — 2017-18
NHL Top Defensive Forward (Frank J. Selke Trophy) — 2017-18
World Championships (D1A) Most Assists (5) — 2018-19
World Championships (D1A) Most Points (7) — 2018-19
World Championships (D1A) Top Player on Team — 2018-19
NHL All-Star Game — 2019-20
Alternate Captain (Kings) — 2008-16
Captain (Kings) — 2016-21
Mark Messier Leadership Award — 2021-2022
Sources