It is a rare commodity for an NHL player to have the size, strength, skill, and intelligence to dominate on the ice each and every night. This particular combination is defined as a power forward.
Throughout the NHL's history, many have excelled in this role. Cam Neely was a player who scared opponent's going into the corner just as much as he did getting the puck in the slot, helping the Boston Bruins maintain their big and bad status.

Mark Messier was not only one of the league's greatest leaders, but he was also one of the most feared. His skillset lent itself to his undeniable toughness. Opposing players did not want to look him in the eye and if they did, their eyes would be black from one of his patented elbows.
These legends, along with Eric Lindros, Brendan Shanahan, and Keith Tkachuk among others, paved the way for big, skilled players to dominate the league.
From here, Jarome Iginla and Shane Doan would take the reins as a couple of the best NHL power forwards for a solid decade. We also saw the likes of Eric Staal, Rick Nash, and Milan Lucic follow, dominating the league for stretches of time.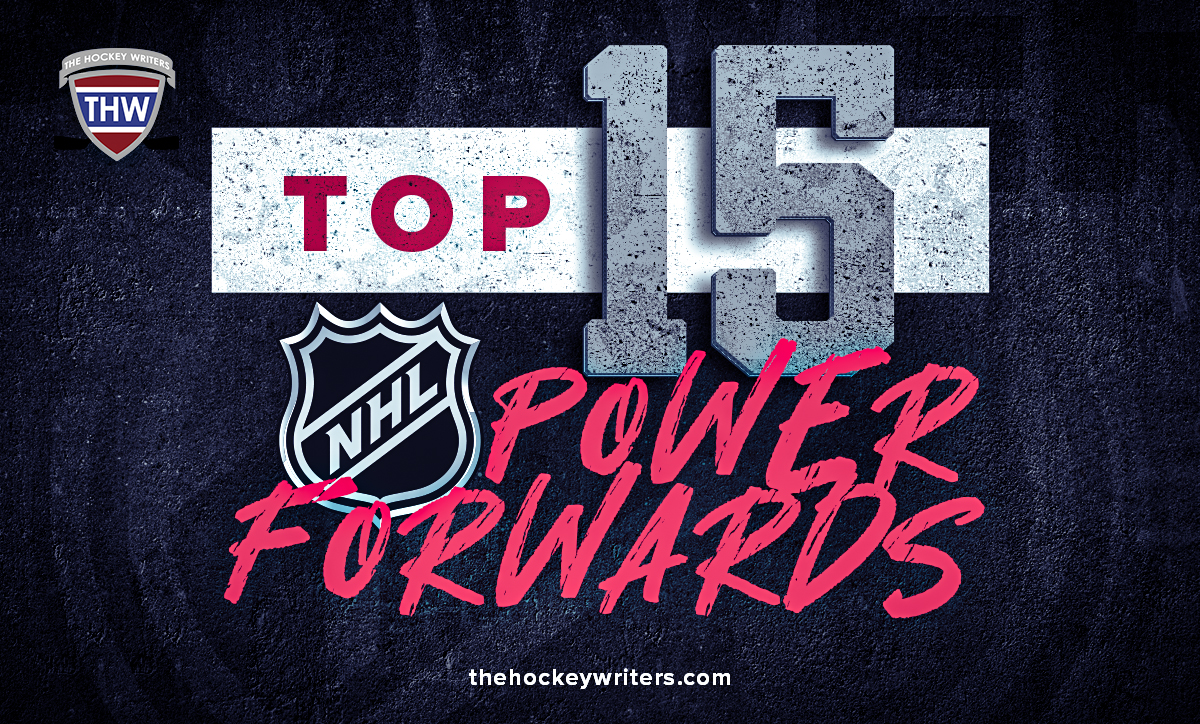 As time marches forward, however, the meaning of what a power forward is has changed. That is why the term should carry a modified meaning as it isn't just about dropping the gloves and laying board-rattling hits. The modern-day power forward uses his size to the team's greatest advantage, which includes protecting the puck, driving the net, and being a presence in the crease on the power play.
---
---
This list of the NHL's best power forwards should represent this newfound definition while also maintaining the importance of their abilities to rack up points and be a physical presence.
Honrable Mention: Gabriel Landeskog – Colorado Avalanche
From the moment that he entered the league, Gabriel Landeskog has been making an impact. As a 19-year-old rookie, he put together a 22-goal, 52-point Calder Trophy-winning campaign while laying down a truly bruising 219 hits.
---
Latest News & Highlights
---
Over the course of his nine-year playing career, he hasn't slowed down. When healthy, Colorado's captain is a prototypical power forward, using his size to bully opponents and his skill to post at least 20 goals and 50 points seven times in his career while breaking at least 100 hits whenever a full season was played.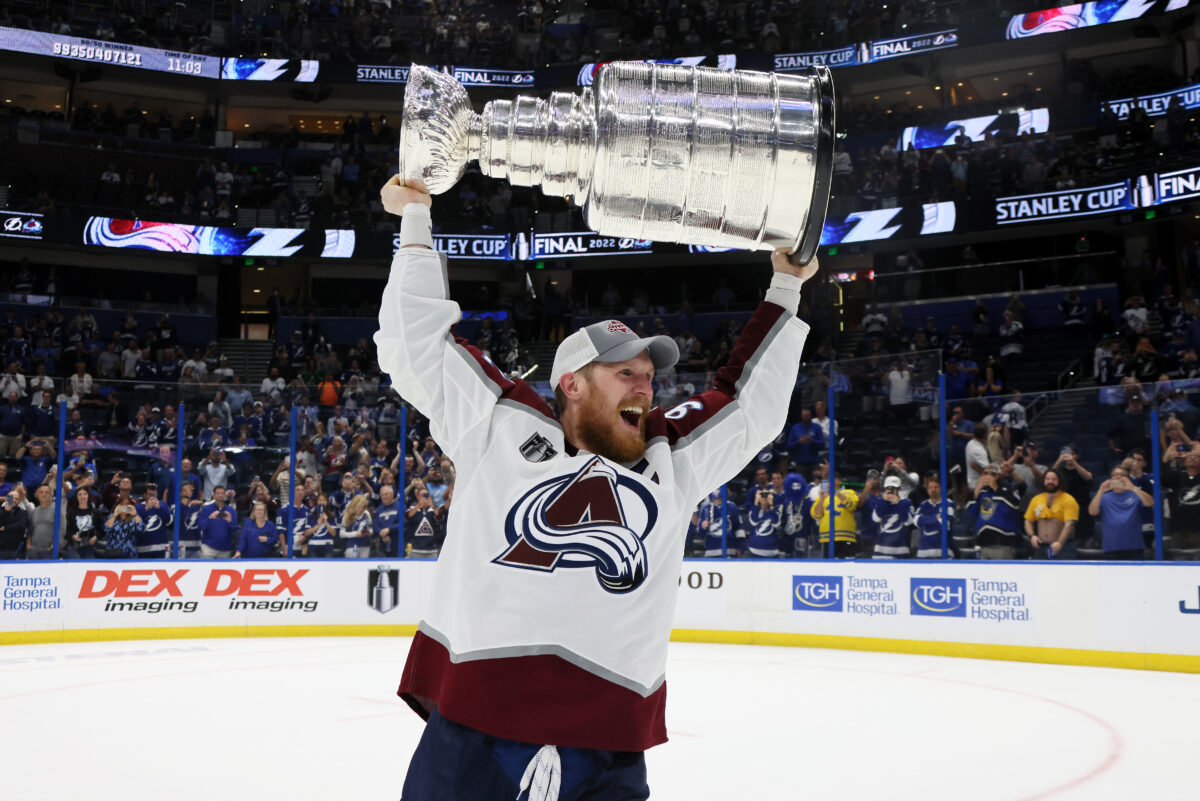 If not for a rash of injuries, Landeskog would easily be known as one of the most dominant players in the NHL. As it stands, he still is a special talent who represents what a true power forward is in the modern era. If he can ever return to the ice and find his form, he's going to be back near the top of this list immediately.
15) Corey Perry – Chicago Blackhawks
When the Anaheim Ducks bought out Corey Perry during the 2019 offseason, there was a serious question as to whether he could still make an impact in the NHL. Sure, he had the legacy of an exceptional player, but the times of him dominating games seemed to have passed.
Throughout the 2019-20 and 2020-21 regular seasons, Perry was largely invisible on the ice, and when he was being noticed, it was due to a bad hit or taking a penalty that negatively affected his team. In the postseasons, though, he showed his top form, as he helped lead his team to the Stanely Cup Final by chipping in key goals and getting under his opponents' skin.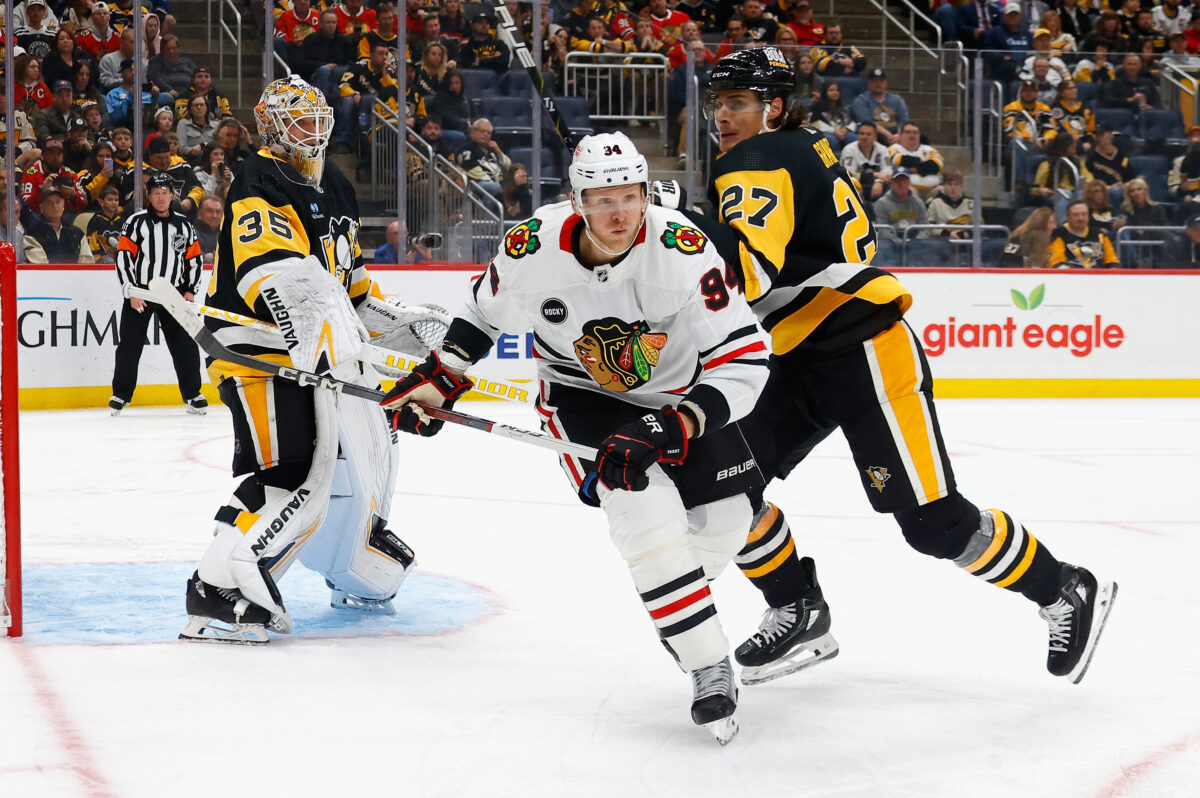 However, with the Tampa Bay Lightning, Perry found new life once again. He scored 19 goals and 40 points to go with 77 hits during the 2021-22 regular season. While these totals aren't mind-blowing, they are incredible for a player who makes his bread by being a pain in the ass to his opponents.
At his age, you would expect a reduction in this role, but over three of the last four postseasons, he's played 20-plus games, while running around the ice like a madman, scoring points, and starting scrums at every turn. He still plays like Corey Perry, after all, and he's a player you love having on your roster and despise seeing on the ice if you're an opponent.
14) Blake Wheeler – New York Rangers
Blake Wheeler was a late-bloomer, which often is the case with big players, he was widely considered one of the best big players in the world for a long time. In 2018-19, his eleventh season in the NHL, he posted 71 assists and 91 points, both career highs. His playmaking abilities were behind only a select few at the time and his compete level was matched by none.
However, time is undefeated, and in recent years Wheeler started slowing down. With his scoring and physical presence decreasing on the ice, the Jets decided to move on from their former Captain, and they bought him out during the 2023 offseason. Now with the New York Rangers, Wheeler will have the opportunity to establish himself with a new team as a depth piece, and he just might excel in this reduced role. If he does, then New York could have one of the best-value contracts in the NHL this season.
13) Josh Anderson – Montreal Canadiens
Few players in recent memory encapsulate a traditional power forward more than Josh Anderson. At 6-foot-3, 226 pounds, he is a mountain of a man who is well known for using his size to impose his will on opponents.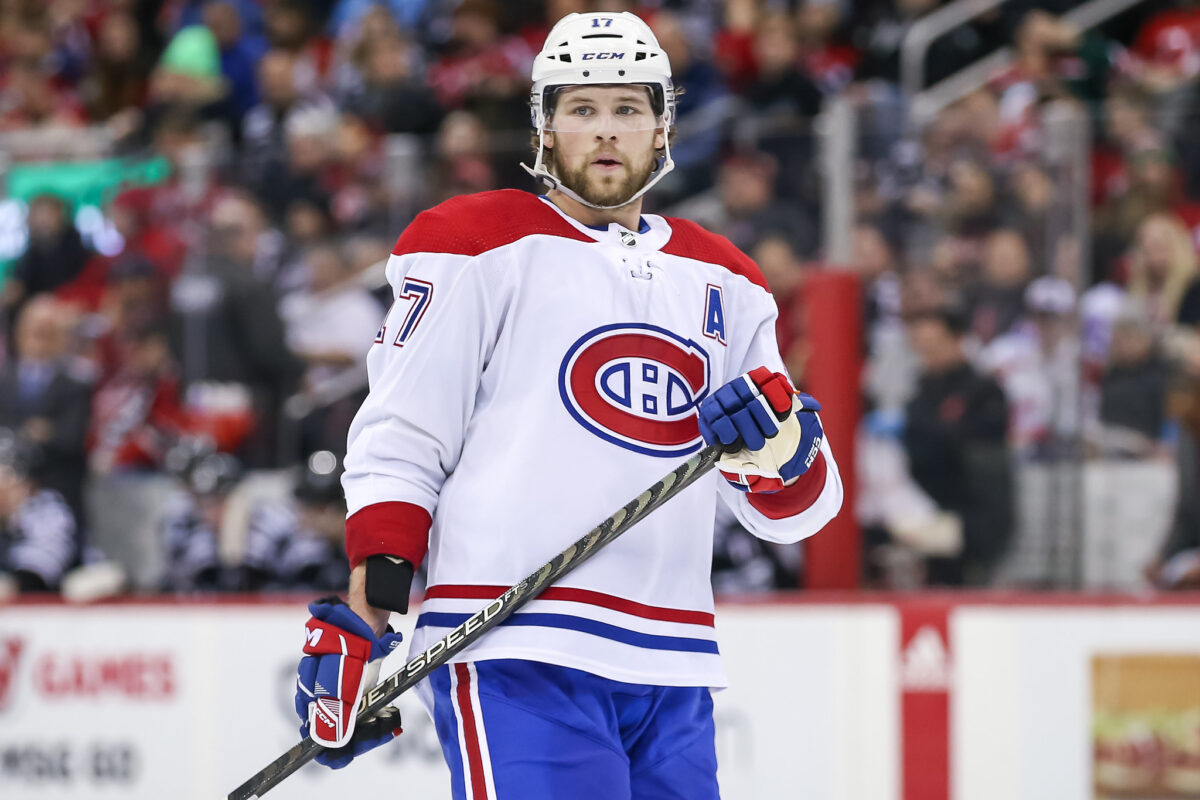 Despite all of this potential, Anderson simply has never been able to dominate like everyone expected him to, even if he provided some key goals during the Canadiens' run to the 2021 Stanley Cup Final. However, if he can find that perfect balance of physical play and scoring that he has flashed at times, Montreal could have a special power forward on their roster.
12) Tyler Bertuzzi – Toronto Maple Leafs
While he may not be the first player you think of when someone asks you to name a top power forward in the NHL, Tyler Bertuzzi has gained a reputation as one of the more difficult players to take on in the league. He may not be huge, but he plays a punishing game that grinds down opponents along the boards and in front of the net.
Related: The Gordie Howe Hat Trick
Really, it was his time with the Boston Bruins that cemented his place on this list. Bertuzzi had a monster (albeit quick) postseason, as he posted 10 points in just seven games played, and he almost willed the Bruins into the second round on his own. He plays big on the ice, and when he is on his game, he is able to create space space around his net, while creating havoc for his opponents.
As he transitions to the Toronto Maple Leafs for the 2023-24 season, Bertuzzi will have the opportunity to shine on one of the biggest stages in hockey. If he does well, he could cash in on his next contract and prove that he is an elite talent.
11) Tanner Jeannot – Tampa Bay Lightning
Quick, who led the NHL in hits for the 2021-22 season? While you may expect a known grinder, the correct answer was rookie Tanner Jeannot of the Nashville Predators. The 6-foot-2 undrafted forward took a long path to the NHL, but once he got to the big show, he made himself known by posting 24 goals and 41 points to go along with his 318 hits.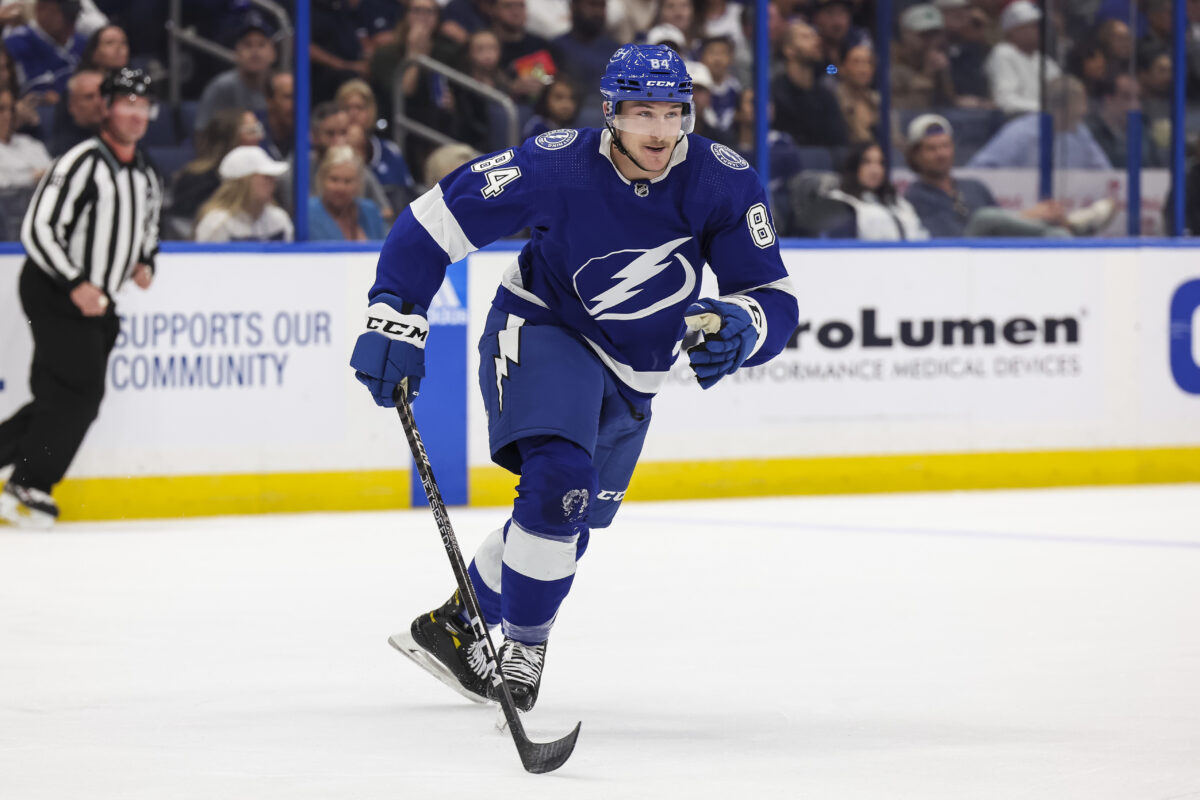 In the following season, however, Jeannot took a big step back, but was eventually traded to the Tampa Bay Lightning, who gave up a king's ransom for the budding power forward. While he struggled with injuries and simply didn't score much, there's still so much potential for him to take a big step with his new team and develop into a dominant force. There's reason to believe he can still become this player, and the Lightning wouldn't have given up so many assets for him if they didn't think this would happen, so I wouldn't write him off as a breakout candidate for 2023-24.
10) Jordan Staal – Carolina Hurricanes
Throughout his 18-year NHL career, Jordan Staal has been a leader off the ice everywhere he played, while being a complete pain to compete against on it. Clocking it at 6-foot-4, he has been a consistent scoring presence who averages roughly 20 goals and 40 points while dominating the game with his physical presence and 150-plus hits each season.
Even as he reaches the back half of his career, Staal hasn't a step back, as the Carolina Hurricanes' Captain looks to lead them to their second Stanley Cup in franchise history. Given his ability to wear down opponents, he's the exact player you want leading your team as you take on that challenge.
9) Tom Wilson – Washington Capitals
If you aren't a fan of the Washington Capitals, there's a lot to hate about Tom Wilson. His hard-nosed, consistently borderline playing style has made him one of the most difficult players to compete against in the entire NHL. When he is on the ice, his presence is well known, with a constant barrage of hits and agitation that can unhinge even the steadiest of players.
---
Latest News & Highlight
---
Yes, there's a constant debate swirling around Wilson and his style. Some people love it and see him as a harbinger of old-school hockey. Others see him as a dirty player who should spend more time suspended than on the ice.
No matter what side of the debate you stand on, one can't deny that Wilson has all the trapping of a great power forward. His physical playing style can change the course of a game and playoff series, and it was a major factor in the Capitals winning the Stanley Cup in 2018.
8) Lawson Crouse – Arizona Coyotes
A reality of the Arizona Coyotes is that they are an underserved franchise by the hockey world. This means that some of the players simply don't receive the coverage they deserve, which keeps them off lists like these at times. However, when I asked THW for the top power forwards in the league, Lawson Crouse was a name that came up that I've missed who should have been on my list all along.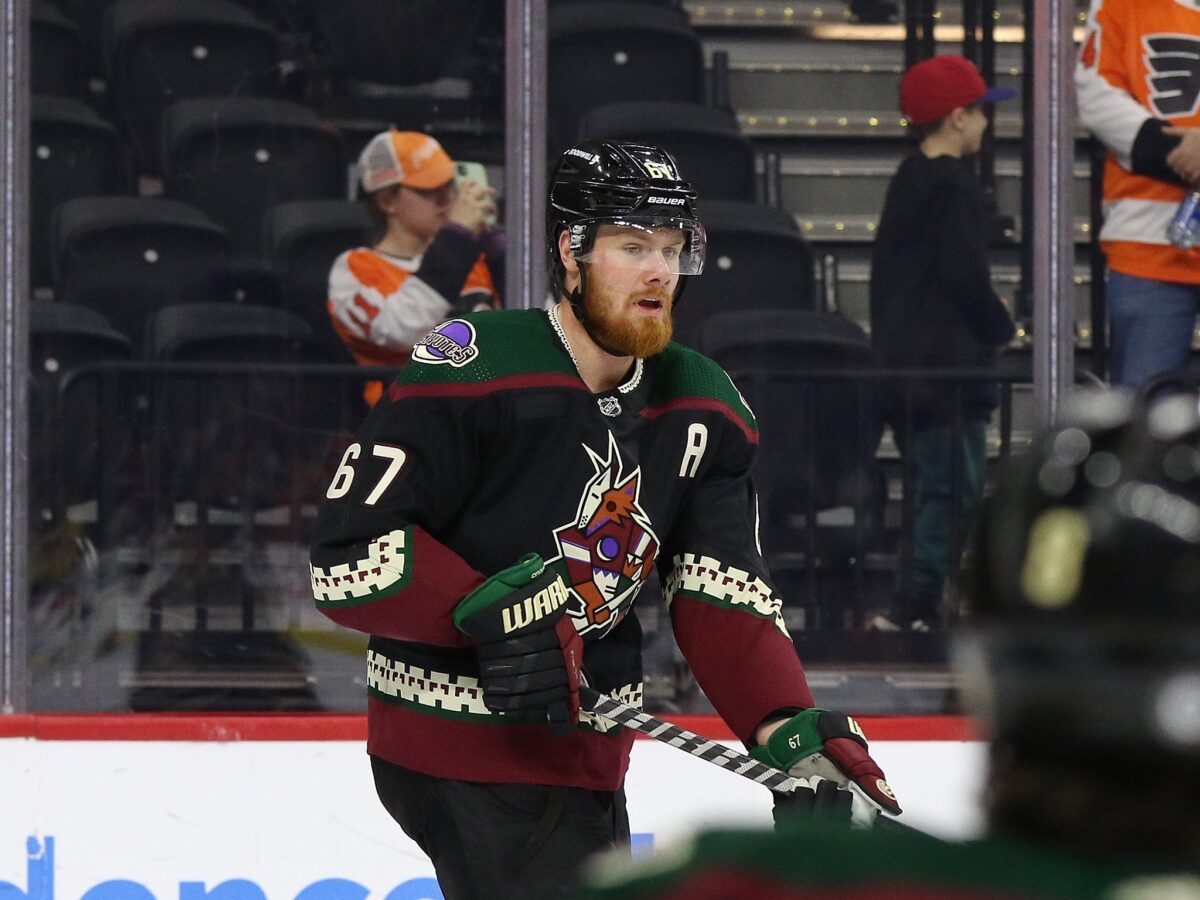 First off, Crouse is a 6-foot-4, 215-pound forward capable capable of dolling out 200-plus hits each season. However, he's more than just a hitter, as he also posted a career-high 24-goal, 45-point season in 2022-23. If he can build upon this success alongside Arizona's budding core of young, star talent, there's a real chance that he will cement himself as one of the best power forwards in the game for the next handful of seasons.
7) Mark Stone – Vegas Golden Knights
Over the years, Mark Stone has been not only one of the best defensive forwards in the league, but one of the best players, period. He is a prime example of how the definition of a power forward has changed, as he isn't going to lay down 100 hits in a season or drop the gloves at a moment's notice to change the momentum of a game. Instead, he uses his 6-foot-3 frame to influence all aspects of play, whether that is winning a puck battle along the boards, chipping in a tough goal in front of the net, or shielding the puck as he breaks out of the neutral zone.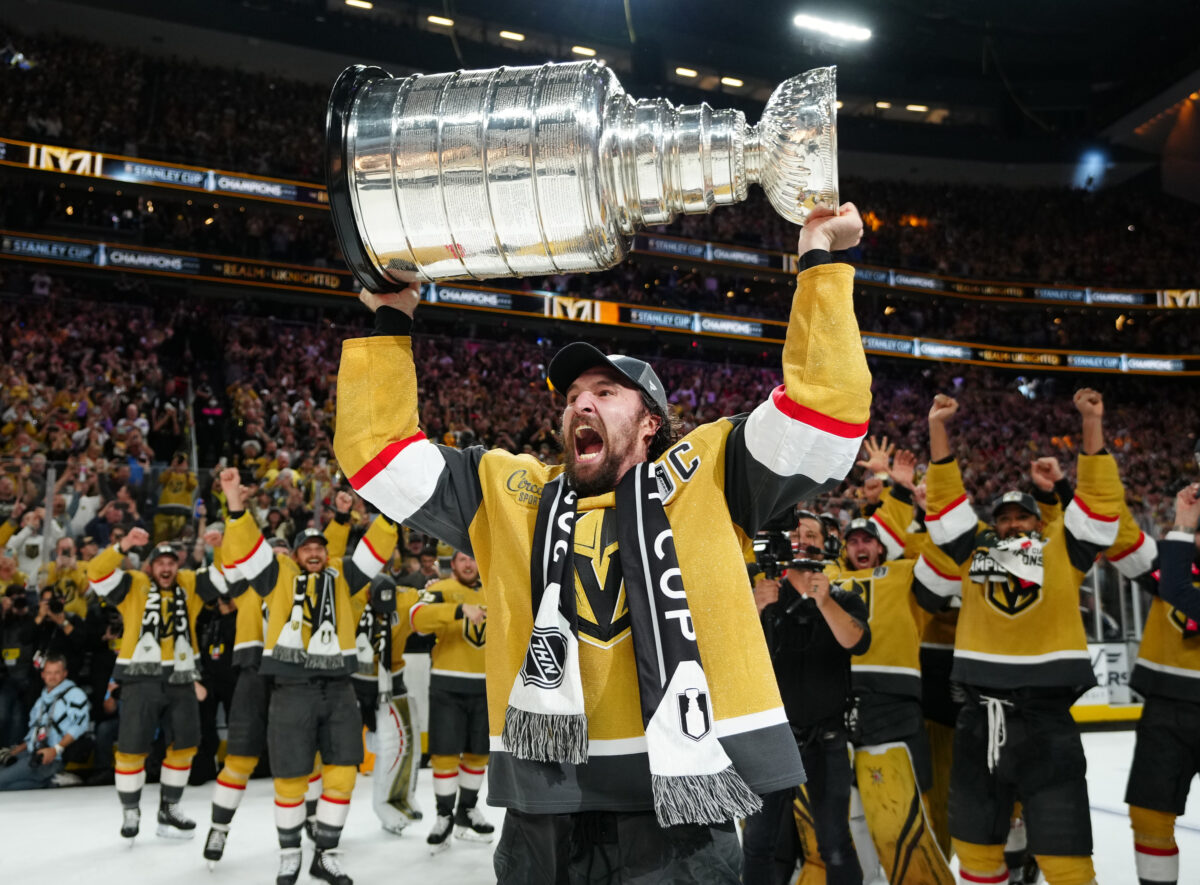 So, while he may be a far cry from the traditional power forward mold, he has all the trapping of a player who knows how to use his size and raw power to change the outcome of a game. Look no further than the 2023 Stanley Cup Playoffs, when Stone led the Vegas Golden Knights to their first championship using his size and skill to take over games and dominate series. Simply put, when he wanted something, he moved heaven and Earth to make it happen, and he only stopped when he held the Stanley Cup.
6) Evander Kane – Edmonton Oilers
There's a reason why the San Jose Sharks signed Evander Kane to a seven-year, $49 million extension back in the 2018 offseason: he simply is one of the great power forwards in the game.
Off the ice, however, things haven't been good for Kane. This led to his contract being terminated by the Sharks, and he signed with the Edmonton Oilers, where he regained his form and showcased why he is still one of the top players in the NHL by leading the league in postseason goalscoring in 2022.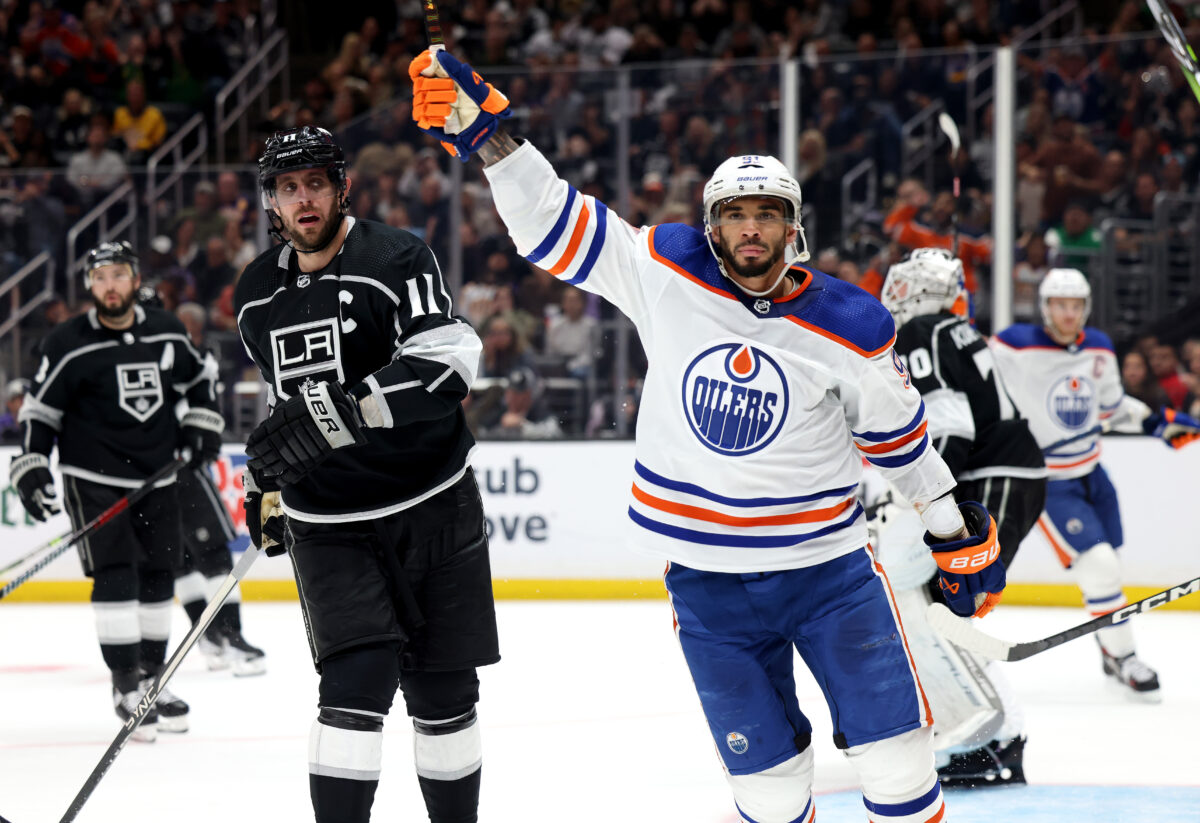 Now there are expectations back on Kane again, and he signed a four-year contract with the Oilers to make him part of their core. If he keeps out of trouble and continues to produce on the ice, this could be a perfect situation for him to play that power forward game that made him such a sought-after player in the first place. If he stays healthy, I fully believe he can post career-high scoring totals once again.
5) Chris Kreider – New York Rangers
Throughout his career, Chris Kreider has been a bit of a polarizing figure. He possesses every tool to be one of the most dangerous players whenever he steps on the ice but struggled at times putting it all together.
In the 2018-19 season, the Massachusetts native found more consistency, registering 28 goals and 52 points while laying down 159 hits. He followed that up with a 45 point campaign in 2019-20 when the New York Rangers decided it was time to lock him down with a seven-year contract extension. In 2020-21, he posted 20 goals and 30 points in 50 games, while adding 115 hits, showing that he may be back in his groove once again.
Related: Rangers' Kreider Making Contract Look Like a Bargain
With a future playing for a young, highly talented Rangers team, Kreider has appeared to put it all together in 2021-22. Not only did he lay down over 141 hits, but he scored 52 goals and 77 points. Needless to say, this is what New York hoped for when they signed that massive contract. As he continues producing points and laying down the hits, he will further justify this investment by the franchise to fans and silence critics along the way.
4) Jamie Benn – Dallas Stars
Throughout his career, Jamie Benn has been one of the hardest-working players in the NHL. Drafted in the fifth round in 2007, he cracked the team only two years later — an unbelievable feat from such a late-round pick. For years, Benn determined the pace of the game using his skill level and assertiveness. Despite his impressive production, the former Kelowna Rocket was one of the toughest players you will ever see and isn't afraid to drop the gloves with anyone in the league.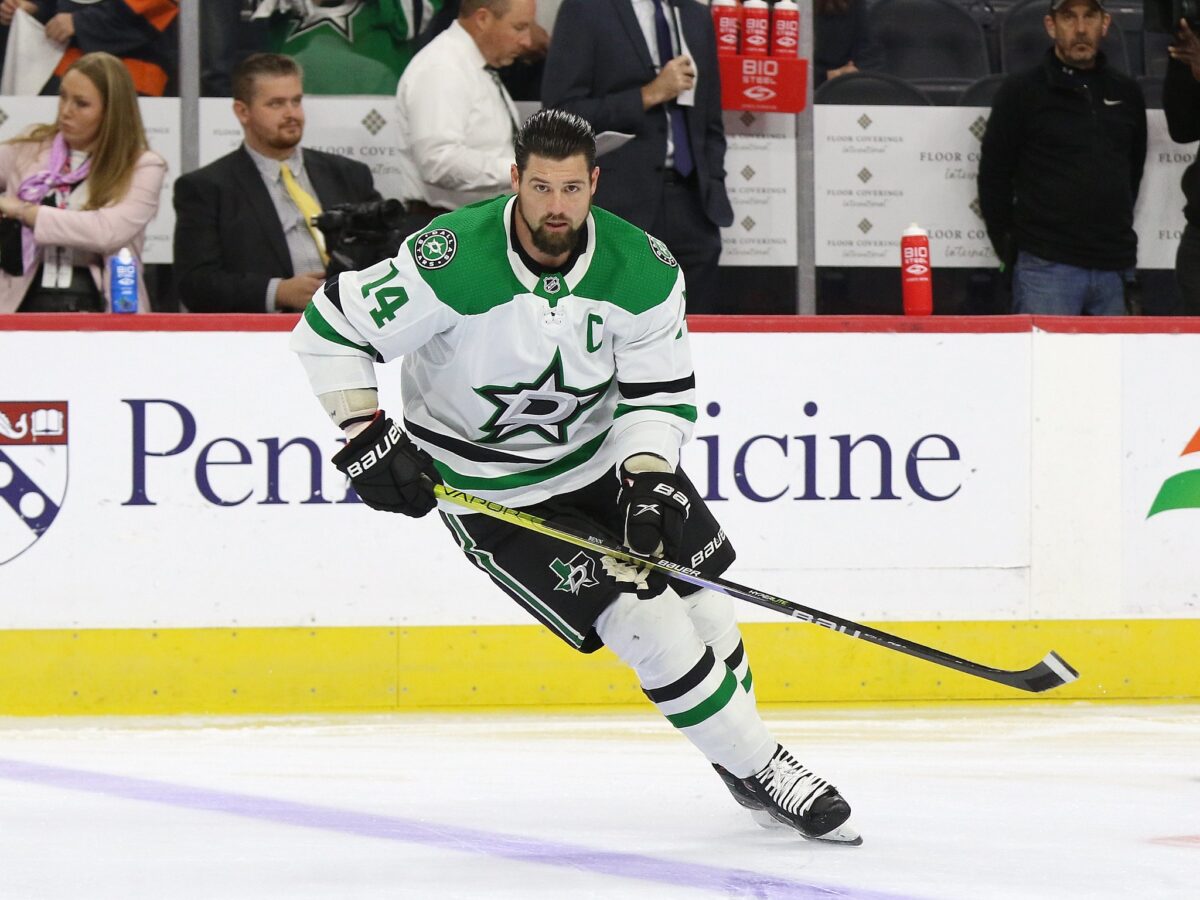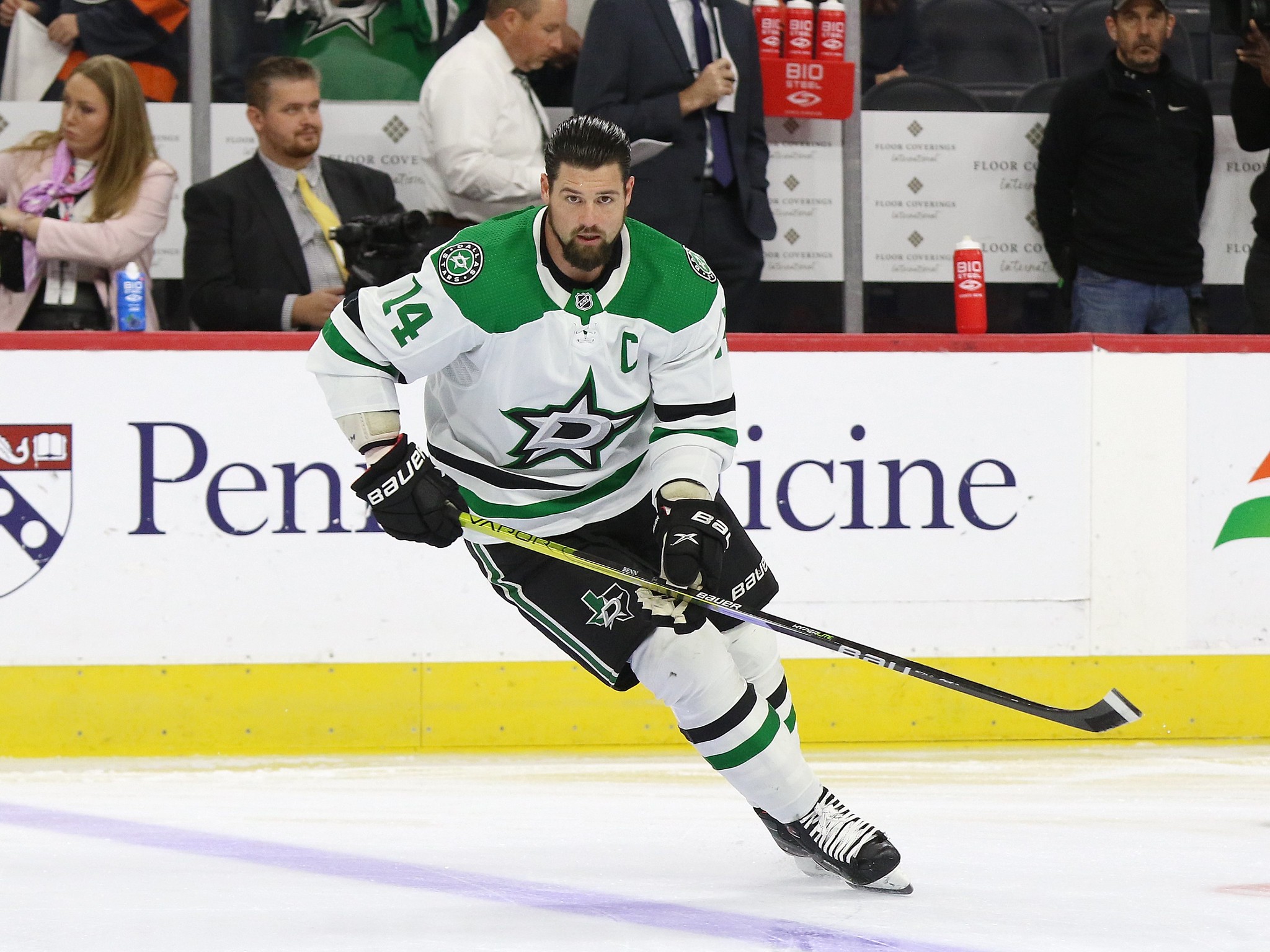 After it looked like his best days were behind him, Benn found his game once again during the 2022-23 season, as he posted 33 goals and 78 points along with 97 booming hits. Anyone who saw him play immediately knew he was back, which is something that should scare the league.
3) Brady Tkachuk – Ottawa Senators
It should come as no surprise to find a Tkachuk on this list. Last two seasons, Brady Tkachuk amassed some truly staggering statistics, as he scored 35 goals and posted 83 points while laying down 242 hits and racking up 126 penalty minutes.
Related: Top 10 Dirtiest NHL Players
To put it simply, the apple didn't fall far from the tree, as he is a perfect specimen of what a power forward can be, just like his father. So, for an Ottawa Senators franchise that is looking to emerge from their rebuild better than ever, he will factor heavily into their future on the ice and as a leader off it.
2) Alexander Ovechkin – Washington Capitals
Many would consider Alex Ovechkin a sniper and rightly so, he is the best goal-scorer the NHL has seen in decades and one of the best all time. This doesn't change the fact that he is a physical specimen and, since breaking into the league, has the fourth most hits among forwards.
Related: The NHL 500-Goal Club
The future Hall-of-Fame winger chills opposing players to the bone when they see his body coming full speed at them to finish his check, something he always does. Something else he always does? Sets up his office on the left circle ready to blow a one-timer past the goaltender.
After finally claiming the Stanley Cup in 2018, there's no debate about the greatness that is Ovechkin. One only needs to know his nickname, the Great Eight, to recognize the legacy he has left and will continue to leave on the game. Even at age 37, he still laid down 188 hits while scoring 42 goals, which are numbers that are incredible for a player at this point of his career.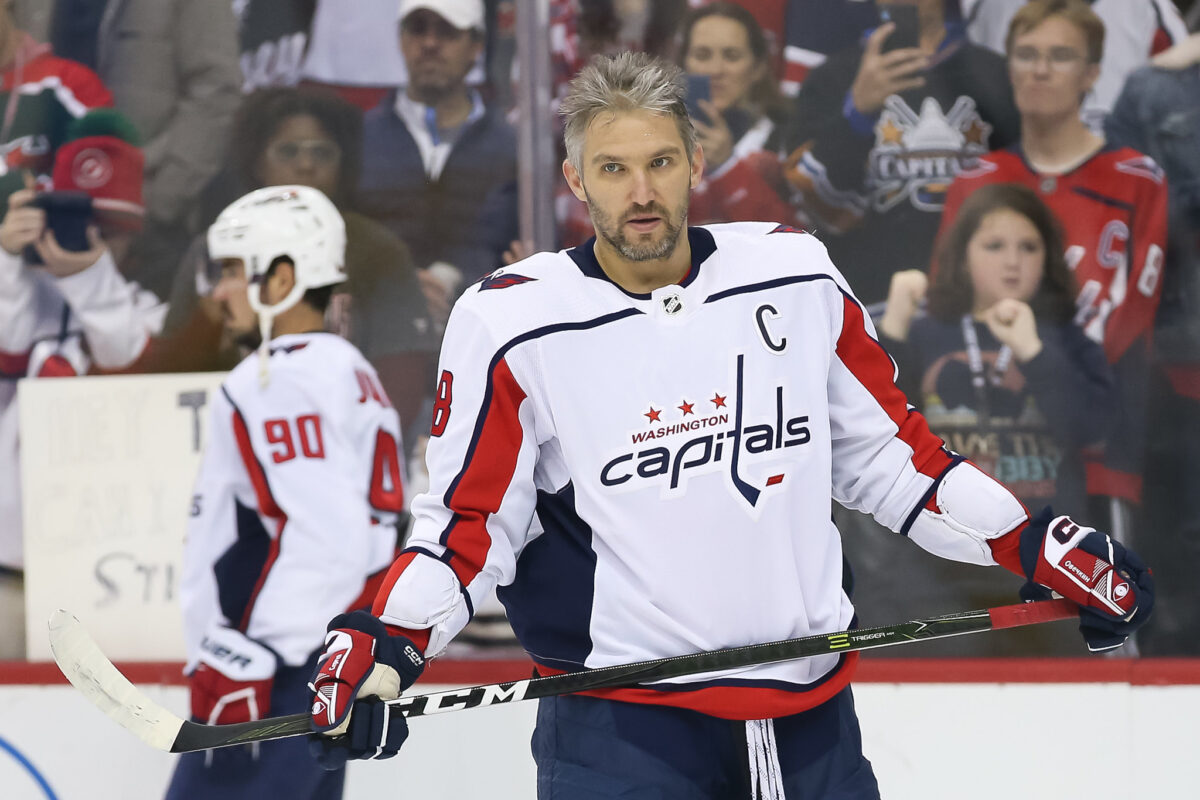 Ovechkin has already won more awards and earned more statistical achievements than the vast majority of players who have ever played the game but that isn't enough. Number eight isn't only great because he scores goals, as his community involvement is a hallmark all hockey players should follow.
1) Matthew Tkachuk – Florida Panthers
Throughout his NHL career, Matthew Tkachuk can be described as many things by opponents. Pesky, annoying, dirty, a villain. Since joining the league as a 19-year-old, he has become one of those players who is hated by opponents and loved by fans.
As time moved forward, however, Tkachuk grew out of the role of thug and into the role of Superstar. His dominance throughout the 2023 Postseason was a coming-out party, as he introduced himself to the world as both an elite offensive talent and an unstoppable physical presence who could drop the gloves and score a series-winning goal all in the same game.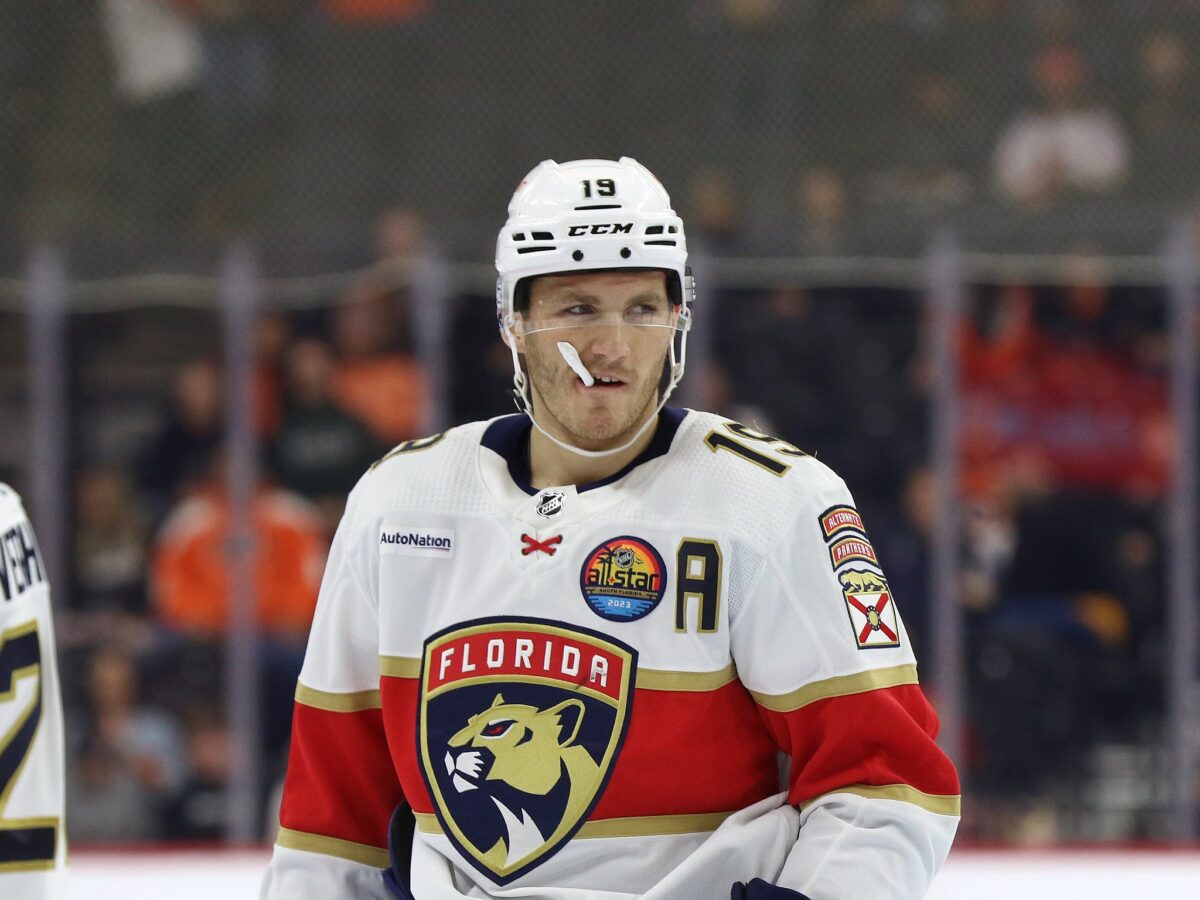 There are few players with the raw skill and size like Tkachuk in the NHL, and he is the type of player up-and-coming power forwards will model their game after for the next decade-plus. Needless to say, the archetype is in good hands for the future.
---