The Colorado Avalanche and Minnesota Wild are starting to build a rather nasty rivalry that extends back to last years first round playoff match up.  In three previous meetings of the team this season the Avalanche failed to score a single goal.  On Saturday February 28 these teams met again and the only goal the Avalanche scored was a dump in from center ice.  The wild would go on to win the game 3 to 1 but as the game came to a close things boiled over.
Cody McLeod
With only 8.1 seconds left in the game a center ice faceoff started the antics.  As the Wild won the faceoff Cody McLeod rushed the Wild player taking the faceoff knocking him to the ground.   As a result McLeod was challenged by winger Charlie Coyle and a fight ensued.  After McLeod and Coyle were separated McLeod was headed for the locker room when words were exchanged between him and the Wild bench.  McLeod was given a fighting major, an unsportsmanlike conduct penalty and a game misconduct.

McLeod has made his living as the enforcer in the Avalanche lineup.  After being signed as an undrafted free agent he scores occasionally and he understands what his role is and why he is on this team.  That being said certainly emotions were high and without passion you are not going to win many games but nothing was gained by McLeod's actions.
Gabriel Landeskog
The youngest player to ever be named as an NHL captain was Gabriel Landeskog three years ago.  Times have been tough in Colorado over his tenure but it is by no means all his fault.  In the past 18 months or so Landeskog has started acting more like a captain defending his players and even dropping the gloves when necessary.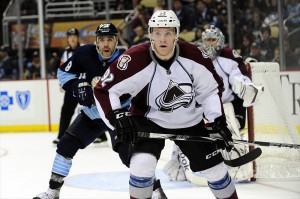 On Saturday as McLeod was being escorted to the locker room Landeskog found himself at the end of the Avalanche bench nearest the wild players.  Wild captain Miko Koivu was at the end of his respective bench and joined in the chirping of McLeod.  Landeskog, from the bench, was quick to defend his teammate and took a swing at Koivu.  As a result Landeskog was also given a game misconduct and headed to the locker room early as well.  Both McLeod and Landeskog were fined the maximum amounts allowed under the Collective Bargaining Agreement (CBA).  McLeod was fined $3,091.40 while Landeskog handed over $5,000.
Head to Head
Certainly everybody in the hockey community remembers last year playoff series and the knee on knee hit by Wild forward Matt Cooke that ended Tyson Barries season.  This hit along with a playoff elimination had to leave bad taste in the mouths of the Avalanche and set the stage for this season and the seasons in the future.

These two teams are both in the Central Division and have rosters that show promise for winning seasons in the future.  A rivalry is certainly in the works for these two teams and maybe it is already here.  In a standard season with the new divisions these teams are guaranteed to play each other five times each season.  That is a lot of chances for things to happen and for players to get even for what they feel was a wrong doing.  As of now it appears the Avalanche will miss the playoffs this season so these teams will only play each other one more time this season.  That game will be played exactly one week after the last meeting of these two teams and certainly the actions of each team will be fresh in players minds.  The Avalanche are currently winless against Minnesota this year and will have this last chance to come up with a win.  One thing is for certain this last game and the games between these teams in the future are going to be fun to watch for any hockey fan.
I am a University of New Mexico journalism student who has been watching NHL hockey since 1996 and I started playing hockey myself in 2003. I have covered both college soccer and volleyball in the past and I also contribute to a NASCAR news website.