Free agency is a very important aspect of the NHL. The best NHL free agent signings, typically of players with high skill, retain the ability to drastically improve a given team in an instant.
In some cases, free agent signings don't live up to expectations, as players can be heavily overpaid for the services and skills they bring to the table (insert Toronto Maple Leafs joke here).
Related: The Worst Free Agent Signings in NHL History
Yet in other cases, a team's decision to sign a given player can significantly improve a team. These players tend to be excellent fits on their new teams, experience rejuvenated production, or are signed to bargain deals, most commonly for a lower yearly salary than one would expect.
---
---
It's safe to say free agency is always an exciting time in hockey, with big-name players looking for new, often surprising homes. That being said, let's take a look at the best NHL free agent signings in history to date.
#5: Ed Belfour, Dallas Stars
In 1997, the Dallas Stars made a free agent signing which altered the team's identity from pretender to contender. The addition of undrafted Ed Belfour provided instant stability in the crease, creating the foundation for a Stars team that would be competitive for many years to come.
In his previous eight NHL seasons, Ed Belfour played relatively average hockey. In seven seasons with the Chicago Blackhawks, Belfour's save percentage (SV%) never eclipsed .907, while his goals against average (GAA) was 2.65. In his last few seasons in the windy city, Belfour saw his playing time decrease, eventually being traded to the San Jose Sharks.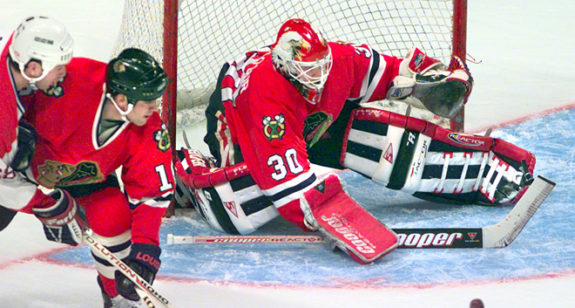 After Belfour signed with his new club via free agency, he became a completely different goaltender. In his first season in the Dallas, he had by far one of the best seasons of his career. A sparkling 1.88 GAA, a .916 SV% and 37 wins in 61 games played on the road to winning the Presidents' Trophy.
His next season was even better, especially in the playoffs where Belfour's GAA was 1.67 to go along with a .930 SV%. Alongside these numbers and three playoff shutouts, the Stars won their first Stanley Cup in franchise history. He outbattled one of the best goalies of all-time in Dominik Hasek with a 1.26 GAA in the Stanley Cup Final. The following season, he helped the team back to the Final with four playoff shutouts, but the team fell to the New Jersey Devils.
A 12-time All-Star, four of which with the Stars, Belfour captured a William Jennings Trophy for least goals allowed by a goaltender in a season in 1998-99. With 160 wins with the Stars in 307 games played, Belfour gave the Stars a chance to win in every game which he played. A consistent, dominant force, Ed Belfour was an excellent free agent signing by the Stars. He solidified his place in the Hockey Hall of Fame (HHoF) from this free agent signing.
#4: Scott Niedermayer, Anaheim Mighty Ducks
In the 2005-06 offseason, the then Anaheim Mighty Ducks made a huge splash in the free agent market. Defenseman Scott Niedermayer signed with the Ducks; a great player who had won everywhere he had played, and who brought a winning tradition to Anaheim.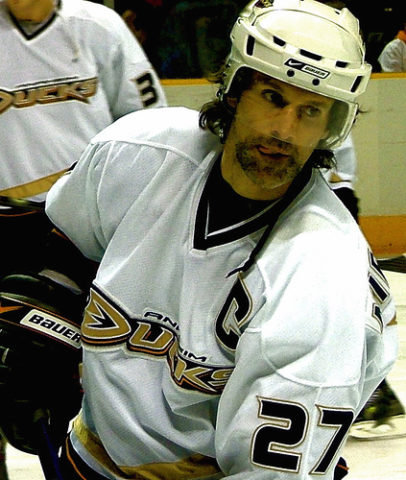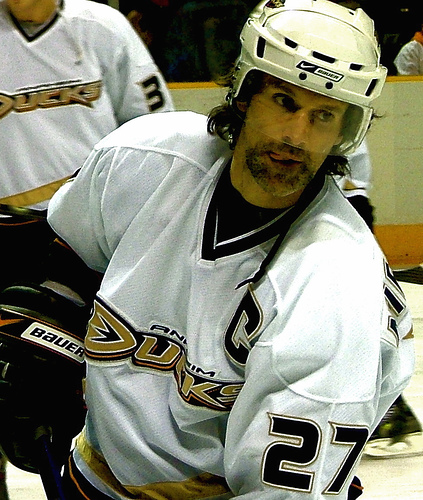 After playing the 12 seasons with the New Jersey Devils, Niedermayer signed a four year, $27 million contract with the Ducks. The deal, with an average salary of $6.7 million per season, was a high, yet realistic price to pay for a future HHoF defenseman. In his time with the Devils, Niedermayer had amounted 476 points in 892 games, a plus/minus of plus-172 and three Stanley Cup Championships. His ability to play a strong defensive game as well as contribute offensively made him without doubt one of the top defenseman in the NHL at the time.
Niedermayer didn't enjoy a breakout year with the Ducks like Belfour, as he had always been a great player. He had dominated the league for years, and it was no different following his arrival in California. In his first season with the Ducks, Niedermayer had a career year. At the age of 33, the defender scored 13 goals and 63 points in 2005-06. In his next season, he was somehow, even better, recording 15 goals and 69 points in leading the Ducks to a Stanley Cup Championship, the fourth of his career.
In his five-year career with Anaheim, Niedermayer was a five-time All-Star, a two-time runner up for the Norris Trophy, and a winner of the Conn Smythe Trophy in the team's Stanley Cup-winning season as the most valuable player of the playoffs. Niedermayer remained the definitive leader of the Ducks until his retirement following 2009-10. His intangible qualities, in particular, his leadership, were his most valuable and priceless skills.
Inducted to the HHoF in 2013, two-time Olympic gold medalist and Triple Gold Club member Scott Niedermayer was well worth his hefty price tag.
#3: Adam Graves, New York Rangers
Prior to the 1991-92 NHL season, the Rangers made one the best free agency signings in their storied history. A relative unknown at the time, forward Adam Graves went on to become one of the most productive players in New York Rangers history.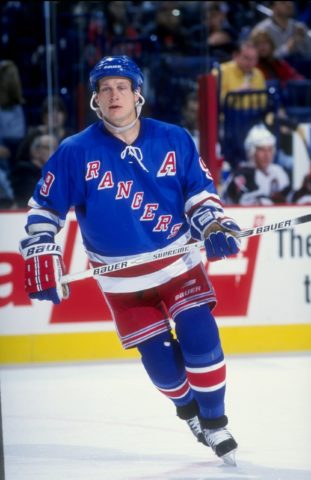 Although he won the Stanley Cup with the Edmonton Oilers in the 1989-90 season, Graves' career had been comprised of parts of broken seasons. In 78 games with the Detroit Red Wings over three seasons, followed by two seasons with the Oilers, Graves had yet to emerge as a star player.
Everything changed when Graves signed with the Rangers. Although he was being paid a lacklustre $450,000 per year at the time, Graves exploded, producing star calibre numbers. In his first season, Graves scored 26 goals and 59 points. His play only improved per year, scoring 52 goals in the 1993-94 season and 280 total in his 772 games as a Ranger. Graves was also known for his physical play, totaling 100 PIM or more in four of his ten seasons in New York.
A two-time All-Star, Graves won the King Clancy Memorial Trophy for leadership and humanitarian contribution in 1993-94, as well as the Bill Masterson Trophy for qualities of perseverance and sportsmanship in 2000-01. Most importantly, he helped the team to it's first Stanley Cup in 54 years in 1993-94. He had 10 goals and 17 points in the 23 games to his second Cup.
All in all, for the salary he was paid, especially early on, the Rangers' signing of Adam Graves is one of the best in NHL history given Graves' ability to produce year after year and an end to the longest Stanley Cup drought in history.
#2: Zdeno Chara, Boston Bruins
In the off-season of 2006, the Boston Bruins made the decision the sign 6-foot-9 defender Zdeno Chara. It was a decision which has brought immeasurable benefits for the Bruins.
Fresh off of a successful three-year stint with the Ottawa Senators in which he posted 35 goals and 103 points over 228 games, Chara agreed to a five-year contract worth $37.5 million. It was a decision which strengthened an offensively challenged Bruins blue line, whose top scoring defenseman the year previous was Paul Mara with 18 points.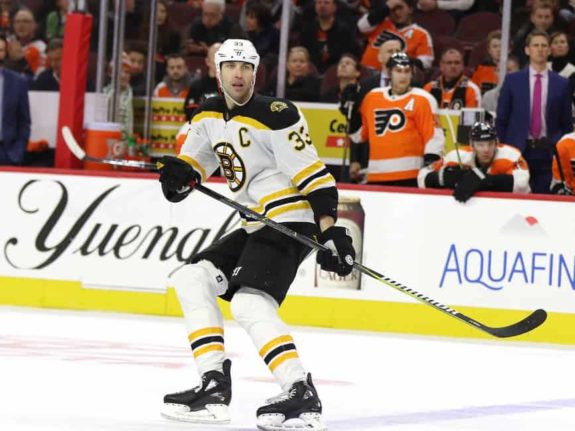 Since signing with the Bruins, Chara has led the team offensively, defensively and also in the dressing room. Now the captain of the Bruins, Chara won the Norris Trophy in 2008-09, the Mark Messier Leadership Award in 2010-11 and has been named an All-Star on multiple occasions. As the tallest player in league history, Chara provides a unique, intimidating presence on the blue-line. Not only can he contribute offensively, but year after year is considered one of the best defenders in the NHL.
His most significant contribution to date is leading the Bruins to a Stanley Cup Championship in 2011. He also helped the team reach the Final in 2013 and 2019, falling to the Blackhawks and St. Louis Blues, respectfully. All of this makes the Chara signing one of the best free agent acquisitions of all-time.
#1: Scott Stevens, New Jersey Devils
Following the 1990-91 NHL season, the St. Louis Blues signed Brendan Shanahan from the Devils. As a result, the Devils were entitled to compensation. Amazingly, the Blues originally offered New Jersey Curtis Joseph, Rod Brind'Amour and two draft picks, but the Devils had their eyes set on defenseman Scott Stevens, who was the Blues' captain at the time. Following a long arbitration case, Stevens' rights were awarded to the Devils. Stevens was at first hesitant to play in New Jersey, refusing to report to team training camp. Yet after his first season, Stevens made a deal with the team, and the rest is history.
As mentioned, Stevens captained the St. Louis Blues for one season and had already spent eight seasons with the Washington Capitals prior to his arrival in New Jersey. At the time, Stevens was, surprisingly, best known for his offence. Stevens had already registered four seasons of 60+ points, setting a career high in 1987-88 with 72. In his previous nine seasons, a total of 679 games, Stevens had accumulated 478 points, 103 of which were goals. Stevens was also a heavily penalized player in his past, spending 1778 minutes in the penalty box. Yet following his arrival, Stevens' game changed dramatically.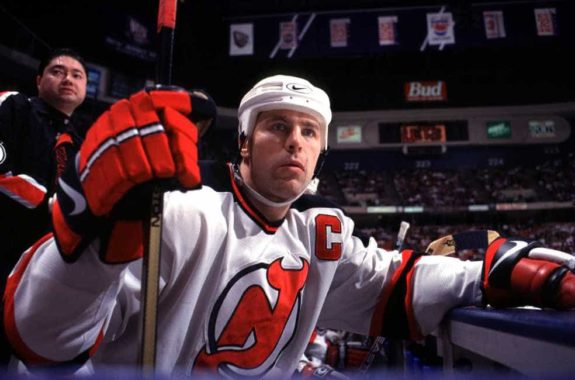 After arriving in New Jersey, Stevens played his game with greater control, part of which resulted from playing on a Devils team based significantly on defensive play. Although Stevens had his best year offensively with the Devils in 1993-94 when he scored 18 goals and 78 points, Stevens adopted a greater focus on his defensive game. His offensive outputs dipped dramatically, yet he was a force in his own end. Stevens became known as an elite, shutdown defender, who saw his plus/minus ratings rise as a result. In terms of his penalty minutes, Stevens spent less time in the box yet remained a physical force, choosing his spots to make a big hit rather than looking for contact.
During his time with New Jersey, Stevens led the Devils to three Stanley Cup Championships. An 11-time All-Star with the Devils, Stevens was top five in Norris Trophy voting five times, while winning the Conn Smythe Trophy with the Devils in 1999-00.
Known as one of the most dangerous open ice hitters in the NHL, Stevens was inducted into the HHoF in 2007.
---
Latest News & Highlights
---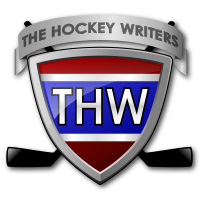 The archives of THW contain over 40,000 posts on all things hockey. We aim to share with you some of the gems we've published over the years.