He will go down as one of the best goalers of all time.
Tonight, Ed Belfour will take his place into the Hockey Hall of Fame alongside other greats Joe Nieuwendyk, Mark Howe and also former Chicago Blackhawk Doug Gilmour.  Belfour spent parts of 18 seasons in the NHL with 5 teams; he was traded to the Sharks in 1997 for a sharks playoff run, he spent 1 year with the Florida Panthers, 3 with the Toronto Maple Leafs, 5 with the Dallas Stars where he helped his Texas team with the Stanley Cup and parts of 9 seasons with your Chicago Blackhawks.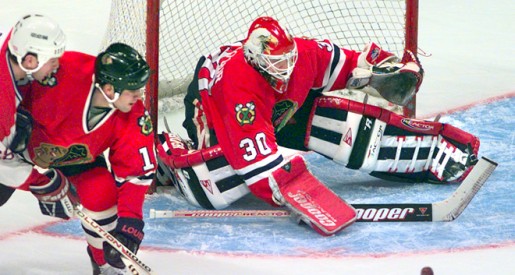 The Eagle will go to the hall as a decorated player.  He won many individual trophies.  In his first full season, Eddie won the Calder Memorial Trophy as rookie of the year, the Williams M. Jennings Trophy as the Goalie(s) with the fewest goals scored against and the Vezina Trophy awarded to the goaltender adjudged to be the best at his position.   Belfour would win 3 other Jennings trophies and one more Vezina in his career.  He will tell you that his favorite trophy win was a Stanley Cup victory against the Buffalo Sabres in 1998-99, a great feat considering that his Stars had won the President's trophy the previous year but were knocked out by the eventual Cup Champions, the Detroit Red Wings.
After a stunning rookie season, anyone who was a critic of Ed Belfour was quickly quieted.   The North Dakota champion goaltender didn't get drafted by an NHL club in the 1988 entry draft.  There were however 19 tenders taken in that draft who have played a total of 1025 games overall, most notably was Stephane Fiset who played 390 games.  Belfour, undrafted, played 963 regular season games amassing 484 wins which is good enough for 3rd all time behind only Martin Brodeur and Patrick Roy, two of the perennial greats. The only current goalies who are anywhere close to catching him are Nik Khabibulin and Roberto Luongo, 161 and 169 behind respectively.  Belfour also ranks 4th all time in playoff wins tied with Billy Smith and behind only Roy, Brodeur and Grant Fuhr.
Here he is making a huge glove save in the Western Conference Finals
Though with some notable off-ice incidents involving alcohol and some on ice quirks which garnered him the nick name 'Crazy Eddie', his record on the ice speaks for itself.  He is simply one of the greatest of all time.  In Chicago, Belfour ranks among the top netminders in history with such greats as Glenn Hall and Tony Esposito.  On Hockey Night in Canada (HNIC) this past Saturday night, Belfour tells Ron Maclean that he was a huge Esposito Fan "He was my favorite goalie as a kid growing up, Chicago Blackhawks and I heard all the stories about him when I got to Chicago about him wearing the red hot all over his body and drinking like a six pack of coke before every game".  It looks like this Eddy O rubbed more than just red hot, he also rubbed off on a young Ed Belfour.
For the full edition of Inside Hockey featuring a conversation with Ed Belfour, Doug Gilmour, Joe Nieuwendyk and Mark Howe, click here
Belfour has won at most levels.  A Stanley Cup, a Canada Cup, a College Hockey Championship and an Olympic Gold medal.  Tonight with friends, family and the great Vladislav Tretiak for who Belfour wore the #20 will all be in attendance.  Tonight Belfour on his best behavior, will join the league of extraordinary gentlemen who have gone before him and enter the heralded Hockey Hall of Fame. The next question is, will the Hawks retire his number?  To Hawks fans I say, one big night at a time.  Congrats Eddie, tonight is your night.