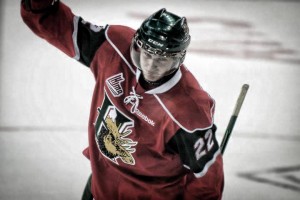 Nathan MacKinnon has been called many things. A lot of people call him "the second coming of Sidney Crosby", while some prefer to call him "Crosby Jr." and various other nicknames that all seem to have something to do with a current Pittsburgh Penguin.
One thing that everyone who's a fan of junior hockey in Canada can definitely agree on though, is that Nathan MacKinnon is a future NHL superstar.
A native of Cole Harbour, Nova Scotia, MacKinnon grew up dominating the local minor hockey circuit. Since I might as well start the Crosby connections now, Sidney grew up doing almost exactly the same thing. When MacKinnon was finished running over and skating around nearly every kid in the area, he attended the well-known Shattuck St. Mary's prep school in Minnesota*. With Shattuck last season, Nathan recorded 69 points in 26 games. The year before that he had 101 points in 58 games. MacKinnon also became the number one overall pick in the QMJHL midget draft* when he was selected by the Baie-Comeau Drakkar earilier this year.
The media have surrounded MacKinnon since was very young, and national media started to pick up on him a few years ago. So when he participated in the Canada Winter Games last February, the press was all over him. He was the clear leader of his Team Nova Scotia squad*, and managed to put up 8 goals and 11 points, despite being doubled teamed nearly every shift.
At the moment MacKinnon weighs in at five-foot-eleven, 180 pounds, but he plays the game as if he were a lot bigger than that. He's a power forward-type player that's a tremendous skater and has unreal vision on the ice. When you watch him play it's amazing how he can always find open teammates. Sometimes it seems like he has eyes in the back of his head. His shot is outstanding as well, as it's nearly a pro-calibre shot at just 16 years old. Everyone loves playing alongside him, because he has that natural gift of being able to make everyone else around him better. Should I mention that MacKinnon's advisor/agent Pat Brisson is Sidney Crosby's agent too?
There were a lot of rumors in the air prior to and just after draft time in the QMJHL. MacKinnon hadn't decided whether he would take the NCAA route of the CHL route yet, and Baie-Comeau wasn't really striking him as an appealing place to go live and play hockey. Enter the CHL's saviour: the Halifax Mooseheads. Nathan practically grew up with the Mooseheads (his family has been major fans since day one), and the MacKinnon's even billeted some of their players for a while. He made it clear that if he was going to play in the Quebec Major Junior Hockey League, it was going to be with Halifax.
With MacKinnon virtually being a once-in-a-lifetime talent, the Mooseheads decided to trade two players (including Carl Gelinas, another highly regarded prospect) and three first-round draft picks to the Drakkar for him. Right now, that decision appears to be paying off huge: through 21 games with Halifax this season, Nathan has 32 points and currently sits eleventh in the entire league's scoring race. Halifax's head coach Dominique Ducharme says, "[MacKinnon's] really wanted to take care of every little thing in his game and he's improving every day. He knows that doing this, points will come. It's nice to see him getting results and it's nice to see him improving every week."
If you watched the QMJHL face the Russians in the Subway Super Series last week, you probably noticed that one of the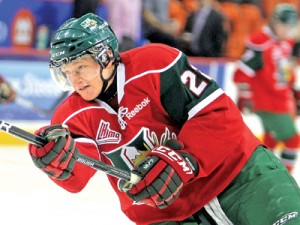 most interesting players to watch on the ice was #22, Nathan MacKinnon. He had numerous scoring chances in both games, got a lot of ice-time, and did not look out-of-place at all. He had no problem with the Russian defensemen, skated really strong, and appeared to be one of the Q's top players. MacKinnon would fail to convert a shootout attempt in the second game, but other than that, you couldn't have realistically asked for much more from one of the youngest (if not the youngest) players in the tournament.
At this point, a spot on Canada's world junior team is certainly starting to look like an intriguing possibility. Some may find that statement ridiculous, but more and more people will soon be thinking it's not a terrible idea, especially with players such as Ryan Johansen, Ryan Nugent-Hopkins, Devante Smith-Pelly, and potentially Jonathan Huberdeau not likely to be available up front. It's very rare that a sixteen year old cracks Canada's world junior roster (only Wayne Gretzky, Eric Lindros, Jason Spezza, Jay Bouwmeester and Sidney Crosby* have done it) but MacKinnon's expected by some to be a better player than some of those current and past stars, so it very well could happen.
Nathan MacKinnon is currently the early favourite to be the first overall pick in the 2013 NHL Draft, and is looked at as the most talent player to come into the QMJHL from the midget ranks since Crosby*. At this rate, parents will soon be moving to Cole Harbour so that their kids can be outstanding hockey players too.
________________________________________________

* Denotes that Sidney Crosby either did exactly the same thing, or was involved in something similar.