Absolutely no one expected the Toronto Maple Leafs to be as good as they were in the 2016-17 season.
Heavily projected to be one of the poorest teams in the NHL with a record to match, the Leafs, instead, quickly developed into one of the league's most lethal offensive squads. Capable of dazzling their opponents with high-end skill before burying the puck, Toronto's attack managed to defeat a number of the NHL's top teams, albeit on an inconsistent basis.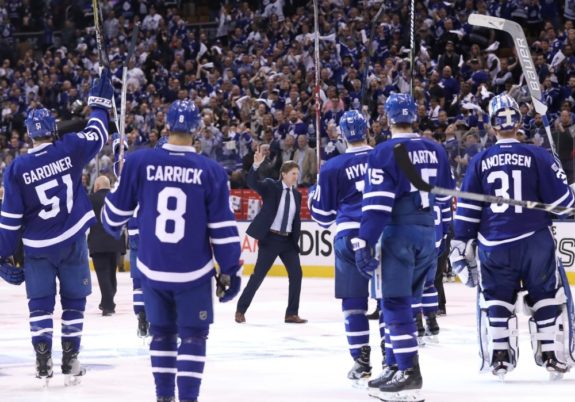 Leading the charge was the Leafs' sensational rookie trio of Auston Matthews, Mitch Marner, and William Nylander. Shattering rookie records as they progressed, the three youngsters managed to not only lead Toronto offensively but to a shocking postseason berth as well. As a youth-laden team learning the ropes of the NHL as the campaign endured, the Leafs offered the league and its fans a glimmering glimpse into their future despite the rebuilding state of the franchise.
However, despite the early success of Toronto's young players and the team as a whole, there remains a seemingly endless number of reasons for further optimism – one of which being the team's next wave of young talent.
While the Leafs already possess elite young talent at the NHL level, the organization is fortunate to possess an immense quantity of highly skilled players developing at multiple levels throughout the world, one of which being the American Hockey League. Of course, it goes without saying that some prospects have a brighter future than others, yet, it remains worthwhile to highlight the skills and abilities of said players and their potential at hockey's highest level.
Antoine Bibeau
Position: Goaltender
Age: 23
2016-17 statistics: 32 GP: 13-14-1, 3.08, .894%
Years with Toronto: Three
As a sixth-round selection by the Leafs in the 2013 NHL Draft, expectations for Antoine Bibeau were never necessarily sky-high. However, following two solid seasons to begin his AHL career, Bibeau has developed and progressed into one of Toronto's most promising goaltending prospects.
Due to his success, Bibeau was rewarded with his first career NHL start on Dec. 11, 2016 – a contest against the lowly Colorado Avalanche which the team ultimately lost 3-1. Regardless, Bibeau was sound in net and, in doing so, offered a glimpse into his potential at hockey's highest level. However, following his first NHL win against the Tampa Bay Lightning prior to the New Year, Bibeau was returned to the AHL for the remainder of the 2016-17 season.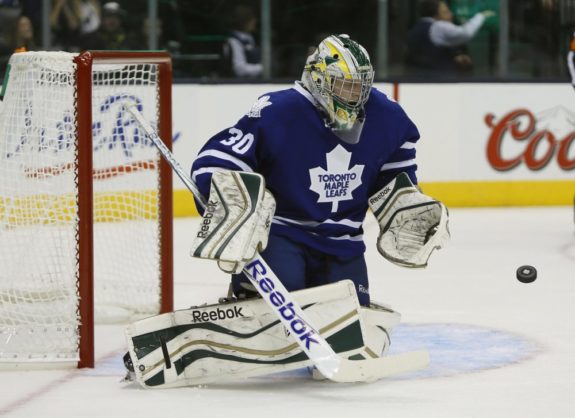 With the Marlies, Bibeau, unfortunately, recorded the worst statistical season of his young professional career. Now, this isn't to say that Bibeau was dreadful, as his GAA of 3.08 and SVP of .894% were still respectable, however, his play was certainly not reflective of his potential as a goaltender. In addition, Bibeau's poor season couldn't have come at a less opportune time, as he is a pending RFA heading into the offseason of 2017.
If Bibeau does return to the Leafs' organization in 2017-18, his fourth season with the franchise will be a critical one. With his development appearing to have stalled, Bibeau's next campaign will need to be a masterful one if he wishes to remain a legitimate goaltending prospect.
NHL Arrival: 2018-19
Projection: Backup Goaltender
Travis Dermott
Position: Defense
Age: 19
2016-17 statistics: 59 GP: 5G, 19A, 24 Pts
Years with Toronto: One
A former teammate of both Connor McDavid and Connor Brown while a member of the Erie Otters, Travis Dermott set out to establish himself as highly talented and capable individual in his first AHL season.
Unfortunately, Dermott fell victim to a lower-body injury early in the 2016-17 season and, as a result, was forced out of the Marlies' lineup for a significant amount of time. During his rehabilitation, Marlies Head Coach Sheldon Keefe was quoted saying that his team "hasn't been the same" since Dermott's injury, as he "was ahead of the curve and got off to a good start on both sides of the puck."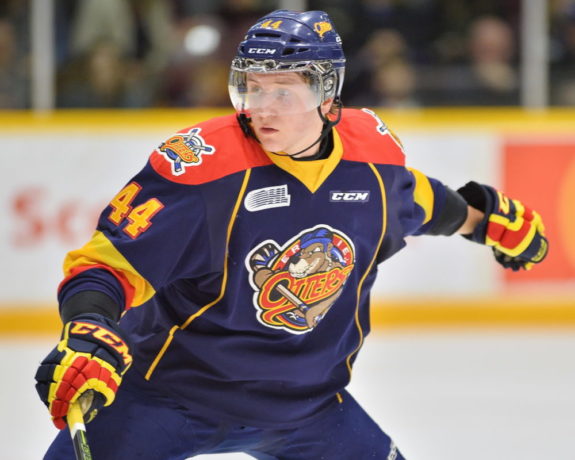 Also interested to see how Dermott would respond following his return from injury, Keefe was surely not disappointed, as Dermott stepped into the lineup and was an immediate force at both ends of the ice.
Although he has never been the biggest player on the ice at 5'11", Dermott's weight of 210 pounds allowed him to make a smooth transition to the professional game. Perhaps this ability fuelled Dermott's confidence, as the second-round selection quickly became an all-around threat for the Marlies scoring five goals and 24 points in 59 regular season games played.
A smooth skating two-way defender who plays a complete game, Dermott's first AHL season was highly successful despite his unfortunate injury and illustrated a mere glimpse of his potential at the professional level. Although he will surely require greater seasoning at the AHL level, Dermott is undoubtedly one of Toronto's most promising defenders given his wide skill-set and overall abilities.
NHL Arrival: 2018-19
Projection: Top-4 Defenseman
Andreas Johnsson
Position: Left-Wing
Age: 21
2016-17 statistics: 75 GP: 20G, 27A, 47 Pts
Years with Toronto: Two
Similar to Bibeau, Andreas Johnsson is yet another late-round steal whose game has progressed at a rapid pace. Chosen by the Leafs 202nd overall in the 2013 Draft, Johnsson arrived from Sweden late in the 2015-16 season and played in two playoff games for the Marlies. As such, 2016-17 marked his first full professional campaign in North America and to say it was highly successful would be an understatement.
A former standout with Frolunda HC of the Swedish Hockey League, Johnsson is a highly skilled puck handler and offensive producer whose game is vastly similar to that of Kasperi Kapanen. Unafraid of going to the net hard or to the dirty areas of the ice, Johnsson's determination fails to waver and is a major reason for his large-scale success.
Moreover, Johnsson is a highly intelligent player. Capable of deflecting pucks and well aware of the direction of rebounds, Johnsson is a crafty skater who can not only traverse the ice with ease but also be productive in doing so. So, it came as no surprise to see him hit the 20-goal plateau in his rookie season as well as notch 27 assists over his first 75 contests.
With one year remaining on his entry-level contract, the 2017-18 season, Johnsson's sophomore campaign, will be of monumental importance. Having displayed both lethal and consistent offensive abilities, Johnsson could very well develop into a key piece of the Leafs' future in the immediate future. Although his arrival and subsequent development have flown largely under the radar in Toronto, Johnsson's continued growth could and likely will begin to gain major traction within the Leafs' organization.
NHL Arrival: 2018-19
Projection: Top-9 Forward
Kasperi Kapanen
Position: Right/Left-Wing
Age: 20
2016-17 statistics: 43 GP: 18G, 25A, 43 Pts
Years with Toronto: Two
Speaking of Kapanen, who would have thought that he would play such a significant role in the Leafs' playoff success?
Well, realistically, it was quite easy to see coming given his success with the Marlies in 2016-17. In Kapanen's second season with the team, the native of Kuopio, Finland, skated in 43 contests and recorded 18 goals and 25 points, good for 43 points. This offensive output provided a significant improvement over his efforts a mere year ago when he netted just 25 points in 44 games and had many questioning his value and inclusion in the Phil Kessel trade.
However, Kapanen surely put any and all doubters to rest with his play this season, as he illustrated his lethal abilities at both the AHL and NHL levels.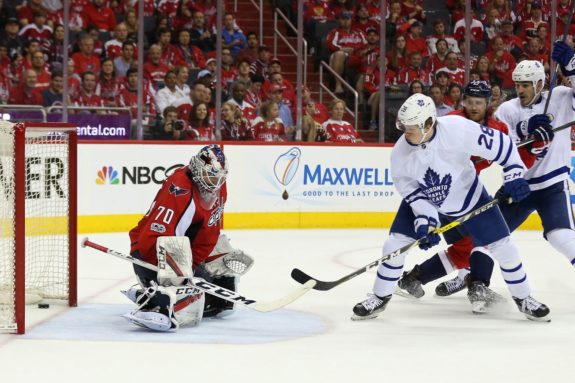 Arguably the greatest quality of Kapanen's game is his fantastic shot. Not only is it hard and accurate, but he has the ability to release the puck in traffic in a split second. In fact, the majority of Kapanen's goals come via well-placed shots, however, he is also more than willing to drive hard to the net in order to gobble up juicy rebounds.
While, like Johnsson, Kapanen does not possess great size, he is incredibly strong on his skates nonetheless and has the ability to protect the puck with his lower-body strength. Once combined, these abilities make Kapanen an all-around threat, as his ability to move, shoot and drive the puck to the net, generating a wealth of scoring opportunities not only for himself but for his fellow teammates as well.
Wow. Kasperi Kapanen ends a marathon in Game 2 with a @WestJet double OT winner for the #MapleLeafs. pic.twitter.com/NAF8Nhmacf

— Sportsnet (@Sportsnet) April 16, 2017
Having proven his capabilities at the AHL level and shown great promise in the NHL, it would appear that Kapanen is a lock for considerable playing time with the Leafs in the near future. The only issue which could hold Kapanen back from making the jump in 2017-18 is Toronto's current roster. Given Kapanen is best suited in a top-6 role, playing time could be thin if he is utilized elsewhere – a decision which could also negatively impact his development.
Ultimately, Kapanen is NHL ready, however, the Leafs will need to decide which route will be best for his growth as a player. In the AHL, Kapanen could log major minutes in significant situations while, with the Leafs, he would likely not receive such opportunities.
NHL Arrival: 2017-18
Projection: Top-6 Forward
Brendan Leipsic
Position: Left-Wing
Age: 22
2016-17 statistics: 49 GP: 18G, 33A, 51 Pts
Years with Toronto: Three
Although Brendan Leipsic hasn't logged a considerable amount of ice time with the Leafs, it was his acquisition and desired style of play which originally kick-started Toronto's rebuild. Nabbed by the Leafs alongside Olli Jokinen and a first-round pick in exchange for Mike Santorelli and Cody Franson, Leipsic's incredible skill-set despite his lack of size ushered in a new way of thinking for Toronto.
While it had long been thought and believed that successful NHL teams were founded on a combination of size and skill, the Leafs set out to prove otherwise, with the arrival of Leipsic the first indication of which.
Despite a great deal of doubt surrounding the team's new-found direction as well as Leipsic's abilities on the ice, the Winnipeg, Manitoba, native quickly squashed his critics with an up-tempo and productive style of play. Checking in at 5'9″ and 170 pounds, Leipsic has rapidly developed into one of the Marlies' most productive and consistent players.
#Marlies back in action Friday night in St. John's.

Brendan Leipsic has 10 points (5G, 5A) in his past nine games.#MarliesLive pic.twitter.com/uzFcQPCneT

— Toronto Marlies (@TorontoMarlies) April 12, 2017
In fact, the 2016-17 season marked the first AHL campaign in which Leipsic recorded over a point per game, as he totaled 18 goals and 51 points over 48 games played. Although he missed considerable time with a suspected concussion midway through the season, Leipsic remained one of only two Marlies forwards to score at such a pace – an impressive feat given the incredible talent within the club.
One of the major reasons behind Leipsic's continued success and, especially so in 2016-17, is his on-ice intelligence. Whether it be even-strength, on the power play or even on the penalty kill, Leipsic always seems to be ideally positioned despite the situation, an ability which has made him a persistent threat. What's more is that Leipsic has the ability to benefit from his decision making, as, more often than not, he slides behind opposing defenders or into gray areas from which he routinely finds the back of the net.
Take another look as Brendan Leipsic tied the game with less than two minutes on the clock.#MarliesLive pic.twitter.com/ULxQXGnawE

— Toronto Marlies (@TorontoMarlies) May 10, 2017
With six games of NHL experience to date and three points in those contests, Leipsic appears set to make the jump to hockey's highest level. Continually dominating the AHL with relative ease, ascending to the Leafs in 2017-18 would be the next logical step in Leipsic's development. However, as was the case with Kapanen, Toronto's roster may not allow for such a move to materialize.
NHL Arrival: 2017-18
Projection: Top-9 Forward
Andrew Nielsen
Position: Defense
Age: 19
2016-17 Statistics: 74 GP: 14G, 25A, 39 Pts
Years of Toronto: One
One of, if not the best defense prospect within the Leafs' organization, Andrew Nielsen burst onto the AHL scene in 2016-17 and made an incredible first impression. A third-round selection by Toronto in the 2015 NHL Draft, Nielsen spent three seasons with the Lethbridge Hurricanes of the WHL prior to his ascension to the professional game.
In junior, Nielsen quickly established himself as a sound force at both ends of the ice. Defensively, Nielsen's large frame – 6'3″ and 210 pounds – made him an intimidating force and physical nightmare for opposing forwards. Conversely, Nielsen also grew into a strong offensive player, as his quality puck-moving abilities and heavy shot from the point generated a wealth of scoring opportunities for both him and his team.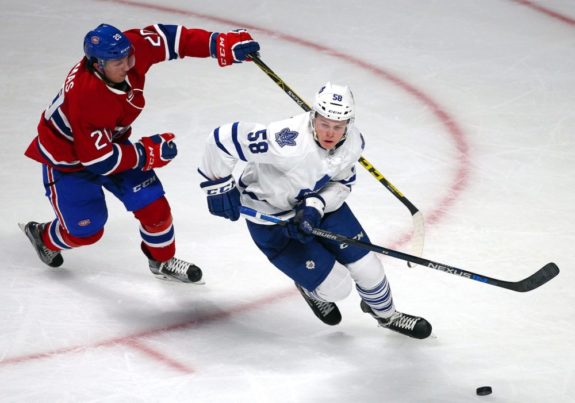 Given his all-around abilities, it came as no surprise to see Nielsen enjoy a highly successful rookie campaign with the Marlies. Over 74 games, Nielsen netted 14 goals, 25 assists, and 39 points – a total good for third-best amongst all AHL rookie defenders. Further, Nielsen was a capable and dependable defender for Toronto, utilizing his strength in combination with his high hockey I.Q. in order to shut down opposing scoring chances before they developed.
Projected to become a major contributor with the Leafs in the near future, Nielsen's first taste of professional hockey significantly raised the expectations surrounding his development. Although it will be some time before Nielsen skates with Toronto at the NHL level, his first season in the AHL indicated that he has the size, skills and drive to become a major force for years to come.
As such, the 2017-18 campaign will be a critical one for Nielsen. Having shattered any and all expectations in his initial season, Nielsen will be expected to one again improve dramatically in his sophomore season. In possession of the skill-set to do so, the success Nielsen enjoys, or the lack thereof will ultimately be a major indicator of his readiness for NHL ice time in the immediate future.
NHL Arrival: 2018-19
Projection: Top-4 Defenseman
Kerby Rychel
Position: Left-Wing
Age: 21
2016-17 Statistics: 73 GP: 19G, 33A, 52 Pts
Years with Toronto: One
After a rough start to his NHL career which included a trade request while a member of the Columbus Blue Jackets, Kerby Rychel appears to have found comfort in Toronto.
Originally acquired by the Leafs in June of 2016 in exchange for Scott Harrington and a fifth-round selection, Rychel is a former first-round choice, 19th overall, by Columbus in 2013 as well as the son of former NHLer Warren Rychel. However, similarities between father and son end at their last name, as the senior Rychel was known widely for his intense physical play rather than his prowess with the puck.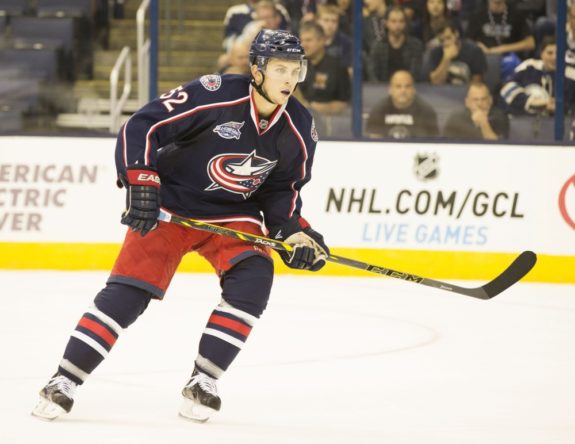 Like his father, Rychel is more than willing to drop the gloves, however, he his instead much more valuable when he keeps them on. As a big-bodied winger, Rychel's 6'1″, 210-pound frame allows him to battle both in front of and behind the net with ease. Further, as an adequate yet improving skater, Rychel retains the ability to drive hard to the goal and can protect the puck well in the process. Once near the net, Rychel can unleash his heavy shot or look to pass to one of his teammates given his strong hockey sense.
It was, primarily, these traits which allowed Rychel to enjoy such stunning success with the Marlies in 2016-17. Awarded a fresh start with a new organization, Rychel certainly did not disappoint, as he led the Marlies in points with 52 while also adding 19 goals. In addition, Rychel also recorded 118 penalty minutes – by far the highest amount on his team and a total indicative of his willingness to battle physically.
#Marlies LW Kerby Rychel won a Calder Cup a season ago. Had three points in first round for TOR, and feels better than ever as a pro. pic.twitter.com/B3ZLLLamYn

— Kristen Shilton (@kristen_shilton) May 1, 2017
Fresh off of an impressive season, Rychel will surely begin the 2017-18 season with the Marlies. However, having surprised many with his production in 2016-17, it goes without saying that his coming season will be watched closely by the organization. If Rychel can achieve a higher level of consistency in his game while continuing to produce offensively, his stock will surely rise within the franchise to the point at which he is considered for extensive NHL ice time.
Ultimately, Rychel's first campaign with Toronto was a resounding success. If he can progress once again next season, Rychel could suddenly be a legitimate prospect for the Leafs to consider.
NHL Arrival: 2018-19
Projection: Top-9 Forward
Garret Sparks
Position: Goaltender
Age: 23
2016-17 Statistics: 31 GP: 21-9-0, 2.16, .922%
Years with Toronto: Four
When Garret Sparks made his NHL debut on Nov. 30, 2015, many expected an average start from the developing AHL netminder. Taking to the ice against the then embattled Edmonton Oilers, Sparks was instead sensational, turning aside all 24 shots he faced en route to a shocking shutout win – the first of his young career.
However, following his incredible and highly emotional debut, the quality of Sparks' play began to come back down to earth. With legitimate NHL shooters exposing glaring weaknesses within his game, Sparks struggled to stay afloat and especially so given the poor play of the team in front of him. Although he would round out the 2015-16 campaign with the Leafs, Sparks' play indicated rather clearly his need for further seasoning at the AHL level.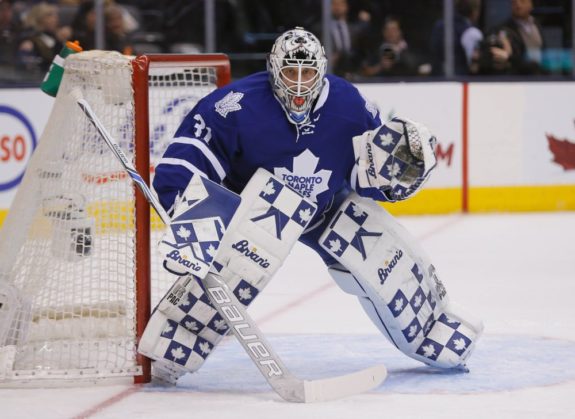 So, when the 2016-17 season began, Sparks set out to achieve greater consistency as well as raise heighten his abilities on the ice. Further, entering his fourth year with the organization, Sparks understood well the importance of piecing together a strong season given his RFA status. Fortunately for both Sparks and the Leafs, improve is exactly what the Elmhurst, Illinois native did, as he set new career-highs in games played, wins, shutouts and GAA.
Standing 6'2″ and weighing in at 205 pounds, Sparks is a large goaltender with a strong frame who can traverse the crease with ease. Highly athletic and capable of accurately reading plays as they develop, Sparks combines a high compete level and raw talent into an incredibly effective style of play.
Yet, as mentioned, Sparks was frequently exposed during his time in the NHL – his biggest issues being rebound control and his composure in the crease. Prone to popping out juicy rebounds, Sparks, more often than not, had shots bounce off of him and fall towards the center of the ice. Given the talent on display in the NHL, eradicating such rebounds will be essential to Sparks' development, as elite shooters and playmakers have little to no trouble gobbling up loose pucks and depositing them into the net.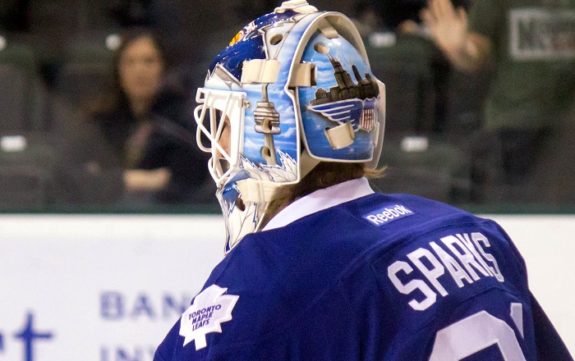 Next, there is Sparks' presence in the crease itself. As a highly athletic goaltender, Sparks has the ability to move quickly throughout the blue paint, however, his erratic movement at times has led to overplaying shots and sliding out of position. This fidgety style of play also contributes greatly to his rebound control, as Sparks often finds himself out of position and unable to control the direction of rebounding shots.
While Sparks certainly had a spectacular season with the Marlies in 2016-17, much work remains to be done if he wishes to develop into a legitimate NHL netminder. In possession of the raw talent and drive necessary to enjoy a long NHL career, Sparks must focus on fine tuning his game if he wishes to become a lethal force at hockey's highest level. While he will, in all likelihood, begin the 2017-18 campaign with the Marlies, Sparks could command a recall to the Leafs if he can display a consistent and composed effort in the crease.
NHL Arrival: 2017-18
Projection: Backup Goaltender
Brett Slawson is a four-year veteran of The Hockey Writers who covers the Toronto Maple Leafs, NHL prospects, and the OHL's Mississauga Steelheads.
Contact Brett on Twitter @brettslawson92, or by email at brett_slawson@hotmail.com.