MacKenzie Entwistle
2016-17 Team: Hamilton Bulldogs (#44)
Date of Birth: July 14, 1999
Place of Birth: Mississauga, Ontario
Ht: 6'3" Wt: 181 lbs
Shoots: Right
Position: C/RW
NHL Draft Eligibility: 2017 first-year eligible
Twitter: @5twisty5
Rankings
THW Alternate Rankings: 49th (May)
Future Considerations: 46th (Spring)
Bob McKenzie: 53rd (Mid-season)
Craig Button: 95th (March)
This past season for MacKenzie Entwistle has had some twists in it. See what I did there? What started out as a promising season turned into a battle with a tough opponent.
Entwistle was diagnosed with mononucleosis in February. That limited him to 54 games this season, where he scored 12 goals and 25 points for the Hamilton Bulldogs. This included him coming back to score just one point in his last nine games in the regular season. He did add two points in seven playoff games. This offensive output gave many scouts pause. Entwistle came into the season as a first rounder according to many outlets. That is no longer the case.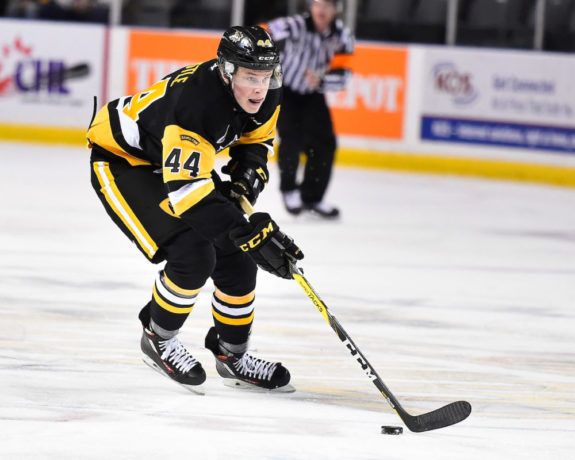 Can Entwistle rebound from this season and show that he can perform at the next level? In my viewings of him, there is upside. He's the kind of player you want on your team. He's a workhorse on the defensive end and a premier penalty killer. He's willing to do the little things to help your team succeed, even if it doesn't show on the score sheet. What makes Entwistle interesting for me is that he has some offensive upside. He is a good skater with underrated hands. He also showed a nice ability to finish, especially in the Top Prospects game.
I feel Entwistle will make the NHL because he has a more defined role as a two-way center. His ceiling goes as high as his offensive ability allows him to. It will be interesting to see how teams rate him given his overall package.
NHL Draft Projection
Entwistle started the season as a first rounder on many draft boards. He has fallen primarily because his numbers declined as the season went on. I believe that's more to do with his bout of mono than anything else. That's not easy to come back from, especially feeling sick and losing a bunch of weight. In this case, I put more emphasis on his performances on the big stage. He played well at the Hlinka Memorial and on the U-18 team for Canada, scoring seven points in five games, including four goals. Industry average has Entwistle as a mid-late second rounder. Some have him in the fourth round. I have him in the early third, though it wouldn't surprise me if he goes in the second. The only question I have is can he reach his offensive potential.
Quotables
"Perhaps the most improved of a young Bulldogs' team from the beginning of 2015/16 to now. Entwistle continues to learn to effectively use his size and growing strength to his advantage and continues to improve his hockey IQ and play in all 3 zones. Exciting with the puck on his stick, Entwistle can hold off defenders while making plays or driving to the net. A key member of the Bulldogs PK unit as well, Entwistle's positioning & quick stick benefit his teammates in tough defensive situations. With the depth, when healthy, Entwistle will get the chance to add to already offensive numbers this season. Entwistle projects moving forward as a top 6 forward with room to grow into an elite level OHLer." -Reed Duthie

"While he may lack high-end puck skills and lateral mobility, he is a strong north-south skater with smarts who works hard at both ends of the ice.  He looks like a safe bet to one day play in the NHL…the question will be on what line?"-Grant McCagg

"The offensive numbers have really declined in recent months and he's dropping like a stone on a lot of draft lists. But I've still got him at the back-end of my (OHL) top 10. The Top Prospect's Game was a great showcase for him. Still think he's got more offensive potential and better hands than people give him credit for. As he fills out, I think he could be a real force at both ends of the ice. If Hamilton falters in the OHL playoffs, I really hope he plays a large role for Canada at the U18's, where I think he could really shine."-Brock Otten

"A big frame that understands the game as well as some coaches…Excellent on the PK and defensively while his offensive game is developing." -Mark Seidel

"Coming down with Mono will likely hurt him as his play has some what flat lined in the new year. Still he is a strong two-way winger with untapped offensive potential. Shows great drive and a willingness to go in the dirty areas but the skill to score outside of them. My only fear with him is a team drafts him and brings up to the NHL too so to cheaply fill a bottom 6 role thus stunting his development by having him play a more physical role similar to Tom Wilson. While I feel he could thrive in that role he has too much offensive potential and if he is given time to develop could be a real treat to watch in the coming years." -Peter Kneulman
Statistics
Strengths
Good defensive forward.
Good skater.
Tireless worker.
Great penalty killer.
Under Construction (Improvements to Make)
Offensive awareness.
Overall puck skills.
NHL Potential
Entwistle feels like a prototypical third-line shutdown center at the next level. He is relentless and won't back down. He could get into the top-six conversation if his offensive game continues to progress. Entwistle is an NHL player someday, just not entirely sure what his role will be.
Risk-Reward Analysis
Risk – 4/5, Reward – 3.5/5
Fantasy Hockey Potential
Offence – 6.5/10, Defense – 8.5/10
Awards/Achievements
MacKenzie Entwistle has championship pedigree in his background. He was a GTBHL Champion in 2013-14. He won the GTMMHL Championship the following season. He was also part of the OHL Cup winning team in 2014-15. He was also named as a top-3 player on Canada's U-18 team at the World Junior Championships. He played for Team Cherry at the CHL/NHL Top Prospects Game and scored a goal.
Interview/Profile Links
Videos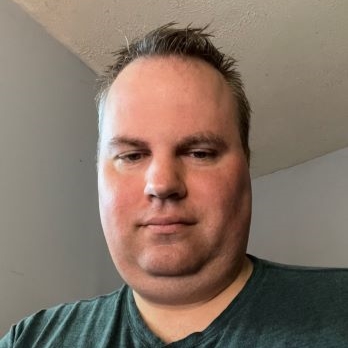 I am a fully credentialed writer who covers the Columbus Blue Jackets, Cleveland Monsters and Erie Otters as well as the Ontario Hockey League and NHL Draft. The 2022-23 season will mark nine seasons with the Hockey Writers. I am also the site's Credentials Manager. Please take note of the updated Twitter handle: @mark_scheig.