The Edmonton Oilers are enjoying one of their best years in franchise history statistically with their current playoff run. One of the players driving this juggernaut is pending restricted free agent (RFA) Leon Draisaitl. In his third season in the NHL, Draisaitl's had a career year in points and currently leads the team in playoff scoring.
Three of the biggest superstars (besides McDavid) remaining in the playoffs are Sidney Crosby, Alexander Ovechkin, and Evgeni Malkin. Want to know a mind-boggling stat? Draisaitl has more goals than all three of them and is just two points back of Malkin (18 points) for the playoff scoring lead.
Yes, you read that right, Draisaitl has more points than Connor McDavid does. With an expiring contract and an extension on the horizon, Draisaitl is playing his way to a major payday from Edmonton this summer.
Back Up The Brinks Truck!
The fan base and organization's mentality right now is to enjoy this playoff party and settle the bill later. At the beginning of the season, the mere suggestion that a cap comparable for Draisaitl's next contract would be Aleksander Barkov's six-year $35.4 million ($5.9 million cap hit), was laughable and too high for some. Now it'd be an absolute steal of a deal.
For the Oilers, their previous regime set a $6 million dollar cap precedence for stars like Taylor Hall, Ryan Nugent-Hopkins, and Jordan Eberle. Their current GM Peter Chiarelli paid market value Milan Lucic at the same dollar figure last summer. Through the playoffs, Draisaitl has delivered on a nightly basis, whereas Nugent-Hopkins (no goals in last 15 games) and Eberle (no goals in 18 of last 20 games) have been otherwise invisible offensively.
OILERS BIG TICKET CONTRACTS & PRODUCTION THIS SEASON

PLAYER
GP
G
A
PTS
+/-
PIM
TOI
S
P/GP
CAP
McDavid

94

35

74

109

30

28

22:13

287

1.16

$925K
Draisaitl

94

35

58

93

16

39

19:29

192

0.99

$925K
Lucic

94

25

31

56

-7

70

16:57

192

0.60

$6.0M
Eberle

94

20

33

53

-3

18

14:44

229

0.56

$6.0M
Maroon

93

30

20

50

15

123

17:22

209

0.54

$1.5M
Nugent-Hopkins

94

18

29

47

-13

31

18:47

231

0.50

$6.0M
Edmonton's previous cap delinquency doesn't help Chiarelli from a negotiating standpoint. Unless Draisaitl takes a considerable discount, he'll shatter the organization's $6 million dollar self-imposed salary ceiling when he inks a new deal this summer.
Cap Comparables
Outside of McDavid's point totals, the gap between the German forward and the third-most productive Edmonton player (Lucic) is an astonishing 37 points. We haven't even factored in his improved two-way player and emergence as one of the more dominant players in the game. Draisaitl finished eighth in NHL scoring this season (77 points), which were better numbers than Vladimir Tarasenko (75), Blake Wheeler (74), Artemi Panarin (74), Tyler Seguin (72), and Phil Kessel (70).
CAP COMPARABLES

PLAYER
GP
G
A
PTS
+/-
PIM
TOI
S
P/GP
CAP
Draisaitl

82

29

48

77

7

20

18:53

172

0.94

$925K
Tarasenko

82

39

36

75

-1

12

18:28

286

0.91

$7.5M
Wheeler

82

26

48

74

6

47

20:08

259

0.90

$5.6M
Panarin

82

31

43

74

18

21

19:28

211

0.90

$6.0M
Seguin

82

26

46

72

-15

22

18:27

301

0.88

$5.7M
Kessel

82

23

47

70

3

20

17:56

229

0.85

$8.0M
If you make those comparables for a new contract, excluding the two-year team in Panarin's deal, you get a deal in the range of seven years and $45.9 million ($6.56 million cap hit). Almost all deals came with a modified no-trade clause (NTC), and one had a no movement clause (NMC). Most had a NTC for the final two-four seasons, and that should be a leveraging point for Draisaitl's agent.
The Right Deal For Everyone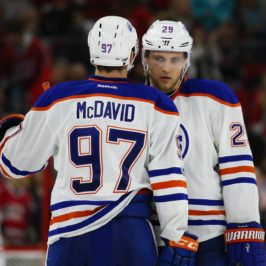 One contract negotiation that could affect Draisaitl's next deal is David Pastrnak's talks with the Boston Bruins. His agent, JP Barry, is reportedly using Sean Monahan, Mark Scheifele, and Filip Forsberg as a negotiation point, according to CSNNE's DJ Bean.
Those deals came with six-eight year terms and an annual cap hit between $6-6.37 million. Draisaitl will also be eligible for unrestricted free agency (UFA) in four seasons (end of 2020-2021), so if Chiarelli's intention is to go long-term (six-eight years), those final two-four years will come at a premium.
At the end of the day the Oilers have a precarious cap situation in the future, it's the elephant in the room, and Chiarelli knows it. He'll need to pay a top dollar for McDavid a year from now, and matching a cap comparable to Kessel's $8 million per year is unreasonable and fiscally irresponsible.
If we're looking at a deal that's fair for both parties and one that gives Edmonton good value, $45.9 million over seven years ($6.56 million) with a modified NTC should be a reasonable deal for everyone.