Often deemed too small by NHL scouts and executives, undersized players frequently have a harder time breaking into the National Hockey League. Many are overlooked and go undrafted since they do not fit the traditional mould of a professional hockey player. However, smaller players have found their way into the NHL and made history. Smaller players like Martin St. Louis, Theo Fleury, Rod Gilbert, Marcel Dionne, Ted Lindsay, and Henri Richard were all of smaller stature, but pushed the boundaries and became essential to their teams and transformed NHL standards.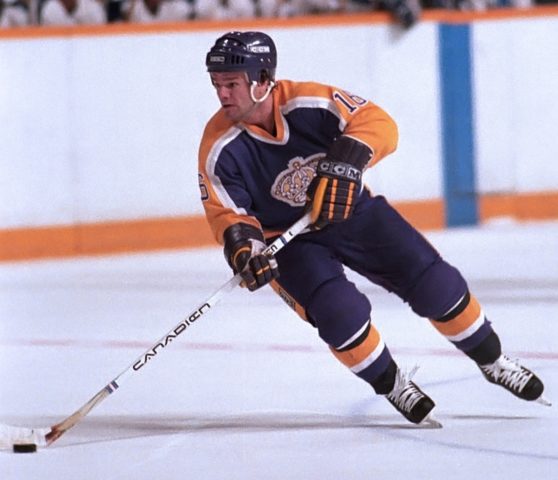 Below are ten of the smallest hockey players, all under 5-foot-10 that have proven to be successful in the NHL, despite the challenge of being undersized. 
Alex DeBrincat, Chicago Blackhawks
Vital statistics: 5-foot-7, 165 pounds
The 39th-overall selection in the 2016 NHL Entry Draft has impressed early in his career as a Chicago Blackhawk. Alex DeBrincat was a player who many said he wouldn't make it due to his height. It's safe to say he's proved them wrong.
He broke into the league for the 2017-18 season, scoring 28 goals, adding 24 assists for 52 points. His sophomore campaign was even better, putting up 41 goals, 35 assists and 76 points. What adds to his impressive start is that he played full, 82 game seasons in each of these campaigns.
He was proving himself even before hitting the NHL, as he excelled with the OHL's Erie Otters. With the team, he won numerous accolades, including CHL player of the year, OHL most outstanding player, CHL and OHL rookie of the year, and many more. The list of awards isn't small at all.
Brad Marchand, Boston Bruins
Vital statistics: 5-foot-9, 181 pounds
Brad Marchand was drafted 71st overall by the Boston Bruins in 2006 and joined the team in 2008. He played a significant part in the Bruins 2011 Stanley Cup win, as he scored 19 points (11 goals, eight assists) in 25 playoff games during those playoffs.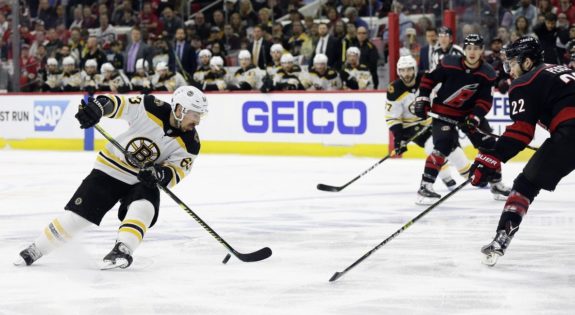 Marchand seems to get better every season, with 2018-19 setting career highs in points, with 100. He collected 36 goals and 64 assists to hit the century mark for the first time in his career. He was a big part of the Bruins playoff run again in that campaign, helping the team reach the Stanley Cup Final and leading the playoffs in points (23) before the team fell to the St. Louis Blues.
The winger has been suspended a number of times for his edgier plays. But by no means has this two-way forward changed his game due to his smaller stature.
Viktor Arvidsson, Nashville Predators
Vital statistics: 5-foot-9, 180 pounds
Arvidsson was drafted by the Predators 112th overall in 2014 after playing with Skellefteå AIK of the Swedish Hockey League. He signed his entry-level contract with the Predators that July and became a full-time NHLer in the 2016-17 season.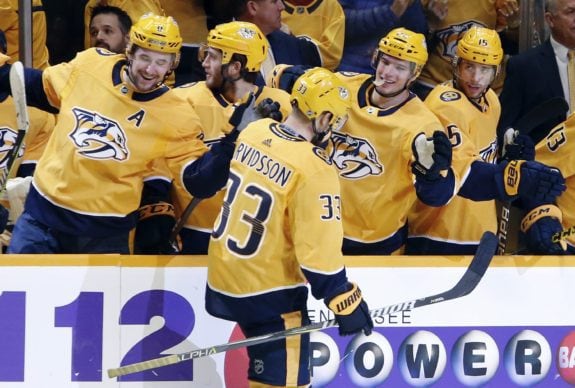 Since joining the Predators, he has emerged as a key player, putting up 61 points in both of his first two full NHL seasons. In 2018-19, he set a new career-high in goals with 34, despite playing just 58 games.
He's been a solid contributor in the playoffs as well. In the 2016-17 season, he had three goals and 10 assists in 22 games, following that up with five goals and four assists in 13 playoff games the following season.
Jared Spurgeon, Minnesota Wild
Vital statistics: 5-foot-9, 168 pounds
Spurgeon is one of the smallest defensemen in the NHL in terms of height and weight. Even without the size of the traditional defenseman, Spurgeon has found a place in the league thanks to his impressive skating and puck movement.
Drafted 156th overall in 2008 by the New York Islanders, Spurgeon signed with the Minnesota Wild in 2010 after the Islanders did not sign him. Since joining the Wild, Spurgeon has been a reliable defender that can be counted on to put up solid point totals.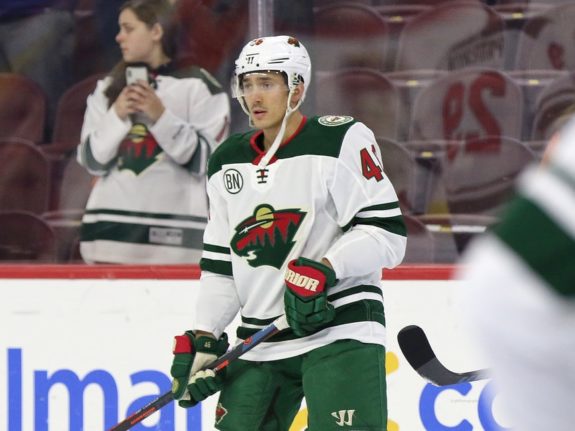 Spurgeon hit his career-highs in 2018-19 in goals (14), assists (29), and points (43). He's consistently in the top-20 defensemen in the league in goals, power-play goals, blocked shots, and time on ice.
Johnny Gaudreau, Calgary Flames
Vital statistics: 5-foot-9, 157 pounds
Throughout his hockey career, Gaudreau has been doubted due to his appearance but has consistently proven himself, despite his small size.
Before joining the Calgary Flames, who drafted Gaudreau 104th overall in 2011, he played college hockey with the Boston College Eagles. In his sophomore year, he was named a finalist for the Hobey Baker Award. Although he did not win in 2013, he was awarded the Hobey Baker Award after his junior year.
Gaudreau joined the Flames after his junior year season ended with the Eagles to play the final game of the regular season. On his first shot on goal in his NHL debut, he scored his first goal.  He played his rookie season the next year with the Flames and earned 64 points in 80 games (24 goals, 40 assists). He was named a finalist for the Calder Memorial Trophy due to his impressive rookie season.
He's become one of the best players in the entire league. In 2018-19, he set new personal bests in goals (36), assists (63), and points (99). "Johnny Hockey" is still young and should continue to improve as not only one of the best undersized players in the game, but players overall.
Tyler Johnson, Tampa Bay Lightning
Vital statistics: 5-foot-8, 183 pounds
Johnson went undrafted, which may have been due to his smaller stature, but was signed to an entry-level contract by the Tampa Bay Lightning in 2011. In his first season, he played for the Lightning's AHL affiliate, which then was the Norfolk Admirals, and contributed to their Calder Cup victory.
He was recalled by the Lightning in March 2013 and has since been a member of the big club. During his rookie season in 2013-14, he scored 50 points (24 goals, 26 assists), and was Calder Memorial Trophy finalist.
The following season Johnson had a breakout campaign, 72 points (29 goals, 43 assists) in 77 games and put up an impressive performance in the 2015 Stanley Cup Playoffs with 23 points (13 goals, 10 assists) in 26 games.
The 27-year-old has been vital to the Lightning and has made a name for himself even with all of the young talent developing simultaneously on his team.
Cam Atkinson, Columbus Blue Jackets
Vital statistics: 5-foot-8, 179 pounds
Atkinson was the 157th overall pick in the 2008 draft, by the Columbus Blue Jackets. Like many others on this list, he had a career-season in 2018-19, putting up 41 goals, 28 assists for 69 points. He was also named an NHL All-Star.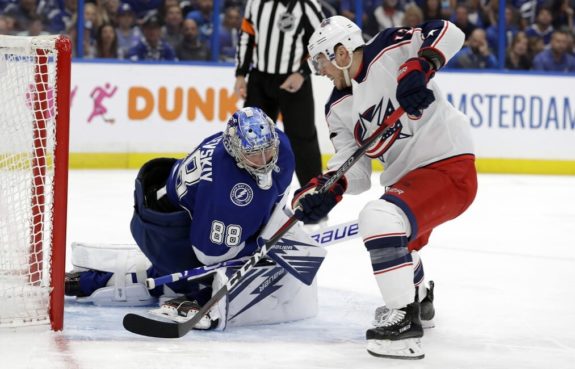 As a smaller player, he was accustomed to hearing doubts about his career as a hockey player, which he explained to NHL.com, "Everyone at every single age, every single level, told me I wouldn't make it to the next level. So I think that's kind of fueled my fire, for sure. Obviously being a smaller guy, you have to have a little arrogance to your game. That's what's made me the person, the player, I am today."
Atkinson has excelled in the NHL because of his explosive speed and skilled hands. And he learned from his friend and mentor, Martin St. Louis, how to succeed in the NHL regardless of his size.
Conor Sheary, Buffalo Sabres
Vital statistics: 5-foot-8, 175 pounds
Sheary played college hockey at the University of Massachusetts-Amherst before signing an amateur-try out with the Pittsburgh Penguins' AHL affiliate, the Wilkes-Barre Penguins.
He spent his first professional season in the AHL. During his second season, the Pittsburgh Penguins fired their head coach Mike Johnston. Wilkes-Barre Penguins' head coach Mike Sullivan was promoted to the NHL. With Sullivan coaching the NHL's Penguins, Sheary was recalled in December.
Often playing on captain Sidney Crosby's wing, Sheary became an important part of the Penguins' top line. Although many assume that Sheary's success is solely because of Crosby, his key contributions, including his playmaking and vision, have made him an integral part of the Penguins back-to-back Stanley Cups.
In his first NHL season, he helped the Penguins win the 2016 Stanley Cup. He contributed 10 points (four goals, six assists) in the Penguins 23 playoff games. The next season, he had seven points (two goals, five assists) to help the Penguins win the 2017 Stanley Cup. The 25-year-old now plays for the Buffalo Sabres, and while he hasn't matched his output from his time with the Penguins, he's remained a productive player.
Mats Zuccarello, Minnesota Wild
Vital statistics: 5-foot-8, 179 pounds
Zuccarello started his professional hockey career in his home country of Norway, with Frisk Asker. Next, he played in Sweden with MODO Hockey before signing with the New York Rangers as a free agent in 2010.
To adjust to the North American style, he originally played with the Rangers AHL club, the Connecticut Whale. In his NHL debut, he scored a shootout goal for the Rangers. He played 42 games with the Rangers that season, over multiple stints with the NHL club.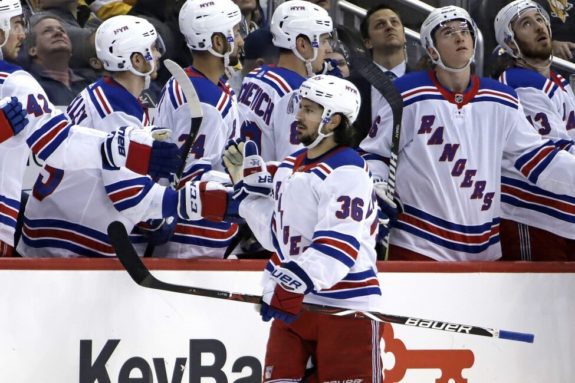 Zuccarello returned to the Rangers in March 2013, after joining the KHL during the lockout. He finished the season with the Rangers and played through all of their postseason games. In 2013-14 he emerged as a top player for the team, earning 59 points (19 goals, 40 assists) in 77 regular-season games and was a key part of their Stanley Cup run that season.
Since his breakout year, he maintained his level of play with the Rangers­­, earning 352 points in 509 games. He was then traded to the Dallas Stars, where he played just three regular-season games and 13 playoff games (three points and 13 points, respectfully). In July 2019, Zuccarello signed with the Minnesota Wild.
Between his skill, heart, and fearless play, Zuccarello's become a fan favourite and a three-time recipient of the Steven McDonald Extra Effort Award.
Jonathan Marchessault, Vegas Golden Knights
Vital statistics: 5-foot-9, 174 pounds
Marchessault played in the QMJHL and CHL and impressed with his scoring abilities. However, he was overlooked and undrafted due to his smaller size. He skated with the New York Rangers' 2011 Traverse City tournament but was only offered an AHL contract with the Connecticut Whale.
After scoring 24 goals and a team-high 40 assists in his rookie pro season, Marchessault signed a three-year entry deal with the Columbus Blue Jackets. He scored 108 points in 130 games for their AHL affiliate, while only appearing in two NHL games with Columbus before being moved again.
The Tampa Bay Lightning finally gave Marchessault his first real NHL shot by playing him in 47 regular-season games and seven postseason games in two and half seasons. His play in the 2015-16 season earned him a two-year contract with the Florida Panthers.
His one season in Floria put him on the NHL map, scoring 30 goals and 51 points but wasn't enough for him to be protected in the Expansion Draft. The Vegas Golden Knights were the beneficiaries as he scored a career-high 75 points (27 goals, 48 assists) and was rewarded with a six-year, $5 million (average annual value) contract.
Honourable mentions: Paul Byron, Brendan Gallagher, Yanni Gourde, Rocco Grimaldi, Torey Krug, and Vinnie Hinostroza.
---
---
Starting out as an Ottawa Senators contributor for The Hockey Writers, Josh is now an editor and at-large contributor, focusing on prospects, the NHL Draft, hockey history, and breaking news stories.