Rod Gilbert and the New York Rangers were a perfect match.
It's been over half a century since Gilbert made his debut at the old Madison Square Garden (located on Eighth Avenue between 49th and 50th Streets), yet many of the franchise records he set during his tenure still stand.

But it almost didn't happen.
Gilbert's Origins
Gilbert was born on July 1, 1941 in Montreal, Quebec. In his youth, Rod idolized the Canadiens' Bernie "Boom Boom" Geoffrion. "He was very important to me," Gilbert says of his idol. "I was a right-handed shot like he was, and I wanted to be just like him."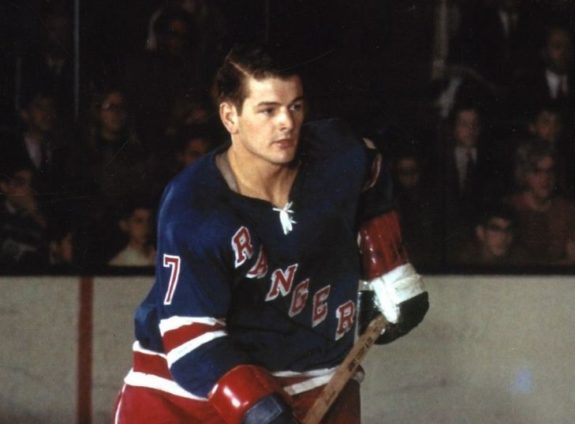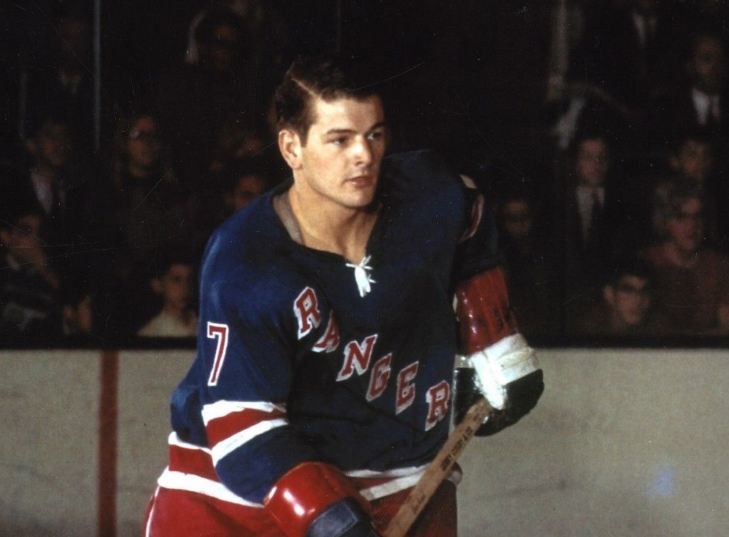 Although he grew up in Quebec, Gilbert played his junior hockey for the Guelph Biltmores, who were sponsored by the Blueshirts. After agreeing to play in Guelph, Rod convinced the coach — Eddie Bush — to sign a kid who played center on his line, Jean Ratelle.
"I told the coach 'there's a fellow in Montreal and he's better than me,'" Gilbert recalls. "I told him 'you better bring him here. We'd like to play together.'"
Juniors Career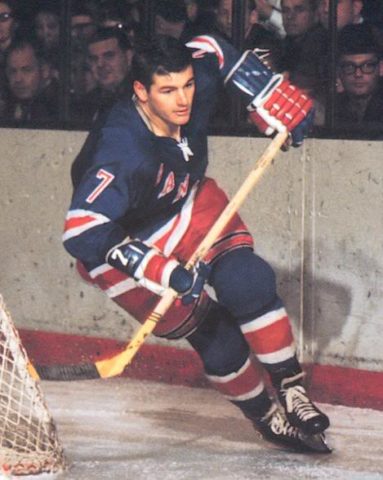 Gilbert flourished alongside Ratelle in junior hockey, totaling 256 points in his final three seasons with Guelph. In his final year at the junior ranks, Gilbert played for his future coach with the Blueshirts, Emile "The Cat" Francis. "By the second or third practice, I said to myself this guy is going to be the future of the New York Rangers," Francis said.
However, Gilbert's future was almost derailed by two setbacks. The first came during the 1959-60 season, Rod's third with the Biltmores. As Gilbert recalls, "some people threw debris on the ice and I slipped on something and fell into the boards. I couldn't get up."
The diagnosis was not promising. Gilbert was told that in order to walk again — let alone play hockey — he needed to have a spinal fusion. Fortunately for Rod, the operation was successful, and the Rangers top prospect was back on the ice.
Gilbert's Ordeal
Gilbert played one regular-season game for the Blueshirts during the 1960-61 and 1961-62 seasons. Gilbert made a name for himself during the 1963-64 season — his second full campaign — when the 22-year-old right winger finished second on the Rangers in points with 64, and was selected to his first all-star team.
You may also like:
Although the Rangers struggled in the mid-1960s, Rod was the bright spot. He led the team in goals and points for the first time in 1964-65 with 25 and 61, respectively, and played in his second all-star game. Gilbert embraced New York, and the city embraced him.
"Rod was the quintessential New York hockey player," longtime broadcaster and author Stan Fischler proclaims. "He had great looks, talent, and acclimatized himself to Broadway as well as any player did in the Big Apple."
However, Gilbert's rise to stardom was countered with a final setback, one which almost cost him his life. The bone graft from Gilbert's first spinal fusion broke, and a second operation needed to be performed. When Rod was on the operating table, he says he had an out-of-body experience.
"I went out. I died," Gilbert says. "When I was out, I heard Francis (who was in the operating room) tell the nurse, 'Bring him back, he's my best player.'
"The fact that Emile used those words towards the nurse offered me a reason to come back into my body."
Rod Gilbert the Playmaker
His ordeal behind him, Gilbert returned to the ice and regained his role as the centerpiece of the Blueshirts. Rod was reunited with Ratelle, and the pair was joined by Vic Hadfield as their left winger. They became known as the "G-A-G Line," which referred to their goal per game average. The line was the most successful in Rangers history, and carried the club to nine consecutive playoff appearances starting in 1966-67.
"Jean was the playmaker and he was so smart," Gilbert says. "He would place the puck in an area where I just had to come into it and fire it."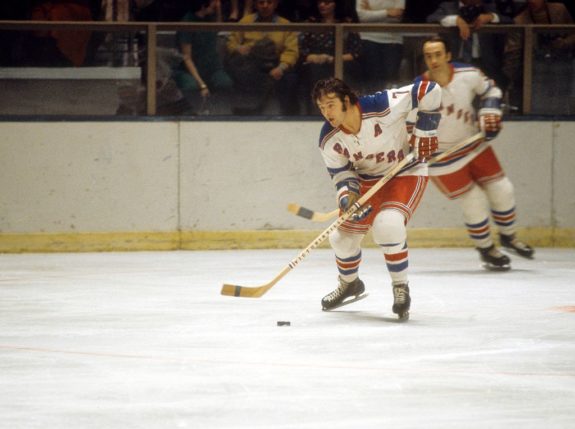 Rod averaged 29 goals over three seasons between 1966-67 and 1968-69, and registered 30 tallies in 1970-71 while leading the Rangers to the semi-finals. The following season was one of the best in the Blueshirts' 87-year history.
In 1971-72, each member of the G-A-G Line scored over 40 goals. Hadfield set a Rangers team record by scoring 50, Ratelle recorded 109 points in just 63 games, and Gilbert established career-highs with 43 tallies and 97 points. The Rangers would reach the Stanley Cup Finals that season for the first time in 22 years. However, with Ratelle playing at less than 100 percent due to a broken ankle, the Blueshirts were defeated by the Boston Bruins in six games.
It was as close as Gilbert would get to winning a Stanley Cup in New York.
The End of a Legendary Career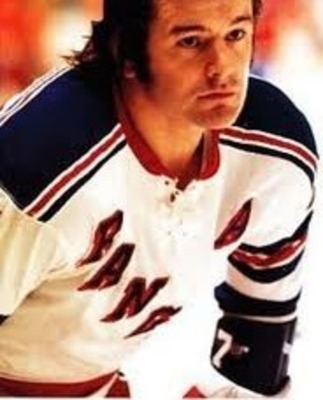 Statistically, Rod finished his later years with better numbers. In his last five full seasons, Gilbert never scored fewer than 25 goals or recorded fewer than 75 points. After struggling to start the 1977-78 season, he announced his retirement, capping off an 18-year career with the Rangers.
Rod Gilbert retired with 406 goals and 615 assists for 1,021 points in 1,065 games. He ranks first in Rangers history in goals and points, second in assists (trailing only Brian Leetch), and third in games played (behind only Harry Howell and Leetch). But Gilbert's legacy transcends his accomplishments on the ice.
"Rod was our Rocket Richard," Francis says. "When he came to the Rangers, we were drawing eight or nine thousand people a game. Once he got here, we were able to sell our own players in New York, and get people to come see the Rangers.
"That's where he played such a big part in the history of the New York Rangers."
On October 14, 1979, Gilbert's No. 7 jersey was the first to be retired by the Rangers organization. A more than deserving tribute for a Hall of Fame player who had such a key role for almost two decades on the ice at Madison Square Garden.
And one who is worthy of holding the title of "Mr. Ranger."
---
---
---
Latest News & Highlights
---