There's no nice way to put it — the Edmonton Oilers need a bigger performance and overall contribution from Jordan Eberle. For years fans and prognosticators have predicted that Eberle could be a big time playoff performer, but his play through the first nine games of the 2017 Stanley Cup Playoffs says otherwise.
The soon to be 27-year-old has two assists, is a minus-4, and averaging just 0.22 points per game (P/GP). His goalless drought is at eight games and counting. Eberle also hasn't scored in 14 of his last 16 games going back to the regular season. Oilers head coach Todd McLellan is also growing tired of the same old schtick from Eberle as he's dropped his overall ice-time by 1:37 (TOI) since the regular season.
With a $6 million dollar cap hit, Eberle is one of Edmonton's most expensive players along with Milan Lucic and Ryan Nugent-Hopkins. As an underperforming player who is an unrestricted free agent (UFA) in two years time (2019-20), it's becoming more and more clear why the Oilers had to trade Taylor Hall for a defenseman instead.
EBERLE'S NHL STATS 2016-17

YEAR
GP
G
A
PTS
+/-
PIM
TOI
S
PTS/GP
Reg. Season

82

20

31

51

3

16

16:46

208

0.62

Playoffs

9

O

2

2

-4

2

15:09

17

0.22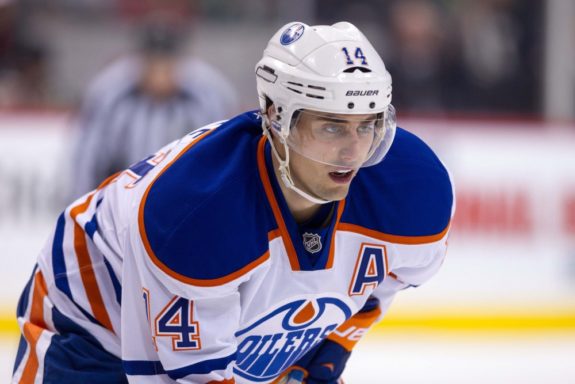 ---
Jordan Eberle's Previous Success
The Oilers' three most expensive players have played on the same line for most of the playoffs. The trio has just one goal amongst them, and the question now is when does the offensive production start for Eberle? When most people think about Eberle, they instantly think back to how he performed at the World Junior Championships (WJC) for Canada in 2009 and 2010.
EBERLE'S INTERNATIONAL STATS

TOURNAMENT
GP
G
A
PTS
+/-
PIM
TOI
S
PTS/GP
World Championships

37

14

20

34

19

4

–

74

0.92

World Juniors

12

14

12

26

–

6

–

–

2.17
Eberle was dominant with 14 goals and 26 points in 12 games over the two tournaments. He was the most valuable player (MVP) and tournament All-Star in 2010. At the World Championships, he has also been impressive with 14 goals and 34 points in 37 games. So what's going on with him in the 2017 Stanley Cup Playoffs?
Necessary Adjustments
For starters, Eberle will have to make some adjustments to his game to rekindle some of his earlier success. He continually plays on the perimeter of the offensive zone instead of attacking the inside lane and going to high percentage scoring areas like the slot. He also needs to protect the puck better when he's carrying it, as it's far too easy to knock him off.
The San Jose Sharks and Anaheim Ducks are making easy work of Eberle's zone entries. He's predictable as he comes down the wing, so the opposition separates him from the puck by getting under his stick and using their bodies to box him out of the play. He needs to figure out a way to get stronger on the puck.
In some of his earlier seasons in the league, Eberle would play at a high pace. He's not the swiftest skater, nor has he ever been known for his blinding speed, but it's now apparent that he gets caught slowing down as soon as he hits the offensive blue line which allows defenders time to zero in and isolate him.
---
McLellan: It's Not Enough!
The Oilers and McLellan don't need to do anything drastic like making Eberle a healthy scratch anytime soon. McLellan didn't mince words during his post-game press conference after Game 3. The Oilers head coach went ahead and said he expects Eberle to be better and his efforts so far haven't been enough to help Edmonton win. On the flip side, McLellan needs to put some confidence back into a player that has the ninth-most goals (165) in franchise history.
One of the solutions might be to use him on the power play (PP) and get him back to being a selfish shooter more than a playmaker. Some of Eberle's success has been playing on his off-wing during power plays. His body is open to pucks thrown into his wheelhouse, and he maximizes his space for that lethal one-timer.
McLellan seems to like having a shooting umbrella formation on the PP, with a winger occasionally sneaking in for that backdoor pass. If the coach puts Eberle in a similar spot to what they've done with Mark Letestu on the first PP unit, they might see some better scoring opportunities from him.
As far as lines go, the easy of answer of just putting Eberle with Connor McDavid isn't always the best answer as TSN's Scott Cullen puts it:
Once (Edmonton) fell behind early against the Ducks (Game 3), the Oilers shuffled lines and gave Lucic and Eberle shots alongside McDavid and it ultimately didn't work out as all three were on the ice for three goals against during 5-on-5 play, and McDavid, who did score a highlight-reel goal, had team-worst possession stats (10 for, 16 against, 38.5 CF%, 8-10 scoring chances).
---
Patience Is A Virtue
There's the possibility of swapping Eberle with Anton Slepyshev for two reasons. First, Slepyshev gets rewarded for his solid two-way play through the first two rounds with a bigger offensive role at five-on-five; and second, adding Eberle to the Benoit Pouliot, David Desharnais line would give the Oilers four capable offensive lines against a Ducks team that is questionable beyond their top nine. Then again we haven't seen McLellan tip his hand in that direction yet, and the Jack Adams Award finalist might have some other reasons why he hasn't made that move.
Jordan Eberle has been a streaky player through his seven seasons in Edmonton, and sometimes the patience from fans wears thin. It's been a tough 16 games for him, but all slumps are made to be broken, and it's an exhilarating feeling for him to get that monkey off his back.