Facing Off is a weekly column debating five of hockey's hottest topics each and every Monday. From current events like trades and hat tricks to bigger-picture stuff like scandals and expansion — you name it, we're debating it. Albeit, not always with a serious tone. We're keeping this column light, so keep that in mind when reading, and feel free to join in on the fun by leaving a comment. Follow us on Twitter (@FacingOff_THW) and get in on the debate there too.

There is a saying in sports — "you've got to be good to be lucky and lucky to be good."
That isn't necessarily supposed to apply to the NHL's draft lottery. With that system, it's more about being bad to be lucky, but the luckiest teams often end up being good sooner than later.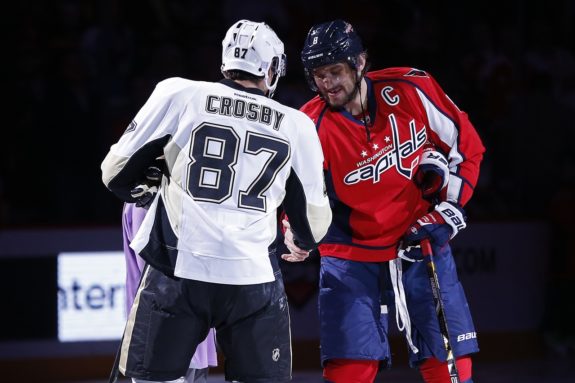 Look no further than the second round of the NHL playoffs where Connor McDavid — the biggest draft-lottery prize of the past decade — has the Edmonton Oilers enjoying a resurgence, while fellow first-overall phenom Sidney Crosby has the Pittsburgh Penguins appearing primed to become the first repeat Stanley Cup champions since the turn of the century.
Alex Ovechkin has his work cut out against Crosby, but the Russian sniper has also done wonders for the Washington Capitals in turning that franchise into a perennial contender and two-time reigning Presidents' Trophy winner.
Ovechkin, Crosby and McDavid joined their current teams by luck of the draw. Washington in 2004 and Edmonton in 2015 won those lotteries despite having the third-best odds, while Pittsburgh won the Crosby sweepstakes in 2005 when all 30 teams had a chance of picking first overall.
This year's draft lottery, conducted on Saturday in Toronto, produced some shocking results and sparked all kinds of reaction that somewhat overshadowed the playoff games taking place on the weekend.
Sebastian Hedley-Noble, who covers the bad-but-unlucky Colorado Avalanche for THW, makes his Facing Off return to debate all things draft lottery, while also weighing in on the playoffs and a rare trade amid the postseason.
The 2017 #NHLDraft Order of Selection. #NHLDraftLottery pic.twitter.com/uZHodB8BkV

— NHL (@NHL) April 30, 2017
How nervous were you in awaiting the results of the draft lottery? On a scale of 1 to 10, where was your stress meter? Or your excitement level, for that matter? Followed by your frustration level in learning the results?
HEDLEY-NOBLE: To be honest, I wasn't nervous or stressed in the least about the draft lottery. Not too excited either, with much more hype going toward recent drafts comparatively. I will say I was definitely a bit frustrated Colorado fell so far from 1 to 4, while Dallas, Philadelphia and New Jersey shot up.
The Avs should have been handed the first overall pick for what they went through this season. And it's not like they were playing in Oil Tankers, they genuinely lacked quality and consistency in many areas. I would have been way more stressed had it happened during Nathan MacKinnon's draft year. Not to mention I've been calling for Colorado to trade down anyway!
The Avs live tweeted during the Draft Lottery and it was heartbreaking but amazing. MORE @ https://t.co/y80sJ5vV3V pic.twitter.com/lhULkQwUk9

— BarDown (@BarDown) April 30, 2017
FISHER: For the first time in a long time, the draft lottery was stress-free for me. Not that I'm an Oilers' fan anymore — I'm an unbiased media member — but I still felt a combination of excitement and anxiety whenever Edmonton was in the running for the first overall pick. Winning the McDavid sweepstakes did bring a smile to my face because the Oilers desperately needed to get that franchise trending in the right direction amid a decade-long playoff drought and with a state-of-the-art arena under construction at that time. Edmonton's luck ran out in last year's lottery — when this format debuted — by falling from second to fourth overall. That cost the Oilers a first line of Patrik Laine-McDavid-Leon Draisaitl. Could you imagine?
I do feel for the Colorado and Vancouver fan bases for getting bumped out of the top-two spots — especially for the Canucks, dropping to fifth for the second straight year. Hopefully brighter days are ahead for those franchises too, but there must be a sense of hopelessness right now. I'm shocked Sebastian isn't more devastated by this draft-lottery loss. He's putting on a brave face and forging ahead, but I assume most Colorado fans are around an 11 on that frustration scale. It must be doom and gloom in Denver.
Imagine what happened to the Avs in the lottery draft happened to the Leafs last year.. oh boy, that city would go nuts

— RaYrAy (@flamesfever) May 1, 2017
Vegas gets shafted too. The Golden Knights deserved a top-five pick and arguably a top-three pick to secure an NHL-ready prospect to market as the face of the franchise in their inaugural season. Whoever Vegas picks at sixth overall will probably be two or three years away from making any meaningful contributions. By then, the Golden Knights could have a couple more top-five picks in the fold from their anticipated struggles in the early stages.
The biggest loser in the NHL Draft Lottery? Probably the Vegas Golden Knights https://t.co/zEP0TQT5jW pic.twitter.com/Eb4j7clRHx

— NBC Sports (@NBCSports) April 30, 2017
Now that the lottery is done, which prospects are you picking — or hoping to pick — for the Colorado Avalanche at fourth overall? Or should Joe Sakic focus his efforts on trading up? Perhaps trading down would be worth exploring?
HEDLEY-NOBLE: As I mentioned above, I've long been calling for a trade down. Here is my reasoning, Colorado needs defense badly and is already loaded up front, coupled with the fact that Cal Foote — the son of legendary Avs defenseman Adam Foote — will be drafted in this first round, in a draft class that's considerably weaker than past ones, at least the top end.
Nolan Patrick is not the answer, as the Avs are stacked when it comes to young forwards. J.T. Compher, Matt Duchene, Tyson Jost, Gabe Landeskog, Nathan MacKinnon and Mikko Rantanen round out their top six barring a major trade.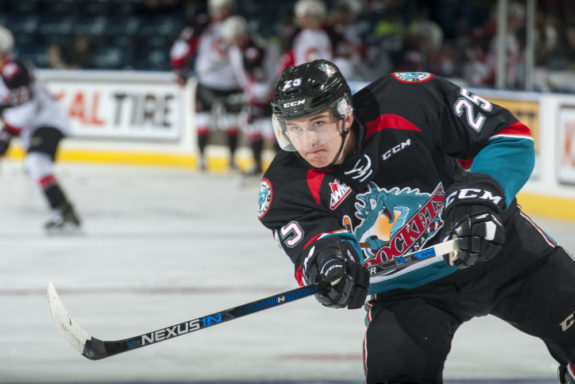 Foote, who is slated to hear his name picked around the middle of round one, could be just as NHL ready, has the connection with the organization through his father, and would immediately throw Colorado back on track when it comes to defensive prospects and defense in general.
Plus the Avs would acquire another asset by doing so, enabling them to possibly kill two birds with one stone. It's a long shot I know, but hey you asked!
FISHER: Colorado will still get a good player at fourth overall, and could get a high-quality defenceman in that spot — either the all-around Finn like Miro Heiskanen or the right-shot offensive catalyst Cale Makar, who is basically a younger version of Tyson Barrie. The Stars love their Scandinavians and desperately need defence too, so I'm thinking Dallas takes Heiskanen ahead of Colorado. If that's the case, and if Colorado doesn't feel the need for Barrie 2.0, then I really like Sebastian's plan.
The draft is wide open at that point. Do the Avs now consider the nostalgia pick and snag Cal Foote?

— Rob Mahon (@RobMahonPxP) April 30, 2017
Foote is a player I have watched develop first-hand here in Kelowna the past two seasons and I compare him to Brent Seabrook, who I also watched in junior while going to college in Lethbridge. That is Foote's upside, a complementary top-pairing defenceman who takes care of his end and can chip in offensively. Not a ton of flash, but effective. I guess he's also a little like Erik Johnson as well. He's another righty too. Overlooking the obvious connection to Colorado through his dad, I do think Foote is a better fit for the Avs than Makar. Foote will be able to log more minutes, play in all situations and is probably more NHL-ready too, though another year of junior would certainly be beneficial.
If Colorado kept him in the big league next season, I could see Foote becoming more of a Luke Schenn than a Seabrook. Still a serviceable defenceman, but you don't want to rush him and limit his potential. With his younger brother Nolan Foote, a power forward with similarities to Jamie Benn, also playing for Kelowna, I suspect Adam Foote will want Cal to spend another winter here in the Okanagan even if the Avs draft him.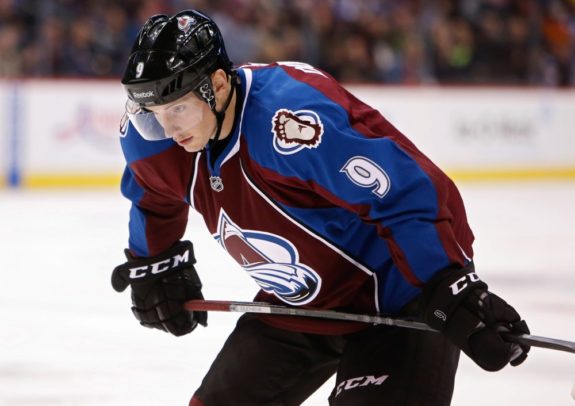 In saying that, it really depends on what asset or assets the Avs can recoup by moving down five to 10 spots in the draft. If it's only a token second-round pick, trading up into the top two would be worth a phone call or two. If Colorado plans on moving Duchene or Landeskog at the draft or in the offseason, they could be packaged with the fourth overall pick. New Jersey and Philadelphia might be willing to move down.
Duchene would be a good fit with Talyor Hall on the Devils' top line and make more of an immediate impact than Patrick. Duchene and fourth overall for first overall, forward prospect John Quenneville (Patrick's former linemate in junior) and top-four defenceman Damon Severson (also right-handed). Is that fair? It's close, but New Jersey's defence is already a weakness and probably can't afford to lose Severson unless the Devils are sure they can sign Kevin Shattenkirk as a free agent on July 1. They could also sign the likes of Karl Alzner, Brendan Smith, Michael Del Zotto, Trevor Daley, Dmitry Kulikov and Cody Franson to offset the loss of Severson.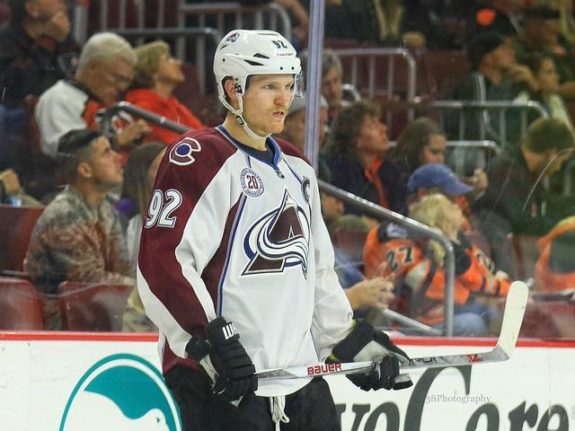 As for Philadelphia, Landeskog is one of those prototypical Flyers. Landeskog and fourth overall for second overall (flashy Swiss forward Nico Hischier), defence prospect Travis Sanheim and a goaltending prospect of Colorado's choosing — be it Carter Hart, Felix Sandstrom, Anthony Stolarz, Alex Lyon or Matej Tomek. Philadelphia may have to dump Andrew MacDonald's contract on Colorado to fit Landeskog under the cap, but the Avs might be willing to accommodate if the Flyers throw in another draft pick or two. Philadelphia has two thirds and three fourths in this year's draft.
There is definitely potential for Colorado to move up or down and you can make a solid case for going in either direction.
Who are you expecting the Devils to select first overall, the Flyers second and the Stars third? Do you think any of those teams trade their top-three picks for win-now talent?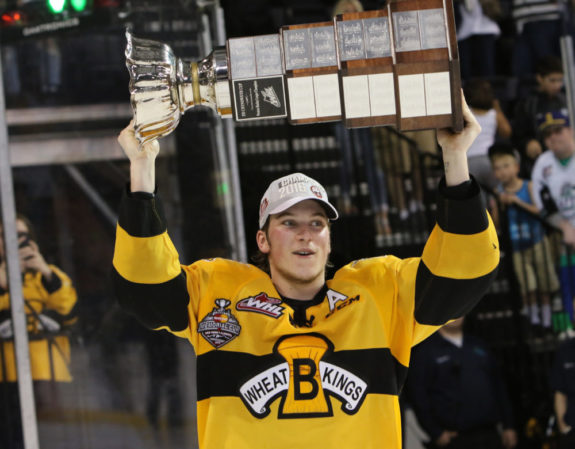 HEDLEY-NOBLE: Well I definitely don't see the New Jersey Devils passing on the consensus No. 1 pick in Patrick. Add to that they desperately need help down the middle and up front in general, I'd say that's a good bet.
The projected top few picks are all centers, so it'll be up to the Philadelphia Flyers' and Dallas Stars' preference in that regard with Hischier, Casey Mittelstadt and Gabe Villardi all poised to be picked in that top five. However, both teams could also go a little off the board and shoot for a winger such as Owen Tippett.
As for trading any of the picks, New Jersey is definitely not in a position to do such a thing, and neither are the Flyers. The Stars would be more likely to trade down for win-now talent as they are the furthest along in my opinion, but still a ways off. I say all three will keep their picks, especially considering the luck in getting to that position in the first place. *vomits*
FISHER: I kind of got ahead of myself with those trade scenarios, but I do feel Philadelphia will field offers for second overall — simply because the Flyers' core is mostly in its prime and another piece, like a Landeskog, should get that team back into the playoffs. On the flip side, Ron Hextall has a lot of high-quality young defencemen coming up and could use another forward like Hischier or perhaps Patrick to grow with them.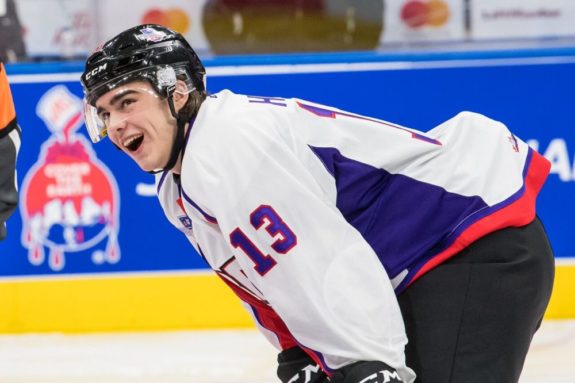 The Devils and Stars are more likely to make their picks. Patrick isn't a lock to be selected first overall anymore — TSN's Bob McKenzie recently polled scouts from 20 different teams and they were split 10-10 between Patrick and Hischier — and part of me thinks Colorado would have been one of those clubs in favour of Hischier. But I do think Patrick makes more sense for New Jersey, especially with the aforementioned Quenneville already there. They were linemates last season in Brandon, so that familiarity and chemistry could bode well for both at the pro level. The Devils will sure have a heavy forward group if they add Patrick to Pavel Zacha, Michael McLeod, Nathan Bastian and Quenneville, among other up-and-comers.
I'd be a bit surprised if Dallas didn't take Heiskanen, but I could also see the Stars taking a liking to Mittlestadt, who is more of a project. Dallas took a somewhat similar prospect last year in Riley Tufte and they could be a dynamic duo together in a few years.
Barring any trades, I don't think there will a ton of drama within the top three. Patrick to New Jersey, Hischier to Philadelphia and Heiskanen to Dallas. Then all bets are off from there, starting at fourth overall with Colorado. The rest of the first round will be full of surprises. I don't always agree with Craig Button, but his latest mock draft isn't far off from what I have in mind for the top 15.
THE DEVILS' DUE: With the Top 15 finally set, @CraigJButton provides his first post-lottery mock draft https://t.co/LseNw8EQHx #TSNHockey pic.twitter.com/lR00CMyRkn

— TSN Hockey (@TSNHockey) April 30, 2017
Here's the million-dollar question: Does the draft-lottery format need to be tweaked again? Is it fair that Philadelphia climbed from 13 to 2, Dallas from 8 to 3, and New Jersey from 5 to 1? Is it fair that Colorado fell to fourth, Vancouver fifth, Vegas sixth and Arizona seventh? Should those teams have been given higher odds? Should there be fewer than three draws? Or was this a total fluke? Do you expect changes for next year's draft lottery based on these results?
HEDLEY-NOBLE: Well, it's a bit conflicting because you don't want to see any team "tank" or appear to do so in order to select first overall. That's why we have the lottery as it is today. However, at the same time, you don't want to see someone vault up 10 spots either — someone who doesn't necessarily need the help as bad as a bottom-placed team.
The NHL wanted to create parity and has succeeded so far, but this is a bit of a setback to that plan. So absolutely there should be some improvement/change to the system in place, but it should also still steer teams away from believing they can sit back for that one generational player.
FISHER: I more or less agree with Sebastian here. I had no problem with New Jersey winning the lottery. The Devils were the favourite to win anyway, ever since they acquired Hall from Edmonton.
Officially adding "NHL lottery ball specialist" to my hockey resume.

— Taylor Hall (@hallsy09) April 30, 2017
Kidding aside, seeing Philadelphia jump 11 spots was no laughing matter and you could see the likes of Sakic and Trevor Linden cringing when that happened. The Flyers weren't far off from being a playoff team this year and actually went on a 10-game winning streak before Christmas, so they really didn't need a lottery win. There might not be a ton of outrage since Hischier isn't the same calibre of prospect as recent second-overall picks Laine and Jack Eichel, but that can't happen again in 2018 with Rasmus Dahlin or Andrei Svechnikov at stake.
Dallas didn't deserve the third overall pick either — the Stars have a solid roster but were decimated by injuries this season — but moving up five spots isn't overly concerning, though that should probably be the maximum.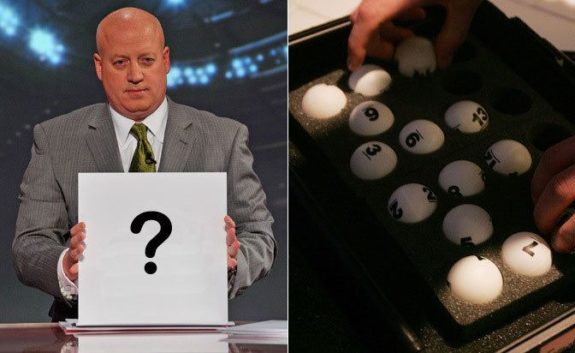 I'm not against the three separate draws, but maybe there is a better way to go about it. Just thinking out loud here, but what if the bottom-five teams were in a draw for the top-five picks and every team had the exact same odds. Put 25 balls in the bin — five for each team — and pull one out. That winner picks first and the other four pick based on reverse order of the standings. So the fifth-worst team, like New Jersey was this year, would have the same chance of winning as the last-place team, Colorado in this case. But if New Jersey won, Colorado would only fall to second and Vancouver third, with Vegas and Arizona also staying in the top five.
That's more like the old system, but about as fair as it gets — especially with the even odds. Then do the same for teams 6-10 in the second draw and teams 11-15 in the third draw. That way nobody could move up more than five spots, but every team in those groupings would have equal opportunity for the first, sixth and 11th overall picks. It wouldn't be a weighted lottery per se, but it would still discourage tanking to some degree, although finishing last would ensure a top-two pick.
Another alternative idea that has been kicked around in recent years would see the lottery scrapped altogether. Teams would start accumulating points toward their draft position only once they were mathematically eliminated from playoff contention. The more points you earn from that date forward, the higher you pick. And the sooner you are eliminated, the longer you have to earn those points — as in, the more games you'd have remaining to garner points from. Make sense? I'd like to see the results of that system. It can't be any worse than the results from this year's lottery, fluke or not.
Enough about that. Is Scott Darling the answer to Carolina's goaltending woes? Could he be the next Cam Talbot? Did you like the Hurricanes' decision to take a calculated gamble on Darling? Or should they have pursued a more proven, more expensive option like Ben Bishop? Or maybe Marc-Andre Fleury following the playoffs?
HEDLEY-NOBLE: I don't think he's THE answer in Carolina because that would imply I believe he's a huge part of the future of that team, which I simply do not. Darling has proven to be reliable as a backup with the Chicago Blackhawks to an extent, but nothing else. As for the Talbot comparison, he'd have to be pretty damn good for that to pan out.
I don't know if the Hurricanes would attract a big free agent however, so I do like the trade for them overall and hope it works out because this is a team I see on the rise with some very fun players to watch moving forward.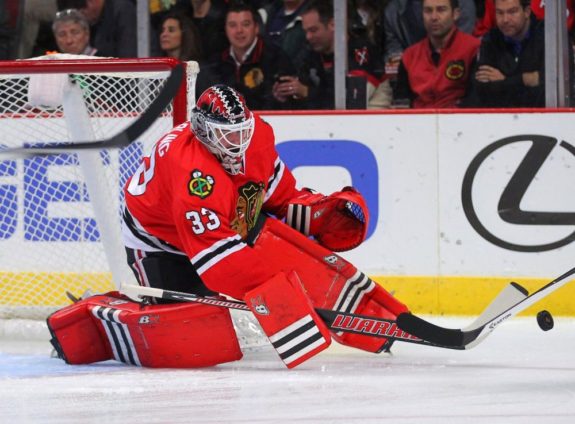 FISHER: I don't mind Darling, but I'm not convinced he's a huge upgrade on Cam Ward and Eddie Lack, who were largely to blame for the Hurricanes not making a bigger playoff push this season. If I were drafting an expansion team tomorrow and the three available goaltenders were Darling, Ward and Lack, I'm not even sure Darling would be my first choice under those circumstances.
Then again, I would have said the same thing about Talbot two years ago when there were some other more established names being bandied about for Edmonton. Talbot has really proven me wrong as one of his initial doubters, and perhaps Darling will too. First things first, the Hurricanes have to sign Darling to an extension. He's set to become an unrestricted free agent on July 1 and might still want to test the market. It's believed Carolina will have to offer a three-year contract with an annual salary north of $3 million. That is a pretty big commitment to a late-blooming backup with starter potential.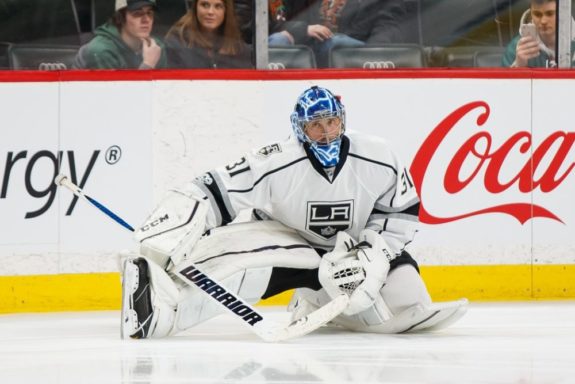 Bishop was supposedly asking for a seven-year extension worth $49 million — $7 million per season — when Calgary had a trade in the works at last year's draft. Bishop's asking price has probably come down a bit, but it might still have been too rich for Ron Francis and the Hurricanes. And Carolina likely wouldn't have been high on Bishop's list of preferred landing spots. It may have taken an overpayment to lure him to Raleigh.
Other options could have included Steve Mason, Ryan Miller, Brian Elliott, Jonathan Bernier, Darcy Kuemper, Chad Johnson and Keith Kinkaid. I don't know where I would rank Darling in that mix, but he wouldn't be first on my list and might not make my top three. Carolina had no shortage of picks in this year's draft, so parting with a third-rounder for Darling's exclusive negotiation rights may well have been worth the risk. I'm just not sure how much reward the Hurricanes can reasonably expect. And now Carolina still has to find a taker for Lack or Ward, assuming Vegas doesn't want either of them and also assuming Darling is willing to sign with the Hurricanes.
It would be a good opportunity for Darling, but I just can't see him backstopping Carolina to a playoff berth. I've been wrong before, but I think Alex Nedeljkovic is going to be the future there and I wouldn't be shocked if he takes over the starting job sooner than later.
Speaking of the playoffs, what second-round series are you finding the most fascinating so far? Since you're unbiased and no longer have a horse in the race, who do you foresee winning the Stanley Cup? Vegas odds-makers made Edmonton the favourite as of Saturday morning, but who would you be putting your money on as of today?
HEDLEY-NOBLE: Well, I do have my mistress horse still very much in the race, which is the Ottawa Senators. I've been cheering them on since Colorado and Florida did not make it in. Yes, I have a wife (Avalanche), a girlfriend (Panthers) and a mistress (Senators) in hockey. I don't foresee Ottawa lifting the Stanley Cup this year though.
That Sens-Rangers series has been my favorite surprisingly — didn't see that coming, but it's been terrific action thus far. No one series has let me down, however that could change quickly if Anaheim doesn't step its game up.
I smell a repeat with the Pittsburgh Penguins winning yet again. I'd bet on them over the Edmonton Oilers simply because of the huge advantage Pittsburgh would have in experience, not to mention overall skill in my opinion. If you asked me a week ago, I would have stuck to my original prediction of the Washington Capitals, but it's not looking too promising at the moment.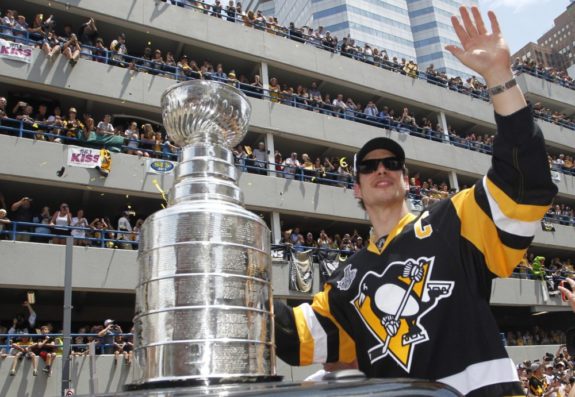 FISHER: Ditto here, I had Washington beating Edmonton in the Stanley Cup Final prior to the playoffs, but now I'm thinking Pittsburgh is going all the way again — that would be my bet. The Penguins won both games in Washington and chased Braden Holtby in the second, so the Capitals' chances seem bleak with the series shifting to Pittsburgh tonight. I'm hoping Holtby and the Caps bounce back, but I'm not holding my breath.
I've been watching that Washington-Pittsburgh series fairly closely, but Anaheim-Edmonton is the matchup that has been getting most of my attention. That Game 4 on Wednesday in Edmonton is likely going to decide the series. If Anaheim wins again and gets to go home tied 2-2, the Ducks will have all the momentum and be tough to stop. If Edmonton wins in front of its raucous crowd to take a 3-1 stranglehold, the Oilers would have three chances to advance to the conference final. For what it's worth, I predicted Edmonton in six.
I didn't realize Sebastian was a closet Sens fan, but Ottawa has been impressive too — especially Jean-Gabriel Pageau with his four-goal performance in Game 2 and Erik Karlsson with that sublime saucer pass against Boston in the first round. Even the St. Louis-Nashville series has had its moments, so you can't really go wrong turning the TV on to an NHL playoff game this spring. Enjoy!
BONUS TOPIC
Have you jumped on any playoff bandwagons? Or do you have a rooting interest for any of the eight teams left? Maybe the better question is who don't you want to win?
HEDLEY-NOBLE: There are definitely some teams I would prefer to win. Obviously the Senators over the Rangers as I explained previously. Aside from that, I really would love to watch Ovechkin lift that Stanley Cup once and for all. This may be the best Capitals team that he's been on, though they've dug themselves a large hole against a great team in Pittsburgh. I'd rather not watch the Penguins win another one.
I don't have a preference really from the Western Conference — maybe St. Louis out of the four teams remaining there, but it's hard to root against Nashville as well. All in all, I'll be cheering on the Sens, even when some residents can't be bothered!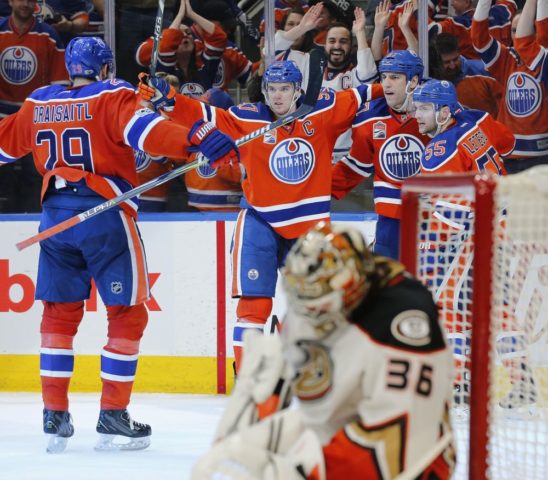 FISHER: I'd like to see an Edmonton-Nashville showdown in the West. That would be a fun series to watch and it could go either way. I'm indifferent to the East final. We can assume it'll be Pittsburgh-Ottawa, with both teams leading their respective series 2-0. That matchup wouldn't be too appealing to me, mainly because I think the Penguins would make quick work of the Senators.
If the Stanley Cup comes down to Crosby versus McDavid — as per Sebastian's prediction — that would be a huge win for the league and for fans of the sport in general. That's what I'm cheering for now.
---
Who won this round of Facing Off? Feel free to weigh-in with your opinions in the comments below. We will be checking in periodically to both defend and expand on our initial answers. If you want us to face-off over a topic, we're open to suggestions as well.