The second-most talked about trade of the offseason (P.K Subban for Shea Weber being the first), saw budding offensive star Taylor Hall traded for a sort-of unproven defensive blueliner in Adam Larsson. The deal sent shock-waves through Edmonton and the hockey world, because Hall is a proven star, while Larsson is only starting to find his footing in the NHL. Why didn't the Oilers get more for Hall? Not even a draft pick? The Taylor Hall trade brings about a lot of opinion, including questions over whether or not Hall was overvalued by Oiler fans. In any case, the always brilliant Elliotte Friedman released an article detailing what went on behind the scenes of both trades.
The Taylor Hall Trade – A Deal with the Devils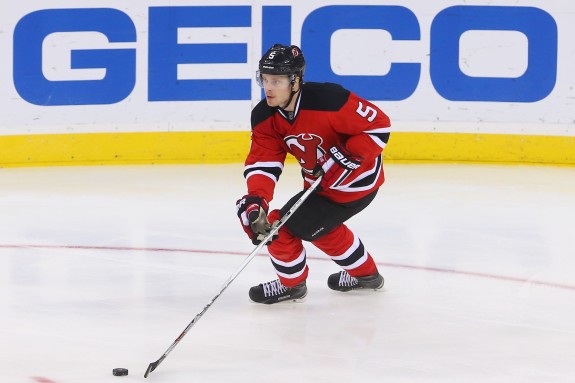 From Ray Shero's perspective (GM of the New Jersey Devils), the deal was a fair one. He wasn't under the gun to make a deal, but he knew Peter Chiarelli and the Oilers were.
"Peter asked for more, of course, but the way the cap works, we had to stand strong. He did his homework, he knew what was out there. It's hard to find a young defenceman with term and a $4M cap hit. People want to decide winners and losers right away, but you have to build a team." [Sportsnet]
The Oilers had interest in guys such as Kevin Shattenkirk and Tyson Barrie, but their pending free agency was a concern. If you're going to move one of your best players, it has to be a guaranteed long-term investment. But did Shero basically admit that the deal was lopsided? Greg Wyshynski believes so.
"This was a trade made not from the wish list but from the depth chart. Since the Oilers had nowhere else to turn, and were offering TAYLOR HALL in this trade, Shero smelled desperation and capitalized on it by refusing to budge." [Yahoo Sports]
The narrative on Hall is that he's a "problem in the room", which I believe isn't the case. It's just a convenient way to try to get the Oilers off the hook for the move. Having said that, Friedman brought to light the reality that personalities did play a part in this decision.
"In Hall's case, a couple of Oilers believe the organization wanted to make it easier for McDavid's influence to grow in the room. "Taylor's a dominant personality," one said. "That's not a criticism. That's who he is."
Can Big Personalities Co-Exist?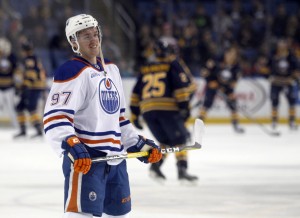 I absolutely understand that the Oilers are Connor McDavid's team. However that fact shouldn't mean that no other alpha dogs can fit in. After all, they now have Milan Lucic, who isn't exactly soft-spoken. But again, this all speaks to the Oilers desire to start over in a way, and fix what obviously hasn't been working. They may lament giving away Taylor Hall's skill, but they needed to go in a new direction with McDavid at the helm. Now I tend to believe that on a winning team, big ego's can co-exist in one room, because they're having success.
A losing environment always brings about the worst in everybody. The sentiment that winning cures everything is absolutely true, and perhaps if the Oilers were better, Hall and McDavid would have been a perfect fit. The interesting thing is their friendship off the ice, which clearly is strong, evidenced by McDavid's disappointment at the trade. But, only the people in the Oilers room know what it was truly like. One thing to keep in mind is that Hall's departure doesn't guarantee immediate improvement for the team. You could argue the trade made them worse.
Last RT: If the Hall trade had landed the Oilers the piece that makes them a playoff team after ten long years I'd get it. But it didn't.

— Ryan Batty (@ryan_batty) September 6, 2016
In the long-run however, the Oilers believe they will end up being better off with Larsson. The feelings are still mixed among the fan base, as some believe Larsson wasn't a big enough need to justify sacrificing Taylor Hall. But if the personality reasoning is the truth, then Hall was on his way out no matter what. When asked about it, Chiarelli had this to say:
"We knew we were going to have to part with a significant player, whoever it was going to be. So, yes, I knew it was possible." He declined to reveal when he ultimately decided upon Hall, but it was shortly before the draft. He knew it was time for major surgery.
What's Done is Done
I have a feeling the discussions on this trade won't die down anytime soon, especially if the Oilers stumble out of the gate and/or Larsson himself struggles. But here's the reality. They probably won't be better right away. It's not Larsson's fault, and it's not solely because Hall is gone. If you're still upset over the trade, I'd imagine winning will cure that. But it could still be a painful season. The deal is done, there's no take backs. The Oilers decided they needed to move on from Hall. Could they have gotten more? It doesn't really seem that way.
The Yahoo article suggests that the Taylor Hall trade reflects badly for the Oilers. Does it? Well we can't really judge that until the season gets going, and even then, it's going to take a while to see the fruits of the transaction. And therein lies the problem. The Oilers didn't get immediately better, and that's what draws the ire of many fans. But like it or not, Taylor Hall wasn't part of the Oilers future. That's the new reality, and there's no going back.