On Wednesday night, Scott Cullen from TSN got both Edmonton Oilers fans and some less than flag-waving analytics supporters a little hot under the collar when, in a tweet citing the praises of New Jersey Devils forward Taylor Hall, Cullen completely discredited the contributions from defenseman Adam Larsson to the Oilers this season. Calling Hall the Devils' best forward and Larsson a mere passenger in Edmonton, Cullen's tweet rang through "Oil Country" like a slap in the face for many fans who had ultimately come to grips with the original one-for-one trade.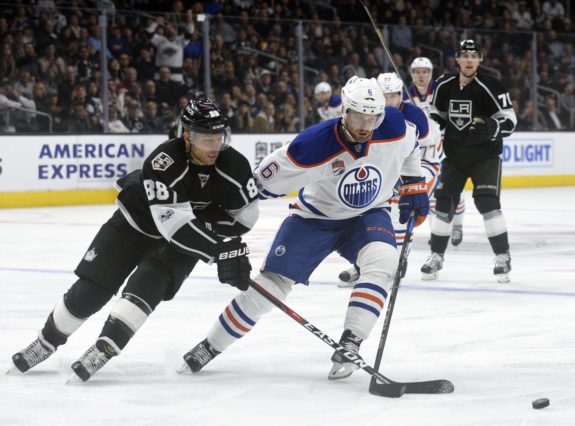 An argument that was finally in the rear view mirror thanks to the Oilers clinching a playoff spot, Cullen appears to have reinvigorated the debate and once again, people are talking.
@Jmansbox @Graderal How does the best player get faulted for a team getting worse while a passenger gets credited as the reason a team got better?

— Scott Cullen (@tsnscottcullen) April 5, 2017
This tweet is what started it all and the response shown here is just one of many that Cullen ended up having to respond to for his opinion. Credit to Cullen for not shying away from the debate. He mentioned he had nearly 100 complaints from Oilers' fans telling him how off base he was. In fact, I was among them.
The Larsson – Hall Debate Itself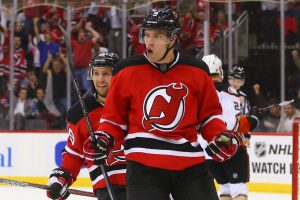 I suggested Cullen was incorrect, not because I feel Larsson is better, nor Hall worse, but that he chose to use the word "passenger" to describe Larsson's status on the Oilers roster. When reading that tweet, I viewed the adjective as untrue, excessively harsh and frankly uncalled for. Larsson is something to this team, but that something is not a passenger. I also believe this is what got most fans bothered.
That then led me to ask myself, what is the actual debate here? Is it that despite the Oilers success this season — Edmonton in the playoffs and New Jersey nowhere near them — Taylor Hall is simply too good a player for Edmonton to have traded away to obtain Larsson? Is the debate that both players have qualities, but Hall's are more important regardless of team position in the standings? Is it that the individual numbers are better measurements than the team's success?
Cullen appears to be looking at things from an individual statistics point of view. Those who oppose his opinion seem to be suggesting Larsson's value — and Hall's, for that matter— can't be singularly measured that way.
How Did This Debate Get So Derailed?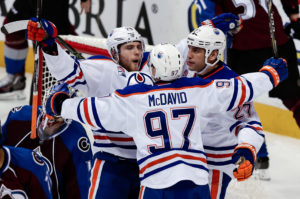 Perhaps the success of Connor McDavid has Oilers fans confused. After all, the timing is just too perfect. The best player since Sidney Crosby plays a full season in Edmonton and the Oilers make the playoffs. How can those two things not be connected?
The answer is, they are. But even the biggest of McDavid fans should concede that the Oilers success this year was not exclusively due to the performances of one player. Suggesting as much would ignore the contributions of players like Leon Draisaitl, Cam Talbot, Patrick Maroon and yes, Adam Larsson.
Where Cullen and I differ is in respect to how he appears to suggest McDavid has propped up Larsson, almost insinuating that Larsson would not be an effective hockey player without McDavid's assistance.
Adam Larsson – The Numbers
I'll be the first to admit, I don't know specifically what numbers Cullen was looking at when he took his stance. That said, at a quick glance, the numbers I found show some very interesting things.
First, Cullen is right in that McDavid makes Larsson better. When on the ice together, McDavid has a Corsi score of 52.2%. When McDavid is away from Larsson, McDavid's number rises to 52.8%. When Larsson is on the ice with McDavid, Larsson has a Corsi score of 49.8%. When he's without McDavid, his score drops to 48.4%.
In terms of GF%, GF60, GA60 Larsson does not register as high as some other Oilers might. In short, Larsson is not Edmonton's best defenseman.
What I also see from these numbers is that Larsson's totals are not particularly off the charts different than a lot of his teammates when it comes to McDavid. McDavid makes almost everyone better. Draisaitl's number improve, Lucic's numbers improve, Eberle's do… the list goes on and on. That's what makes McDavid so special.
Meanwhile, in New Jersey, Hall's analytic numbers are strong. They've been strong his entire career. What he doesn't have is any support as the Devils are among the worst of the worst for offensive production.
Who's Fault is McDavid's Success?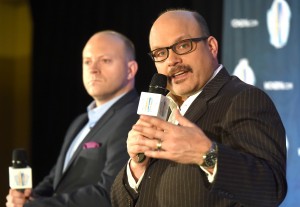 While to me it seems clear both Hall and Larsson have their upsides, the debate has not been one with many shades of grey. Most seem to be planted in one corner or another, taking a black or white position.
Those for Larsson contend this Oilers team is much better because they now have a well-rounded defense. Those for Hall contend that Larsson will never measure up to the type of player Hall can be when he pushes the river and provides better than average analytical numbers in a variety of categories. Both stances appear to be correct.
McDavid undoubtedly makes Larsson better. Still, Larsson leads the Oilers — a now playoff team — in hits with 243. That, by the way, ranks him seventh in the NHL. He ranks third on the team in blocked shots, second on the team in plus-minus, fourth in penalty minutes, third among defensemen in shot attempts and fourth in time-on-ice per game. None of that is mentioned in Cullen's tweet and none of that suggests the term passenger fits.
I realize I'm catching up on an old conversation, but anyone who calls Adam Larsson a "passenger" hasn't watched 79 #Oilers games this year.

— Kurt Leavins (@KurtLeavins) April 5, 2017
Adam Larsson is a complementary defender. Cullen called him a passenger and ppl lost their minds. Well? Is he a driver? No. And thats OK too

— Matt Henderson (@Archaeologuy) April 6, 2017
Is Adam Larsson a pilot? Perhaps not. Was he ever meant to be? No. Could the Oilers afford to move an offensive driver with McDavid, Draisaitl and others ready to pick up the slack on offense? Judging by the way the Oilers produced this season, it appears so.
Cullen's stance on Hall being better than Larsson in many ways has merit. It still doesn't mean he'll win a debate with Oilers fans and it definitely doesn't mean Larsson is a mere passenger along on the Oilers new journey into the playoffs.
Chiarelli didn't trade a pilot for a pilot. He traded a pilot for potential co-pilot and then gave himself the opportunity to go get a plane full of useful attendants and let a new pilot fly the plane. The only passengers I see are the fans.
Jim Parsons is a senior THW freelance writer, part-time journalist and audio/video host who lives, eats, sleeps and breathes NHL news and rumors, while also writing features on the Edmonton Oilers. He's been a trusted source for five-plus years at The Hockey Writers, but more than that, he's on a mission to keep readers up to date with the latest NHL rumors and trade talk. Jim is a daily must for readers who want to be "in the know."
Other content contributions include: NHLtradetalk.com, The Sportster and hosting weekly video casts, THW News and Rumors Rundown, plus Oilers Overtime.
For interview requests or to provide content info, follow Jim on Twitter or his social media accounts. They appear under his photo on articles like this one.