Nylander is more than a name. It's the sound of the past and the future.
If the 2016-17 season has taught us anything, it's that the NHL's next Swedish brother duo is here. The Toronto Maple Leafs have William Nylander, as no one could have missed by now; one of the top contenders for the Calder Memorial Trophy after having notched no less than 60 points in his rookie season.
The Buffalo Sabres, on the other hand, have his brother Alexander. Two years younger, equally as exciting. And to both spark the beginning of something new and come full circle with something from the past, Alexander Nylander made his NHL debut on March the 3rd against the Maple Leafs.
Their well-known father, Michael Nylander, was there. Even as a former top-level player with 920 games and 14 seasons in the NHL behind him, his way of taking part in his sons' hockey journey is no different from any other parent. OK, perhaps a little different – but he's enjoying it just as much.
The rest of this post is a translated interview with Michael Nylander, originally written by Henrik Sjöberg and issued in the Swedish newspaper Expressen. For the full article, as published in Swedish, go here.
The Nylander family was in a bit of a hurry this weekend. And with small margins.
"We heard on Saturday that it could go off, fixed the trips on Sunday and left Monday morning. We landed and drove from Toronto to Buffalo, arrived at a quarter to seven and the game began at seven. So that was good… fine margins," says Michael Nylander, coming right out of a workout session as usual.
"Tennis and weight training," the 44-year-old adds. He then continues to tell us about his family's flying visit to Canada and the United States, to watch Alexander play in his first NHL game against his older brother.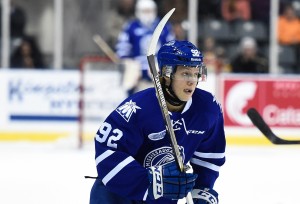 "We just couldn't miss an occasion like that. It was so much fun to be there and just to see Alexander making his debut in the game against William. It's crazy actually. We've had hockey on our schedule since both of them were small. And even if many players get drafted, there's no certainty that you ever get to play a game. Now, it got to a debut like this and it was a wonderful feeling. The whole family was there when William made his debut as well, but that time Alex sat with us. We all thought it was magical. Really cool," he says.
Henrik Sjöberg: How do you think Alexander managed in his debut?
Michael Nylander: I think Alex played really good, it's his first game but he's strong on the puck and did some good things out there, and worked hard. He did great. He and William faced each other on the ice a few times, but only for 10, 15, 20 seconds at a time. Toronto matched William's line against another line.
HS: We could talk all day about William's season.
MN: He's played really good. He's been good on all levels all the time actually. Whenever he's reached the next level, he has managed to go even further and develop confidence. And he's found himself in a great situation in Toronto, with their rebuild phase and the progress that takes place in the whole city and within the organization with the coaches. They have taken steps forward all of them. Together they have built up each other and given each other more from that as well. The coaches have made sure to get them the opportunity to win with the right attitude and work ethics. They dare to win even though they have a young team. They have put an attitude in their heads, that they also can win.
HS: He always seems relaxed, seeing him in interviews.
MN: He has a very strong inner belief and a good confidence. Of course, he handles critique in a good way and he's experienced some rough patches during the season as well. Mike Babcock has been hard on all players, even William. During those times he has stilled gone through, and believed in himself and what he's been told to do.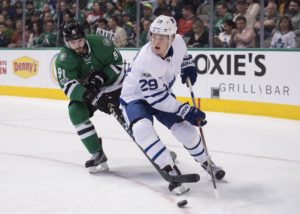 HS: 60 points in 77 games before the last few rounds.
MN: Yes. Naturally, you want to be on point all the time and compete for the top positions in the lineup. And he has done well with that again, and I think he's become more of an all-round player. He has played against the best players in the other teams for 30, 40 games out of 77. While being in a sort of checking line, he's done that really well. At the same time, he's learned to be aware of those other great players on the ice that can do unexpected things, which he's had to learn from. So in my eyes, he's more all-round.
HS: He changed his jersey number and flipped around your old #92. How did you react to that?
MN: So you figured that one out. That took some time, didn't it… haha. No, but that's awesome. Really cool that they think in terms like that.
HS: Now, he's passing 100 NHL games. But there are more than 800 to go before he beats you.
MN: I hope he does. He's defeated me in so many other areas already. It's just for me to sit back in the back seat and watch.