Congratulations, dear reader. As a hockey fan, you've managed to make it through the dreaded "dog days of summer" and perhaps as a Ducks fan, you've even managed to make it through one of the truly bizarre off-seasons in franchise history. The on-ice product will have a much different look, with new faces behind the bench and throughout the lineup. Whether that translates to more wins, though, remains to be seen.
Before this article takes a melancholic turn for the worst, let's kick off the 2016-17 year in Ducks' articles by analyzing each player on the roster and predicting how they'll perform in the coming season. First up: none other than the 23-year old John Gibson, who'll be participating in the World Cup of Hockey this month.
2015-16 in Review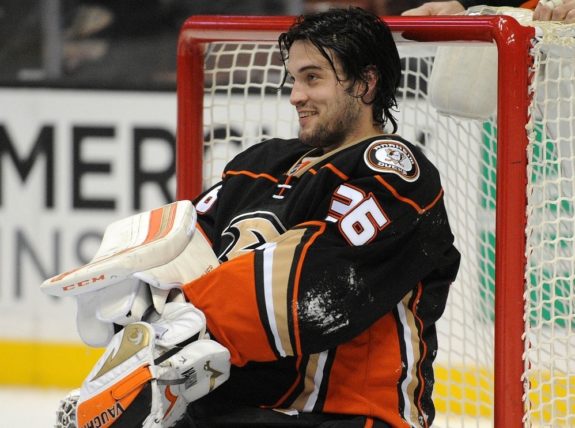 Last season was a bit of a whirlwind for Gibson. His year actually began down in San Diego of the American Hockey League, where he only played in a handful of games before being called up to Anaheim.
His arrival coincided almost exactly with the beginning of Anaheim's climb back up the standings. He played exceptionally, but it's tough to say how much that actually mattered considering Anaheim became a puck possession juggernaut. Regardless, his strong play earned him an All-Star berth, starting in net for the Pacific Division.
Gibson came back down to earth a bit post-All-Star break, splitting time with Frederik Andersen. Former head coach Bruce Boudreau saw enough in Gibson to name him his starter for the Stanley Cup Playoffs, a decision which, in hindsight, may have cost Boudreau his job.
Gibson faltered badly in games one and two of the first round against Nashville, forcing Boudreau to go with Andersen the rest of the way. Perhaps if Andersen starts that series, Anaheim splits the first two games and ends up taking the series. We'll never know, but it certainly could have had major ramifications for the future of the franchise.
Looking Ahead to 2016-17
The Ducks are a much different team since the last time Gibson started a game for them. Gone is Boudreau, the man who initially gave him the nod in the playoffs. Gone also is Frederik Andersen, which means that Gibson is now the undisputed starting goaltender in Anaheim.
Even though Gibson is unquestionably a quality goaltender, being the full-time starter will be a gigantic leap for him. The most games he's ever started in a season at any level is 45. To expect him to turn in 60 to 65 games of average to above-average goaltending isn't unrealistic, it's just that he's never done it.
General manager Bob Murray brought in Jonathan Bernier from Toronto to back up his prized starter, which gives the Ducks some degree of security should Gibson go down. Bernier hasn't been all that good in a while,but he's at least got his past experience as a starter going for him.
The Numbers
How good can Gibson be in those projected 60 to 65 starts? That's the $2.3 million question.
In 2015-16, the then-22-year old turned in a solid if unspectacular .920 save percentage in all situations. His play at even strength was a little more impressive, where his .921 mark put him ahead of established guys like Jimmy Howard and Pekka Rinne. The statistic which got the most attention though was his .773 even strength save percentage on high-danger shots, the third-worst mark in the league.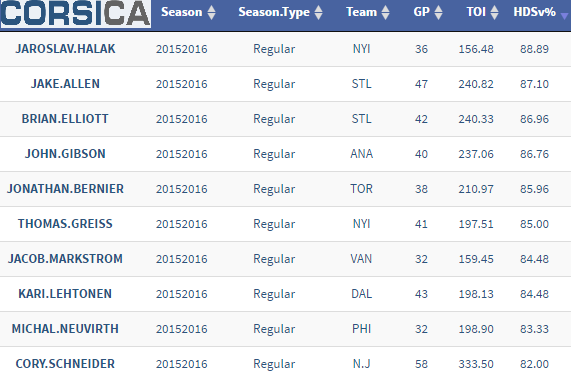 The penalty kill was a much different story for Gibson. He was lights out, posting a .867 high-danger save percentage, which was the fourth-best mark in the entire league among goaltenders who played 150 or minutes on the penalty kill.
Penalty kill scoring chances are often much more synchronized than their even strength counterparts, so it's encouraging that Gibson can be that good when the other team is entirely focused on creating chances. That being said, he'll have to get sharper when things are more chaotic at even strength.
Prediction Time
All things considered, it feels like this is the year Gibson finally becomes the go-to guy in net and never looks back. He'll start a career high number of games, which probably means some hiccups along the way. The organization clearly wants him to assume the role, so he'll have quite the leash.
Given how badly his backup has struggled in recent years, it's doubtful that a string of bad games will lose him his job. The Ducks lost a lot of goal-scoring up front, which probably means Gibson will get a healthy dose of close games. He'll be up to the task.
Felix Sicard is the Anaheim Ducks' Lead Writer for The Hockey Writers. Now in his third season of covering the team, he writes previews and recaps for all Ducks' home games, as well as weekly analysis pieces.
In addition to covering the Ducks at THW, Felix co-hosts SB Nation's Anaheim Calling: The Podcast, as well as hosting The Garage Hockey Podcast.
For consistent Ducks' content, be sure to check out his Twitter @Felix_Sicard.