"I never had an ego. That's the thing."
That's what Scott Gomez told the New York Times back in January as he embarked on a minor-league stint, in the hopes of making it back to the National Hockey League. Last Wednesday, Gomez hung up his skates, ending a 16-year NHL career dotted with accolades, including two Stanley Cups and a Calder Trophy.
After 16 seasons in the NHL, Scott Gomez is retiring from hockeyhttps://t.co/YmQGKfuzSj pic.twitter.com/Qd1ywgIafV

— Anchorage Daily News (@adndotcom) September 1, 2016
Gomez is right. He never had much of an ego, even in the most difficult moments of his professional life.
In the midst of an absurdly cruel 53-game goal-less streak back in 2011 as a member of the Canadiens, he had this to say on the topic of his own team's fans heckling him:
"You've got to take it, it's part of sports. Who am I to sit here and tell fans who pay good money to come to games that they can't speak their minds? If I'm paying their rent, then maybe…I've said this from Day 1: I've met some of the greatest people in my life in Montreal. I'll have lifelong friends here. This city will always be special to me for people I've met here."
Not a ton of ego dripping from that comment. Very candid, though, even humorous. Rare for a professional hockey player.
It wouldn't have been unreasonable for Gomez to show a little ego. The Montreal fans were merciless, mocking him in questionable fashion. He shouldered the burden of one of the worst trades in Canadiens' history. Gomez, though still in his prime, was brought to Montreal with his cumbersome $7.5 million cap hit in exchange for the promising young Ryan McDonagh.
The money didn't seem to matter too much to fans in his first season as a Hab, where he tallied a healthy 59 points in 78 games, along with 14 points in 19 playoff games. Things went south for Gomez after that 2009–10 season, and he was never able to find that same level of production again.
If anything though, post-2010 is where we learned the most about him.
After leaving Montreal in 2012, Gomez rarely saw more than a hair over ten minutes of ice time a night, topping out at 16:31 a night with the Devils in 2013–14. He became a PTO (professional tryout offer) regular, making team after team on his quest to remain in the NHL.
Gomez Can Still Play
Remain he did, skating for five different teams in five different seasons.
Most players would (reasonably) stress without year-to-year contract struggles, let alone month-to-month job security. Gomez espoused that lifestyle for five years, riding buses in the minors at a point in his career where (warranted) pride could have easily sent him to early retirement, or perhaps to more lucrative pay in Europe.
The word "character" in hockey circles has taken a hit in recent years with the advent of analytics, often dismissed as a buzzword used by hockey's old boys. It fully applies here, though. Gomez showed some impressive character in the final years of his career.
Ironically, analytics would suggest that the Alaskan-native still belongs in the NHL. Consider the fact that the Anaheim Ducks signed Jared Boll to a one-year, $900K contract this summer: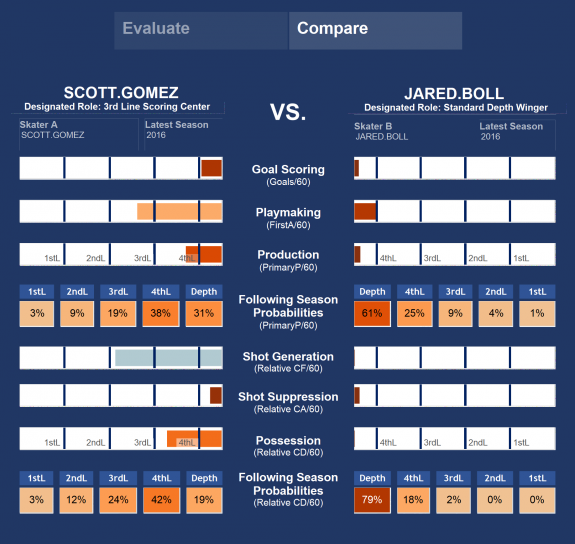 There's no denying that Gomez is well past his prime. If Boll can get a contract without providing any tangible value, though, why couldn't Gomez? He'd objectively be a lot more useful to the Ducks than Boll could ever hope to be. The 16-year vet has been down that depth chart road. He's been doing it for five years.
For those five years, Gomez seemed to be just as in love and just as dedicated to the game as an aging journeyman as he did in his prime. That deserves some respect.