Many analysts believed the Pittsburgh Penguins defied the odds last season on their way to the Stanley Cup. Even after proving themselves as the real deal by advancing three rounds into the Final, 17 out of 21 NHL.com analysts picked the San Jose Sharks to win the Cup.
No one really believed they could win. This year, it's been a different feeling. Just about everyone expects the Penguins to advance deep into the tournament once again.
Well, except for the analytics "nerds" who value shot attempts over everything else. This postseason, the Penguins have lost the Corsi (shot attempts in 5-on-5 situations) battle in six of seven postseason games. In the second round against the Washington Capitals, Pittsburgh has been out-attempted at 5-on-5 a ridiculous 141-66.
That's some elite company, @jakenbake20. pic.twitter.com/pQDgRt9zLk

— Pittsburgh Penguins (@penguins) April 30, 2017
The Penguins have half as many shot attempts, yet they have more than doubled the Capitals on the scoreboard, 9-4, through two games. They are 6-1 this postseason thanks to performances from guys such as 24-year-old Jake Guentzel, who has seven goals in seven playoff games.
Pittsburgh is defying analytics. But, is it sustainable?
High Shooting & Save Percentages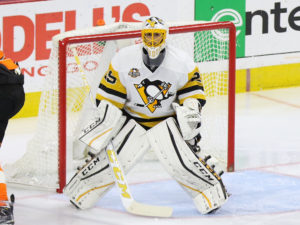 The Penguins took the traditional modern day route to winning the Stanley Cup last season. They dominated possession in most games and posted an average 9.01 shooting percentage.
This postseason, though, the team's identity has slightly changed. Pittsburgh is still usually the faster team, but, at least in the playoffs, they haven't controlled the puck and recorded more shots than opponents. The Penguins somewhat resemble the Tampa Bay Lightning that gave them so much trouble in the Eastern Conference Finals last May – a quick-strike, opportunistic offense that doesn't get many chances but buries the high-danger ones.
Here's the catch w/ the Penguins' 12.5 shooting % and 93.45 save %…. no playoff team since '08 has ever maintained anything close to those

— Bill West (@Just_BWest) April 30, 2017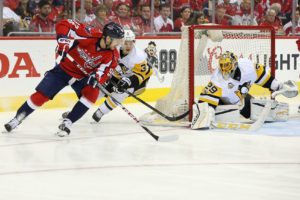 Through seven playoff games, the Penguins have a 13.89 shooting percentage overall (West's statistics don't include Saturday's contest). This may be a relatively small sample size, and in many ways, Pittsburgh is fortunate to have won either game at the Verizon Center because Washington outplayed them for large parts of Games 1 and 2. Can the Penguins continue to win with this formula?
It's also worth wondering if Marc-Andre Fleury can continue his dominance. Not because Fleury isn't still an elite goaltender, but because of the law of averages, especially if he continues to see upwards of 40 shots per game. Fleury possesses a .936 save percentage this postseason. As West indicates, neither of these numbers are sustainable. Pittsburgh, more than likely, has to control possession more often if its going to win 10 more playoff games this spring.
West indicates that these numbers aren't sustainable. Pittsburgh, more than likely, has to control possession more often if it's going to win 10 more playoff games this spring.
Blocking Shots
A big part of the Penguins' formula this postseason and last spring has been blocking shots. Pittsburgh has blocked 62 shots in the first two games against Washington; the Capitals have recorded 18.
That's a big reason why the shots on goal category hasn't been nearly as lopsided as the Corsi battle would indicate it could be. Pittsburgh has been able to survive because not as many shots from the opponent are getting through. In some cases, blocking shots has led to the Penguins' offense.
But again, it's worth asking if this is something that can be sustained for four playoff rounds? On Saturday alone, the Penguins lost wing Patric Hornqvist and defenseman Ron Hainsey to blocking shots. Fourth-line winger Tom Kuhnhackl also left Game 2 after blocking a shot.
Ron Hainsey takes an Ovechkin shot off of the back of his head pic.twitter.com/kV5SwVbzkY

— Shane O'Donnell (@shane1342o) April 30, 2017
Of course, shot blocking is vitally important this time of year. Especially with so many shot attempts in the Penguins defensive end but they obviously cannot afford to lose three players per game.
Until the Penguins earn more offensive zone time, though, they are going to continue putting themselves in harm's way and risk injury. Over time, Pittsburgh could lose the battle of attrition if they don't find a way to play more at the other end.
Teams have to be looking at this PIT team thinking, how the hell do you beat them? They're completely defying logic at this point.

— Mike Necciai (@Michael29Angelo) May 1, 2017
"As I said, do we want our guys to be in lanes and blocking shots as often as we have in the early part of this series?" No, we'd prefer not to," Sullivan said according to the Washington Post. "But having said that, if we're defending in our end zone, part of the strategy of defending is making sure you're denying opportunities for the puck to get to the scoring area."
Just Get Through Round 2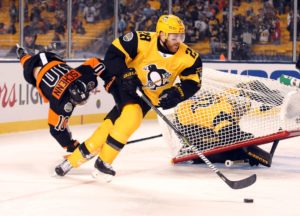 While winning this way might be considered "ugly" in the analytics world, the Penguins aren't going to apologize to anyone if they make it to the Eastern Conference Finals following this formula.
Ther are two wins away from achieving that and have put Washington in a real hole with three of the remaining five games of the second round at PPG Paints Arena. In order to force a Game 7, the Capitals must win twice in Pittsburgh, where the Pens were the best home team in the league.
It's also worth noting that Pittsburgh's first two playoff opponents were two of the top five teams in the league. In the imperfect NHL playoff system, the Penguins drew the Blue Jackets, who finished with the fourth-most points during the regular season, and the Capitals, the two-time defending Presidents' Trophy winners. Beating those teams is impressive no matter how they do it.
No way the #Pens sustain success at this rate over the long haul. Good news is, they don't have to. Can OTT/NYR dictate play like WSH/CBJ?

— Mike Necciai (@Michael29Angelo) May 1, 2017
Sure, Pittsburgh might not be able to maintain their shooting percentage and shot blocking for much longer, but if they get passed the Capitals, Pittsburgh will likely have a better chance of controlling possession against the Ottawa Senators, New York Rangers or anybody the Western Conference has to offer.
The answer is no, of course. Beat WSH and Pens obviously get more favorable matchups as they advance. Silver lining of goofy playoff format. https://t.co/CWSZFr6L5g

— Mike Necciai (@Michael29Angelo) May 1, 2017
That doesn't mean the Penguins are guaranteed to win, but in many ways, they are knocking out the best teams on paper first. That should help them continue to advance even if they suffer a setback in the team shooting or save percentage.