In their second season of a comprehensive, long-term rebuild, the Toronto Maple Leafs have surprised the NHL with their energetic, driven, and competitive style of play.
Originally expected to finish near the bottom of the standings, the Leafs have played their way into legitimate contention for the Stanley Cup Playoffs, and have rather shockingly knocked off a number of elite clubs in doing so. Victories over foes such as the Pittsburgh Penguins, Washington Capitals, and long-time rival Boston Bruins have generated an immense sense of unexpected optimism around the team.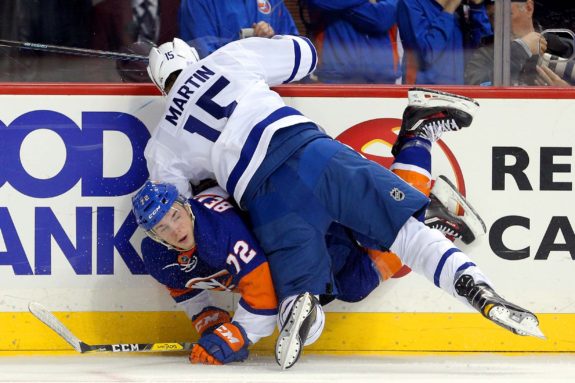 One of the main reasons why the Leafs have found such a high level of success is their potent offense. Led by Auston Matthews, Toronto has received notable contributions from players throughout their lineup, whether it be veteran skaters, depth contributors, or inexperienced rookies looking to leave a lasting impression.
In fact, over their first 35 games played, the Leafs ranked 11th in the NHL in goals for, while their GF/G ranked seventh, a mark higher than teams such as the Tampa Bay Lightning, Chicago Blackhawks, and Capitals.
Yet, despite their potent offense, the Leafs have again struggled to keep the puck out of their own goal. In fact, over the past five years, only the Edmonton Oilers have allowed more goals against than the Leafs, a facet of the team's game which must improve drastically if they wish to make a serious playoff run.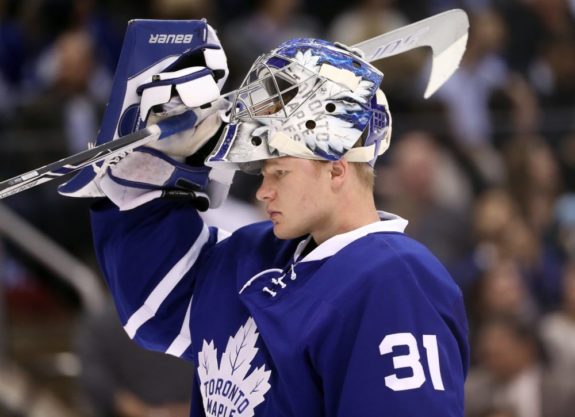 One of the issues with the Leafs' defense, especially so in recent history, has been their thin blue line. A seemingly random amalgamation of players at times, Toronto's defensive core has long been lacking not only depth but vastly more importantly, a number-one defender.
Fortunately for the team, Toronto boasts a crop of prospective defenseman who appear destined to significantly alter the Leafs' blue line, and, in doing so, dramatically improve the club's play within their own zone.
Now, while none of these prospects would appear to retain the potential to become number-one defenders at the NHL level, their varying skill sets, sizes, and playing styles could combine to provide the Leafs with a deep, sound and broad blue line for years to come.
I'm hearing very, very good things about the play of Marlies rookie Andrew Nielsen. Could be one option for help on D for Leafs eventually.

— James Mirtle (@mirtle) November 18, 2016
However, which defender should Leafs management, as well as the team's fan base, train their eyes on in the coming years?
Well, here are the organization's top-five prospect defenseman, ordered in terms of their abilities, track record of production, and potential at the professional level.
As always, feel free to leave your thoughts in the comments section below.
5. James Greenway
James Greenway, more commonly known as J.D. Greenway, is a defenseman in his first year of NCAA play with the University of Wisconsin. A third round selection 72nd overall by Toronto in the 2016 Draft, Greenway is the younger brother of Minnesota Wild prospect Jordan Greenway, who is a quality player in his own right.
Prior to the beginning of his NCAA career and selection by the Leafs, Greenway developed his game within the United States' Development Program. As a member of the United States' National Under-17 and Under-18 Teams, Greenway progressed into a physical, shutdown defender with the size necessary to punish opposing players in the defensive zone.
At No. 72, the #Leafs select James Greenway from USDP. Heading to Wisconsin next season #NHLDraft

— Kristen Shilton (@kristen_shilton) June 25, 2016
Six foot four inches tall and tipping the scale at 205 pounds, Greenway is a strong force who loves to throw his weight around. Not only can Greenway catch players with their heads down, but he has the ability to play a strong yet controlled game within his own zone.
When it comes to limiting the movement and opportunities of opposing forwards, Greenway uses his quality skating abilities and sheer strength to either knock players off of the puck, or, their skates.
One facet of Greenway's game which requires improvement, and the reason why he checks in at number five on this ranking is his quiet offensive game, an area which is somewhat of a glaring deficiency when compared to those ranked one through four on the list.
In terms of his future projection, Greenway has all of the skills necessary to become a legitimate top pairing blueliner at the NHL level. However, Greenway has yet to put his vast set of talents together, and until he does so, will likely remain viewed primarily as a mobile and physical defender.
Watch: JD Greenway's goal that made the score 2-2. We are four minutes into the second period. pic.twitter.com/5RA1Otz4WB

— Wisconsin Hockey (@BadgerMHockey) October 16, 2016
As mentioned, Greenway is in his freshman season in the NCAA. As such, he will likely play in multiple additional seasons with the University of Wisconsin before joining the pro ranks, a reality which will provide Greenway with ample time in which to further develop his all-around game.
Carrying loads of potential, it will be truly interesting to watch Greenway in the coming years, and just how greatly his game is able to develop.
4. Rinat Valiev
A third-round pick of the Leafs, 68th overall in the 2014 Draft, Rinat Valiev is the only prospect on this ranking who had garnered playing experience with Toronto at the NHL level prior to the 2016-17 season.
Born in Nizhnekamsk, Russia, Valiev came to North America in 2013 when the Kootenay Ice of the WHL selected him 25th overall in the CHL Import Draft. In his two seasons played with the Ice, Valiev displayed the offensive instincts and defensive capabilities which also made him a third overall choice in the 2012 Kontinental Hockey League Draft.
#Leafs D Rinat Valiev finished his second WHL season w 9G 46P in 52 games w Kootenay. Put up 3G 5P in 7 playoff games.Will join AHL Marlies

— Leafs Prospectus (@LeafsProspectus) April 20, 2015
In his 107 games played in the WHL, Valiev recorded 74 points and finished his career with a plus/minus rating of plus-49. Further, he also added 121 penalty minutes, an indication of his willingness to play a physical brand of hockey.
Weighing in at 190 pounds and standing 6′ 2″ tall, Valiev's game is a sound mixture of defense and offense. In his own zone, Valiev uses his solid skating abilities to push opposing players to the outside of the zone, where he then pins them against the boards or uses a quick and active stick to jar the puck loose. With good hockey sense and awareness, Valiev has the ability to predict the development of a given play and intervene before it becomes a genuine scoring opportunity.
At the other end of the ice, Valiev is equally effective and imposing. Given his speed and agility, Valiev can deke opposing players in the offensive zone and is not afraid to drive the net from his position at the point. Because he doesn't have an overpowering shot, Valiev often opts to simply force the puck to the net or pass to a fellow teammate who is in a higher percentage scoring situation.
Currently in his second season of professional hockey, Valiev's jump to the NHL in his first pro season in 2015-16 indicated the Leafs' trust and value in his presence within their organization. Although he never played more than 15 minutes in a game with the Leafs, Valiev was solid nonetheless and illustrated his potential at the NHL level.
Maple Leafs call Rinat Valiev for possible NHL debut https://t.co/CeYAzFNWPD pic.twitter.com/JPyu6IehhR

— CP24 (@CP24) March 11, 2016
While he will surely play the majority of the 2016-17 season with the Marlies, odds are Valiev could receive yet another late season call-up to the NHL, especially so given his play to date. While Valiev likely won't become a top-pairing defender with the Leafs, he could certainly become a second or third pairing defenseman for the considerable future.
3. Travis Dermott
The Leafs' highest drafted defenseman since Morgan Reilly was selected fifth overall in 2012, Travis Dermott is yet another solid two-way defender who carries great value in Toronto's rebuild.
Chosen in the second round, 34th overall in 2015, Dermott has long been a consistent and dependable blueliner. In fact, in his three years spent with the Erie Otters of the OHL, not only did Dermott score 116 points in 179 games played, but he also carried a plus/minus rating of plus-94, a mark reflective of his strong defensive game.
Last one: Even seemed surprised his first pro goal went in without a deflection. Put pucks on net, good things happen. pic.twitter.com/vMq23qQemR

— Jeff Veillette (@JeffVeillette) October 17, 2016
Characterized as an intelligent defender who makes quick and accurate decisions, Dermott is a swift skater whose presence is felt in all three zones of the ice. Possessing the awareness necessary to make smart decisions, both with and without the puck, Dermott allows the play to develop around him and is quick to intervene when deemed necessary. Rather than force a play, Dermott uses his sense to predict how the event will unfold before making his impact.
Standing five foot 11 inches tall and weighing in at 195 pounds, Dermott's presence on the ice isn't incredibly physical, yet he is not dominated on the ice either. Despite having the strength to hold his own physically, Dermott would do well to add some extra strength to his game, as it could play a major factor in his development in the professional ranks.
Currently in his first season with the Marlies, Dermott has adapted well to the AHL game, yet did suffer an injury early in the campaign which forced him to miss some time.
Long-term, Dermott could develop into a solid bottom or middle-pairing defender with the Leafs, yet considerable AHL playing time and success will likely be needed before is he ready to log major minutes at the NHL level.
2. Stephen Desrocher
A sixth-round choice of Toronto in the 2015 Draft, Stephen Desrocher has quickly proven his worth, and potential, despite his late-round selection. As the 155th overall pick in his Draft class, Desrocher is the classic example of a player who has quietly, yet steadily, developed into a quality NHL prospect.
Currently, in his fourth season of play in the Ontario Hockey League, Desrocher has progressed into a consistent force and dependable two-way defender for the Kingston Frontenacs.
Kingston Frontenacs Captain #37 Stephen Desrocher pic.twitter.com/CghryrzA0L

— Fronts Nation (@FrontsNation) November 29, 2016
Desrocher's game is characterized by strong play in his own zone as well as a consistent level of production in the offensive end.
Defensively, Desrocher, who stands 6′ 4″ and 205 pounds, has the ability to eat a ton of minutes due to his strong physical presence and intelligent decision making. Using his size, Desrocher can knock an opposing player off of, or protect the puck in order to develop a secure breakout. Further, his quick feet and ample skating abilities allow Desrocher to move the puck to his teammates and set up offensive opportunities.
Offensively, Desrocher picks his spots well with his shot and can place the puck on net through traffic, an ability which generates a ton of rebounds. Further, Desrocher is a staple on the power play for his ability to move the puck with confidence and accuracy.
Team Captain of the Frontenacs, Desrocher's game is one which will adapt nicely to the professional game. Undoubtedly headed for the AHL and the Marlies next season, Desrocher will see considerable ice time and receive ample opportunities to prove himself at the next level.
A common play you'll see from #Leafs prospect Stephen Desrocher. His heavy shot from the point gets tipped in by Warren Foegele (CAR). pic.twitter.com/ZsH7CfGYJC

— Kathryn Jean (@msconduct) November 26, 2016
Long-term, Desrocher could develop into a sound second pairing defender at the NHL level and one who can shut down the opposition on a nightly basis. Given his skating abilities and size, Desrocher's game is somewhat similar to that of Oilers defenseman Darnell Nurse, yet seemingly more controlled.
1. Andrew Nielsen
Drafted by the Leafs in the third-round of the 2015 Draft 65th overall, Andrew Nielsen has rocketed up Toronto's organizational depth chart due to his strong and consistent play.
A poised two-way defender, Nielsen grew his game with the Lethbridge Hurricanes of the Western Hockey League, where he was a force at both ends of the ice.
Marlies sign #AndrewNielsen and Chase Witala to ATOs https://t.co/XjQkWPgcV8 #MapleLeafs #GoMapleLeafs #TMLTalk pic.twitter.com/8ehkVXByjd

— Zesty Maple Leafs (@zesty_TML) April 5, 2016
Defensively, Nielsen can do it all. Standing 6′ 3″ and weighing in at 210 pounds, the Red Deer, Alberta native is an intimidating force who is in no way afraid to use his size to his advantage. Bearing down on opposing players, Nielsen uses his strength to physically dominate and control his opposition and has no trouble dismantling offensive opportunities.
Once out of his own zone, Nielsen possesses solid skating skills and a high level of mobility, qualities key to the success of a defender with immense size. Given his skating abilities, Nielsen can then jump up in the play offensively, or accelerate quickly to catch an opposing player defensively.
Speaking of offense, it is, perhaps, this aspect of Nielsen's game which truly sets him apart from other defenders of his age. As if his defensive game was not enough, Nielsen is a lethal offensive threat who has the ability put the puck in the net as well as distribute the puck to his teammates.
Heck, he put up an incredible 70 points from the blue line in 71 games in 2015-16, his last season with Lethbridge.
Now a rookie in the American Hockey League, Nielsen has adapted quickly to the professional game. Not only has he been strong defensively, but Nielsen has continued to be a threat offensively from the blueline. In fact, he had already recorded 20 points in his first 29 games played in 2016-17.
At just 20 years-of-age, Nielsen is undoubtedly the Leafs' top defensive prospect and one who could certainly see considerable NHL playing time in the near future. Given his size, defensive prowess and offensive talent, Nielsen projects to become a sound, two-way threat at hockey's highest level. While he will likely play the majority of the 2016-17 in the AHL, his play could warrant a late-season call-up.
Honourable Mentions:
Victor Loov, Keaton Middleton, Justin Holl, Jesper Lindgren
Brett Slawson is a four-year veteran of The Hockey Writers who covers the Toronto Maple Leafs, NHL prospects, and the OHL's Mississauga Steelheads.
Contact Brett on Twitter @brettslawson92, or by email at brett_slawson@hotmail.com.