LOS ANGELES- A fierce battle between two complete teams hinged on a showdown between the current captain of the Kings Dustin Brown and the foremost figure in the history of the Sharks Patrick Marleau.
It was Brown who capped a two-goal night with the shootout winner. Marleau could not muster a shot on net in response after a superb two-goal, one assist effort that included a dramatic tally to force overtime with three seconds left in regulation.
The Kings led 2-1 and then 3-2 before ultimately prevailing 4-3 in the shootout at Staples Center Thursday night.
"It's not the way we want to do it, blowing a lead–blowing two leads really–with less than three minutes left but at this point in the year, two points is huge," Brown said.
Jonathan Quick continued his sharp play in net, stopping 25 of 28 shots including several highlight-reel saves.  Save for a single soft goal, it took overwhelming efforts to slip anything past Quick, who moved to 9-0 in shootouts this season.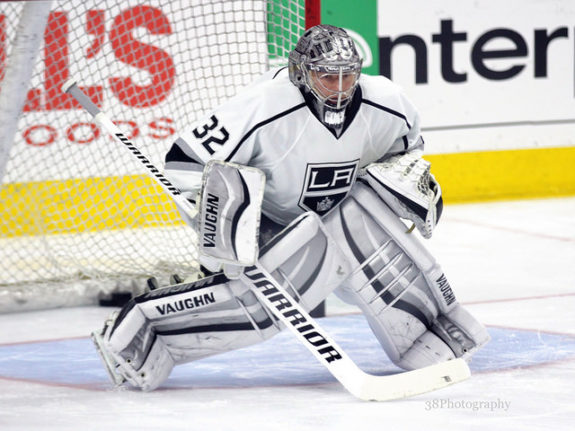 Seldom satisfied with anything less than perfection, Quick lamented his team's surrendering a point by letting the game get to overtime on Marleau's second goal.  The Kings now sit five points behind San Jose with a game in hand and another meeting in San Jose yet to come.
"That's something we want to do, we want to win this division. We know we're capable of doing it and it's unfortunate that they got a point out of it but the good thing is we got two out of it," Quick said.
Antti Niemi also stood tall in net, making 35 of 38 saves in the losing effort.
Early on, Marleau nearly set up a Devin Setoguchi goal with a cross-crease pass but Setoguchi's redirection went wide of Quick's cage.
The Kings' best chances in the first period came with about two minutes left when the AHL call-up Oscar Moller made two shot recoveries below the goal line, each of which led to Anze Kopitar scoring chances in the left slot.
A Jarret Stoll penalty late in the period left the Sharks with a fresh-ice power play to start the second.  San Jose quickly changed the point of attack from the right-wing wall to the left point to the low left slot where Marleau's pass was deflected home brilliantly by Joe Pavelski.
Joe Thornton earned the secondary assist on the play, his first point in five games against the Kings in this campaign.
Los Angeles knotted the game up on a power play of their own when a funky carom off the end boards led to some San Jose confusion.  The captain Brown swooped on the puck at the side of the net and stuffed it past Niemi.  That goal was the first power-play tally for the Kings in four contests.
"It's nice to score some goals for this team. Power play – both my goals were power play, one was ugly but that's the spark we needed on the power play," Brown said.
More solid work down low by Moller and Ryan Smyth broke down the San Jose defense, creating an opening for Willie Mitchell's slap-shot goal that gave Los Angeles a one-goal advantage.
Moller was recalled from the AHL's Manchester Monarchs after Justin Williams sustained a shoulder injury against Calgary Monday.  It was Moller's first NHL action in over four months.  The skillful Swede Moller did not disappoint as he churned his legs and tracked down loose pucks, often appearing to be one of the most dangerous players on the ice.
Another young King, Alec Martinez,  shut down a two-on-one break when he lifted Thornton's stick to swipe the puck away and end a dangerous San Jose rush.  Martinez also collected a secondary assist on the first Brown goal.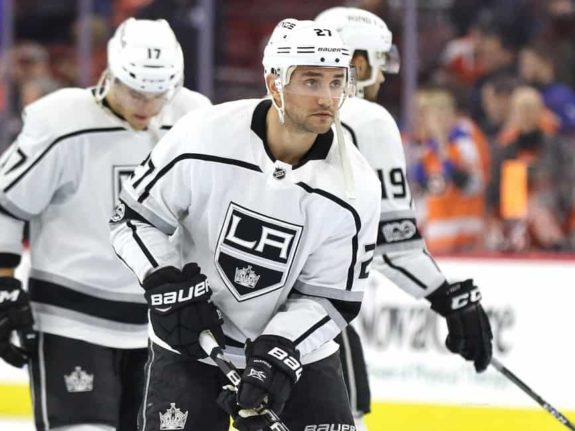 "He's one of the guys that has no hesitation to shoot the puck.  He's got a great attitude about loading it up right away," said Kings Head Coach Terry Murray.  "He doesn't have a long take-away, it's real short and compact, and he gets it through and looking for good things to happen.  He had a big game.  He broke up an incredible play there on a two-on-one against Thornton.   He keeps getting better every game."
The Kings carried a hefty 27-13 shot advantage into the final frame.
In the third period, San Jose increased their aggressiveness early but to little avail as an opportunistic chance off a turnover by Los Angeles' Trevor Lewis was the best scoring chance for either team in the first nine minutes.
That was until San Jose went back to the power play and generated a tremendous chance only to be denied by great goaltending. Quick negated a point blast and a point-blank rebound chance in quick succession.  Dan Boyle wound and fired from the left point with Pavelski screening in front and stabbing for a deflection.  Quick squared to the lively, long shot and then made a sterling kick save on Pavelski's follow-up attempt.
Quick remained stout against a couple late San Jose flurries but a tough-angle shot beat him to the short side for the equalizer with 3:32 remaining.  While skating wide of the left faceoff dot, Marleau threw a puck to the net from the wall that inexplicably got through Quick's pads.
Marleau remained the Sharks' top offensive player in the game, continuing a recent trend that has seen him notch six goals in his last four games including a pair of game-winners and tonight's two dramatic equalizers.
"He's really played well lately, he's scored big goals for our team," said Sharks Head Coach Todd McClellan. "I thought that even from the beginning of the game I thought he showed up to play. I thought we were missing some players early."
Thornton's minor penalty for holding the stick sent the Kings to the power play once more with Alexei Ponikarovsky setting a formidable screen in front. Michal Handzus made a short pass across the left faceoff circle where Brown snapped home his second goal of the night.  His 25th tally of the season gave the Kings what appeared to be a firm lead.
That lead stood until a stunning series of events unfolded late in the game.  Following a freeze, the clock was reset from 11 seconds remaining to 14 seconds to play.  With Niemi pulled, San Jose won a faceoff just outside their blue line and stumbled forward as the puck bounced from stick to stick.
On a play that symbolized his stabilizing contribution up front all season for San Jose, the Calder Trophy candidate Logan Couture settled the puck and began a tic-tac-toe play that ended when Marleau's second goal of the night forced overtime.  There were three seconds left, the exact amount of time added to the clock before the draw.
"That's Logan, he's on top of the puck, his nose is always over it.  He's never turning away.  For him to stay in the play was obviously very important," McClellan said.
The Kings had the first chance of OT when Kopitar's hard wrister was snared by Niemi 40 seconds into the extra frame.
There existed excitement at both ends with Niemi making two more tough glove saves and Quick recovering well from a flubbed exchange with his defenseman that left the game in peril momentarily.
Los Angeles sustained pressure for much of the final minute but could not obviate their second consecutive shootout as well as their second in as many games against San Jose.
Handzus shot first for the Kings, his bid was negated by the right pad of Niemi.
Boyle opened the shootout for the Sharks, his stickhandle-heavy move was waited out brilliantly by Quick, but a last-second shot just before Boyle reached the goal line knotted the shootout.
"It's a different approach to the whole shootout and I think that's what the league wants; they want guys thinking outside the box a little bit," said Quick.  "It's a good move and he made a good shot."
Stoll put the pressure back on San Jose when his rising wrister hit pay dirt in the top right corner of Niemi's nylon. The Kings' veteran pivot Stoll is a whopping eight-for-nine in the shootout this season.
Couture swung wide and zoomed in on Quick, who sprawled magnificently to shut down nearly every inch of the lower portion of his net.
Kopitar's backhand bid was turned aside by Niemi and the power forward Ryan Clowe failed to get a firm shot on Quick.  The shootout went to extra shooters.
Dustin Penner and Pavelski each fired shots into the pads of their opposing goaltenders.
Brown came through again, beating Niemi high to the glove side as Stoll did in the second round.
"He was pretty deep in his net on (Kopitar's) attempt, so coming down I was thinking shoot and I just picked my spot and hit it," Brown said.
It was San Jose's hero Marleau with the game on his stick, but he over-handled the puck and it slipped off his stick harmlessly to end the game.
For San Jose, their rallies earned a point that seemed lost.  They also salvaged a game in which they took six penalties after committing just four in their previous three contests.
"Throughout the game I thought there were good moments and bad moments, I thought we took probably too many penalties," said forward Dany Heatley. "But we showed a lot of resiliency, not only coming back from the 3-2 but the 2-1 and entering that point, and then the shootout anything can happen. "
The Kings continued to confound the Sharks a bit, San Jose has a 9-4-4 record against Pacific Division foes but three of those losses are to Los Angeles, against whom they have a losing 2-1-2 record.
"They're a very good team," said McClellan.  "They play a strong game along the boards, they protect the puck well, they're very good defensively, their goaltending is outstanding, their penalty kill is good.  Sounds like a very challenging team for anyone to play against, not only now but in the playoffs."