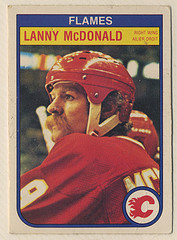 As the National Hockey League season progresses towards its conclusion – and the Calgary Flames playoff hopes diminish – one aspect of the season that may fly under the radar is a pair of veterans chasing significant milestones.
Calgary Flames winger Jarome Iginla (along with San Jose Sharks center Joe Thornton) is rapidly approaching the vaunted 1,000 regular season points plateau.
The chase of 1,000 points has put Iginla and Thornton among some fairly illustrious company. Heading into Thursday night's games, Thornton (993 points) and Iginla (992 points) sat 77th and 78th all-time, respectively, in points.  Furthermore, Iginla's 475 goals place him a mere 25 away from the 500-goal mark and presently place him 49th in all-time goal-scoring.
The rapidly approaching milestones also bring up a familiar argument among hockey fans: What makes someone worthy of induction in the Hockey Hall of Fame?
"Hall of Fame caliber" careers are, by definition, exceedingly rare. To illustrate this, here is a brief examination of a cohort of long-term Calgary Flames players. Some have already been voted into the Hall of Fame, some have not, and a couple of them aren't yet eligible. The differences between the players should illustrate the difficulty in determining how great players really are.
AL MacINNIS
1981 1st round draft pick (Calgary)
1416 games played; 340 goals, 934 assists, 1274 points
1989 Stanley Cup Champion
1989 Conn Smythe Trophy Winner
1999 James Norris Trophy Winner
2002 Olympic Gold Medalist
Al MacInnis was inducted into the Hockey Hall of Fame in 2007 after two decades in the NHL. He was renowned for his amazingly hard slap shot (which infamously split Mike Luit's mask open during a 1984 game). MacInnis was a really good defenceman, a perennial Norris candidate and the MVP in Calgary's only Stanley Cup victory. He also won Olympic gold near the end of his career. His induction into the Hall of Fame was never really in question and he was inducted in 2007, his first year of eligibility.
MIKE VERNON
1981 3rd round draft pick (Calgary)
781 games played; 385 wins, 27 shutouts, 2.98 goals against average
1989 and 1997 Stanley Cup Champion
1997 Conn Smythe Trophy Winner
The top statistical goalie in Calgary Flames franchise history, Vernon was a hometown boy from the beginning. After a strong career with the Wranglers, Vernon turned pro with the Flames and gradually became ingrained as the team #1 netminder. Unfortunately, fandom developed a love/hate relationship with Vernie over time and he was shipped to Detroit for the late Steve Chaisson. He later returned to the team for one last hurrah as a back-up before retiring. Eligible for the Hall of Fame since 2005, he's the winningest goaltender that is not yet in the Hall.
LANNY McDONALD
1973 1st round draft pick (Toronto)
1111 games played; 500 goals, 506 assists, 1006 points
1989 Stanley Cup Champion
If one man could be recognized in the NHL for his phenomenal mustache alone, it would be Lanny McDonald. Luckily for the game's credibility, McDonald was also a very good hockey player. Beloved in Calgary, McDonald scored his 500th goal and 1000th point during the 1989 season, then lead the team to the Stanley Cup as co-captain. Then he retired, putting a perfect book-end on a tremendous career. McDonald never won any scoring titles or MVP awards, but he was the unquestioned heart and soul of the Flames championship team. He was the first player to have his jersey retired by the franchise and was inducted in 1992 in his first year of eligibility.
THEOREN FLEURY
1987 8th round draft pick (Calgary)
1084 games played; 455 games, 633 assists, 1088 points
1989 Stanley Cup Champion
2002 Olympic Gold Medalist
The littlest big man in NHL history, Theoren Fleury was 5-6, 150 lbs soaking wet, but played the game like he was 6-5, 220. Drafted in 1987 and part of the infamous Punch-Up at Piestany that saw both the Canadian and Soviet teams booted from the tournament for excessive fighting, Fleury was a constant thorn in the sides of the opposition. Fleury made his NHL debut during the Flames' Cup-winning season and never made it that far in the playoffs again during a career that spanned the next 15 years. Eventually pricing himself out of Calgary due to his scoring touch, Fleury led the franchise in almost all offensive categories when he was traded to Colorado in a trade that landed the Flames a young Robyn Regehr (and a bunch of spare parts). Now arguably more remembered in the league for his substance abuse problems that ultimately derailed his career, Fleury made a brief comeback attempt during the 2009 pre-season and subsequently retired as a Calgary Flame. Fleury will be eligible for Hall of Fame consideration in 2012 (along with Joe Sakic, Brendan Shanahan, Jeremy Roenick and Mats Sundin) and should merit strong consideration due to his exceptional success in the league despite his size and personal problems. His penchant for saying the wrong thing may come back to haunt him, though – he notably criticized the Flames after his retirement, suggesting he should've made the team over former Flames captain Craig Conroy.

JOE MULLEN
Undrafted (signed by St. Louis as a free agent)
1062 games played; 502 goals, 561 assists, 1063 points
1989, 1991 and 1992 Stanley Cup Champion
First American-Born Player to Score 500 Goals and 1000 Points
A former college star, Joe Mullen hit the NHL in 1981 and became a Flame during the 1985-86 season. He was a critical component of both Calgary Flame trips to the Stanley Cup Finals during the 1980s and, after being shipped to Pittsburgh for a draft pick, was a key piece of the puzzle for two Penguins Cup wins. Mullen retired as the all-time NHL leader in goals and points by an American (he's since been surpassed in both) and was arguably the first great American sniper. He retired in 1997 and was inducted into the Hall of Fame in 2000, his first year of eligibility.
JAROME IGINLA
1995 first round draft pick (Dallas)
1100 games played; 475 goals, 517 assists, 992 points (as of March 24, 2011)
2002 Art Ross Trophy Winner
2002 and 2004 Maurice Richard Trophy Winner
2002 and 2010 Olympic Gold Medalist
Bring the same lens of analysis to Jarome Iginla, it's hard to tell exactly where he fits in. Quite frankly, there are several players with better numbers than Iginla that aren't in the Hall of Fame, despite being eligible: Adam Oates, Pierre Turgeon and Doug Gilmour, to name a few. That said, Iginla benefits from a few factors: he's a high-scoring player in a low-scoring era (and on some bad Flames teams), he was a key part of two Olympic wins for Canada and, despite some questions about whether he was the first African-American NHL captain, he's definitely the best African-American player in league history. Historical significance is arguably what will put Iginla in the Hall of Fame, when all is said and done.
Joe Thornton benefits from having similar stats to Iginla in fewer games, but might suffer in his Hall of Fame chances due to not having the benefit of the same historical notability that Iginla can boast. (That being said, Thornton's career numbers should merit strong consideration, regardless of intangibles.)
FLAMES-RELATED NOTES: While the Flames and AHL Abbotsford Heat are in the midst of heated playoff races, the playoffs are about to kick off in the WHL and NCAA. Flames prospects Michael Ferland (Brandon), Joey Leach (Kootenay), Max Reinhart (Kootenay), Ryan Howse (Chilliwack), Spencer Bennett (Vancouver) and Patrick Holland (Tri-City) will all open their WHL playoff series this weekend (Bennett's Giants will actually open against Holland's Americans). In the NCAA, Bill Arnold (Boston College) and Nick Larson (Ohio State) have qualified for the NCAA Divison I Championship tournament which, coincidentally, also kicks off this weekend… With injuries, call-ups and suspensions decimating their roster, the Abbotsford Heat have signed Flames NCAA prospect Aaron Marvin to a contract. Marvin joins the Heat after four years with St. Cloud State University.